A well-groomed Shih Tzu with flowing locks is a sight worth beholding. Their natural beauty has made these pups one of the more popular breeds. But their classy appearance requires special care and attention.
Parents of Shih Tzus know that the iconic appearance of their furbabies takes regular grooming and bathing. Without proper care, these pups can quickly develop skin conditions, coat troubles, and other issues. 
That's why we're here. In this review, we'll give you some helpful tips for grooming and bathing your special pal. We'll also share the results of our research on some top shampoos on the market. In our analysis, we'll point out some of our top picks for different needs and explain why we selected Buddy Wash Dog Shampoo & Conditioner for Dogs as our overall pick for Best Shih Tzu Shampoo.
Without further ado, let's get started.
Veterinary Formula Clinical Care Antiparasitic & Antiseborrheic Medicated Dog Shampoo
This Veterinary Formula Shampoo is a medicated product designed to provide gentle healing for pooches suffering from scaly skin due to infections or parasites. It includes colloidal oatmeal and allantoin to promote healing of irritated, damaged skin. Salicylic acid, micronized sulfur, and coal tar combine to combat bacteria, fungi, and common skin parasites such as mange. The formula has no parabens, dyes, or soap.
With plant-based ingredients and botanicals in the formula, TropiClean Shampoo is made to provide a gentle clean for your pup. It's hypoallergenic and pH balanced to work on adults and puppies. There are no soaps, parabens, or dyes in the formula. The coconut-based cleanser provides a deep cleaning lather that's not irritating to the skin. You can dilute this Shampoo and Conditioner concentrate by a ratio of 16:1.
Paws & Pals 5-In-1 Oatmeal Dog Shampoo
This 5-in-1 shampoo from Paws & Pals features oatmeal and aloe to soothe dry, irritated skin. A blend of essential oils and plant-based extracts provide gentle cleansing and conditioning. This product is made to detangle your pooch's hair and moisturize the skin. Rosemary extracts help to provide a fresh scent, and vitamin B5 helps to nourish and protect the skin. There are no soap, parabens, mineral oil, sulfates, or synthetic dyes in the shampoo.
4-Legger Dog Shampoo is USDA certified as organic and all-natural. It has no synthetic dyes or fragrances, no soap, no parabens, and no sulfates. The formula uses aloe vera and jojoba oil to soothe and nourish the skin and coconut oil as a gentle cleanser. This product is cruelty-free and biodegradable. It includes lemongrass and rosemary essential oils that deodorize the coat and provide some natural flea repellent.
Made for dry, flaky skin, this shampoo from Earthbath has soothing colloidal oatmeal and organic aloe vera. The formula is pH balanced for your pooch and free of harsh chemicals like parabens, sulfates, and phthalates. It's enriched with Vitamins A, B, D, and E and allantoin to nourish the skin and keep it healthy. Food-grade vanilla and almond extracts provide a fresh scent.
With plant-based ingredients, this shampoo is formulated to gently cleanse the coat and remove grime. Aloe and Vitamin E nourish and repair dry, irritated skin. The product is made in the USA and biodegradable. There's no soap in the product. It's soft, floral scent is designed to last a week or more.
Burt's Bees for Dogs Natural Skin Soothing Shampoo with Honey
Made with nature's ingredients to soothe your pooch's skin, this shampoo from Burt's Bees includes honeysuckle and colloidal oatmeal to gently cleanse the coat. It uses all-natural ingredients and is pH balanced for canines. The formula has no parabens, sulfates, or other harsh chemicals and is safe for dogs of all ages. It's compatible with flea and tick treatments. It comes with a bottle of itch relieving spray.
This product from Burt's Bees is specially formulated and pH balanced for puppies. Using ingredients from nature, this all-natural formula provides a gentle cleanse while moisturizing the coat with coconut oil. There are no parabens, sulfates, phthalates, synthetic fragrances, or other harsh chemicals in the shampoo. It comes with a small bottle of paw and nose lotion.
As a 2-in-1 shampoo and conditioner, Buddy Wash uses hydrating oils and natural herbs to clean your pooch and nourish his skin. A coconut-based cleanser and green tea help to provide a gentle, deep clean. Aloe vera, Vitamin E, and Vitamin C soothe and protect the skin. The blend of essential oils works to calm your pooch and deodorize his coat. There are no harsh chemicals in the formula.
Nature's Miracle Supreme Whitening Odor Control Shampoo
There are no dyes or parabens in this shampoo from Nature's Miracle. It uses the natural power of Awapuhi extract to clean and brighten your pup's coat. With plant-based cocoa surfactants and aloe vera, this product offers gentle cleansing and supreme odor control. The formula includes a pear, jasmine fragrance for a clean, fresh scent.
Isle of Dogs Silky Oatmeal Shampoo
This silky oatmeal shampoo from Isle of Dogs is paraben and sulfate-free. It includes natural odor neutralizers and a light, jasmine vanilla scent to leave your furbaby smelling fresh. With oatmeal to provide a gentle yet deep clean and jojoba oil to refresh the skin, this product is made to keep your pup's coat and integument healthy and well-nourished.
With aloe vera, quinoa, and vitamins C and E to soothe and nourish the coat, you'll feel like you're pampering your pooch. Oatmeal provides a gentle deep cleansing that should leave the coat looking its best. With an advanced odor-neutralizing formula, this shampoo should remove odors and leave a light vanilla scent behind.
Douxo (Sogeval) Chlorhexidine Shampoo for Dogs
Formulated with a foaming antiseptic solution, Douxo is made to treat skin infections. The active ingredients in this shampoo include chlorhexidine and phytosphingosine salicyloyl. Working together, these compounds combat seborrhea and other skin conditions while protecting the integument and keeping it moist.
Things to Look For When Picking a Quality Shampoo for Your Shih Tzu
As a Shih Tzu parent, you probably know that you have a pup with a double coat. The outer layer protects your pooch from the elements while the dense undercoat insulates your furbaby and keeps him cozy even when it's cold outside. Below the hair, your pal's skin produces oil to keep the hair and skin healthy. Daily brushing helps to spread the oil throughout the coat and keep it healthy. It also helps to remove dead skin cells known as dander. 
But there's more to grooming care than a daily brush out. You need to regularly bathe your dog to remove excess oils and debris from the coat to keep the hair and skin healthy. When looking for a product for your Shih Tzu, you'll want to consider the following features:
Coat Texture – Most Shih Tzus have a silky coat that's fine and straight. However, some have coarse or wavy hair, and they may need a different product.
Gentle Cleansing – The oils your pal's skin produces help keep the skin and hair healthy, but they can build up over time. You need a gentle cleanser that can get down under the double coat and clear out the old oil and debris without stripping the coat.
Plant-based Ingredients – Harsh chemicals in some general shampoos can strip your furbaby's hair cuticles and damage the coat. Plant-based ingredients tend to be more gentle and nourishing for the skin and hair.
pH Balanced for Dogs – Canine skin and human skin are different. Dogs have a more alkaline skin barrier, and they need a pH range of around pH 6-7. Using a more acidic product like a human shampoo can upset the protective barrier and cause dry, irritated skin leaving it more vulnerable to infections.
Chemical-Free – It helps your Shih Tzu furbaby when you go natural. Avoid additives like synthetic colors and fragrances. Other chemicals that can be harmful to your pooch include: 
Phosphates
Parabens and methylparaben
Phthalate
Cocomide DEA or MEA
Cocamidopropyl Betaine
Diazolidinyl urea, imidazolidinyl urea, or quarternium-15 – release formaldehyde
Isopropyl, isopropanol, 2-propanol, and propyl – turns to acetone in the body
Methylchloroisothiazolinone – a known carcinogen
Rinses Clean –  You don't want your shampoo to leave any residue behind. Anything that stays on the skin and coat can cause clogged pores and leave the hair looking limp and greasy. Products that leave a residue are usually oil-based.
Medicated (if needed) – If your special pal has a skin condition or infection, you may want a product that's medicated to treat the problem
Expert Tips For Keeping Your Shih Tzu's Coat Super-Clean and Healthy
Don't over bathe your pup. If you shampoo too often, you can remove the skin oils that help to keep the skin healthy. Unless you're working to clear up an infection or other condition, you can bathe your furbaby with a quality shampoo about once every 3 weeks. This will remove oil and dirt without stripping or drying the coat.
Brush your pup at least once a week and more often if needed.
Groom with a slicker or wire brush using smooth, downward strokes to remove loose hair and dead skin or dander
Start from the feet and legs and work up to the neck and head. 
Pay extra attention to areas that are prone to matting:

Under the front legs and the back of the thighs
Underneath the ears and behind the face
Around the anus

Use a leave-in conditioner or spritz on the coat to keep it fresh
Trim overgrown hair as needed. After you brush your dog, check between the paws, under the tail, around the anus, inside and under the ears, and around the eyes to see if you need to do any touch-up trimming. Regular maintenance can help keep the hair clean and free of trapped debris.
Keep the hair around the eyes short. This prevents the buildup of tears, gunk, and bacteria that can stain the coat and give your pooch a dirty face. You should also clean around the face and eyes daily with grooming wipes.
Use paw wax to protect the delicate feet and help keep them clean. The wax will repel dirt and debris and help to keep the pads moist and healthy.
Clean the ears regularly. 
Wipe the ear flaps with a specialty wipe that will cleanse and soothe the tissue without adding moisture. 
You will also need to remove wax and debris from the ear canal about every 3 weeks. Use a cleanser designed to break up the wax, massage it in the canal, and swipe the area with ear wipes, a cotton ball, or gauze pads.
Use grooming wipes for spot cleaning and touch-ups between baths. This will help remove any traces of urine, feces, or dirt that can build up over time.
Clean your pup's teeth daily. Toy breeds like Shih Tzus tend to develop tooth decay and infections. Regular brushing with canine toothpaste and a properly sized toothbrush can help to keep the breath fresh and prevent dental disease
Quick Tips For Bathing Your Shih Tzu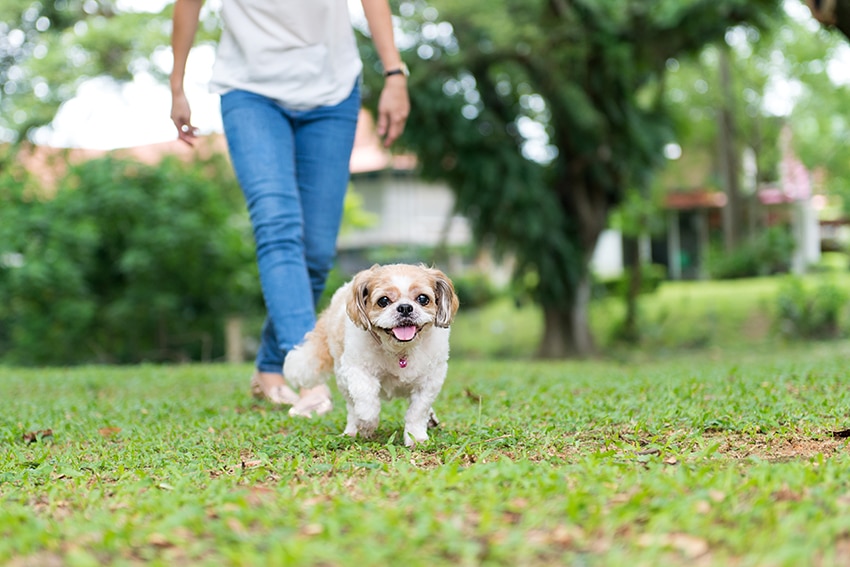 Before bathing, prepare your supplies and decide where you will wash your furbaby. An ideal place can be the kitchen sink because your teacup pup won't outgrow it, and you don't have to kneel or bend over.
The supplies you want to have on hand include a soft towel, a double-sided brush, quality shampoo and conditioner, leave-in spritz, a non-slip bath mat for the sink, face cloth or thin flannel cloth, cup or small bowl, cotton balls, children's toothbrush, and a blow dryer.
Before you start the bath, brush your pooch to remove any dead hair that's trapped between the double coat. This practice will also brush out tangles and knots before you wet the hair. Start with the legs and feet and move towards the head using short, downward strokes. After you finish brushing, gently place balls of cotton in the ear canals to prepare for bathing.
Plug the sink and fill it deep enough to soak your pal's paws (2 or 3 inches). Test the water temperature with your elbow before putting your pup in the sink. Then thoroughly soak your pooch to the skin. Start from the neck area and move backward. Leave the face dry for the time being. If you have a sprayer, you may use that. Remember to test the water temperature first.
Once your pup is drenched, apply shampoo. If you're using a concentrate, dilute the solution according to the manufacturer's direction. Massage the soap deep into the coat, but be careful to not create any tangles. Pay special attention to the armpits, private areas, and paws. 
Next, wash the face. Use a bowl or cup of soapy water and the face cloth. Dip the cloth into the water, wring excess liquid, and gently scrub the face. Take extra care around the ears, eyes, and corners of the mouth. If there are difficult tear stains under the eyes, you may use the child's toothbrush dipped in soapy water for gentle scrubbing. 
Flush the soap from the face with a cup or the sprayer. Aim the water away from the nostrils to prevent getting water in the nose, and shield the eyes. Make sure you rinse until there's no residue left. Follow up by completely rinsing the shampoo from the rest of the body.
Apply a conditioning rinse and massage into the coat as you did with the shampoo. Leave the conditioner in for the amount of time indicated on the label. If you can't find a time, we recommend about 5 minutes. Rinse the coat thoroughly to remove all of the product. 
Let some of the water drain from the coat then place your furbaby on an absorbent towel and wrap his body with the ends. Use a firm patting motion to dry the hair. Resist the urge to rub your pooch as that will cause tangles and damage to the coat. 
Once the coat is mostly dry, you can apply a leave-in conditioner and allow your furbaby to air dry. You may elect to use a blow dryer to speed up the process. As your pooch dries, use the wire side of the brush to brush out the coat. Use an upward motion from the root to the tips of the hair to remove any tangles and fluff the coat. Remember to remove the cotton balls from the ears when you're done.
Why Shouldn't I Use Human Shampoo or Conditioner on My Shih Tzu?
Dogs and humans have different skin pH. When you use products that are pH balanced for human use, you risk upsetting the delicate acid barrier that protects your pup's skin from infection and drying. Canine products should have a neutral pH around 6-7.
F.A.Qs

Q: What Type of Fur Do Shih Tzus Have?
A: Shih Tzus have hair that grows in long strands. Their coat is a double layer with longer outer hairs and an undercoat of fine, short hair. You can use a human-style hairbrush to manage your pup's coat.
Q: How Often Should I Bathe My Shih Tzu?
A: Unless your Shih Tzu has an underlying condition, you should bathe your pup about once every 3-4 weeks. You can do spot cleaning or rinse your pooch between baths as needed.
Q: How can I wash my Shih Tzu's face without hurting his eyes?
A: To gently wash the face, use a facecloth that's moistened with soapy water. You can work out tear stains or other stains around the face with a child's toothbrush. Once the fur is clean, use a washcloth wet with water to rinse away any soap residue. Dry with a clean cloth.
Q: Is it OK to bathe Shih Tzu every day?
A: No. You should not bathe your Shih Tzu daily. Washing any dog too frequently can damage the coat and skin by stripping away the natural body oils. Daily bathing does not allow your pup's body enough recovery time between cleanings.
Q: Why does my Shih Tzu smell even after a bath?
A: If your pup has an odor after his bath, there may be an underlying condition. Some common causes of body odor include skin or ear infection, Cushing's disease, allergies, or an anal gland problem. If your pup has a persistent smell, consult with your veterinarian.
Q: Why Does My Puppy Shih Tzu's Coat Tangle So Much?
A: Shih Tzu puppies have a single coat until about 9-10 months. This layer has long hair that can be fine and fluffy, which makes it prone to tangles. To help prevent matting, brush your pup's coat daily.
Q: Why does my Shih Tzu face stink?
A: Shih Tzu's eyes are easily irritated and tend to tear frequently because they're large. Unless you treat or clean the fur around the eyes, it will become stained and start to stink. Add to that the fact that food and water get caught in their beard, and you have a recipe for odor.
Paws Up – Our Top Pick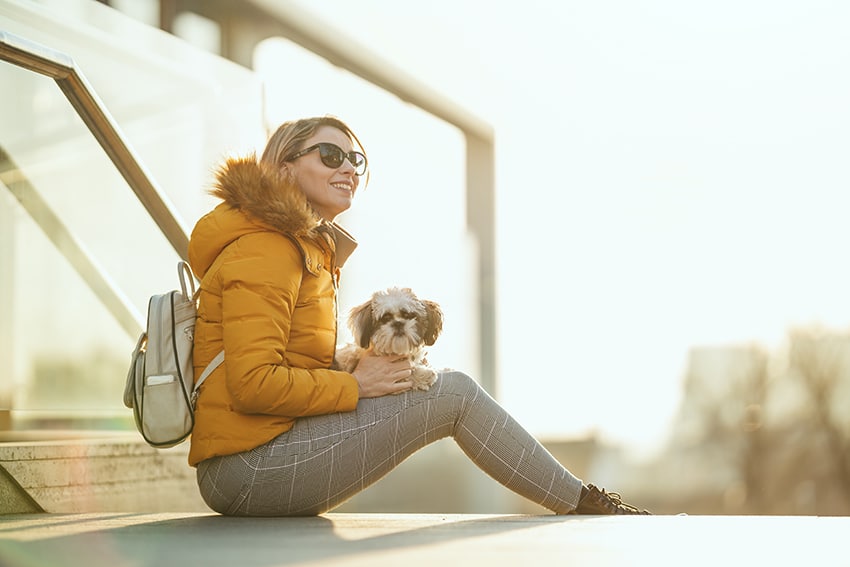 The results are in! We evaluated the above products and compared them against our desirable features. Our pic for Best Shih Tzu Shampoo is Buddy Wash Dog Shampoo & Conditioner for Dogs.
This product uses plant-based ingredients to gently cleanse the coat and nourish the skin. It's free of harsh chemicals like parabens and sulfates. The product is pH balanced for canines and safe for frequent use.
Natural oils and plant-based ingredients deodorize and freshen the coat. A few of the essential oils also calm your pooch and help to soothe the skin. Aloe vera and vitamins C and E nourish the skin and keep it hydrated and healthy.
This combination of qualities makes Buddy Wash Dog Shampoo our top pick.