Yorkie parents know that their pint-sized pups need special attention to keep their long, silky coats looking their best. Due to their sensitive skin and other potential health challenges, it's important to find the best products for their grooming needs. That's why we reviewed a variety of brands to help you find the Best Yorkie Shampoo for your furbaby. 
First, let's talk about what you should look for and some ingredients to avoid in a shampoo for Yorkies. Then we'll discuss types of products for different needs and give you some recommendations for bathing your tiny pooch. 
So, let's get started.
Shampoo for Yorkies with sensitive & dry skin
This hypoallergenic shampoo is gentle enough for puppies and pH balanced. Colloidal oatmeal and aloe provide soothing and moisturizing properties for sensitive, dry skin. It's free of parabens, soaps, and dyes. With a gentle coconut-based cleanser, Tropiclean produces a cleansing lather that won't irritate your pal's system. The product comes in a 1-gallon concentrate that you can dilute 16:1.
Made with all-natural ingredients and pH balanced for canines with sensitive skin, this oatmeal pet shampoo from Pro Pet Works is made to soothe and heal your pal's hide. It contains no alcohol, parabens, artificial colors, or fragrances. Aloe vera and almond oil work to soothe and heal irritated skin, while a coconut-based cleanser cleans the hair without detergents or soaps. Vitamins A, D, and E nourish the skin, and a proprietary blend of conditioners and moisturizers keep the coat in prime condition.
4-Legger USDA Certified Organic Dog Shampoo
With all-natural, organic components, this shampoo from 4-Legger is gentle and safe to use on dogs of all ages. There are no parabens, detergents, or other harsh chemicals in the product. It includes aloe vera and jojoba oils to soothe the skin and coconut oil to provide gentle, soap-free cleansing. Lemongrass and rosemary essential oils provide a clean fresh scent and help to protect your furry friend from flea invasions. The biodegradable product is made in the USA and comes with a risk-free 30-day guarantee.
This cruelty-free, hypoallergenic product is made to soothe and relieve irritated, itchy skin. The shampoo uses a coconut-based surfactant as a natural cleanser that is soap and detergent free. There are no parabens or harsh chemicals in the formula. A blend of oatmeal, aloe, and shea butter work to moisturize dry skin and leave the coat smelling clean and fresh. It's safe and effective for dogs and puppies.
With all-natural ingredients, Earthbath shampoo is made for dogs with skin allergies and sensitivities. There's no fragrance, soap, parabens, sulfates, or other harmful chemicals in the formula. It comes with a 100% satisfaction guarantee. This product is compatible with flea treatments and is also biodegradable.
Arava Natural Medicated Dog Shampoo
With a combination of 28 natural, active ingredients to combat bacteria, fungus, and yeast, this therapeutic shampoo is designed to clear up skin infections. The formula includes dead sea minerals that offer deep cleansing of skin oils and enrichment of the hair follicles. An essential oil blend helps to neutralize odors and leave a fresh scent. This product is safe for any age dog.
Vet's Best Shampoo for dogs is formulated to treat dry, itchy skin and moisturize the coat. The natural ingredients include Vitamin E and B5 which help heal damaged skin. Allantoin and aloe vera provide moisturizing qualities to eliminate dryness and flaking. This product will help remove allergens from your dog's coat without interfering with flea or tick treatments. There are no parabens, dyes, sulfates, or synthetic fragrances in the formula.
Vetericyn FoamCare Medicated Pet Shampoo
Vetericyn FoamCare Shampoo is an instant-foaming product that you spray on your pup's wet hair. It's free of parabens, sulfates, and other harsh chemicals and has anti-inflammatory properties to soothe irritated skin. Aloe and allantoin moisturize the skin and hair to reduce dandruff. The formula works with your dog's natural immune system to overcome dermatological conditions. The foam works to deep cleanse the coat and leave your pooch fresh and clean.
Nature's Specialties Plum Silky Dog Shampoo Conditioner
Plum Silky Dog Shampoo from Nature's Specialties is hypoallergenic and biodegradable. It uses all-natural ingredients to condition and deodorize your pup's hair. The formula cleans the coat and nourishes the skin with vitamins A, D, and E. It's pH balanced and cruelty-free. Available in a concentrated form, you can dilute this product 24:1 for added value.
Any Pet All Natural, Hypoallergenic Whitening Shampoo + Conditioner with Aloe Vera
With a 2-in-1 formula, this whitening shampoo from Any Pet is formulated to deep clean the coat while being gentle on your pup's skin. It's pH balanced and has aloe vera to soothe and moisturize sensitive skin. Although this product is made to brighten the coat and make your pal's silver and white highlights pop, it has no bleaching or whitening chemicals. It's fortified with natural plant-based extracts and has a light musk scent.
Made in the USA, this two-in-one product uses essential oils and other botanical extracts to cleanse and condition the coat. It has no alcohol, parabens, or other harsh chemicals. Aloe vera gel and Vitamins C and E help to nourish and support the skin and coat. The coconut-based cleanser and botanical extracts soothe itchy epithelium. The product is cruelty-free.
Pet Pleasant Lavender Dog Shampoo with Colloidal Oatmeal
This natural shampoo from Pet Pleasant is designed to gently cleanse your pal's coat and leave him smelling fresh. The formula includes jojoba oil and colloidal oatmeal to soothe and help heal dry, itchy skin. An infusion of lavender essential oil works to calm your pooch and make bathtime feel like a spa treatment. This product is sulfate-free, paraben-free, and cruelty-free.
Zesty Paws Oatmeal Anti-Itch Dog Shampoo
The Zesty Paws Anti-Itch shampoo features plant-based ingredients and extracts that cleanse and condition the coat. Aloe vera, quinoa, and almond extract work with vitamins to nourish the hair and skin and help combat hot spots and other conditions. It has oatmeal which soothes and protects the skin. This product is suitable for all ages.
This shampoo from Bobbi Panter is pH balanced and safe for dogs. With oatmeal cleanser for a gentle, deep clean. Aloe vera and cucumber extract help to soothe irritated skin. Essential oils help to nourish and protect the skin. The product includes lavender oil to soothe and calm your pooch during bathtime. It's cruelty-free and compatible with flea treatments. The shampoo is highly concentrated and should be diluted 30:1.
Shampoo for Yorkie Puppies
Puppy Fun by Pet Head has a yummy orange scent and is formulated to be gentle and hypoallergenic. Rich shea butter restores the coat to its natural shine while safflower oil soothes and nourishes the skin. This product has no harsh chemicals and is full of natural ingredients. It's cruelty-free and pH balanced for your puppy.
Wahl Gentle Puppy Shampoo for Pets
Made in the USA, Wahl Puppy Shampoo is pH balanced and free of harsh chemicals like parabens, alcohol, and PEG-80. The formula includes coconut derivatives and cornflour to provide gentle, deep cleaning. Aloe extracts help to soothe and protect the skin and condition the coat. It comes in a concentrate, so a little bit goes a long wary.
Alpha Dog Series Puppy Shampoo and Conditioner With Aloe Vera
As a shampoo and conditioner in one, this product from Alpha Dog Series is pH balanced for dogs. The formula includes aloe vera to soothe and condition your pal's skin and coat. The ingredients provide deep cleansing while being gentle and safe for puppies. Fruit and plant extracts nourish the hide and keep it healthy. It has a light, baby powder scent. This product is made in Korea.
Leave-In Conditioning Products
Warren London Hydrating Butter Leave-in Conditioner
This non-oily leave-in conditioner for dogs is like rubbing body butter on your furbaby's coat. It penetrates and conditions all coat and skin types with vital nutrients from guava and mangosteen extracts and other natural products. You rub this into your furbaby's hair after a bath and use a brush to spread it evenly. The light, fresh scent also helps deodorize the coat.
BioSilk Therapy Detangling and Shine Spray
This detangling and shine spray from BioSilk is pH balanced and safe to use with tick and flea treatments. There are no parabens or sulfates in the solution. Designed to loosen knots and detangle hair, this formula includes natural conditioning agents and silk and soy proteins. Oat and Papaya Leaf extract soothe and nourish the coat and provide a clean, fresh scent. It contains aloe vera and jojoba oil to protect and heal irritated skin. This combo pack includes a BioSilk Slicker Brush to groom your furbaby.
The Blissful Dog Shine-On + Sheen Coat Spray
You can use this spray-in conditioner after or between baths to keep your pup's coat looking its best. With silk and keratin proteins and plant-based ingredients, the hypoallergenic product is safe for your pup. There are no harsh chemicals or alcohol in the spray, and it contains nourishing vitamins and a botanical essence of sweet pea as a fragrance.
Features of a High-Quality Yorkie Shampoo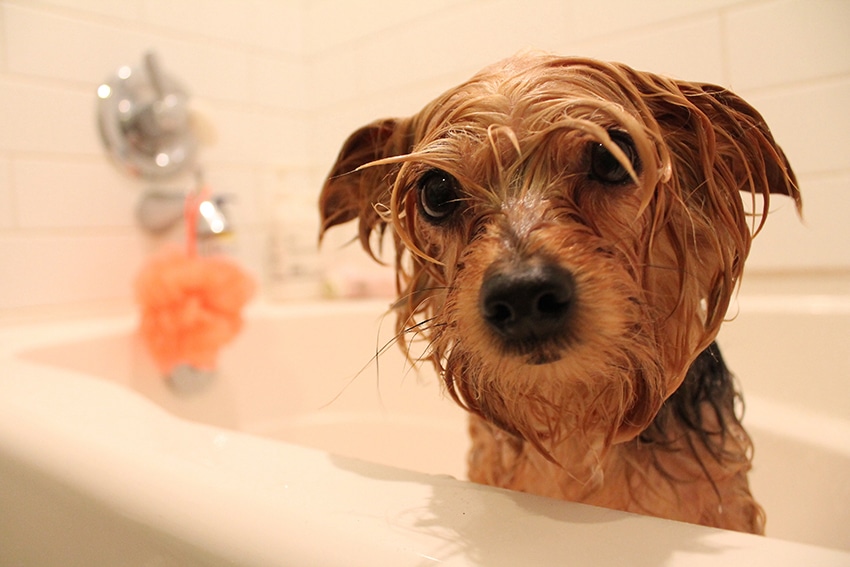 You could say that Yorkies are little Napoleons who see themselves as bigger than life, but it's not just their bold personalities. They also have some oversized health issues such as skin problems.  These teacup pups tend to struggle with Doberman-size skin concerns ranging from flea bite allergies to dry skin and hair loss to conditions like color dilution alopecia and hypothyroidism, If left untreated, these issues can result in flaky, irritated, and red skin.
What's a Yorkie to do? Often, they start chewing to ease the itchiness. But that sets them up for infections and more skin problems. That's why it's imperative that you take good care of your furbaby's silky coat. The best way to do this is with regular grooming and baths.
Without the right grooming products, your pooch's fine locks can tangle and form mats that tug at the skin and increase the likelihood that he'll have irritated itchy skin. So, let's talk about the features you want in a quality shampoo for your Yorkie:
Hypoallergenic: With Yorkie's tendency towards skin allergies, same as food, you want a product that doesn't have allergens in the ingredients. That will minimize the risk of your furbaby reacting to the shampoo
Ingredients: Look for natural ingredients like in the formula. Plant-based components and essential oils tend to be gentle on the skin, and some offer other benefits.
Proper pH balance: Dogs have a skin pH between about 6.5 and 7.5. Using the wrong pH balance can upset the protective acid barrier and cause infections and dry skin.
Moisturizing effect: Yorkies often struggle with dry skin issues. Look for moisturizing ingredients like oatmeal, almond oil, and aloe vera.
Soothing qualities: Ingredients that soothe irritated skin are helpful for Yorkies. Look for coconut oil and colloidal oatmeal.
Ability to extract body oils: A dog's body constantly produces oils that protect and moisturize the skin. If the old layer isn't removed, it can cause problems like clogged pores, trapped hair and dirt, and rashes. Look for soap-free cleansers that can remove the body oils.
Smell & fragrance: Look for natural fragrances. Perfumes and chemical scents can be irritating to the skin.
Company consciousness: cruelty-free/ made in the USA / environmentally friendly: When you buy a product that's made in the USA and environmentally friendly, you know you're contributing to the health and well-being of our country and planet.
Different types of shampoo – There are different shampoo types out there that are good for Yorkies. Check out the information below to help you know what your pup needs.
Different Types of Shampoo
Depending on your furbaby, you may want an all-purpose shampoo or something more specialized. On the market, you'll find products that offer different benefits such as conditioning or moisturizing. Below, we'll break down the options to help you find the right shampoo for your pooch.
All-Purpose: For pups with healthy skin and coat, you can use a general-purpose product. Make sure you shampoo your special pal every few weeks and groom him often.
Puppy Shampoo: Yorkie puppy skin can be extra sensitive, so you need gentle ingredients. Look for products that are soap-free and formulated to be tear-free.
Sensitive/Dry skin: If you have a pooch with sensitive or dry skin, look for a shampoo that has specialized ingredients for their condition. Many shampoos have some moisturizers, but you can look for components that help to soothe or heal irritated areas.
Medicated Shampoo: Whether from fungi, bacteria, or yeast, skin infections need medicated shampoos that have ingredients designed to combat the microorganisms.  
Pest Repellant: Remember that some Yorkies suffer from flea infestations and flea bite allergies. Use a quality flea shampoo to kill the little critters and follow up with a preventative measure such as a flea collar or topical treatment.
Conditioner: To keep your pup's fur in peak condition, you may want to invest in a quality conditioner that adds extra moisture to the coat.
Ingredients to Avoid in Yorkie Shampoos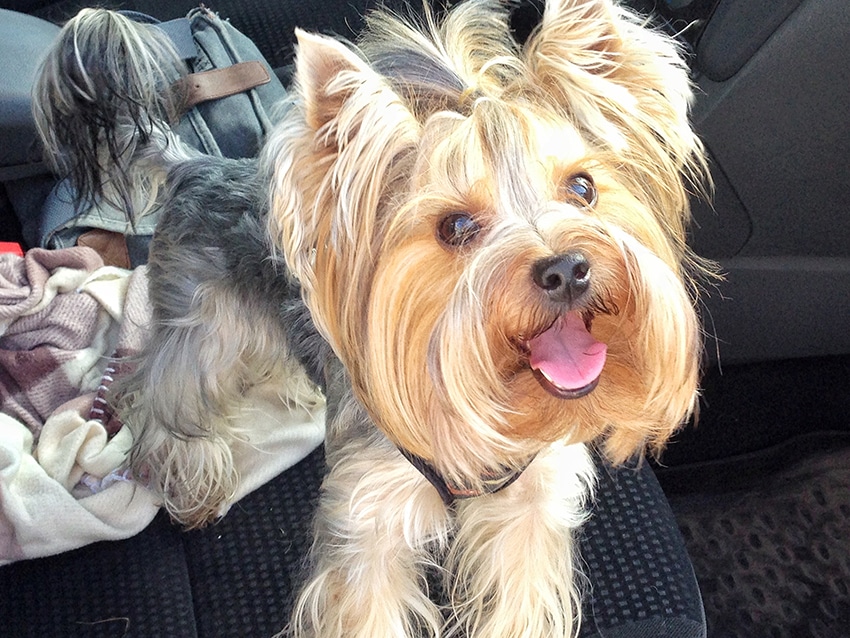 For your Yorkie's skin health, there are some ingredients that you should avoid in a shampoo. These chemicals can be harsh, irritating, and sometimes dangerous for your pup. Here are some of the worst:
Parabens: Parabens can have some effects that imitate estrogen. Because Yorkies are prone to hormone imbalances, this ingredient can trigger dangerous side effects.
Petroleum: Petroleum products or petrochemicals are more common in cosmetic products than you may realize. They're in mineral oil and many baby products, but that doesn't mean they're safe. Actually, petrochemicals can penetrate the skin and may contribute to cancer.
Sodium lauryl sulfate: Sodium lauryl sulfate may not be as dangerous as parabens or petroleum, but continued use can contribute to skin irritation. It can also sting the eyes.
What's the Best Way to Bathe a Yorkie?
For your ease, you can bathe your diminutive pooch in the sink. Once you're prepared, get your pal.
Collect your supplies:
Towel
Brushes – Double-sided and slicker
Comb
Scissors to trim face
Shampoo and conditioner for dogs
Deodorant spray
Before you begin the bathing process, brush out your pal's coat. The double-sided brush helps to smooth the coat and remove tangles, and the slicker provides deeper grooming to remove loose hair, dirt, and dead skin cells.
Next, add some shampoo to the sink, and fill it with enough water to soak your furbaby's feet. Wet your dog using a cup or sprayer. You can cup some soapy water in your hands to gently wet around the face and eyes. 
Drain the sink and shampoo your pooch by scrubbing the solution into the coat to create a lather. Make sure you include the legs and feet. Continue to be careful around the face and eyes. If your shampoo needs contact time, leave the product on the coat for the indicated amount of time. You could use a treat such as some peanut butter to help keep your pup contained.
Rinse your furbaby thoroughly to make sure no residue remains and spread conditioner all over the coat. There's no need to scrub, but you will want to leave it on for a few minutes before rinsing. Thoroughly rinse the coat to remove all residue and prevent buildup. 
Gently comb the hair to remove any tangles caused by the bathing process. Remember to remove any eye goop at this time. Towel dry your pooch and gently wipe the inside of the ear, but don't go deep into the canal. 
Do a final brush and either blow dry or air dry your pal. Once the hair is dry, you can trim any overgrown hair. Feel free to add a deodorizing spray for added freshness.
F.A.Qs
Q: Can I wash my Yorkie with baby shampoo?
A: We do not recommend using baby shampoo on your Yorkie. Human shampoos are not pH balanced for dogs, and they can upset the skin's protective acid barrier and increase vulnerability to infections.
Q: How often should I bathe my Yorkie?
A: Healthy Yorkies should be bathed every 3 weeks to a month. If your furbaby has underlying skin or coat conditions, you may need to bathe more frequently until the issue clears up. To keep the coat healthy between bathings, brush the hair every two or three days.
Q: Can I use a human blow dryer for drying my Yorkie after bath time?
A: If your Yorkie doesn't panic, you can use a blow dryer set on low to dry his coat after a bath. However, towel and air drying are preferred for Yorkies suffering from dry skin.
Q: What shampoo Is good for my Yorkie for itchy skin?
A: If your Yorkie has itchy skin, look for a hypoallergenic or medicated product with natural ingredients that can soothe and nourish the skin. One natural product that may help lessen your pal's itching is Oliver's Choice Dog Shampoo with Oatmeal and Aloe.
Q: How can I make my Yorkie smell better?
A: The best way to keep your Yorkie smelling fresh and clean is to shampoo every 3-4 weeks with a quality product. This helps to remove oil buildup that can trap dirt and tiny hairs and cause odor. You can also apply a conditioner or coat spray to keep the hair healthy and help to repel debris.
Q: How do I make my Yorkie's hair shiny?
A: To keep your Yorkie's coat shiny, groom him every few days to remove dead hair and skin. Bathe him with a quality shampoo that provides deep cleaning every. In between baths, use a detangler or leave-in conditioning spray that nourishes the coat. If you use a blow dryer to dry your pooch after bathing, use a low setting, and leave the hair slightly damp. That way you won't dry out the skin and hair.
Q: Can I get soap in my dog's eyes?
A: Soap and most shampoos will irritate the eyes. Be careful when cleaning around the face so that you can avoid getting soap in the eyes.
Q: My dog has a skin infection. Is this safe for use?
A: If you are using a quality shampoo that's free of harsh chemicals and gentle, it's safe to use on skin infections. However, a medicated shampoo may be more effective and help to clear up the infection and heal the skin.
Our Top Dog Pick for Yorkie Hair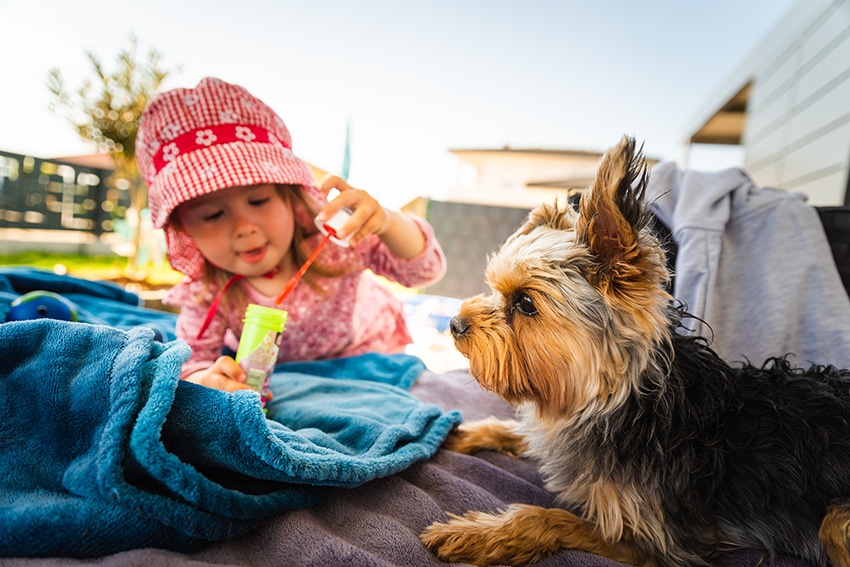 After evaluating the above products and comparing them to our list of desirable features, we select Bobbi Panter Soothing Dog Shampoo as our Top Pick.
This product has natural ingredients and is pH balanced for dog skin. It's designed to be soothing and gentle, which is important for sensitive Yorkie skin.
The formula includes aloe vera and cucumber extract which can soothe and moisturize the skin. Oat extract helps to provide a deep, gentle coat cleansing. Rosemary, Chamomile, and Lavender extracts give the solution a natural, fresh fragrance.
The shampoo is cruelty-free and biodegradable, and it's made in the USA. This combination of qualities makes Bobbi Panter Soothing Dog Shampoo our pick for Best Yorkie Shampoo.