Face it. It can be hard to live with doggie odor. Sometimes our dogs stink because they love to roll in icky stuff. But at other times, it's due to an underlying skin problem such as a yeast infection. 
Regardless of the cause, you can help your pooch and yourself by cleaning their fur with a safe, odor-eliminating product. A natural shampoo that's free of harsh chemicals and uses ingredients that neutralize smells will remove dirt, dander, and other debris that contributes to doggie odor. 
To help you find the right cleanser for your furbaby, we'll take a look at deodorant shampoos for dogs and evaluate several products. Then we'll share with you our top pick for Best Deodorizing Dog Shampoo.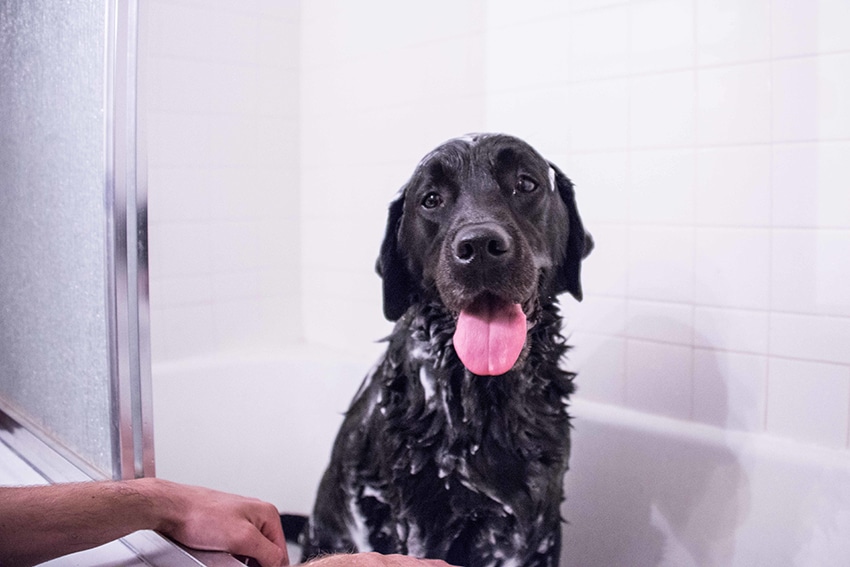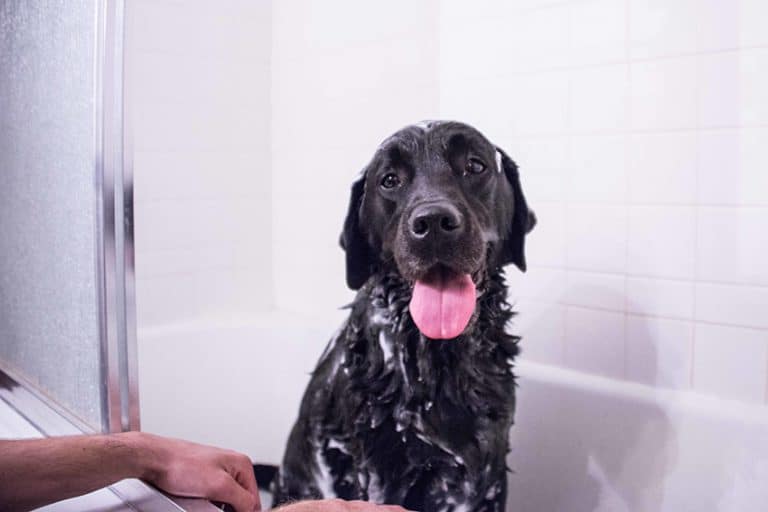 Fresh 'n Clean Scented Shampoo
With plant-based cleansing agents, this shampoo is made to be gentle on your pal's coat. It includes floral fragrance for a lasting, fresh scent. The formula includes conditioners to keep the fur in prime condition and wheat protein to protect and strengthen the coat. Aloe vera and Vitamin E help to soothe and moisturize the skin. This product is available in an 18 oz bottle.
Paws & Pals 5-In-1 Oatmeal Dog Shampoo
This Paw & Pals 5-in-1 shampoo uses natural ingredients to clean and condition your dog's fur. The formula includes oatmeal to soothe and moisturize the skin and get a deep clean. Aloe-vera and pro-Vitamin B provide healing nutrients for dry, itchy epithelium. The plant-based components and essential oils like rosemary work together to deodorize and condition the coat.
Nature's Miracle Supreme Odor Control
Nature's Miracle offers 4 benefits in 1 shampoo. The formula includes colloidal oatmeal to deeply clean and condition the skin and coat. It's soap-free and designed to be compatible with flea and tick treatments. Vitamin B helps to heal any irritated or dried skin. Chamomile and other components neutralize your dog's odor leaving a fresh honey sage scent.
This certified organic shampoo has all-natural ingredients. It comes in a concentrated form, so a little will go a long way for your pooch. The product has plant-based, saponified oils for a deep clean without soaps or detergents. Lemongrass and rosemary essential oils provide a fresh citrus scent and natural flea repellant. Aloe vera conditions and soothes dry, irritated skin.
With all-natural ingredients, this pH balanced shampoo had ingredients that promote healthy hair and skin. The oatmeal extract and refined coconut oil work to condition the coat and provide a deep clean. Coconut lime verbena scent neutralizes doggy odor and leaves a fresh, clean scent. This product is pet-friendly and free of alcohol, parabens, and other harsh chemicals. It includes aloe to heal and moisturize the skin.
PET HEAD Dirty Talk Yummy Orange Shampoo
Neutralize odors with Pet Head Yummy Orange shampoo. This product is made in the USA and free of parabens, sulfates, and DEA. Packed with natural ingredients, it uses baking soda and ordenone to neutralize pet odors and leave your pooch smelling delicious. Vegetable protein extract and hydrolyzed soy protein nourish the coat for a healthy shine. It's pH balanced and safe to use on puppies and dogs alike. The shampoo is eco-friendly and cruelty-free.
Paw Choice Dry Dog Shampoo
When you need to clean your pooch but don't want the mess of soap and water, Paw Choice Mousse offers a quick, easy solution. This waterless dry shampoo has a natural formula with no harsh chemicals. It uses a coconut-derived surfactant to eliminate dirt and odor. Mango and pomegranate fragrance should leave your furbaby smelling yummy. Massage in and towel dry – there's no rinsing required.
Pet Pleasant Dog Shampoo for Dry Itchy Skin
With a light honeydew scent, this cruelty-free shampoo uses colloidal shampoo to soothe dry, itchy skin. The formula includes a sulfate and paraben-free conditioner base to nourish and moisturize your pal's skin and coat. Jojoba oil and provitamin B5 help to soothe and heal irritated epithelial layers. This environmentally-friendly product comes with a 100% satisfaction guarantee.
PetHonesty Antibacterial & Antifungal Chlorhexidine Shampoo
For pups with skin issues, this medicated shampoo from PetHonesty uses 2% chlorhexidine and 1% ketoconazole to combat bacterial, yeast, and fungal infections and eliminate odors. Aloe vera helps to soothe irritated skin and promote healing. The ingredients in this product are all from natural sources. It comes in a 16 oz bottle with a convenient pump dispenser.
Burt's Bees for Dogs All-Natural Deodorizing Dog Shampoo
Burt's Bees shampoo is made with wholesome ingredients including rosemary and apple extracts to fight odors in your dog's fur. It's all-natural, cruelty-free, and pH balanced to be safe and gentle for your furbaby, no matter how old he is There are no artificial colors or harsh chemicals in this product.
Naturally scented with lavender and chamomile, this aromatherapy shampoo works to eliminate odor in your pooch. It's made from natural ingredients and has no chemical fragrances, dyes, or parabens. The formula includes an oatmeal-based shampoo and conditioner to deep clean the fur and soothe and moisturize the skin. Aloe vera, vitamin B, and vitamin E help to nourish and heal your pooch's epithelium and hair.
Isle of Dogs Silky Oatmeal Shampoo
With a luscious jasmine vanilla aroma, this oatmeal shampoo from Isle of Dogs is sulfate and paraben-free. The natural odor neutralizers are designed to leave your pal's coat smelling fresh. Oatmeal and jojoba oil provide soothing and healing properties for the skin.
Get Rid of the Stink With Deodorizing Shampoo
You don't have to live with a stinky dog. There are some quality products out there that help to neutralize doggy odor and leave your pal smelling fresh. Let's take a look at some benefits of deodorizing shampoo, how to get the most out of the product you buy, and what to look for in odor-eliminating cleansers.
5 Benefits of Using a Deodorizing Dog Shampoo
You've probably guessed one benefit – less odor on Fido. But there are additional reasons that using an odor-neutralizing shampoo can be helpful.
Some scents have calming properties – Some of the deodorizing products rely on botanical extracts and essential oils to provide a safe, natural scent. These ingredients may have the added benefit of relaxing your pooch. For example, lavender has soothing properties that can make the bath experience more peaceful.
Bath time may be more enjoyable – Imagine a bubble bath with delicious scents. When you lather up your pup with a pleasant-smelling shampoo, it makes the experience more fun and enjoyable, and it beats wet dog smell.
Your dog smells amazing! – Shampoos that have a delightful scent leave a lingering fragrance on your pooch's fur after the final rinse and dry. True, some shampoos may last longer than others. No matter what, enjoy it while you have it!
Some shampoos double as natural pest repellants – If your deodorant shampoo has rosemary or lemongrass in its formula, it has some built-in mosquito repellant. Other natural ingredients may help repel fleas or ticks. 
It's healthier than the alternatives – You may be thinking your shampoo has a delicious scent, or that baby shampoo would work. Think again. We'll explain why below. For now, remember that using a product that's specially formulated for dogs is best for your furbaby. 
Do Deodorizing Dog Shampoos Work? – Tips For Getting Good Results
Before you spend money on another pet product, you probably want to know it works. When it comes to deodorizing shampoos for dogs, their efficacy can vary. The good news is that you have the ability to maximize the results. Here are some tips to help you get the most out of Fido's cleanser:
Know Your Product – When you're picking the best deodorizing shampoo for your dog's needs, you need to know what ingredients will help him. For example, if you have a puppy, the formula should be gentle and not irritate the eyes. You'll also want to select a shampoo that's suited to your pup's skin type. If he has dry or sensitive skin, be sure to find a product with soothing ingredients and moisturizers.
Follow the Manufacturer's Instructions – Remember that the manufacturer probably tested their product before marketing it. Follow their bathing instructions for the best results. If the bottle says to leave the product on the coat for 5 minutes before rinsing, that means the active ingredients need contact time to be most effective.
Check with your veterinarian – If your dog suddenly starts to smell bad, talk to your veterinarian. There may be an underlying infection or condition that's causing the odor. Fido's doctor may also have recommendations about the best product for your furbaby.
Combine shampoos with other treatments if needed – Many deodorizing shampoos are compatible to use with other treatments. If your furry friend has a skin allergy or parasites that are triggering him to smell bad, you can use creams, ointments, or other treatments in conjunction with the shampoo. Follow your veterinarian's instructions when combining products.
Side effects and risks – Some dog shampoos contain ingredients that can be hazardous to your dogs. As a loving and responsible pet parent, do your due diligence and check the label. Know if your pal has any allergies or sensitivities and avoid products with those ingredients. You should also keep away with products that contain parabens, phosphates, sulfates, and synthetic dyes or perfumes. Your best bet is to pick a shampoo with natural ingredients from plant-based sources.
What to Look for When Picking Dog Deodorizing Shampoo for Your Furbaby?
Natural Fragrances
Some perfumes or synthetic fragrances can trigger an allergic reaction or irritate the skin. A product with natural fragrances from plant extracts or essential oils is generally safer for your pooch. Look for products with ingredients like natural orange, eucalyptus, spearmint, or lavender.
Ingredients That Repel Pests
Some essential oils and other botanicals can function as natural pest repellents. To help combat parasites like fleas and mosquitoes, check the label natural pest repellants such as lemongrass.
Odor Control
This may go without saying when you're looking at a deodorizing shampoo for odor. You want the ingredients to be effective at neutralizing odor. Look for baking soda, honey, sage, and other components that help to control that doggy smell.
Deep Cleaning
When you're getting shampoo, you want it to cleanse the fur. Deep cleaning ingredients help to remove dried sweat, dander, and loose fur and keep the coat fresh. Coconut and oatmeal are two natural ingredients that can help get your dog clean down to his skin.
Paraben-Free
Parabens are synthetic preservatives that can be harsh on your furbaby's skin and coat. Rather than using products with this chemical, look for natural ingredients from essential oils and plants.
Avoid Synthetic Chemicals
In addition to parabens, there are other chemicals that are common in cosmetic products. Unfortunately, they tend to be harsh for some pups. Avoid shampoos that contain:
Phthalates
Strong detergents
PEG-80
Alcohols
Sulfates
Compatible With Flea or Tick Treatments
If you use a topical flea and tick repellant, you want a shampoo that won't wash away the protective barrier. Check the label to see if the product is compatible with parasite treatments.
Additional Actions or Benefits
Depending on your canine companion's needs, check for the product's ability to eliminate dander or moisturize dry skin. Choosing a hypoallergenic product can also help a pup with sensitive skin. If your pooch has a skin infection, you may want to go with a medicated wash.
pH Balanced For Dogs
It's important to use a shampoo that's specially formulated for dogs. Using a product that's not pH balanced can upset the skin's acid barrier and set your furry friend up for skin infections.
Healing Ingredients
Sometimes dog odor is the result of skin damage or infection. If your pooch has hot spots or other irritations, you'll want a shampoo that soothes and can help heal red, itchy skin. Look for aloe vera, oatmeal, and other healing ingredients
Cruelty-Free
Check the label or product description for a statement that the product is cruelty-free.  That way you know that the manufacturer didn't subject lab animals to testing to develop the formula.
4 Tips to Keep Your Dog From Smelling Between Baths
Groom Your Dog – Brush your furbaby's fur daily or at least three times a week depending on his coat type. Regular grooming helps to remove loose fur and dead skin that can trap dirt and cause odors.
Use Deodorizing Sprays – A pH balanced deodorizing spray for dogs can help neutralize odors between baths and keep your pup smelling fresh and clean. As an added bonus, many natural deodorizing sprays have coat conditioners that keep the fur soft and shiny.
Clean Your Dog's Teeth and Ears – Stinky breath is a real turnoff. You can reduce odors by using a dog toothpaste to clean your pup's teeth or get a breath freshening water additive. Yeast infections in the ear can cause dogs to smell stinky. Use an ear cleaner or ear wipes to keep your furry friend's ears clean.
Feed a Healthy Diet – Fillers and additives in your dog's food can contribute to skin conditions and gassiness. Select food that offers balanced nutrition and limited, natural ingredients.
Frequently Asked Questions
Q:  How often should I bathe my dog?
A: If you have a quality shampoo that's not irritating or drying to the skin, you can wash up to once a week. However, you can go longer between baths if your furbaby still smells and looks clean.
Q: Can I use baby shampoo on my dog?
A:  We do not recommend using baby shampoo on your dog. Although these products are gentle on infants and have a fresh scent, they're not pH balanced for canines.
Q:  How can I make a homemade dog deodorizer?
A:  A handy DIY dog deodorizer recipe is:
6 drops lavender essential oil
4 drops cedarwood essential oil
4 drops vetiver essential oil
Water
Mix the ingredients in an 8 oz glass spray bottle and use as needed. Remember to shake the bottle before each use. Spray lightly on the fur and rub it into the hair. Be careful to avoid the eyes, ears, and private areas.
Q:  What causes a dog to stink even after a bath?
A:  The stink that you smell on a dog is due in part to a build-up of microorganisms and natural oils in the skin and fur. The best way to combat this is to use a product that has antifungal and antibacterial properties and provides a deep clean. You can boost the cleaning power of your shampoo by brushing or combing out the coat to remove loose hair before washing your dog.
Q:  What's a nice smelling dog shampoo for sensitive skin?
A:  If you have a pooch with sensitive skin, we recommend Pet Head Dirty Talk Yummy Orange Shampoo. It has a fresh citrus scent and natural ingredients to be gentle on the skin.
Q:  What's the best smelling shampoo for dogs with dry skin?
A:  For dry skin, we like Nature's Miracle Supreme Odor Control. This product has a soothing honey sage scent and uses colloidal oatmeal and vitamin B to soothe and condition the skin.
Q:  What's the best scent for dog shampoo?
A:  The answer to this question will vary depending on your preferences. Some delightful scents that help keep a dog smelling fresh include lavender, eucalyptus, lemongrass, and orange. Pick a product that's satisfying for you and your pooch.
The Fresh Choice: Our Top Pick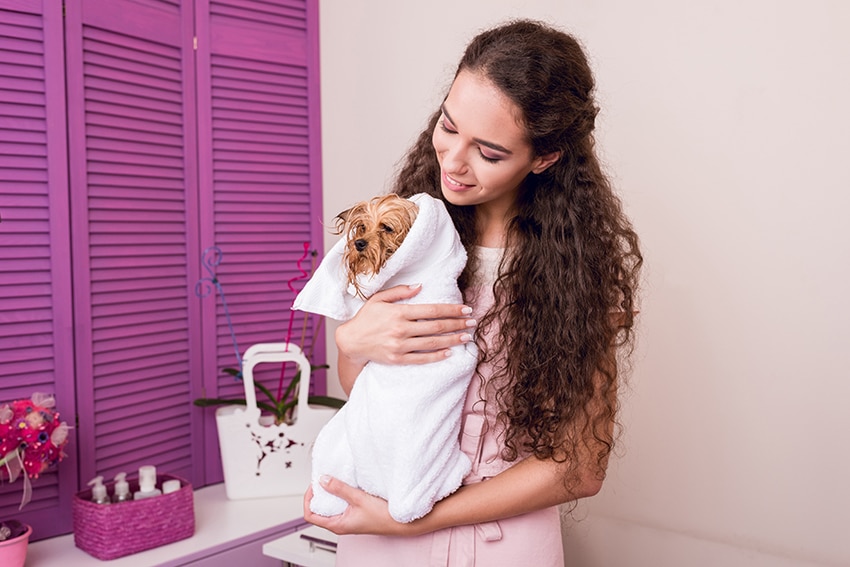 After reviewing the product and comparing each one to our criteria for odor-neutralizing dog shampoos, we pick Aromatherapy Shampoo & Conditioner for Pets Dog Shampoo as our top pick.
This product uses essential oils for a natural fragrance, and it's free of parabens and other harsh synthetic chemicals. There are no dyes or artificial ingredients in the product.
An oatmeal-based shampoo and conditioner provides deep cleaning and helps to moisturize the skin and coat. For pups with sensitive or irritated skin, aloe vera and vitamins B and E nourish and heal damaged tissue.
The lavender and chamomile essential oils neutralize odors and leave a fresh scent. As an added bonus, lavender helps to calm nervous pups.
These qualities combine to make Aromatherapy Shampoo and Conditioner our pick for Best Deodorizing Dog Shampoo.