They say that the only certainties in life are death and taxes. I'd like to add dog hair to that list, I bet you have at least 3 tools to aid in your battle against pet hair all over your clothes and furniture.
Just as with us humans, dogs shed old, dead hairs in a constant cycle of replenishing their fluffy coats. There are some factors that play a role in how much your pup may shed, including their breed, coat-type, health, and as always the season of the year.
What if there was a way to reduce how much hair your pooch leaves behind? Perhaps there is, here we discuss the best dog shampoo for shedding puppers.
Indoor dogs tend not to have obvious "shedding seasons" and actually shed approximately the same amount all year round.
There are three stages to hair growth:
Top 12 Dog Shampoos For Shedding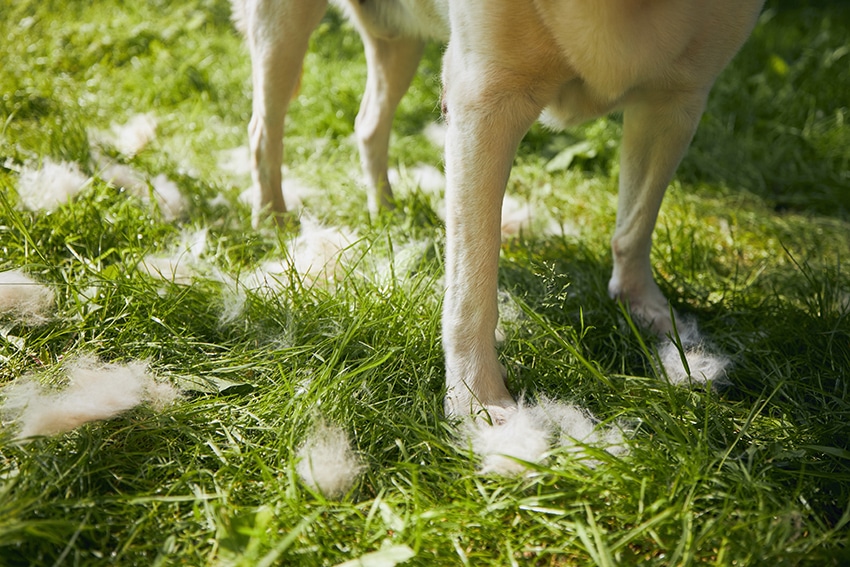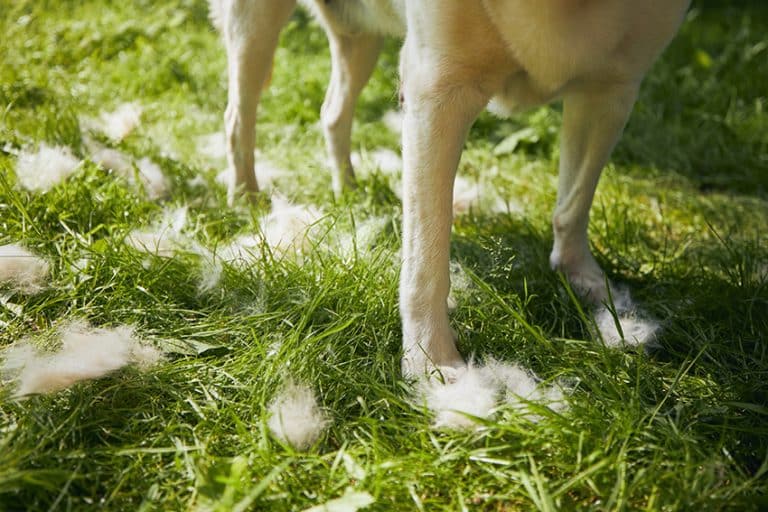 Buddy Wash Original Lavender & Mint Dog Shampoo & Conditioner
Buddy Wash has developed this soothing two-in-one shampoo that conditions your pet's skin and hair at the same time. Soap and alcohol-free, this shampoo is safe for humans too and hasn't been tested on animals.
This shampoo contains aloe extract and coconut for soothing the skin while including green tea, lavender, and rosemary to stimulate hair growth while fighting inflammation and providing some extra vitamin E.
A soothing and conditioning shampoo lightly fragranced with lavender and mint, Buddy Wash has produced a shed control product using cosmetic-grade ingredients. Not tested on animals, this shampoo is safe for humans too and provides a long-lasting scent.
Oster Oatmeal Essentials Shampoo
Oster is a well-known grooming company that has developed this oatmeal essentials shampoo. Natural and pH-balanced, this shampoo is alcohol, paraben, and dye-free. Soothing oatmeal, aloe, and chamomile extracts help to soothe and moisturize your pup's skin to relieve itchiness and prevent hair loss.
Oster Oatmeal Essentials Shampoo is designed to maximize the health of your pet's skin and thus nourish the hair follicles to prevent pre-mature shedding.
This soothing shampoo helps to moisturize dry and itchy skin and thus helps with the healthy growth of your pet's fur and reduce excessive hair loss.
TropiClean Shampoos for Pets
TropiClean's lime and coconut shed control shampoo can be used on both cats and dogs without any problems. Soap, paraben, and dye-free, this refreshing shampoo is made with natural ingredients.
The aim of this shampoo is to deeply exfoliate and moisturize your pooch's skin to maintain it's vitality and thus prevent premature shedding by nourishing the hair root.
Pet-safe, this lightly scented shampoo exfoliates and moisturizes your pup's skin which helps to control shedding while providing a deep clean. This shampoo contains oatmeal, chamomile, and aloe extract alongside vitamins E and B5.
Nature's Miracle Supreme Odor and Shed Control Shampoo
Nature's Miracle shampoo is perfect for stinky pups while reducing the amount of hair your fur-iend leaves behind on their daily travels. Cleans and conditions both the skin and coat while neutralizing odors, not just hiding them behind overpowering scents.
Colloidal oatmeal and aloe vera soothe and moisturize the skin which hydrates the hair follicles and maintains an appropriate level of shedding.
Soap, dye, and paraben-free, this shampoo is safe to use with spot-on treatment products. The use of plant-derived surfactants helps to maintain the hair's cleanliness and reduce the frequency of baths which also maximizes the efficacy of your flea and tick treatments.
Wahl Shed Control Pet Shampoo
Alcohol and paraben-free, this shampoo is pH balanced with the delicate fragrance of lemongrass and sage.
Cleansing, this shampoo reduces dander to help reduce excessive shedding.
Wahl has designed this product to be suitable for pooches with sensitive skin, though you should always ensure that your pet isn't allergic to any of the ingredients and use sparingly when first using it.
Earthbath All Natural Pet Shampoo
This safe and natural shampoo has no sulfates or dyes and is completely cruelty-free.
Enriched with allantoin, multiple vitamins, and colloidal oatmeal to promote skin and fur health, this soothing shampoo is pH balanced to moisturize a pet's dry skin. Healthy, nourished skin leads to healthier hair and less shedding.
Earthbath has produced this soothing shampoo to specifically moisturize and soothe dry skin using colloidal oatmeal. Coconut-based cleansers help to gently cleanse your pup's hair and skin while being enriched with aloe vera, allantoin, and vitamins A, B, D, and E.
Burt's Bees for Dogs Natural Shed Control Shampoo with Omega 3s and Vitamin E
Burt's Bees has produced a pet-friendly shampoo to help control abnormal or excessive shedding.
This pH balanced shampoo is enriched with linseed oil to provide omega 3 fatty acids and vitamin E to promote stronger hair growth, reduce breakage, and thus stops excessive hair loss.
Burt's Bees are a well-known company that has now developed a dog shampoo that's safe to use for puppies and enriched with Omega 3 fatty acids and vitamin E. This pH balanced product is designed to reduce hair breakage and moisturize the skin.
Furminator deShedding Ultra Premium Shampoo
Another well-known brand, Furminator has produced this cruelty-free shed control shampoo that's enriched with fatty acids and calendula extract.
This shampoo is produced on the premise of promoting the health of your pup's skin and by doing so, helps the hair strands grow stronger and healthier.
Calendula and papaya leaf extracts help to soothe irritated skin while omega 3 and 6 fatty acids support skin health and thus follicular growth. This shampoo also contains hydrolyzed oat proteins, chamomile, and aloe vera to promote skin and hair health.
Shed Patrol De-Shedding Dog and Cat Shampoo
Top Performance Shed Patrol shampoo is naturally formulated to reduce excessive shedding while providing a fresh, clean scent on your pet's coat.
Deeply moisturizing, this shampoo helps to reduce shedding by improving the health of your pup's skin and thus their hair.
Wheat germ oil is included in this shampoo to reduce shedding and improve coat health and vitality. Soothing aloe and shine-enhancing conditioners help to moisturize dry skin and fur. This product is suitable for puppies and kittens over 6-weeks of age.
Espree Simple Shed Treatment
This shampoo has been formulated with organically grown Aloe vera to reduce shedding and help to release the undercoat of double-coated pups.
Aloe vera hydrates while jojoba moisturizes the skin providing nourishment to hair shafts. Coupled with a de-shedding tool, it helps to reduce excessive seasonal and non-seasonal shedding.
Espree Simple Shed shampoo exfoliates, moisturizes, and conditions your pup's skin with additional vitamins to promote a healthy coat. Regular use with a de-shedding tool can help to strip out the undercoat which will reduce shedding in heavy shedding breeds.
Davis De-Shed Pet Shampoo
Suitable for cats and dogs of all ages, even the babies, this shampoo helps to reduce shedding by loosening the undercoat.
Promoting strong and healthy hair, this product loosens the undercoat and when used with a de-shedding tool can reduce excessive and non-seasonal shedding.
Enhanced with proteins and amino acids, this shampoo helps to loosen hair to prevent matting and excessive shedding.
First, Understand normal shedding
Shedding is a completely natural process for our canine companions, it allows a fresh, new coat to grow. Old, dead hairs are released from the skin and tend to be left in pet-sized patches around our homes. This process allows new hairs to grow in their place giving your pet their fresh glossy coat. Some breeds such as Labrador Retrievers tend to shed quite a lot while Poodles barely shed at all. Many breeds naturally shed at certain times of the year relating to weather changes. Typically, dogs tend to shed lots in spring to lose their heavy winter coat as the temperatures climb. Conversely, you will likely notice an increased amount of hair in fall as your pet changes their coats to grow heavy, cozy winter fur.
Why Dogs Shed and How to Deal With It?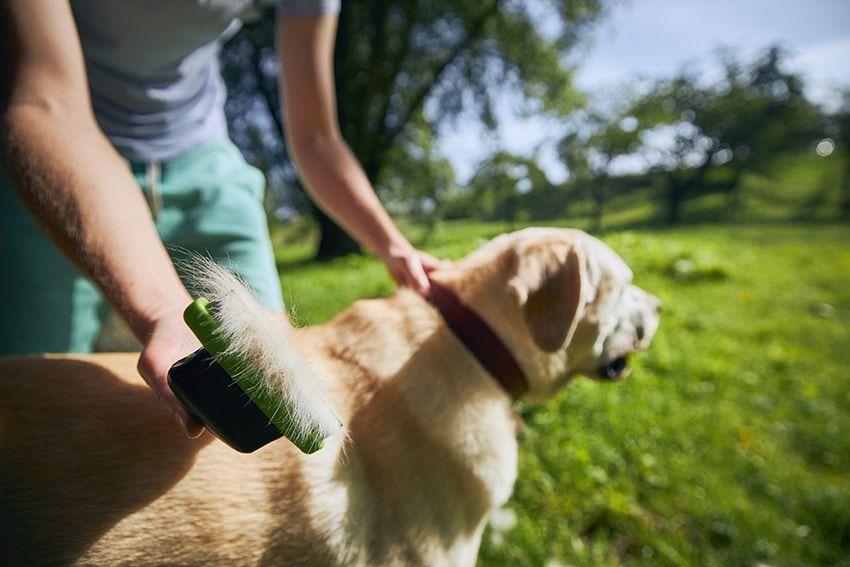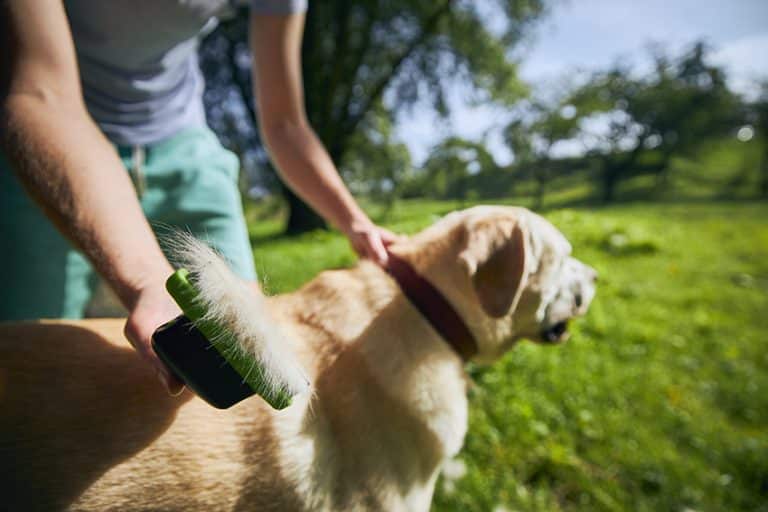 Remember, dog's shed to allow their new hair coat to grow and maintain a strong, protective fur coat. You should never select a dog breed solely on how much they shed, but this does often play a factor. Luckily, there are some things you can try to minimize the deluge of hair tufts floating around your home.
Dog Breeds with Heavy Shedding
As mentioned before, Labrador Retrievers are heavy shedders which are partially due to their "double-coat". A double coat means that the dog has a dense, short, wooly undercoat of hair underneath a longer-haired topcoat full of guard hairs. This coat protects them from cold weather and repels water while swimming. You may have heard of the terms "coat blow" or "blowing their coats" which is the term applied to these breeds switching their fur from winter to summer coats, usually over a few weeks or a month. Shedding is essential, and it's completely healthy for your pooch to shed in order to allow the new hairs to grow.
There are some breeds that don't seem to have a typical period where they shed heavily but instead seem to have a steady shed all year round. This may be breed-related, for example, Dalmatians tend to shed year-round, but this can also be specific to your own pooch. Some heavy shedding breeds include Newfoundland, Chow Chow, Siberian Husky, Great Pyrenees, and St. Bernard. Some of the breeds that are considered low-shed include Maltese, Poodles, Irish, and Tibetan Terriers.
A quick note about non-shed or hypoallergenic breeds; these tend to be "designer crossbreeds" including the Spoodle or Cavoodle. This "non-shed" status can't be guaranteed however as there are also individual variations and remember their parents both shed, just to differing degrees. Just because you have a low shedding breed doesn't mean they never need grooming, in fact, they need regular trips to the grooming parlor to ensure that old hair is stripped out to allow their coat to grow healthily.
Reasons Why Dogs Might Shed Excessively
Stress plays quite a large role in shedding for many dogs. Pups love and thrive from routine so any major changes to the routine or a house move can often stress them to the point of excessive shedding. There are many other stressors including loss of a family member or other pet, poor diet, or abandonment/rehoming.
Just like humans, our canine companions can develop allergies to a range of things including some food types, or environmental pollens and grasses. These allergies and the inflammation they bring to the body can stress your pet to the point of excess shedding even if they don't have swellings or appear to scratch excessively.
If your pet is shedding lots and you notice patches of baldness or redness, this can be a sign of dermatitis (skin inflammation) or an infection such as mange or ringworm.
Hair growth is closely linked to balanced hormone levels and some disorders influence your pet's hair coat. Hyperadrenocorticism (also known as Cushing's disease) is one such condition that causes a rather characteristic pattern of hair loss on each side of an affected dog's belly. Pregnancy and lactation are others as the levels of estrogen, progesterone, and testosterone change in short periods of time which may cause some increased shedding, though your pet shouldn't become bald.
If your pet is receiving a complete, balanced diet then their skin and coat should be healthy without excessive shedding or dryness. One of the main imbalances that cause hair loss are mineral deficiencies, zinc, or copper deficiencies are both known to cause excessive shedding. Zinc deficiency can actually be caused by increased levels of other nutrients that prevent the absorption of zinc. Dog's receiving low fat or poor quality fat and protein in their food are also prone to problems as both protein and fatty acids are essential for quality hair follicle development and growth.
Getting Shedding Under Control
Shedding can be stressful on you and not just because of the often increased frequency of vacuuming and laundering. In this section, we will discuss some methods to try to reduce the amount of free-falling fur around your home. If your pet is a naturally heavy shedder, you should brush them regularly to reduce the amount of hair being left here and there in the home. Some breeds even need daily brushing during periods of heavy shedding. There are lots of grooming tools on the market to suit every pet and home.
When Is it Time to See the Vet?
So, if all dogs shed, when would it be a cause for concern? If your fur-iend has started shedding more than normal, you should consider recent events in the home that may have stressed them to cause this. You should also have a chat with your veterinarian too in the first instance to ensure that there's not a medical cause for the hair loss.
How Can I Help Prevent Dog Shedding?
Unfortunately, there's no real way to prevent your pet from shedding as it's a completely natural process. Here are some tips to minimize the amount of hair your pup sheds:
Does Dog Shedding Shampoos Really Work?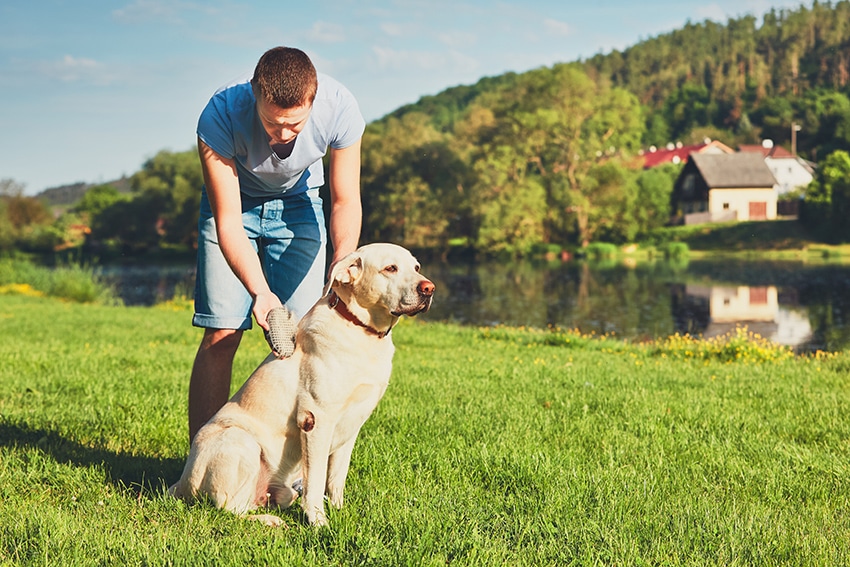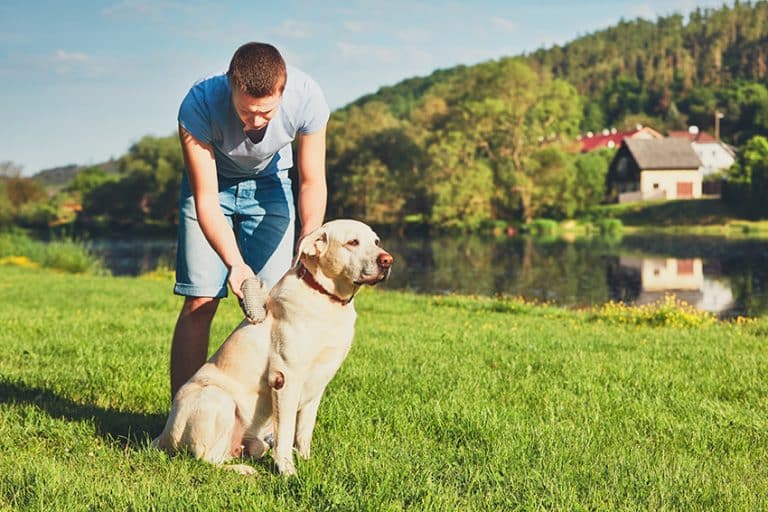 Bathing your pup to reduce shedding is a delicate balance. Bathing does reduce shedding as it helps to strip out loose hairs from your pooch's coat but bathing too frequently can actually increase the amount of hair your pet sheds. This is due to many shampoos stripping the oils and drying out their skin which damages the hair follicles causing increased breakage and frequency of hair loss. Specific de-shedding shampoos may help your pet, but you should ensure that you use a good quality, gentle shampoo that's enriched with skin and fur healthy nutrients.
Things to Look for in a Good Shedding Shampoo for Dogs
Choosing a shedding shampoo can be a daunting task, there are almost as many pet shampoos on the market as there are for us humans. There are some essentials you should look for when purchasing a shedding shampoo for your pupper.
Vitamin E: Vitamin E is an essential vitamin for dogs that supports the immune system, nervous system, and healthy skin and coat. Vitamin E also acts as an antioxidant to protect against free radicals in the skin. Free radicals are compounds that damage cells and increase inflammation. Your pet will get all the vitamin E required in a healthy, balanced diet but it doesn't hurt to provide a little extra in a shampoo.
Fatty Acids: Omega-3 and omega-6 fatty acids are the two that we think about when it comes to skin and coat health. Fatty acids are essential in the support of your pet's hair growth and strength which supports strong follicles and strands to reduce premature or excessive shedding.
Vitamin B5: Also known as pantothenic acid, this compound is essential in the production of some fatty acids and proteins in your pet's body. Again, your pet will get all the required pantothenic acid in a balanced diet.
Moisturizers: Regular bathing or harsh chemicals strip some of the natural oils from your pet's skin and fur which can cause brittle and dry hair strands that may present as a dull coat or increased shedding. Moisturizers will help to maintain your fur-iend's skin hydration and thus prevent excessive shedding. Some moisturizers such as aloe vera are commonly found in these shampoos.
Deodorizers: Nobody likes that "wet dog" scent, thus deodorizers are commonplace in pet shampoos. When you select a shedding appropriate shampoo you should ensure that the product contains natural deodorizers rather than synthetic chemical fragrances.
Natural Ingredients: In the modern age, we all want to live more sustainably and use natural products. It should be the same when it comes to your pet's shampoo as natural ingredients are generally not as harsh as many synthetic chemicals.
Soothing ingredients: Soothing ingredients such as oatmeal or aloe vera are possibly the most commonly seen in pet shampoos. These help to calm irritated skin and are very kind to pups with sensitive skin.
Aloe vera: The aloe vera plant can cause tummy upsets if your pet eats it, but the extracts used in soothing shampoos help to calm and hydrate irritated or dry skin.
Oatmeal: Oatmeal is another soothing ingredient that can provide a little extra moisture to your pet's skin which helps to promote healthy hair growth and reduce itching.
Coconut: Coconut oil is another natural ingredient seen in pet shampoos to help moisturize the skin and soften the hair fibers. This leaves your pet with a soft and shiny, healthy coat.
Safety Concerns: Never use any products that could be toxic to your pet, even if ingested. Many chemicals can cause upset tummies and it's difficult to ensure your pup doesn't get the occasional lick of a deliciously scented shampoo while being bathed. If your dog has sensitive skin then avoid harsh chemicals and aim to use a soothing shampoo.
Scent: Try to select naturally derived scents where possible as synthetic fragrances can be harsh on a pup's delicate skin.
Can dog food cause shedding? Yes, pets that aren't receiving a complete, balanced diet can shed more than would be expected. This could be from a deficiency in a nutrient such as zinc or copper; though this could also be due to poor quality protein or fat within the diet.
How do I stop my dog from shedding so much? It may be that your dog is a heavy shedder, or it may be seasonal, in which case regular grooming and providing a healthy, balanced diet should help maintain this at a normal level. You should discuss this with your veterinarian first to ensure there isn't something medical or a hormone imbalance that's causing it.
What causes a dog to shed excessively? There are a number of things that can interfere with your pet's normal shedding cycle including poor nutrition, stress and hormone imbalances, or even some health problems.
Do dogs shed more during certain times of the year? Yes, dogs typically shed more than usual in spring and fall as the seasons change and your pet prepares for the coming weather.
How often should I bathe my dog? Bathing your dog will vary depending on a number of things, including whether they get skunked regularly! Ideally, you shouldn't bathe your pet more than once every month. This allows you to keep your pet clean while protecting their skin and hair coat's health.
Is shedding a sign of illness in dogs? It can be a sign of illness in dogs if you're concerned at all you should have a chat with your veterinarian to determine if there may be any underlying health problems causing your pup to shed excessively.
Will grooming a dog help with shedding? Yes, grooming will help. Regular brushing will pull out loose hairs and thus reduce the amount that will naturally fall away from your pet's coat over the following days. You may need to brush your dog daily if they're a particularly heavy shedder.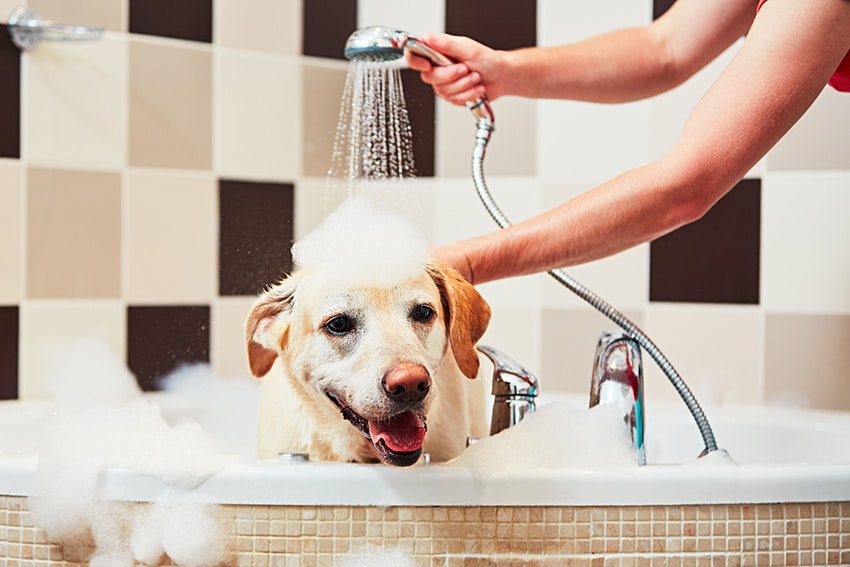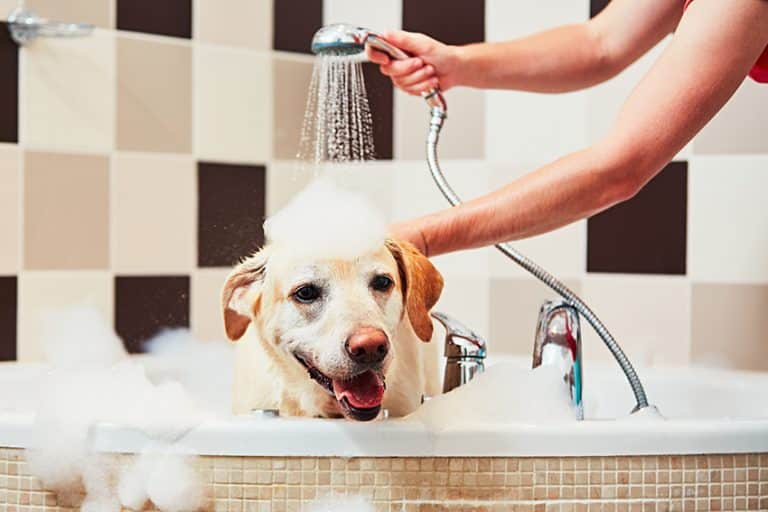 Our Winner is: Furminator deShedding Ultra Premium Shampoo
There are so many products available, it can feel like a minefield selecting the right one for your pet. If your pup has allergies or sensitive skin then your veterinarian is best placed to advise you on a soothing shampoo. This is particularly important if your fur-iend is prone to broken skin or sores as some shampoos can irritate these more.
Shampoos that are pH balanced and are free from harsh chemicals and dyes are the best and you may want to steer clear of fragrances for especially sensitive pooches. Naturally enriched products containing colloidal oatmeal, vitamins, and fatty acids are all great for promoting skin health and by extension, stronger hair to reduce breakage and excessive hair loss.
Shampoos work best when used in conjunction with de-shedding tools and regular brushing. The best dog shampoo for shedding needs support though, a healthy diet and annual health checks will help keep your pooch in tip-top shape and minimize the amount of hair shed. Remember, it may be that there's nothing medically wrong with your pup, but they just shed more than others and so these shampoos can give an excellent helping hand.