The last thing you want every time your dog heads out the door is for them to let in that zero-degree weather. Just because they enjoy rolling around in the snow does not mean you like the cold. So, when your pupster heads for the backyard, make sure you are using the best doggy door there is, so you don't have to wonder where that cold draft is coming from. Finding the best dog door for cold weather is not an easy task with so many on the market. So, we are going to help you out with that.
Namsan Magnetic Automatic Lock Screen Door
The Namsan Magnetic Automatic Lock Screen Door is the least expensive dog door and is also the easiest one to install according to users. Although it only comes in one size, the size is a pretty good one that will let just about any sized pooch in and out with no trouble. Similar to those magnetic screen door closures you have probably seen on television, this pet door is magnetic and is installed into a screen rather than a door. So, you don't have to cut a huge hole in your door or wall to install it.
However, there were quite a few complaints on the durability of the hinges as well as the complicated instructions. As far as the durability, this is up to your pooch. If he is "ruff" on the door, it may not hold up to the abuse. But try and tell him that. Seriously, if you have a big pooch that tends to be a bit "ruff" on things, you may want to try a dif-fur-ent door for your little buddy.
OWNPETS Magnetic Screen Door for Small Dogs
For just a few dollars more, the OWNPETS Pet Screen Door is a pawesome choice. In fact, this doggy door comes in two sizes, small and large. The small one is just $26.99 and can fit a dog up to 10 inches tall. The large sized dog door is good for doggos up to 14 inches high. These are the type of dog door that goes into a screen rather than a door or wall, making it a much easier project.
It is also self-closeable and lockable for those times when you don't want your canine kid outside running around, or to keep other people's pets from coming in to visit you. This door seems like the best choice for the price and also has the variety of choices from small to large. And not only is it easy and cheap, it is also adorable. With a huge paw print design, your neighbors will be asking where you got it so they can get one too.
BarksBar Plastic Dog Door with Aluminum Lining
The BarksBar Door with Aluminum Lining – White, Soft Flap, 2-Way Locking Sliding Panel and Telescoping Frame comes in two sizes. The medium is only $27.99 and can fit dogs up to 12 inches and 40 pounds. The large BarksBar Dog Door is $39.09, and can handle pooches up to 19 inches tall, and 100 pounds. Whether you have a small, medium, or large pooch, one of these doors should be perfect for you.
But if you have an extra-large dog like a Bernese Mountain Dog, Mastiff, or Great Pyrenees, you will probably need to find a larger door. You don't want to come into the kitchen and find that your furbaby is stuck in the dog door. And while most of the users found this to be easy to install, others have had quite a bit of trouble. The telescoping frame protects against bugs, wind, and rain as well as freezing cold temps.
The Dog Mate Medium Dog Door is a fantastic choice as long as your furbuddy is not over 18 inches tall. This is a medium-sized dog door that must be installed into a door or wall rather than a screen door. While this may seem more difficult, owners claim that it is simple to install and that having it in the door or wall is much safer and more durable.
Of course, there are always going to be complaints because some people are just never happy. Or maybe they are not good with their hands, so it gave them trouble when trying to install. Some of the users said it required many different tools to install such as a bolt cutter and vice grips to hold the bolts while you cut them to the right size. Then again, there are also many people who say it was so easy a child could do it.
SureFlap Microchip Pet Door
There is always that one product out of a group that jumps out at you for some reason. This is the one. In fact, there are two reasons why the SureFlap dog door is unique. The first is that it is actually a cat flap rather than a doggy door. However, it doesn't matter what kind of critter is coming in and out this door because whatever it is, it has to have the right RFID chip to get through.
Yes, this is the best one for safety reasons. Nothing that you don't want to come through that door is getting through that door. And it can learn more than one number, so you don't have to have a separate door for each pet. It can learn up to 32 RFID chip numbers. Believe it or not, there is another unique attribute with this product. You can choose the color. So far, these doors have all been just one color, but this one can be brown or white, depending on which goes better with your décor. The main problem for us dog-lovers is that it was made for cats, so it is pretty small. The price is actually really good as well since it is just over $50 with such great benefits at such a low cost.
PetSafe Extreme Weather Door
The PetSafe Extreme Weather dog Door has a nice energy-efficient benefit of a three-flap system that keeps out both cold and hot weather. Although this one only comes in one color, it is paintable so you can match it to whatever color you like. Also, the size goes from 10 to 16 inches in height and up to 100 pounds. The template has cutouts to fit your preferred size. The door has a precut closing panel to stop your pooch from going out when you don't want them to.
The doggy door is easy to install, just use the template provided to mark the area that needs to be cut out, and then cut it out and place the door inserts on each side. If you have any trouble, the customer service hotline is offered and is actually connected to humans that you can talk to and will help you figure out how to get the door installed. This one even has weatherstripping to help keep the extreme weather out. The price is pretty steep compared to the others we have reviewed so far at $104.95, which we didn't see anything outstanding that would account for this raise in price.
Ideal Pet Ruff-Weather Door with Telescoping Frame
With over 300 five-star reviews, the Ideal Pet Ruff-Weather dog Door with Telescoping Frame is one of the best when it comes to cost, design, and durability. One of the best things about this door is that it has four different sizes from small to extra-large. The small is about 9.25 inches high, medium is 13 inches high, extra large is 17 inches high, and the super large size is about 23.5 inches high. Of course, the prices rise along with the size just like everything else, but all the prices are reasonable from just under $75 to about $110.
Another one with excellent customer service, you can contact them by phone or email, whichever you prefer. Sometimes it is just easier to communicate with someone online. There are some complaints from users such as the flaps not sealing and letting in mice and other critters. Whatever the problem, just contact customer service and they will help you fix it.
PetSafe Wall Entry Dog Door with Telescoping Tunnel
Another PetSafe product, this one is available in its original or new version. The only differences being the size of the hole for some of them. Although the differences are very small and the prices remain the same, it is just a decision to make depending on your needs. The PetSafe Wall Entry Dog Door with Telescoping Tunnel is durable and has an aluminum frame that comes in three sizes. Small is 7.5 inches high, medium is 12.25 inches high, and large is 16.25 inches high.
The product has the same excellent customer service care since it is the same company as the last one and they have been around for about 30 years, making them pretty experienced with pet products. The main complaint on this pet door is installation. For someone with absolutely no DIY experience, it may be a bit difficult. Get someone to help you or call the customer service center for step by step help.
Perfect Pet Dog Door: All-Weather Energy Efficient
The variety in sizes and ease of installation make the Perfect Pet Dog Door a great choice for those who have a large dog. It is one of only a few that can handle dogs over 100 pounds and bigger than 25 inches high. The price is pretty good until you get to the super large size and then it jumps from $104 to $154. They must know that they are one of a few that can handle dogs that big.
This is an awesome dog door for cold weather that seems like it can handle even the biggest dog. In fact, your toddler or other kids can use the door flap as well if you have the super large size. The product has a warranty and an optional wall kit. The customer service is pretty good as well.
Freedom Pet Pass Insulated Dog Door
If you are serious about your energy bill and want the best for your pup no matter what the cost, the Freedom Pet Pass Insulated Dog Door for cold weather is a technological breakthrough that has all the bells and whistles. Laboratory certified to seal 15 times better than any Energy Star door made for humans, it is truly the only draft free doggy door. The insulation keeps your home comfy no matter what the outside temperature is. Using premium materials such as cellular PVC and marine grade canvas, this doggy door is top of the line stuff.
Now, if you are going to get the top of the line stuff, you have to expect to pay more. But this may be a bit more than what is expected. More than $350 for a doggy door may be stretching it a bit. That is for the large door and it only fits dogs up to 17 inches whereas the other large door openings were 18 inches and more. For a price this high, you should not expect any issues. Alas, there are a few. Sometimes the door freezes shut, which can strand your pooch outside if you are not paying attention. Also, it can be hard to get in and out for some elderly or ill pooches.
Hale Pet Doors: Door Model, Double Flap
Okay, the first thing you are going to see about this door is the variety of sizes. The Hale Pet Doors Double Flap comes in 11 different sizes, making it the most variable by far. However, the price is also pretty variable. Sizes vary from the small 7.5-inch to the giant 27.5-inch door. It also comes in four different colors, which is something the other doors do not have.
With all these variations, you would expect the product to offer more in the line of energy efficiency. However, this one does not do anything that the others do not do. The only difference here is the shock and impact resistant locking cover. Those who have it, love it. Those who don't, refuse to spend that much on a doggy door. But honestly, that is a lot of money for a dog door, right?
Plexidor Weatherproof Dog Door
The Plexidor Weatherproof Dog Door with Steel Security Panel to Lock Doggie Door When You're Away and FREE eXtreme Dog Bundled Gift seems like an awesome deal. At the small size, it is less than $200, so it is not as expensive as the last three. Unless you get the extra-large, which is over $700. But at least this one is different. It has a door that opens from left to right and does not need a replacement flap. You can set it for in and out, in only, out only, or locked. With a key. It really locks. There is a five-year warranty, which is great considering how much you are spending on it.
Many people claim that customer service is amazing. But they do not say why they needed customer service. There must be some issues, but they are not telling us what they are. There is a spring mechanism that opens and shuts the door, which apparently caused some problems for several people. The springs cost about $35 to replace and are difficult to install. So, we do not think this one is worth the price unless you are getting the small one, which is not a bad price at all.
Endura Flap: Double Flap Wall Mount Pet Door
The double flaps on the Endura Wall Mount Door are really the only thing worthwhile about this doggy door. It does have four different sizes, which is nice, but even the small is about $300. The extra large is almost $600 and only fits dogs up to 23 inches tall, which is not that spectacular. This door does have a nice dual double flap, making it energy efficient, and the magnets are very strong. But they are just magnets. Not a sturdy spring or metal lock. There is a clip lock that keeps it shut but will only keep out your dog and other critters, not criminals trying to find a way into your home while you are out.
The flaps are tested over three million times and have passed trials of 50 mile per hour winds, so it is durable. However, it is not amazing enough to warrant such a high price. The magnets are supposed to be strong enough to keep out mice and other critters, but you may find a raccoon or opossum in your kitchen when you wake up if you don't lock it at night.
Choosing the best dog door for cold weather is not just important, it is essential. You don't want your heating bill to go up every time your furbaby decides they want to go outside. They have a fur coat that they wear 24/7 and when you are just sitting inside, watching television or reading etc., you do not want to feel that cold burst of air that seems to follow your pup in and out that doggy flap.
Do you have a huge dog? The main thing you will have to look for will be size. Almost all dog doors come in different sizes but not all of them. For example, one of these that we reviewed, the Namsan, comes in one size, which they call "larger" and is 12" by 16" and the "medium" Dog Mate is good for dogs up to 18 inches. So, if you have a Great Dane or Mastiff, you are going to want to choose a doggy door that your pooch won't get stuck in. And if you are looking for one that is easy to install, look for one that you can put in a screen door like the Ownpets or Namsan. Those are the easiest by far.
Material:The best material for a doggy door is steel and it is best for it to be insulated to keep out the cold. Several of the doors on this list have insulation and are made from steel such as the Dog Mate Medium Dog Door, PetSafe Extreme Weather Door, Ideal Designer Series, Perfect Pet, and Freedom Pet Pass Insulated Dog Door.
Magnetic Seal: The most common way for these doors to work is with a magnetic seal. The door can be pushed open by your furbaby and the magnet "locks" it back up afterward. The only one on our list that does not use a magnet is the Plexidor and it uses a spring loaded side-locking door.
Waterproof: All of these doggy doors claim to be waterproof and according to the reviews, they pass that test with no problem.
Wind and Draft Resistant: Many of the doggy doors had complaints about the wind blowing open the doors and letting in the air. The only ones that did not have that issue wat the Plexidor, Endura, Hale, and Freedom Pet Pass.
Single and Double Flap: The single flap door is the most commmon and does the job of keeping out the cold in most cases. However, those with double (or triple) flaps do keep out more air.
Insulation: Just like with any door, having insulation keeps out the cold better than not having insulation. Several of the doors here have insulation.
Low Temperature Tolerant Materials: All the materials are good in low temperatures but some of the flaps can get stuck when the temperature drops below freezing in wet or moist areas.
Mechanism: The mechanism on all of these are flaps that are held together with magnets except for the Plexidor.
Other factors to consider
The breed and size of your furbaby is important to consider in deciding on a doggy door. Each of the doggy doors have size specifications and it is essential that you take these into consideration when getting a door. If your dog is a puppy, make sure you consider the average size of a full grown dog of your breed.
The location of the doggy door is important to you and your pooch. You don't want it to be in an inconvenient space that gets in the way of others going in and out. However, you also do not want it to be in an isolated spot where you will not notice your pooch's coming and going.
The most secure of these doors is the SureFlap, which uses the microchip in your pet to allow for entry and exit. As far as being lockable, the only one that is truly able to be locked with a key is the Plexidor.
The most energy efficient doors are those with insulation. Some of these include the Dog Mate Medium Dog Door, PetSafe Extreme Weather Door, Ideal Designer Series, Perfect Pet, and Freedom Pet Pass Insulated Dog Door.
The design is something that may be important to you, especially if it is in the front of your home. You do not want the front door to look hideous with an unattractive doggy door.
Make sure the height of the step-over is not too much for your pooch. If your dog is a toy or small breed, or is elderly, they may not be able to handle one that requires a large step up or down.
We have all seen those funny commercials of the woman who is feeding her "dog" that just came in the dog door when it is really a raccoon, but she does not have her glasses on. While this can be a funny commercial, it would not be funny at all in real life. After all, many raccoons carry rabies and some of them can get angry enough to injure you, someone in your family, or your furbaby.
Some of the newest (and more expensive) dog doors have a smart collar feature that controls who can go in and out of the dog door.
By using the RFID chip that many pets have inserted to keep them from getting lost, certain dog doors such as the SureFlap, will keep unwanted animals out. It is actually the only one on this list that has this feature.
The lock on the flap will only open when your pet wants in. And the SureFlap is not even the most expensive. However, it is a cat door rather than a dog door. Size is the only thing that matters with this though, and the company also sells microchip pet doors for dogs as well. Some of these can stop certain pets from going out too, in case you have a pet who is not allowed to go out for some reason.
The prices of these dog doors vary a great deal. In fact, the cheapest starts at about $20 for a 12" by 16" large Namsan Magnetic Automatic Lockable Pet Door for Screens to the $700 Plexidor Weatherproof Dog Door. That is a difference of over $650!
The differences are not that great, really, to explain such a large jump in price. After all, the door is only seven inches taller than the other one. And the Plexidor has super-efficient savings on energy because they promise that their flap does not let in the cold or the heat, no matter what. They can withstand winds up to 50 miles per hour and temperatures as low as negative 40 degrees.
As far as the ratings go, there was not that big of a difference either. The Namsan has a 3.6-star rating while the Plexidor has a 4.5-star rating.
Super-fast steps to Train your dog to use a dog door:
What would it take to make the panels freeze up?
If you live in an area that gets below 32 degrees, or you have a lot of moisture, you may need to take precautions. To prevent the panels from freezing up, you can spray them with WD-40 or some other type of
spray antifreeze
.
How high should I install the dog door? You need to measure your dog from his feet to his shoulders and that is how hight the top of the doggy door should be.
How do you secure the dog door from an intruder?
Most of the doggy doors have locks to prevent intruders such as other animals but you need to make sure yours has a good lock to keep out other invaders as well. Several have actual keyed locks that you can lock to prevent people from getting in while you are out. The SureFlap, which uses the microchip in your pet to allow for entry and exit, is also quite safe for keeping out intruders and unwelcome critters.
How much will it cost me to install the dog door?
It is free to install it yourself. However, you may need to hire someone to install the door. This can cost from $50 to $100 depending on the amount of work involved.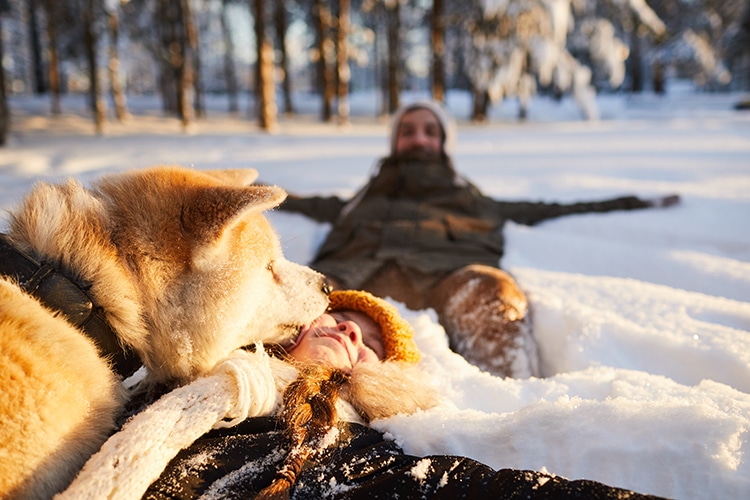 Best Dog Door for Cold Weather is the PetSafe Extreme Weather Door
, which was rated 3.5 times more energy efficient than others. It has weatherstripping and is easy to install. This doggy door can handle pups up to 100 pounds and it is not one of the most expensive either.
The Perfect Pet All-Weather Energy Efficient Dog Door
is our choice for the Runner Up. This is a really great choice for every reason from energy efficiency to price and dependability to warranty. This is a big door and if you get the largest one, even your little two-legged family members can use it. For less than $200, you can get a door that will let in your Great Dane or Great Pyrenees without letting in all that cold air as well. And you can install it easily with help from their excellent customer service.
The OWNPETS Magnetic Flap Screen Automatic Lockable Door
for Small Dog is our top pick for the Best for budget.
The best door for a large dogs is the BarksBar Original Plastic Dog Door with Aluminum Lining, 2-Way Locking Sliding Panel and Telescoping Frame
. It can handle pups up to and over 100 pounds and more than 19 inches tall. It is also sturdy enough to handle those big dogs that seem to destroy everything because they are so huge.
The SureFlap – Scans Pet's ID Microchip on Entry gets our vote for the Best door for a small dog
The reason that it is the favorite is not even because of the price or the way it keeps out the cold, although it does that and then some. The special thing about this doggy door is that it only allows your pets in and out through this door, guaranteed. By using an RFID chip reader, this door will not open to other critters who are trying to get in or out, and none of the other doggy doors here has that feature.
Letting Your Pup In and Out Without the Extra Cold Air
No matter what kind of dog you have, you will need a door that is good at keeping the elements out. That is why we have houses, to keep that nasty weather outdoors where it belongs.