With the warmer weather, I've been treating more dogs for fleas and ticks. Unfortunately, as soon as we start to enjoy our sunny summer these pesky critters make their holiday home on our dogs. 
Frustrating to eliminate, many owners and their dogs are driven to distraction. A quick look online reveals a plethora of products are available, but it's so difficult to know what will work best for your pup and lifestyle. In this post, we'll walk through two available products and find out who comes out on top in Frontline Plus vs Advantix for dogs.
Both of these products are licensed for the treatment and prevention of ectoparasitic infestations. This means they kill and protect your pet against parasites that live in their fur and skin.
Frontline Plus is a topical spot-on medication. It's sold in pre-measured ampoules that you simply snap open, part the fur between your pup's shoulder blades and squeeze the contents onto their skin.
What does Frontline Plus kill?
Frontline Plus
targets fleas and ticks. All life stages of these bugs are killed by this product which helps to break the cycle of reinfestation with fleas which is all too common.
How does this product work?
The pre-measured liquid dose rapidly absorbs into the skin and is stored within the hair follicles where it is slowly released at a continuous rate over about 30 days. 
How long does Frontline Plus protect dogs?
Frontline Plus works consistently for 30 days, protecting your dog from re-infestation.
How are the ingredients delivered?
A specific dose is applied to your dog's skin and is quickly absorbed where it is stored in hair follicles and steadily released to protect your pet from flea and tick infestations.
How long does it take Frontline Plus to start working?
Frontline Plus works super fast! It has actually been shown to start killing fleas just 4 hours after administration and is likely to kill 100% of fleas within just 12 hours. That's incredibly fast. You may notice "more" fleas on your dog after administration but this is actually a sign that the product is working.
As fleas are dying they will move away from your dog's skin and toward the end of the hairs making them more visible to us. If you're using the product to treat an active infestation with fleas, then it's best to launder and vacuum your dog's bedding, carpeting and upholstery to kill flea eggs.
It is also a good idea to use a product specifically designed for the environment (eg. some bug bombs – but be careful using these!) which will help to end the infestation.
Risks or possible side effects
Unfortunately, there are risks to everything. Luckily though, Frontline Plus rarely causes adverse effects and if they do occur, they tend to be mild and resolve rapidly.
Some pets may develop mild redness or itching after you've applied the liquid, but these have usually resolved within 24 hours.
If your dog experiences persistent or severe irritation then you should take them to your veterinarian as they may need medication to help them heal.
Frontline Plus is a great product, especially if your pup loves to swim, or if they love getting dirty and need regular baths! It's waterproof and the sunlight of summer may actually make one of the ingredients (fipronil) even more toxic to fleas and ticks while remaining safe for your pup (Gupta, 2007).
Monthly application is pretty convenient and many practices allow you to set up automatic reminders so your dog never misses another dose. 
K9 Advantix II is packaged in single-dose pipettes to allow simple application to your pet's skin. Simply, part the hair between your dog's shoulder blades and squeeze all the contents onto their skin. 
What does K9 Advantix II kill?
This product kills and repels not only fleas and ticks but also mosquitoes and biting flies. Great for those pups that enjoy mucky puddles and animal poop.
How does this product work?
K9 Advantix II
targets the nervous system of insects and arthropods which causes them to lose coordination, become paralyzed, and then die.
How long does K9 Advantix II protect dogs?
Each dose will be an effective preventative against bugs for approximately 4 weeks. In some severe flea infestations, your pet may need treatment before that time.
K9 Advantix II cannot be re-applied within 7 days of the last treatment and treating your pet within the 4-week window should only be done following consultation with your veterinarian.
How are the ingredients delivered?
Measured doses are applied in liquid form onto your pet's skin where they are rapidly absorbed into their skin. The product is stored in the oils on a dog's skin and persists for 4 weeks.
How long does it take K9 Advantix II to start working?
K9 Advantix II will kill fleas already on your pup within 12 hours of application and targets new fleas within 2 hours of application.
Repellent action to ticks will occur within 3 days of application.
Ticks that have already attached to your pup should be removed when you're applying the product as they may not immediately be killed.
Risks or possible side effects
Every product has risks, but thankfully these are rare and usually mild when they do occur. The more commonly seen effects are mild and short-lived itchiness or reddening of the area where the product was applied.
If your pup ingests any of the product it can cause some gastrointestinal upset; I've also had clients report that their pup seems tired for a short time after application of the product.
If your dog shows any persistent or severe signs, they should be taken to your veterinarian as soon as possible.
Do NOT administer to cats and keep your cat away from any recently treated dog to prevent them from licking or coming into contact with the product. 
K9 Advantix II is a fantastic product as it also repels biting flies and mosquitoes, not just fleas and ticks; this is particularly helpful for farm pups.
The fact that it's waterproof means you can let your pooch swim 48 hours after application and it will remain effective for the full 4 weeks.
K9 Advantix II contains permethrin which is toxic to cats as they cannot break it down, I always advise clients to use an alternative product where possible if they also have feline fur-iends in the home (Malik, et al., 2010).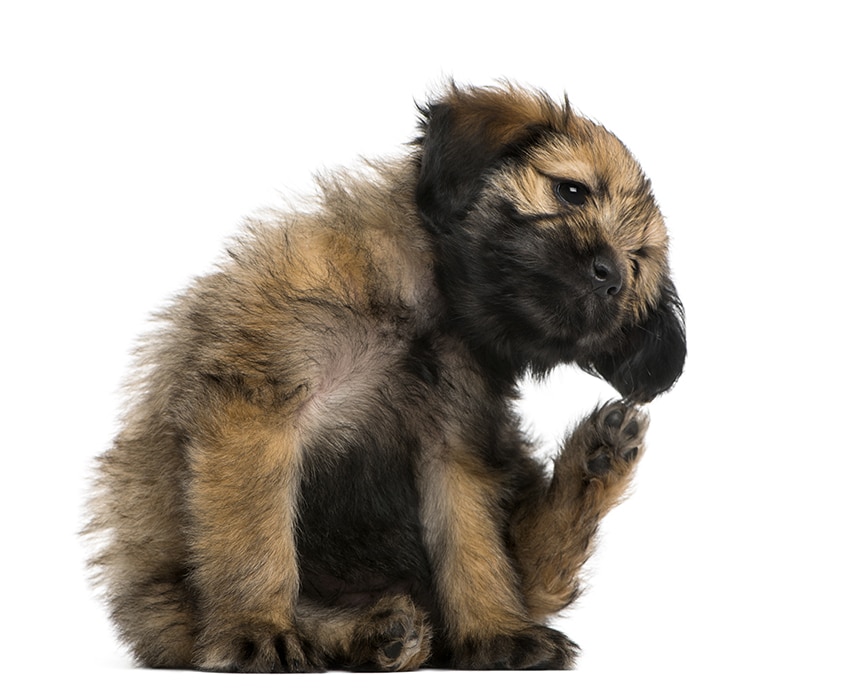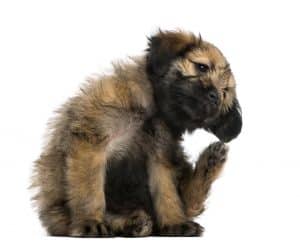 Frontline Plus vs K9 Advantix II:key differences
At a brief glance, Frontline Plus and K9 Advantix II seem to be very similar, both are topical, waterproof products that last for approximately 30 days.
The largest difference is the extra action K9 Advantix II has in repelling mosquitoes and biting flies. Mosquitoes can transmit canine heartworm so using a product that prevents your pup from getting bitten reduces the risk.
You still need to use heartworm preventative medication with K9 Advantix II as this product doesn't actually protect against heartworm, it just reduces the risks by preventing mosquitoes from biting your dog.
Another important difference is that K9 Advantix II contains a medication that is toxic to cats so if your pooch has a kitty best friend then you may want to avoid this product.
Frontline Plus vs K9 Advantix II: Effectiveness
Both products reviewed in this post are effective against ticks and all life stages of fleas. There have been some anecdotal reports of flea resistance to fipronil (Maddison, Page & Church, 2018), the active ingredient in Frontline Plus, these are rare though and unlikely to affect most dogs. 
Who scores better on price?
The cost of both of these products depends on the size of your pet so here we review doses for small dogs, the larger your pooch, the more expensive the product will be.
Frontline Plus is available in packages of three, six, and eight pipettes. Six pipette packages for dogs weighing 5-22 lbs cost around $65 which works out at just under $11 per month.
K9 Advantix II has packs of two and six pipettes available and a six-pack for pups weighing 11-20 lbs costs about $78 which works out at $13 per treatment.
A quick scan will show that per dose Frontline Plus works out easier on your pocket, however, K9 Advantix II does have the added protection against mosquitoes and biting flies which may be necessary for some dogs.
Does my dog really need flea and tick medications?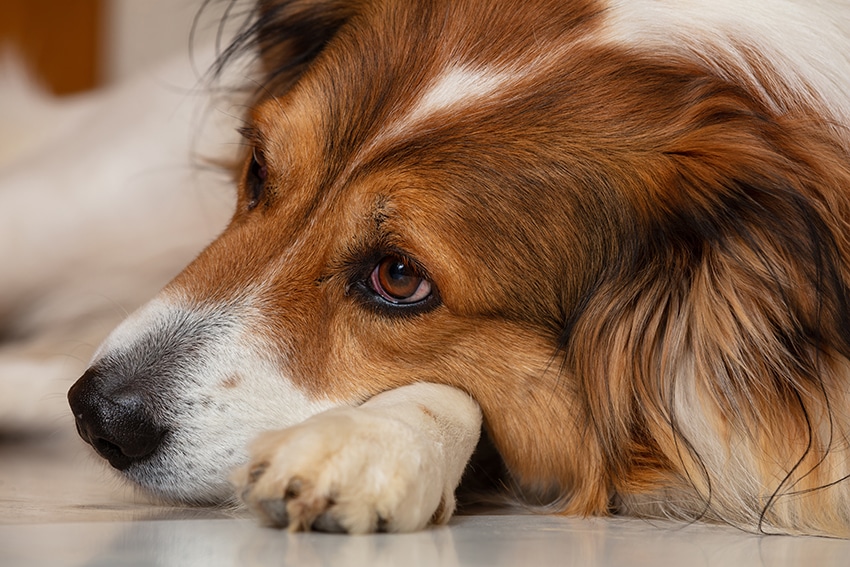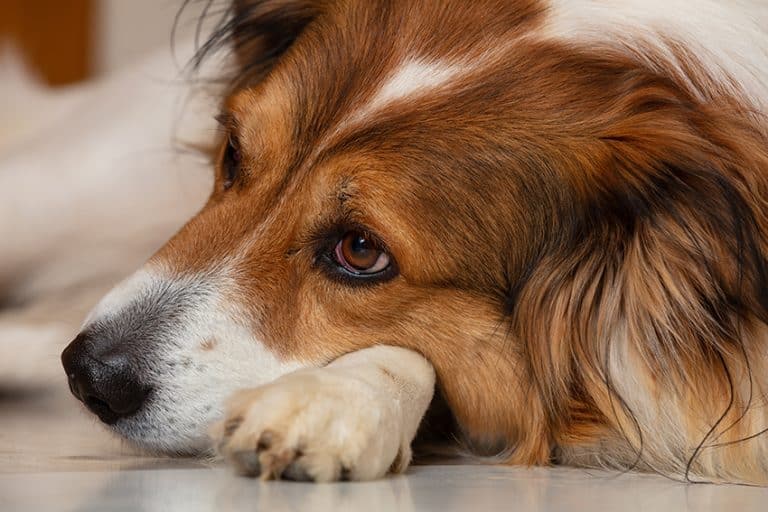 The short answer is yes! No matter where you are in the country (or the world) fleas and ticks will always be present. While both can be bothersome for our dogs and upsetting for us to watch, these bugs can also spread diseases. Many of these diseases are difficult to treat or not treatable at all which makes the need for these preventative medications even more important.
Tick-borne diseases you should know about
Ticks can spread many diseases, they do this by biting and feeding on your pet. The best-known disease spread by ticks is probably Lyme disease but there are others out there to be aware of and prepared.
How old does my puppy need to be before using these products?
Both products can be administered to puppies once they are over 8 weeks of age and weigh more than 4.4lbs.
My dog is pregnant/nursing puppies but she has fleas, can I still use these?
Yes, both products are safe to use on pregnant and lactating bitches.
My dog is sick or has been diagnosed with a long term illness, can I use these medications?
Both of these products are safe, however, I would advise that you speak with your veterinarian who can best advise you about your pet's particular illness before using any product.
Can I mix and match flea treatments?
No, mixing treatments increases the risk that your pet will have a negative reaction and may lead to toxic doses being administered. If you're concerned that a product hasn't worked how you hoped, speak with your veterinarian before using any other product as some products can take a few days to show results.
What's the expiration for these products?
Frontline Plus has no expiration date, the company recommends that the pipettes are fine to use once they have been stored at room temperature. Similarly, K9 Advantix II does not expire and should be stored at room temperature.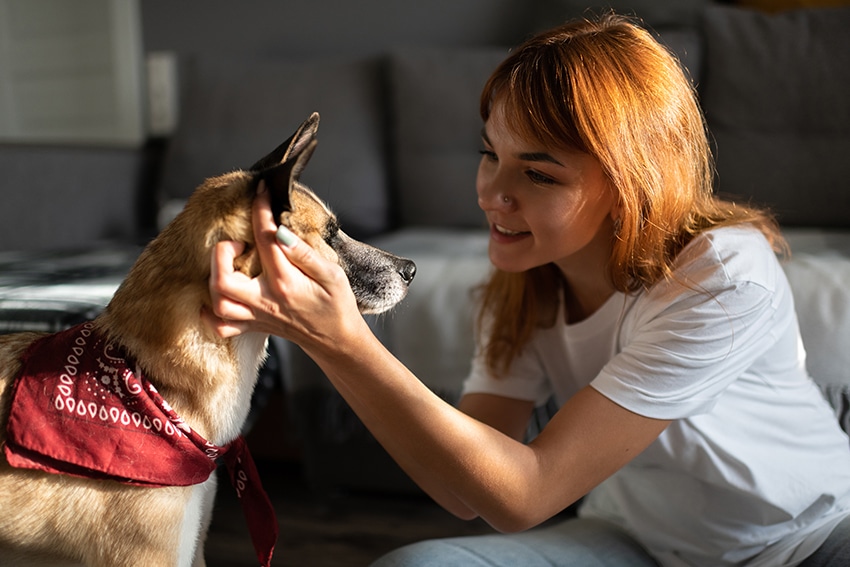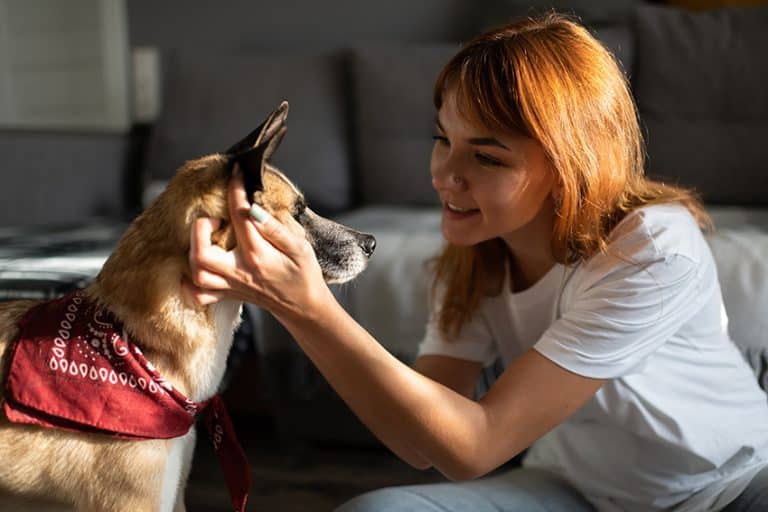 The health and welfare of our pooches are paramount to paw-rents. As prevention is better than cure, parasite preventative treatments are an important part of caring for our fur-babies.
The battle of Frontline vs Advantix for dogs in this post is close, both are very good products and have similar durations of action.
Having said that, if you have a kitty in your home or your pup comes into regular contact with friendly cat's then I would advise you to choose Frontline Plus as it's safe for cats.
K9 Advantix II contains permethrin which is toxic to our feline friends. Conversely, if you're in an area with exceptionally high levels of mosquitoes or your pup hangs out with horses or farm animals (sadly, these guys attract flies) then K9 Advantix II would get my vote.
Adverse reactions are possible with any product, but these are rare and tend to be mild if they do occur. However, you should always discuss treatment options with your veterinarian before the application of any product particularly if your pet has any medical illnesses or has sensitive skin. Your vet will always be able to provide you with the best advice for your dog's unique needs.