Organic care products are all the rage these days. People want products that are free of harmful chemicals like parabens, sulfates, and alcohol. The same thing applies to our four-legged friends.
If you peruse pet forums, you'll find that discussions about organic pet products are common. We want to know the products we use to clean our furbabies are natural and healthy for them.  
So let's talk about organic shampoos for dogs – why they're beneficial, and how you know they're the real thing. Then, I'll share a list of products I researched that are currently on the market to help you find the best organic dog shampoo for your pooch:
At a Glance: Our Top 7 All-Natural Organic Dog Shampoos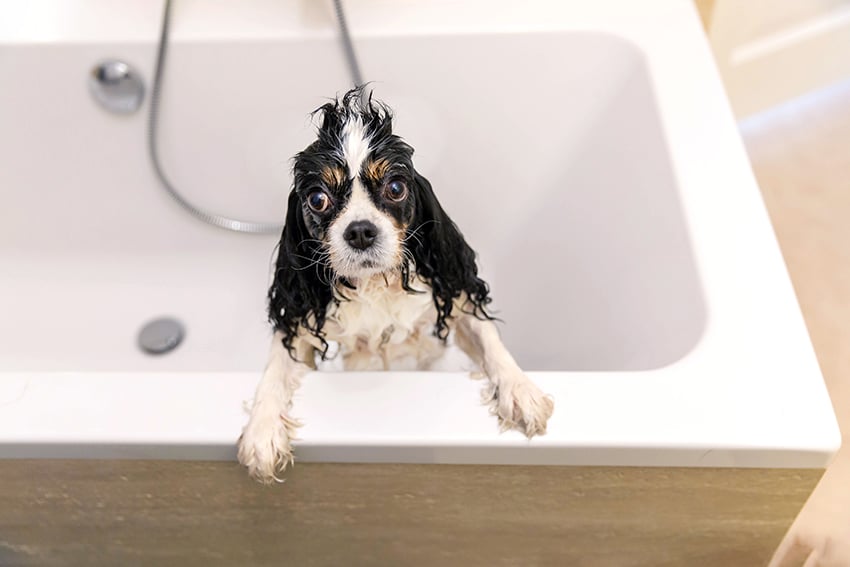 Why Look for Certified Organic Dog Shampoo?
Does it really matter if a shampoo is certified organic? Yes, and here's why:
There are a variety of products on the market that claim to be natural or organic on the label. However, without the USDA Organic logo, you could be dealing with a cheap imitation. It costs money to become properly certified. However, that doesn't stop producers from putting natural or organic on their label when the ingredients include nasty chemicals. So, always read the ingredient list and look for the USDA certified stamp to be sure that you're getting the real deal.
When it comes to natural, agriculturally-based products, the USDA has strict requirements for product labeling. If a shampoo claims that it's "Made With Organic Ingredients" that means it must have at least 70% organic ingredients for USDA approval, and to earn USDA Organic certification, a product must contain at least 95% organic ingredients.
Certified Organic Dog Shampoo
These products  are 100% natural with ingredients that come from organic-certified sources. They're designed to be biodegradable and safe for your pooch.
This product is USDA certified as organic and 100% non-toxic. With a blend of certified oils and essential oils, it's designed to be safe and hypoallergenic to protect your pup. It includes aloe vera which conditions and protects the skin. The shampoo is detergent-free and fully biodegradable. A small amount of this shampoo concentrate goes a long way, so the 16 oz bottle is cost-effective. There's also a risk-free, money-back guarantee.
Moosh is pH balanced and made with natural ingredients to be safe for your dog. With bentonite clay to soothe itchy skin and argan oil and aloe vera for conditioning, this product is gentle on the system. A Blend of 100% safe essential oils help to clean the coat and leave a fresh scent. This concentrate is made in small batches in the USA to ensure quality.
Fluppets Certified Organic Pet Shampoo
Certified to meet USDA Organic Standards, Fluppets Pet Shampoo contains saponified coconut, olive, and jojoba oils to clean and condition your pal's coat. There are not harsh chemicals in this blend. It includes essential oils that act as natural flea repellents and preservatives. The product comes in a 16 oz ultra-concentrate that's designed to last.
BotaniVet is USDA certified organic and has all-natural ingredients. It contains Manuka Honey to promote healthy skin and fight bacterial infections. This product uses a blend of natural plant-based oils and aloe vera that are non-toxic and biodegradable. With a fresh berry scent, it should leave your pooch smelling fresh. A veterinary dermatologist developed this formulation to be gentle and effective.
Puppy coats can be extra-sensitive. These products offer natural ingredients that are gentle on the skin and eyes for your new furbaby.
This all-in-one product from Pet Care Sciences is made in the USA and contains safe, natural ingredients. It's formulated to be tear-free and gentle enough for your puppy. Made from coconut oil, oatmeal, and aloe extract, this shampoo is free of sulfates and parabens. Apply the product to your furbaby and work into a lather to clean, deodorize, condition, moisturize, and detangle his coat. It comes with a 100% satisfaction guarantee.
kin+kind Puppy Shampoo for Puppies and Sensitive Dogs
Made in the USA, this shampoo is gentle enough for your puppy or a dog with sensitive skin. This product does not include any sulfates or parabens. It included organic, saponified, plant-based oils to help eliminate dry, itchy skin. It's unscented and hypoallergenic. The tearless formula should be easy to use on your young pooch.
Organic Dog Shampoo for Sensitive Skin
If your pal has sensitive skin, you need to find a product that's not irritating. Natural, plant based shampoos are generally safer and help to soothe the skin. Helpful ingredients often include oatmeal and aloe.
4-Legger USDA Certified Organic Dog Shampoo - All Natural and Hypoallergenic
As a USDA certified organic product, this shampoo has only natural ingredients. It uses plant-based saponified oils to cleanse the fur and soothe your pal's itchy skin. All the ingredients are hypoallergenic. The formula includes lemongrass essential oil, which is a natural tick deterrent, and rosemary essential oil as a natural preservative. It's biodegradable and environmentally safe.
Buddy's Best, Natural Dog Shampoo & Conditioner in One
Buddy's Best is an all-natural product with no toxic chemicals. It uses oatmeal to soothe the skin and has shea butter and aloe vera to condition the coat. The ingredients are all plant-based and hypo-allergenic. There are two scent options: coconut vanilla bean and fresh melon. You can purchase this product in a 16 oz or a 32 oz bottle. For best results, apply the shampoo with warm water, later, and let sit for at least 90 seconds before rinsing.
This vegan shampoo is made with USDA certified organic oils and essential oils. With a blend of olive, coconut, and jojoba oils, it's made to soothe the skin while cleaning the coat. The lemongrass rosemary essential oils leave a clean, fresh scent and act to protect your pooch from fleas and bacteria. It's alcohol and chemical free and non-toxic.
Vermont Soap Pet Magic Dog Shampoo
Pet Magic Dog Shampoo from Vermont Soap is a non-toxic shampoo made with saponified organic oils. There are no chemicals or petroleum-based ingredients in the product. The formula includes a blend of tea tree and organic orange essential oils for cleansing and antimicrobial effects. Aloe vera helps to condition the skin. It comes in a 16 oz. bottle.
Fluppets Certified Organic Pet Shampoo
With 100% all-natural ingredients including organic saponified oils, Fluppets Certified Organic Pet Shampoo is non-toxic and eco-friendly. It's hypoallergenic and gentle on sensitive skin. The formula includes aloe vera to condition and soothe your pup's skin. It's safe to use on puppies, dogs, and other animals. The product comes in a 16 oz bottle and is concentrated to give you more value for your money. It comes with a complete satisfaction guarantee.
Organic Flea Shampoo for Dogs
By using an organic product with essential oils like lemongrass or tea tree oil, you can keep fleas and other parasites off your dog. Some products will kill fleas on your pup while others have a repellent effect.
With 74.5% natural ingredients, this shampoo is effective for treating dogs that have fleas or ticks. It's sulfate and paraben free and includes no harsh chemicals. Properly pH balanced for dogs, this product is safe for pups that are12 weeks or older. A blend of 5 essential oils provides the natural parasite treatment, and it leaves the coat smelling fresh and clean. The blend is not safe for cats.
Dead Sea Pet Spa Store -Arava Flea & Tick Control Dog & Puppy Shampoo
Arava Flea & Tick Control shampoo from Dead Sea Pet Spa is an all-natural product made from a blend of plant-based oils. There are no harsh chemicals in the formula. With a blend of essential oils, this product is made to repel hundreds of insect species. It's safe to use on puppies and includes a blend of dead sea minerals to condition the skin. The shampoo comes with a 30-day risk-free guarantee.
Natural Care Flea and Tick Dog Shampoo
This Flea and Tick shampoo from Natural Care is made with a blend of plant extracts to provide effective protection against topical parasites. It has no harsh chemicals, parabens, or sulfates and is safe enough to use on a 12-week old puppy. The formula is made to lather and rinse easily and to kill fleas and ticks on contact. It comes in a 12 oz bottle.
Made for dogs and puppies that are 12 weeks or older, TropiClean shampoo has natural ingredients that kill fleas and ticks. The blend of essential oils should also repel the parasites for up to 1 week. It has a gentle coconut cleanser and is soap and chemical free. The product is available in 20 oz, 1 gallon, and 2.5 gallon sizes.
Some dog shampoos are available in a bar form. These products do away with the bottle, so there's less waste. You can rub the soap against your pal's wet fur to create a rich lather.
Washbar Natural Organic Dog Shampoo
With a Washbar dog shampoo bar, you can do more to protect the environment. You won't have to worry about plastic bottles when you use this product. Another benefit is that it's easier to wash your pooch's underside. No more fighting gravity. One bar is equivalent to 20.3 oz of liquid shampoos, so the bars are cost effective. This product features natural ingredients including lemon-scented tea tree oil to soothe your pooch and leave his fur smelling fresh. You get 2 bars with your purchase.
Organic Dry Shampoo for Dogs
Sometimes, you need a quick, mess-free way to clean your pooch. Whether it's too cold to deal with a soaking dog, or you have another reason, organic dry shampoos can help. Pick a spray or mousse that you can apply to your pal's fur then towel off and brush his coat.
Bodhi Dog Store - Waterless Dog Shampoo
Bodhi Dog Waterless Shampoo is a spray-in cleaner for your pooch. It's alcohol free and offers fast, effective cleaning. With deionized water, a detergent-free coconut-surfactant blend, and lavender extract, this product is gentle on sensitive skin. Spray the solution on the fur and towel off to clean away the dirt and leave your pooch smelling fresh.
Burt's Bees All Natural Waterless Shampoo Spray for Dogs
Burt's Bees Waterless Shampoo Spray is pH balanced for dogs. It uses honey and apple extract to nourish the skin and hair. There are no sulfates, parabens, or other harsh chemicals in this product. This 99.7% natural spray is safe to use on puppies and adult canines. It comes in a 10 oz spray bottle. Apply directly to your dog's fur starting behind the ears and moving backwards to the tail. Towel off to remove dirt.
Paw Choice Dry Dog Shampoo, Waterless, No Rinse Foam Mousse
Paw Choice Dry Shampoo for dogs is a mousse form. It uses an all-natural coconut-derived surfactant blend to cleanse and condition your pooch's fur. This product has no alcohols, sulfates, parabens, or harsh chemicals. It's safe and gentle on sensitive skin. The papaya-mango scent will leave your pal smelling fresh.
Organic Oatmeal Dog Shampoo
If you have a dog with red,itchy skin or allergies, oatmeal is a great soother. Combine this ingredient with natural organic products, and it should help ease your furbaby's woes.
All Natural & Organic Oatmeal Puppy/Pet Shampoo
This Organic shampoo is pH balanced and specially formulated for sensitive skin. It uses all-natural ingredients, including aloe vera, almond oil, and oat proteins to soothe and condition the skin. There are no harsh chemicals, alcohol, parabens, or fragrances in this product. The formula also has vitamins A,D, and E to nourish your pup's skin and coat. It comes in a 17 oz bottle.
Organic Lavender Dog Shampoo
Lavender is a naturally soothing scent. Shampoos with lavender extract or essential oils may help calm a pup that's nervous around bathtime. An added bonus is that it leaves a fresh, clean aroma after the bath.
BarkLogic 2 in 1 Natural Dog Shampoo and Conditioner with Essential Oils
The 2 in 1 shampoo and conditioner from Bark Logic is a natural formula made with plant-based ingredients . It combines a blend of botanicals that cleanse and condition the fur. The essential oil infusion blend of lavender, calendula, and chamomile helps to calm anxious pups. It's made in the USA and comes with a 100% quality guarantee.
Why Should I Use Organic Shampoos?
You may be wondering what the big deal is about organic products. The fact is that some of the chemicals in conventional shampoos that add extra lather or scent can be harmful to your pal's hair or skin, especially if your furbaby has allergies. On the other hand, organic washes with natural ingredients have many benefits:
They're safe – Using a product with natural ingredients gives you an assurance that your special pal won't be exposed to harmful chemicals that could damage the skin or cause other harmful side effects. Organic shampoos also tend to be tear-free.
They're environmentally friendly – Organic shampoos tend to be more biodegradable than conventional products because they start with natural ingredients. The production methods for organic certified products are also more environmentally friendly.
They're gentle on skin and hair – Many natural products are more soothing to irritated skin than some of the chemicals found in commercial products. organic ingredients are also less likely to wash away your pup's natural oils so that the protective skin barrier remains intact after bathing.
They maintain a proper skin pH – The natural ingredients won't alter your dog's natural pH the way that some harsh chemicals found in commercial products can. 
They can help reduce or prevent shedding – Because natural ingredients tend to nourish and protect the skin, it's less likely to get dry and flaky. Healthy skin supports healthy hair follicles so there's less shedding.
They help to prevent allergic reactions – Because organic shampoos use natural, non-toxic ingredients that are hormone-free, they're less likely to trigger allergic reactions. Many of these products also have hypo-allergenic ingredients.
Can I Use Human Organic Shampoo on My Dog?
You may be thinking, "I use organic shampoo, so why not just share it with Fido?", but think again.
Human skin and dog skin are not alike. Both have a protective barrier called the acid mantle that helps protect us from bacterial and viral infections. When we wash our hair or skin, the soap removes the mantle. Fortunately, our soaps and shampoos usually contain conditioners that provide protection until our bodies can regenerate the acidic oil layer. The key is that these conditioners are pH balanced for human skin (around pH 5.2-6.2).
Dogs have a more neutral range (pH 5.5-7.5) depending on the breed and other factors. So, their products have a different pH balance than human products. If you use your shampoo on your dog, it will disrupt the acid mantle and leave his skin vulnerable to infections.
Can I Use Baby Shampoo to Wash My Dog?
Although you may think baby shampoo should be safe for my dog because it's gentle enough for a baby, that's not the case. These products are not pH balanced for a dog's skin, and they often contain sulfates that can damage or irritate the skin.
How to Make Homemade Dog Shampoo
If you like to make your own products so that you know exactly what's in the shampoo, make sure you find a recipe that provides healthy ingredients. Remember that you'll need something with a pH balance that's right for a dog. Here's a homemade shampoo recipe from Dr. Jones that can safely clean and deodorize your pup:
¾ cup of water
1-2 Tablespoons Castile Soap liquid concentrate
2 Tablespoons Organic Apple Cider Vinegar
10 drops of Lavender Essential Oil
Mix the ingredients together to make a dog-safe, natural shampoo.
Our Verdict on Organic Shampoos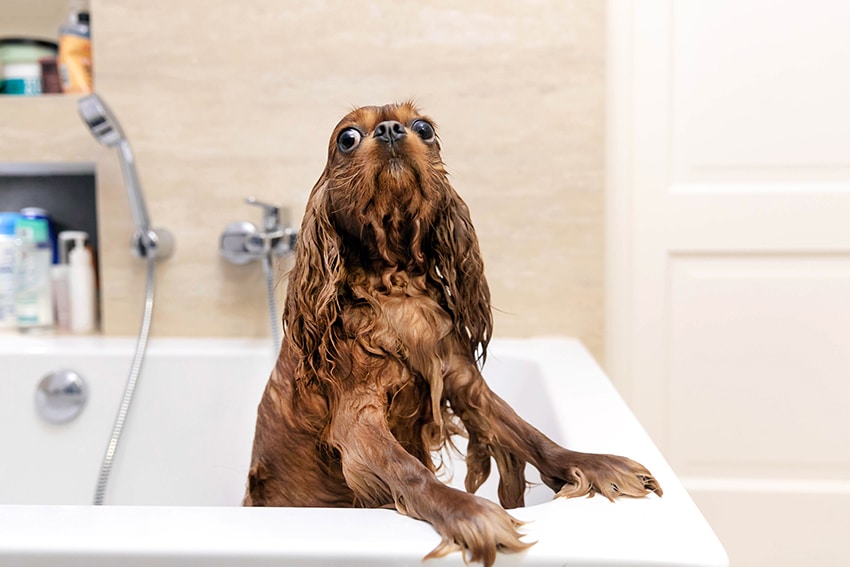 After evaluating the above products and comparing their ingredients and results, we select 4-Legger USDA Certified Organic Dog Shampoo as our top product.
This shampoo uses all-natural ingredients from USDA certified sources. It's hypoallergenic and hand-crafted in small batches.  With organic coconut oil and aloe vera, it's made to clean and condition the coat.
With lemongrass essential oil, this product is also effective to kill and repel fleas. It leaves a fresh, citrus scent after rinsing.
Based on the above qualities and positive customer reviews, we select 4-Legger USDA Certified Organic Dog Shampoo our choice for Best Organic Dog Shampoo.