We love our furbabies, but sometimes pet allergies make living with them almost impossible.
A major source of the allergy-causing proteins from your pet comes from the dead skin cells, also known as dander, that he sheds. These allergens can make you downright miserable with watery eyes, runny noses, and itchy skin. Sometimes, the same proteins affect your furbaby and cause him to scratch right beside you. If only there were a product that could reduce pet allergens.
Good news! You may be able to control the allergens from your dog with anti-dander shampoos. We reviewed ten of the top products currently on the market to help you find the best dog shampoo for dander for your pooch.
After evaluating their ingredients and effectiveness, we selected AllerSearch Pet+ Dog Shampoo as our top pick. This product uses gentle, natural ingredients to condition the skin and coat. It also cleans and deodorizes your furbaby and is safe for puppies.
Before we get to our product reviews, we'll take some time below to talk about these products and tips to reduce your pup's allergens. Let's dive in.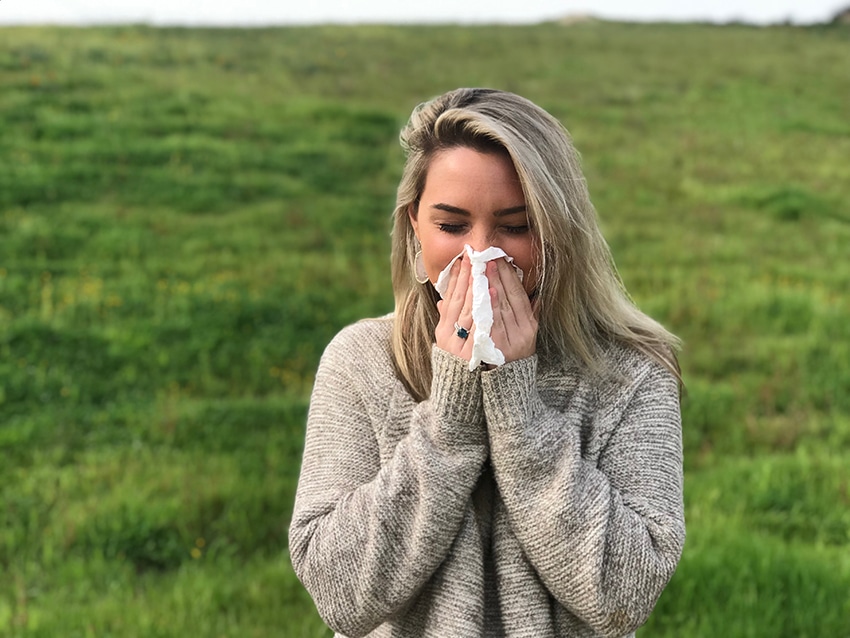 Allertech Pet Shampoo uses a proprietary formula with natural anti-allergenic ingredients. This product is non-toxic and safe for dogs. It's made in the USA, and it works to remove odors and dander from your pup's coat. The blend provides up to 30 days of protection from fleas and ticks. You can purchase this shampoo in a 16 oz bottle.
Allerpet Multi-Pet Dander Remover
Safe for puppies over 10 weeks and dogs, this dander remover from Allerpet is fragrance-free and includes natural ingredients. You can use this solution to cleanse the fur and remove the dander and saliva from Fido's coat. The formula includes aloe vera and is vitamin-rich to nourish the skin. There are no preservatives, harsh chemicals, or toxins in this product.
Allersearch Pet+ Dog Shampoo
This dog shampoo from Allersearch Pet+ has a natural anti-allergen base, nonionic surfactants, and emollients to cleanse your pet and reduce dander. The all-natural formula is hypoallergenic and plant-based. It has no dyes, fragrances, or harsh chemicals that could irritate the skin. With plant-based extracts, this product is biodegradable and pH balanced for dogs. It's also safe for use on puppies.
The Ecology Works Anti-Allergen Pet Shampoo
Hypoallergenic and safe for your pooch, this Anti-Allergen shampoo from The Ecology Works uses a non-toxic mineral and plant-based formula to reduce your dog's dander. The proprietary blend of ingredients works to condition the skin and coat while neutralizing allergens. It's ingredients help to control fleas and ticks and to deodorize the coat. This product is specially formulated to soothe sensitive skin and neutralize dust mite allergens.
Ezall Green Anti-Allergen Pet Shampoo
With mineral-based non-ionic surfactants, aloe vera, and yucca neem tree extract, this anti-allergen shampoo is formulated to denature your dog's protein-based allergens. It's made in the USA with non-toxic ingredients and safe to use on dogs, cats, and other small furbabies. Use this to reduce the amount of dander in your home. It has a fresh pear scent.
Wahl Shed Control Pet Shampoo for Animal Shedding & Dander
This pet-friendly formula is made in the USA. There are no parabens, alcohol, or PEG-80 in the formula. The cleansers come from plant-based ingredients that form a thick lather for easy cleaning. Aloe vera and oatmeal soothe and condition the skin and coat. Lemongrass and sage extracts provide a clean, fresh scent. The concentrate comes in a 24 oz bottle.
Earthbath Shed Control Green Tea & Awapuhi Dog & Cat Shampoo
There are no soap, parabens, or phosphates in this pH balanced shampoo. You can safely use this product on dogs or puppies that are 6 weeks or older. Natural ingredients including oatmeal, green tea extract, aloe vera, and shea butter moisturize and nourish your pal's skin and coat. It's formulated to clean and deodorize the fur without washing away any flea and tick treatments.
Pet Pleasant Lavender Oatmeal Pet Shampoo
This shampoo from Pet Pleasant includes natural ingredients such as colloidal oatmeal and jojoba oil in the formula. It's made to clean your pooch while soothing dry, itchy skin. The lavender essential oil helps to calm and deodorize your furbaby for a pleasant bathing experience. The made in the USA product is gentle and safe to use on dogs and puppies.
Particular Paws Oatmeal Shampoo for Dogs
With oatmeal, shea butter, and aloe vera, Particular Paws Shampoo helps to condition the coat and soothe irritated skin. It's non-toxic and safe to use on dogs and cats at any age. The formula relies on all-natural ingredients that help to restore your dog's pH balance and natural oils. Chamomile and Rosemary extracts help to clean and deodorize the coat. This product is made in the USA and comes with a 100% satisfaction guarantee.
Paws & Pals 5-In-1 Oatmeal Dog Shampoo
Made in the USA with natural ingredients, Paws & Pals 5-in-1 shampoo uses a blend of plant extracts, oils, and vitamins to gently clean your dog's fur. Oatmeal soothes and moisturizes itchy skin. The shampoo is formulated to clean, condition, and deodorize the coat. It comes in a 20 oz bottle.
What's the Big Deal About Anti-Dander Shampoos?
We know all dogs shed dander… but are anti-dander shampoos really worth it?   When you're dealing with pet allergies or asthma, it could make a big difference especially if you follow some best practices.
Do Anti-Dander Shampoos Really Work?
The truth is that dog dander shampoos are not a silver bullet cure for pet allergies. There are some differing opinions on their efficacy. Part of the problem is that your dog also secretes allergens in his saliva. However, regular bathing can help remove dry skin before it flakes off as dander. To get the best results, bathe and groom your furbaby weekly using lukewarm water. Use a hypoallergenic anti-dander shampoo to minimize skin irritations that increase dander production.
Things to Look for When Picking a Dog  Shampoo for dander
Dogs shed skin as we do, and that can be a problem if you or your furbaby have dander allergies. While you can't eliminate all dander, you can control it. One of the easiest ways to keep dead skin cells to a minimum is by regularly cleaning your pooch with a product that removes the flaky layer and moisturizes healthy skin. Let's look at important features in a dander shampoo for dogs:
Active Ingredients
If you're looking for a shampoo to reduce dander, you want active ingredients that are gentle and won't dry out the skin. Look for products that help nourish and protect your pup's skin like:
Aloe vera – to soothe the skin and provide antibacterial effects
Lavender to nourish and soothe the skin
Vitamins A, D, and E -to moisturize the skin and provide antibacterial and anti-inflammatory effects
Jojoba oil – to prevent hardening of sebum in the hair follicles
Oatmeal – to condition the fur, moisturize the skin, and treat dander
Coconut – to condition the fur, fight odors, and provide antimicrobial effects
Natural emollients  – to moisturize
Non-ionic surfactants – to cleanse the fur without drying it out
Hypoallergenic Formula
Ingredients that trigger allergic reactions are a major cause of increased dander. Look for products that are allergen-free to help minimize dry, itchy skin.
Natural Ingredients
In general, natural ingredients are gentle on the body. Avoid products with chemicals like sulfates and parabens that can be harsh and contribute to dander.
pH Balance
Look for a shampoo that's pH balanced for canine skin. Usually, you'll want a product that's neutral (pH 7) for pups. Using the wrong balance can upset their acid mantle, which protects the skin surface. This may lead to increased irritations and dander production.
Conditioners
Natural conditioners like alow vera, coconut, and oatmeal help promote healthy skin. Look for products that contain ingredients that can nourish the skin and prevent excess flaking.
Deodorizers
Be careful with fragrances. Some perfumes can be harsh and contribute to dry, flaky skin. However, some natural products such as fruit extracts and some essential oils can eliminate odor and leave a pleasant scent behind.
Anti-parasitic effects
If your pooch suffers from skin parasites like fleas, ticks, and mites, you can reduce dry, flaky skin by treating the underlying condition. Check the label for ingredients with anti-parasitic activity, such as lemongrass oil.
Safe For Puppies
Hey, puppies shed dead skin too! If you have a young pooch with dander issues, look for a product that's gentle on their hair and skin.
Made in the USA
Look for products that are made in the USA using trusted sources to ensure that you know what you're getting. Some outsourced products can contain harmful chemicals or contaminants.
5 Tips for Minimizing Dog Dander to Help Allergy Sufferers
If you have a pet allergy, the most likely culprit is your furbaby's dander, not his fur. So, if your pal has excess dander, it can make your life uncomfortable to unbearable. What's more, the excess dry skin isn't good for your pup's health. Let's look at 5 ways you can cut down on the dander to keep you and your pooch healthier and happier.
Check your dog's diet – An unhealthy diet with lots of fillers can contribute to dry skin and dander. If your pooch has skin issues, consider using a limited ingredient diet that's allergen-free.
Groom your dog daily – Daily coat brushing helps to loosen dead skin and remove it from your pal's fur. This is especially important if your pal has a long or thick coat. Whenever possible, groom your furbaby outside to keep the dander out of the house.
Bathe your dog regularly – Regular bathing with a hypoallergenic shampoo that's gentle on the skin can help to remove flaking skin before it spreads around your house. You can use high-quality products that are made for allergens and have moisturizers as often as once a week. Be careful that you don't overdo it, or you'll remove your pup's natural oils.
Give your dog supplements – Some dietary supplements support healthy skin and hair. Add ingredients like coconut oil or fish to Fido's diet to provide Omega 3 and 6 fatty acids.
Keep your dog's hair trimmed – You can help to reduce dander production by keeping your dog's hair short. That decreases the ability of the coat to trap dirt and bacteria that can irritate the skin. For dogs with hair, you can shave the coat short. If your pooch has fur, trim it regularly but don't shave it. Shaving a double-coat can cause damage to the fur.
F.A.Qs
Q:  What can be done to reduce the number of allergens on a dog and in a house?
A:  To help reduce the allergens on your dog or in the house:
Brush him outside every day. If you can't groom Fido outside, do it in a contained area such as your garage or a mudroom and immediately vacuum the space.
Bathe your pal regularly to remove dry skin before it sheds as dander.
Use a double or micro-filter bag to minimize the number of pet allergens that leak out.
Invest in a HEPA air filter to remove allergenic particles from the environment.
Remove your rugs and carpeting or vacuum them frequently.
Clean your air ducts on a regular basis.
Q: Can I get rid of dog dander completely?
A:  No. As long as you have a dog in your home, you won't be able to get rid of dander completely. Even so-called hypoallergenic pups will shed dead skin cells. You can take the steps above to keep the level of these allergens at a minimum, but it's impossible to be dander free if you own pets with skin and fur.
Q: What causes excessive pet dander?
A: If your pooch is shedding excessive pet dander, there's probably an underlying condition. For example:
Dogs with extra-dry skin will shed more cells than those with healthy epithelium. Use shampoos that help to nourish and moisturize the integument.
A poor diet with lots of fillers can contribute to extra dander production, particularly if your furbaby has a food allergy. Feed limited ingredient diets that are allergen-free.
If your pooch suffers from skin parasites like fleas or mites, it can increase their dander levels. Use anti-parasitic shampoos and repellants to eliminate harmful critters.
The Final Analysis – Our Top Pick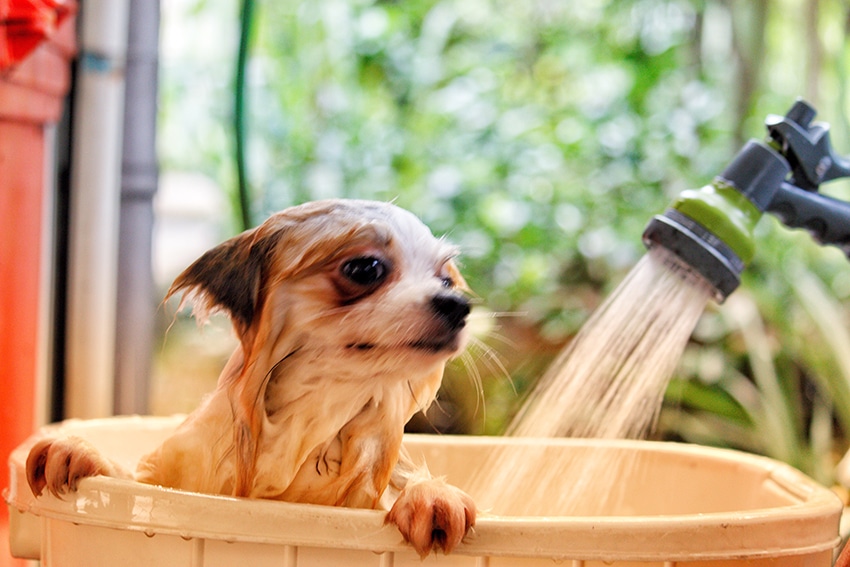 After evaluating the 10 products above and comparing them to our criteria, we picked Allersearch Pet+ Dog Shampoo as our best-in-show.
This product is pH balanced for dogs and uses natural ingredients to clean the coat and reduce dander. The active ingredients are nonionic surfactants, emollients, and a proprietary blend of plant-based extracts that helps to neutralize allergens and remove dander.
As a hypoallergenic shampoo, Allersearch Pet+ Dog Shampoo is gentle and safe to use on both dogs and puppies. There are no harsh chemicals or dyes in the made in the USA product.
The formulation is also made to condition the skin and deodorize the coat while it cleans.
The blend of these features makes Allersearch Pet+ our pick for best dog shampoo for dander.