Do you have a dog that chews just about everything in sight? If you've ever come home to destroyed plants, pillows, books, or furniture, you understand the frustration. Most puppies chew stuff. Fortunately, they usually grow out of the behavior…but not always.
One thing that some habitual chewers like to dig their teeth into is their collar. Whether they're uncomfortable with the choker, or they're just bored, the result is the same. They'll go to extraordinary lengths to get it off.
In multi-dog households, the problem can be worse. Fido has a partner in crime who may chew up his neckband for him. Of course, this is most common with new puppies if your older dog tolerates his antics.
There are several concerns with chewed collars, and they go beyond having to replace the hardware. If your pal gnaws through his choker and escapes, he has no identification to trace back to you. Some pups also swallow the pieces, and that can mean emergency treatment or surgery.
To help put an end to this behavior, you need to figure out what's causing the chewing. The activity often is a sign of boredom, stress, or anxiety. Unless you get to the root cause, protecting the collar may cause your pup to find something else to destroy.
While you're getting to the bottom of things, a durable chew proof dog collar is a good temporary fix. It may not be unbreakable, but it's tougher than the average yoke.
We evaluated 10 products to help you find the best option for your pup. But first, let's take a look at why dogs destroy their collars and what to look for in a chew proof dog collar.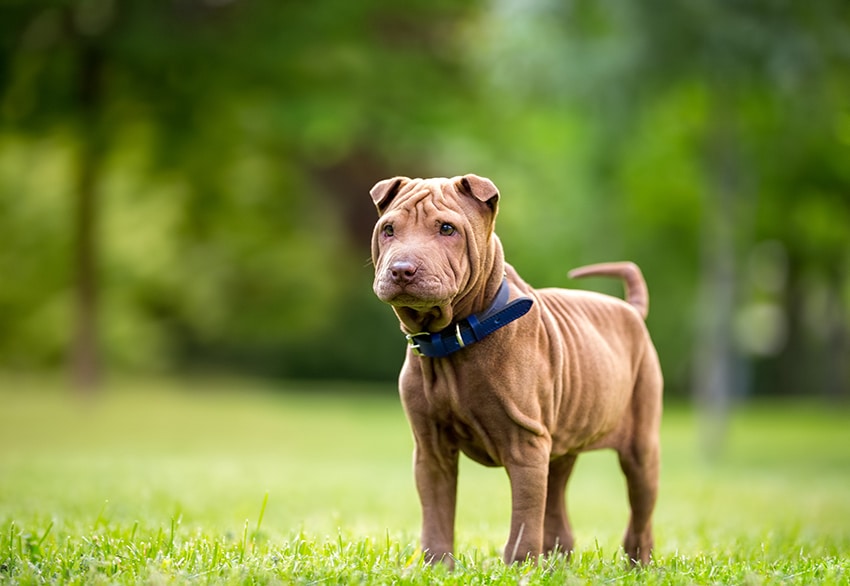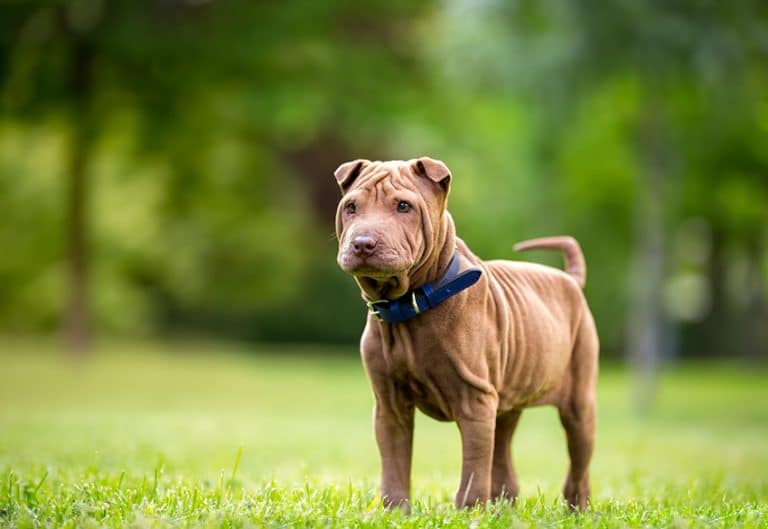 Top 10 Chew-Proof Collars
Black Rhino Black Rhino - The Comfort Collar Ultra Soft
The Black Rhino Comfort Collar is designed to be lightweight and heavy-duty. Made with durable, soft neoprene material, that's comfortable, odor-resistant, and weather-resistant. The band includes a layer of neoprene padding to protect your pal's neck. It has metal fixtures.
A great feature of this collar is that it comes in a range of colors and sizes. You can pick aqua/grey, black, blue/grey, pink/black or red/black to suit your taste. Sizes can fit neck measurements from 12-26".
If you like to go out at night with your furbaby, no problem! This product has reflective stitching for improved visibility.
OneTigris Military Adjustable Dog Collar
Made of durable nylon with a padded inner lining, the OneTigris Military collar comes in two sizes. It has sturdy, metal fixtures for extra strength. The thick band has a buckle with five adjustment points.
This product comes in five military-hues – black, coyote brown, grey, ranger green, and OD green. A fun feature for this collar is the ability to personalize your pal's neckwear. It has a hook and loop panel where you can attach a name patch, logo, or ID information.
EXCELLENT ELITE SPANKER Tactical Dog Collar
The Excellent Elite Spanker is a durable collar made with 1000D Nylon material. It has a double layer of fabric and a padded lining to prevent chafing and keep your pal comfortable. This band is made to hold up to daily abuse with reinforced stitching and metal hardware. The buckle has a quick-release feature that makes it easy to put on and off your special pal.
Some neat things about this collar are that it has a control grip handle to keep your furbaby close when needed and a magic sticker ID panel. You can easily attach a patch with important information to the panel. This collar comes in three sizes and four tactical colors – black, coyote brown, grey, and ranger green.
Tuff Pupper Heavy Duty Dog Collar with Handle
Built to last, the Tuff Pupper collar is made from 3-mm thick with ballistic nylon. The stainless steel buckle and D-rings are durable and secure. This collar has your dog's comfort and safety in mind. It has a soft neoprene and a mesh lining to be gentle on Fido's neck. The 3-M reflective trim helps you keep an eye on your pup in poor lighting and makes you more visible to drivers after dark.
This collar also features an integrated bungee handle for better control of your pooch in tight spaces. The stretchy material provides a secure yet comfortable grip. You can purchase this product in three sizes and seven attractive colors – brown, epic black, forest green, hot pink, march red, midnight blue, or steel gray.
Yunlep Adjustable Tactical Dog Collar
Lightweight and durable, the Yunlep Tactical collar is made of 1000D Nylon and heavy-duty metal fixtures. It's made to stand up to heavy use with reinforced stitching and a soft, padded inner lining that's hypoallergenic and comfortable.
This collar features a control handle that you can use for training or keeping your furbaby close when you're in touchy situations. Another useful aspect of this band is a magic sticker on the back. Attach a name tag, ID patch, or another velcro accessory to it. Select from three sizes and four earthy colors – black, camo, coyote brown, or ranger green.
LupinePet 3/4 Inch Adjustable Dog Collar
This attractive LupinePet Collar is made of high-quality jacquard nylon webbing that's designed to be durable and flexible for your pup's comfort. It has reinforced bar tack stitching that's used for mountain-climbing gear to provide superior strength.
You can fit this band to your pup's neck using the nylon-plastic tri-glide adjuster. The non-slip teeth help to hold the collar in place no matter how hard your pal pulls. The side-release buckle should lay flat on your pal's neck. This hardware is made of heavy-duty plastic that tests stronger than some metal fixtures. The leash attachment is a welded steel D-ring. With 8 colors and three adjustable sizes, you're bound to find the right match for your pooch.
Bully's Dog Collar for Large Dogs
This collar is not just for pit bulls. With heavy-duty nylon lightweight, tactical materials, it's made to be durable and functional. The hardware is made of sturdy, tarnish-resistant stainless steel. There are also a double-buckle and reinforced holes for a secure fit.
With seven adjustable neck lengths and appropriate width options, you should be able to find a suitable fit for your furbaby. The neck strap is wide for added comfort and better pressure distribution. You can pick from six colors – army green, black with red trim, fire engine red, orange juice, sapphire blue, or black with blue trim.
Miles Tactical Cobra Dog Collar for Large Dogs
This heavy-duty collar is built to be tough and durable. It's made of military-spec webbing and has a durable stainless steel V-ring leash attachment and adjuster slide.
A unique feature of this collar is the Austrian-made Cobra side-release buckle which is rated to withstand 4000 lbs of force. This rugged hardware is also used by NASA and our military. Another useful aspect for this product is the control handle that lets you keep your pup under wraps in tense circumstances. There's also a velcro ID panel. The product comes in two sizes and three earthy colors – black, wolf grey, and coyote tan.
WINSEE Harnesses with Dog Collar
With the WINSEE harness and collar, you get two stylish products in one affordable package. The neck strap is made of solid nylon and a lockable quick-snap buckle. It features reflective stitching, slide adjusters, and a heavy-duty D-ring leash attachment.
The no-pull harness features the same reflective stitching and fasteners for extra security. It's made of 1680D Oxford fabric and is chew-resistant. There are front and back D-ring attachment points and a control handle on the harness.
Furbaby Products Biothane Dog Collar
Lightweight and durable, this heavy-duty collar features biothane-coated polyester webbing. The treatment seals the fabric and makes it stronger and more resistant to chewing and other abuses.
This attractive collar has the look and comfort of leather, and it comes in three sizes and nine color options. It's easy to fit and has corrosion-resistant, nickel-plated hardware.
A Dog and His Collar - Why Durability Matters
Why Dogs Chew Their Collars?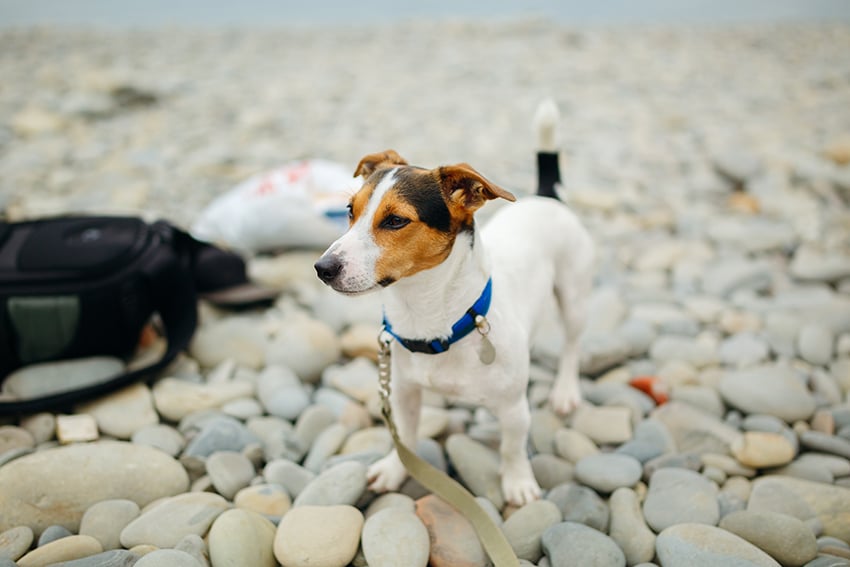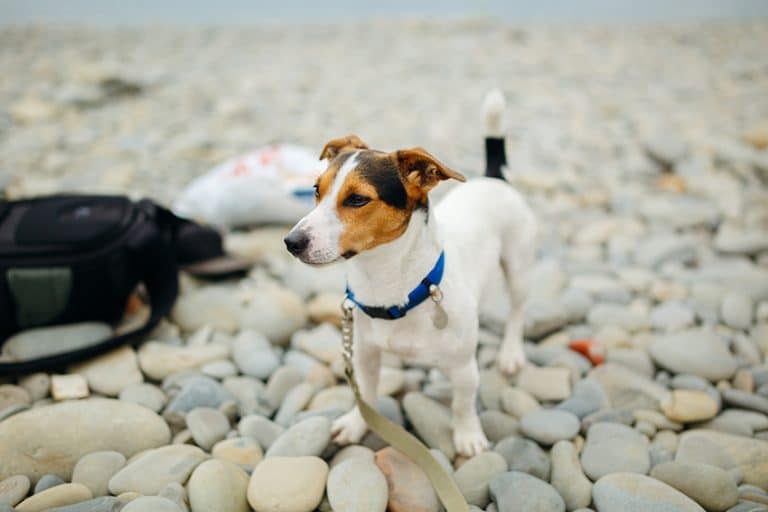 There are different reasons that pooches chew on their collars or other things. Young pups often use their mouths to explore their surroundings. Hunger or teething pain can also trigger gnawing behavior. Other dogs do it because they have a natural urge to chew, and some pooches mouth objects because they've learned it gets your attention.
As we mentioned above, destructive chewing behavior can also be a sign of stress or anxiety. An animal that feels trapped in a confined space may chew or dig to get out, and dogs struggling with separation anxiety or other conflicts may act out by chewing.
Qualities of a Durable Chew Proof Collar
Let's be clear here…
There's no such thing as a completely indestructible or chew proof fabric collar.
No matter what manufacturers say, if some dogs can destroy chain-link fencing, there's no fabric material that can stand up to a determined chewer.
That doesn't mean you should pick a chain, however. A metal collar can be heavy, loud, and uncomfortable. It also may hurt your pal's neck if he pulls. I don't recommend these types of yokes.
When you shop for a collar, look for something that balances durability with comfort and proper fit. When the strap fits right and feels comfortable, your pal is more likely to leave it alone than gnaw on it. But, a collar that's durable will last longer if your pup insists on chewing.
That's why the desirable collar will have the following qualities:
Durable materials – Some materials, like ballistic nylon or ripstop, are more resistant to chewing while still offering a good level of comfort. There are also products with a protective coating that boosts durability.
Strong hardware – Dogs commonly target the buckles, leash attachments, or clips for chewing. Look for sturdy metal D-rings and metal buckles rather than plastic clips that can crack or break under pressure.
Comfort and Flexibility – Chew-resistant collars are often stiffer and can be less comfortable for a dog, especially if they have short hair. Some brands account for this with padding or neoprene interiors. If you're considering a collar that combines thin metal with fabric, make sure it's flexible and will sit against Fido's neck comfortably.
Good Fit – Dogs are less likely to chew on collars that are comfortable. You want the neckband to fit snugly without being too tight. We'll address tips for getting a good fit more below.
What if One Dog Chews Your Other Dog's Collar?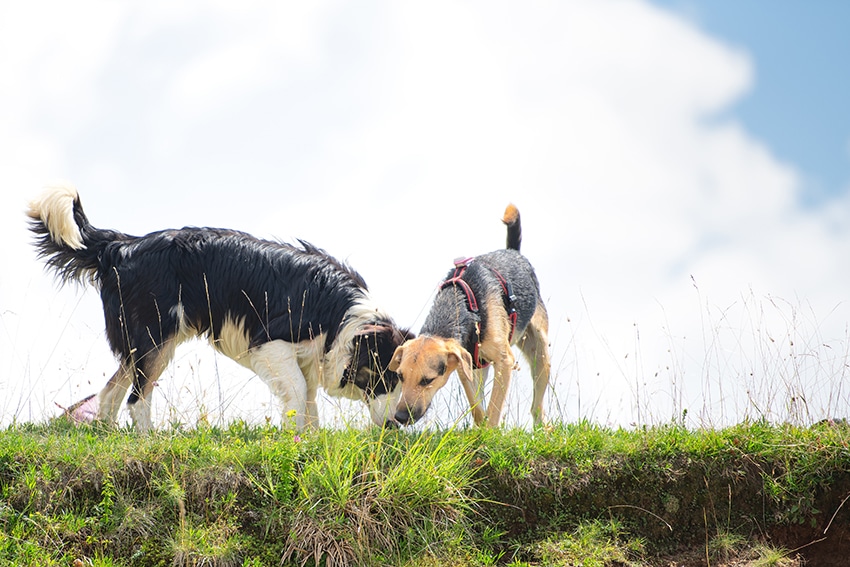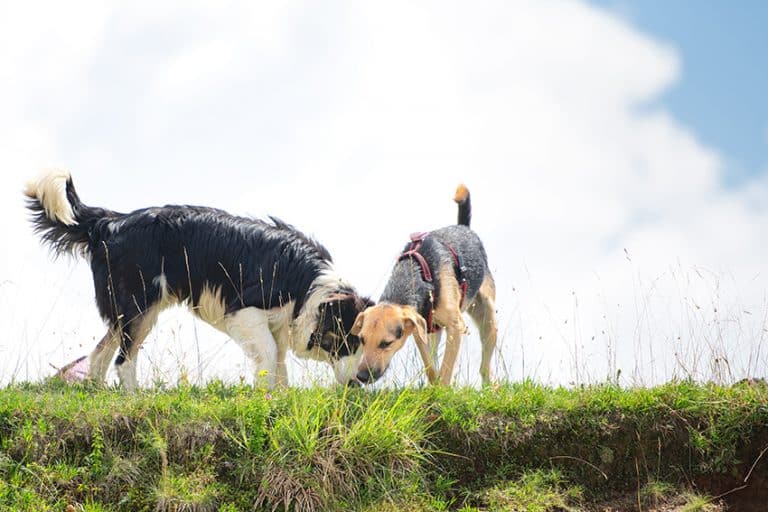 If you have a chewer in a multi-dog household, he may try to gnaw on the other dog's collar. This behavior is undesirable and unsafe. It's important to train your pooch to find other outlets for his chewing urge. Some corrective and preventative actions you can take include:
Quick Tips For Properly Fitting Your Dog's Collar
Don't rely on the "two-finger rule." – You've probably heard you can check for a proper fit by slipping two fingers between the collar and your dog's neck. The problem with that is we all have different sized fingers, so it can lead to an inconsistent fit. A better approach is to get a snug fit directly under the chin. Adjusting the collar to sit high on the neck can help to keep it out of reach of his teeth, and it avoids putting unwanted pressure on the trachea when he pulls on his leash.
Test the Collar Once It's On – Once you have the collar properly fitted, try to slip it over your pup's head. Remember, dogs can be Houdinis! Play with Fido's yoke like he would to make sure he can't get his teeth on it.
Consider Walking Your Dog With a Harness or Martingale – When you attach the leash to your pup's collar for a walk, it puts pressure on the material. Friction and pulling can affect the fit of the collar. You'll need to constantly check and readjust the fit. That's why it's best to rely on a walking harness or martingale for outings.
Check the Fit Periodically – Depending on your pup's age and activity level, you'll want to check the fit of his collar from time to time. Young animals may still be growing, and materials can stretch or change over time.
The Final Verdict - Our Top Pick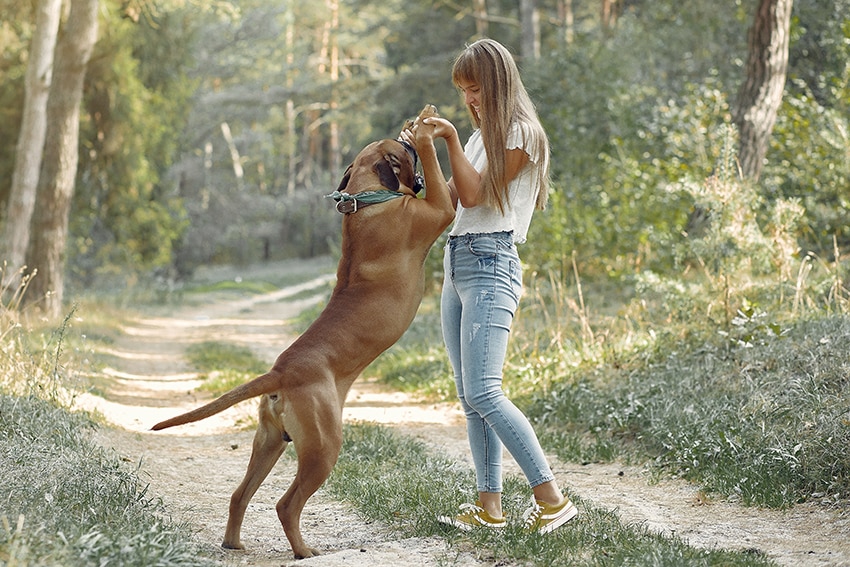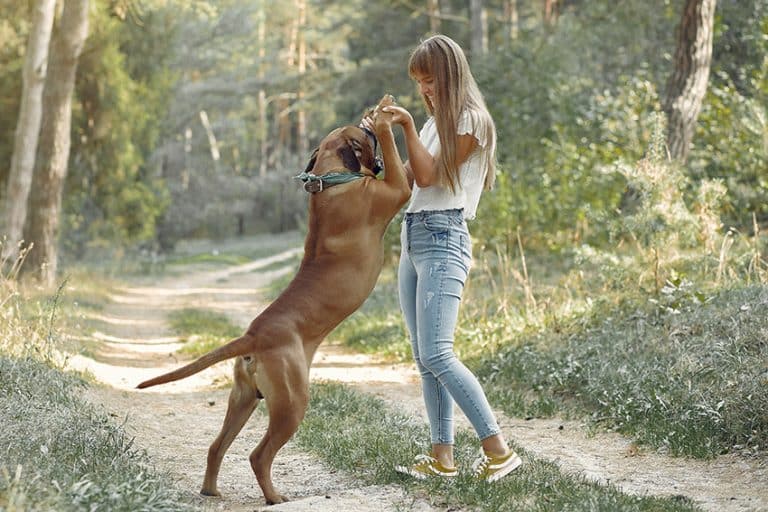 After reviewing the above products and comparing their features to our criteria, we pick the
Miles Tactical Cobra Dog Collar
as our pick for best chew proof dog collar.
This product meets all of our requirements. It's made of military-grade webbing that's strong, durable, and chew-resistant. The hardware is heavy-duty stainless steel for added security. It includes the safe and rugged Cobra side-release buckle.
Customers report that the collar is flexible and appears comfortable for their dogs. Bonus features include a control handle and a velcro panel where you can stick an ID patch or other important information.