When my daughter was younger, she had to learn early to put her toys away or risk our pup chewing them up. Face it, some dogs love to sink their teeth into stuff whether they raid the trash for tissues, destroy your new shoes, or tear stuffed animals apart.
But when Fido starts to gnaw on his leash, that takes things to a whole new level. Now, instead of cleaning up a mess, you have to buy new hardware. And if you don't notice the damage soon enough, your pooch could snap their lead and get loose when you're going for a walk together.
If only you could find a chew proof dog leash… Fortunately, there are some extra tough leads on the market. These products are made to resist your pup's chewing behavior.
In this review, we'll talk about the qualities you want to look for in a durable tether and evaluate some of the top options that are available so that you can find the best chew proof dog leash for your needs.
Top 12 Chew Proof Dog Leashes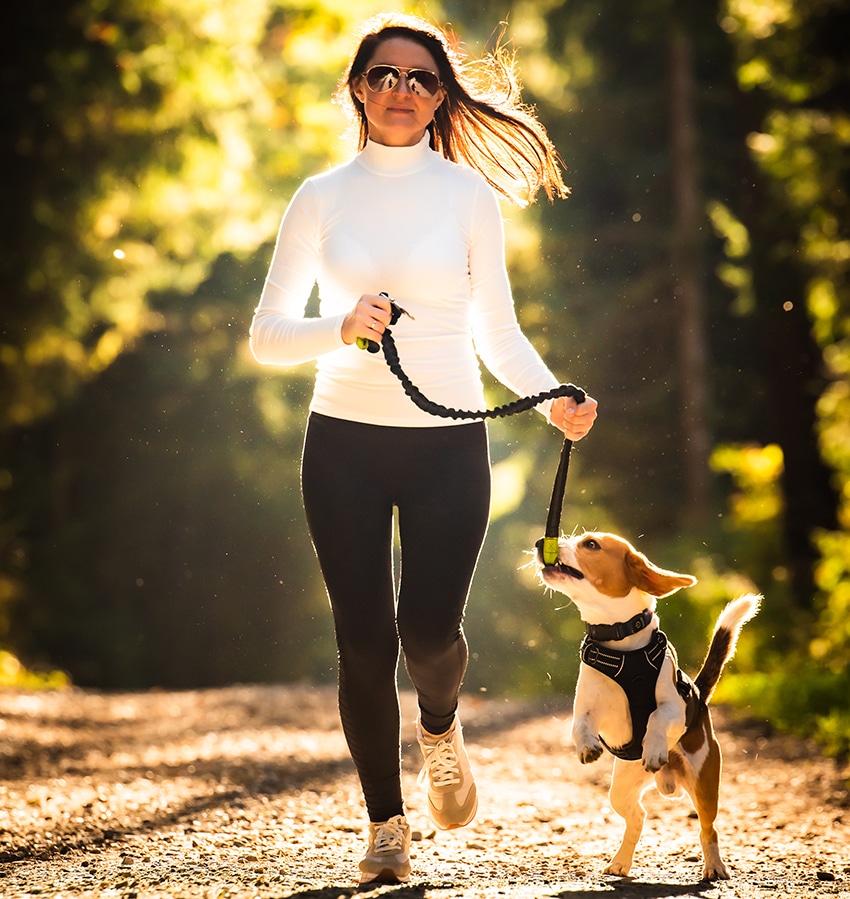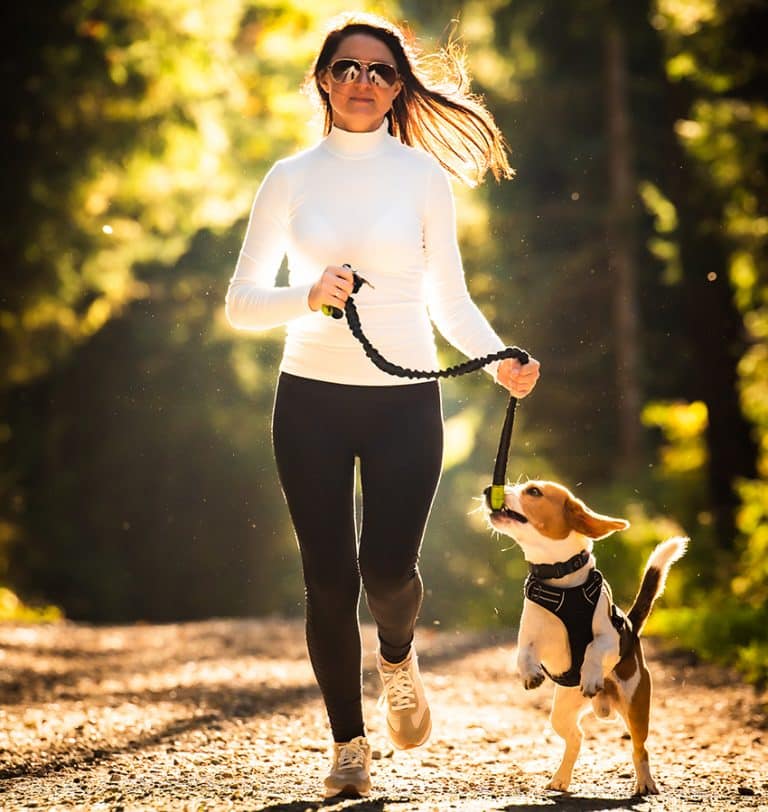 Dutchy Brand Heavy-Duty Dog Leash
With a double layer of sturdy nylon and a padded comfort grip handle, this leash is made to be durable. It has reinforced stitching and a swivel trigger-snap clip that helps prevent tangles. This six-foot product comes in three fashionable colors – red, black, and blue. It's designed for medium and large dogs. If you're a nighttime walker, you can also select black or blue or red with reflective stitching. The reflective line includes a convenient ring for your keys or a poop bag dispenser.
There's also a lighter single-layer nylon option for small dogs and puppies. This leash is available in red only and has the same features as the double-layer choices.
BAAPET 5 FT Strong Dog Leash with Comfortable Padded Handle
The BAAPET leash is a heavy-duty product made with ½" diameter nylon climbing rope. This durable tether has reflective stitching in the weave for improved nighttime visibility. With a sturdy, thick metal trigger-snap attachment, the product is designed to stand up to average chewers and strong pullers.
This leash has a few features for your comfort. The handle has an ergonomic foam-padded handle, and it comes with a convenient carrying bag for easy transport. It's 5' long, which allows you to give your pal some freedom without sacrificing control. It's available in a spectrum of 7 different colors and comes with a money-back guarantee. This leash is ideal for medium and large dogs.
Paw Lifestyles Heavy Duty Dog Leash
This leash from Paw Lifestyles has 3mm of tightly woven nylon for maximum durability. It includes reflective stitching to keep you and your pal visible after dark. The trigger-snap clip rests on a swivel to keep the leash from tangling. There are three attractive color combinations available – black and blue, black and green, or black and magenta.
A convenient feature of this product is that it has two padded neoprene handles. The dual design balances freedom and control when you walk your pooch. You can Fido a long lead for casual settings and shorten the cord when you're in heavy traffic.
Black Rhino Dog Leash - Heavy Duty
Durable and weather-resistant, the Black Rhino leash is made from heavy-duty nylon webbing. With two high-quality neoprene padded handles, you have a way to control your pooch in comfort. Give your pal the full six feet on a walk and grab the traffic handle when you need to keep Fido close. The leash clip is a spring-loaded trigger clasp.
You can choose from black, blue, pink, or red when you purchase this leash. It includes a free attachable poop dispenser bag and comes with a money-back guarantee. This leash works well with medium and large dogs.
Beirui Premium 4 Foot /6FT Chain Leash Heavy Duty
The Beirui leash is made to be chew-proof, durable, and strong. It relies on premium metal that's strength tested to stand up to dogs that pull hard. The swivel and snap clasp offers a flexible attachment point that resists tangling. This product has a soft, padded foam handle in three color options for your comfort.
This leash comes in three size options to better suit your needs. Pick from 3 mm diameter and 4' length, 3 mm diameter and 6' length, or 4 mm diameter and 4' length.
Max and Neo Rope Leash Reflective 6 Foot
This rope leash from Max and Neo is made to be durable and strong. With a ½" diameter reflective nylon can handle large dogs. The four rows of reflective stitching come in handy when you want to step out with your pooch at night.
The leash features embossed leather wrapping to cover and secure the stitched seams. With six feet of lead, your pal will have enough freedom to explore his surroundings. There's a heavy-duty swivel snap clasp. This product is available in 6 stunning colors – blue, orange, pink, purple, red, and teal.
BAAPET 5 Feet Chew Proof Dog Leash with Coated Steel Cable and Soft Padded Handle
This heavy-duty cable is built to stop your pup's chewing habit. It made from stainless steel cable rope and coated with water-resistant, soft plastic for easy cleaning. The handle on this leash has an ergonomic wave design to provide you with an amazingly comfortable grip. There's also a plastic bushing in the handle that absorbs the shock from your pup's tugging.
Leash security should be no problem with an aluminum buckle joint and a reinforced heavy-duty clasp. You can pick from four plastic sheath colors – clear, red, blue, or black. It comes with a 100% money-back guarantee.
VirChewLy Indestructible Leash for Dogs
Made with lightweight cable, the VirChewLy Indestructible leash has a greater than 900 lb test weight. This leash is made to be strong, durable, and chew-proof. It has braided steel wire at its core. With a colorful vinyl coating, it will also resist rust and be easy to clean.
A unique feature of this leash is the detachable handle that allows you to use the cord as a tie out. Simply unsnap the comfort-grip hand loop and connect one end to Fido's collar and the other end to a tree or post. The attachment end has a trigger-snap clasp, and the handle end uses a carabiner clip. It's available in two lengths and five color options.
lynxking Dog Leash Slip Rope Lead Leash Strong Heavy Duty
With this slip lead from lynxking, you won't have to worry about clasp failure. Simply slip the loop over your pup's head, and you have a leash and collar in one! The durable nylon rope is made from mountain climbing polypropylene that tested to 809 pounds of force and should withstand moderate chewing. It has a stitched and leather/wrapped handle, and the slip end has a welded metal O-ring.
The great thing about this tether is that it doubles as a no-pull leash. Your pup will feel the loop tighten when he lurches ahead. There's a leather clamp on the dog end that helps prevent your pal from backing out of the leash. This product works well for medium and large dogs, and it's available in seven stunning colors and two lead lengths.
RUFFWEAR - Knot-a-Leash Dog Leash
This RUFFWEAR leash combines strength and comfort. The reflective kernmantle rope features an inner core and outer woven sheath for flexibility and added durability. It should stand up to the gentle nibbler. For your comfort, the handle is tubular webbing. It includes an accessory loop for poop bags or a clip-on.
For extra security, this product features a locking carabiner leash clip. It's available in two sizes and four attractive colors – blue atoll, granite gray, pumpkin orange, or red currant.
Tuff Pupper Heavy Duty Dog Leash
With tightly woven ballistic nylon that's nearly twice as thick as your average leash, this product is made to resist ripping and fraying while still being flexible. It should also be able to resist moderate mouthing from your furbaby.
On Fido's end, the Tuff Pupper features a patented, locking clip that provides a secure connection. The product also offers comfort for you with two padded handles – one for routine walks, and a second traffic grip for control in tight circumstances. As a bonus, the leash has a full-length reflective strip for nighttime visibility. It's available in a Red March color. This leash is suitable for medium and large dogs.
Primal Pet Gear Dog Leash 6ft Long
Made for medium and large breeds, this leash from Primal Pet Gear has double-thick, heavy-duty nylon webbing with reflective stitching. The leash attachment includes an upgraded thumb-release knob to prevent breaking.
This product features padded, black dual handles for easy control. Use the full-length grip for your daily routine and the traffic handle for close quarters. Pick from a range of 10 color combinations. It's backed with a 1-year warranty.
Leash Chewing - The Problem and Some Solutions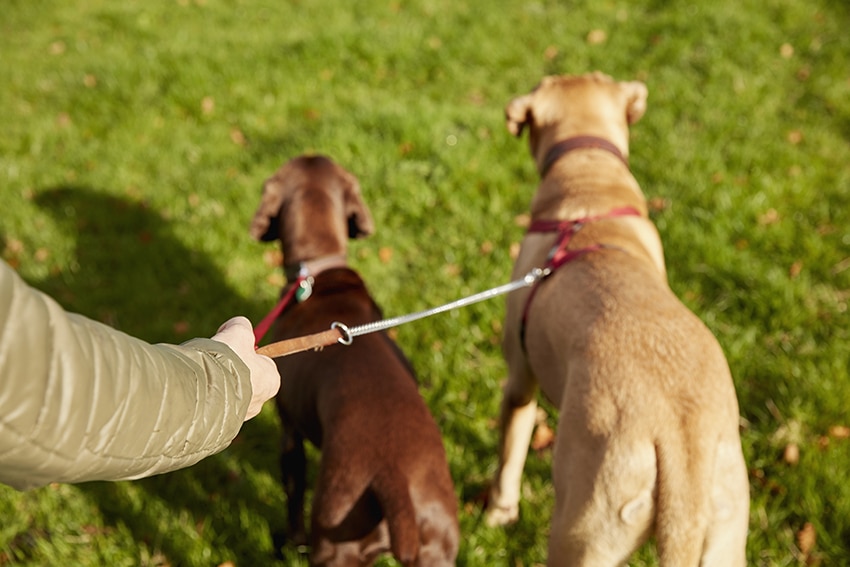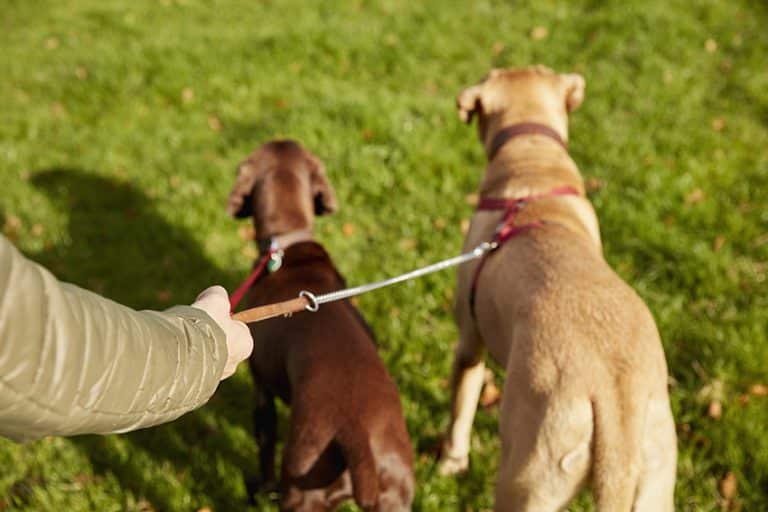 If your pup likes to gnaw on his leash, it can be a real problem, especially if he has strong jaws. It means frequent lead replacements and tug-of-war battles during walks. Not to mention, there's always the risk that your pal's gnawing weakens the cord so much that it snaps when he pulls hard.
Problems like this are more common when you have an inexpensive nylon leash. The danger here is real when your dog's lead is the one thing that restrains him from dashing into a busy street.
Another situation where leash chewing causes an unwanted and embarrassing situation is if you bring your furbaby out to dine at the local cafe or restaurant. A bored pooch with sharp teeth can gnaw through his cord in no time and lead you on a chase through the establishment or down the sidewalk.
How Can a Chew Proof Leash Help?
Here's the good news: there are some high-quality, durable products available on the market. Granted, not all of them are 100% chew-proof. But they're stronger and thicker than the leashes you're likely to find in your local store.
Remember, just because a manufacturer calls their leash, "heavy-duty," "strong," or "durable" it doesn't mean they're chew-proof. In truth, the only 100% indestructible material is metal. Determined dogs can gnaw through nylon, rope, hemp, and other substances.
That being said, you can find some leather or nylon leashes that are tougher and more chew-resistant then your average product. Some are thick, braided nylon cords, and others rely on a double-layer of materials and reinforced seams. They're made to stand up to gnawing for a period of time.
So, if you're not crazy about metal leashes – believe me, I get it – there are some good options out there.
Just remember: leash chewing can be a sign of an underlying issue like stress or anxiety. Use a chew-proof leash as a temporary fix, but work to find the root cause so that you can fix it.
What About Retractable Chew-Proof Leashes?
Good luck finding one. Indestructible leashes are usually made with metal or thick nylon cord. These materials don't work in with a retractable set-up.
Retractable leashes can also pose several safety hazards: An excitable dog can wrap themselves around your legs and trip you, or the cord can get caught on a finger and lead to a broken or dislocated digit. If your pup takes off on a dead run, their momentum when they reach the end of the leash can cause severe injury to you or your pooch.
What's more, these leashes are awkward and bulky. They can be harder to handle for some people, and they don't give you as much control. These thinner cords are also more prone to snapping under heavy pulling pressure.
Now, there are times that a retractable leash is a good option. They work well with smaller dogs that don't tend to pull hard. Just bear in mind that the cords probably aren't chew-proof.
Picking the Best Chew-Proof Dog Leash for Your Furbaby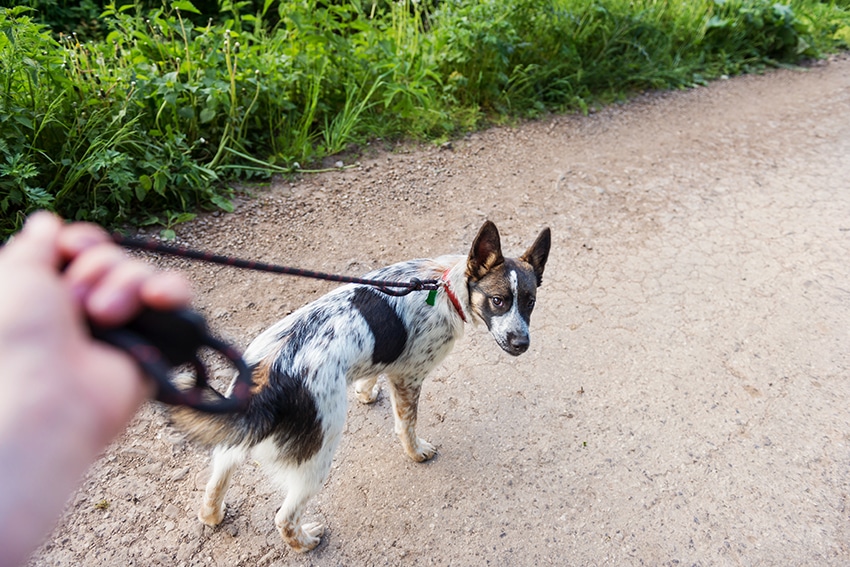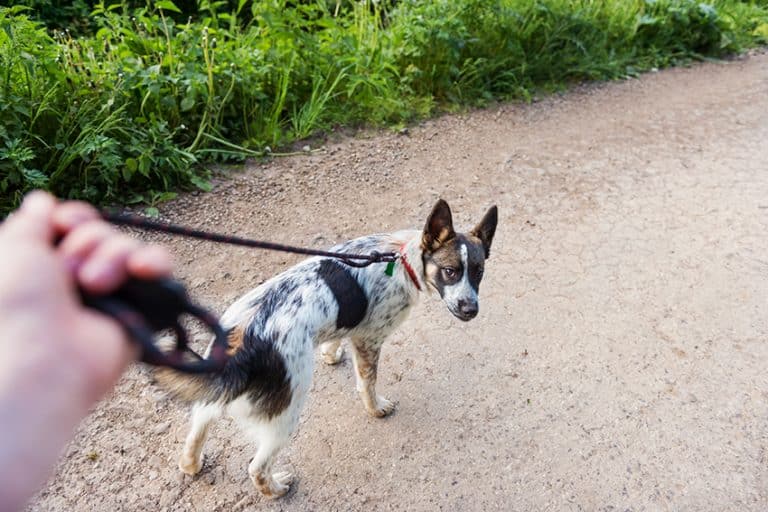 When you're evaluating leashes for your pup, what should you look for? Aside from the obvious ability to resist chewing, there are some other qualities to consider.
Leashes come in a variety of materials, and they can vary in their ability to withstand chewing. Let's look at the common types:
Metal Chains – As we said above, metal is the one material that can claim to be chew-proof. Chains can also be less desirable for your pup to grab try to chew. But they have drawbacks. The material is heavier and can be uncomfortable for small dogs or long walks. They're also noisy and can spook timid pups. I only recommend this type of leash for aggressive chewers.
Metal Cables – Often made with stainless steel and coated with plastic, these leashes are lightweight and quieter yet durable. However, they also tend to be stiff and hard to handle on walks. If you have to grab a thin cord with your other hand for control, it can be painful.
Leather – Leather is soft and flexible but also strong. However, dogs like to chew this material. So it's not the best choice when you're looking for a chew-proof leash.
Nylon – Nylon is flexible like leather, and it's also lightweight and inexpensive. Many leashes made from this material are thin and easy for dogs to chew. However, a thick nylon leash made of ½" material is pretty durable and can stand up to chewing for a long time before sustaining serious damage. This is a good option for mild chewers.
Ropes – A popular choice of late, these leashes are usually made from durable nylon rope such as climbers use. They tend to be flexible and strong. Dogs have a hard time damaging them, but they're not 100% chew-proof. Beware, these leads can cause rope burns if you grab the cord.
The bottom line here is that a metal chain or cable is your only truly chew-proof option. But unless you're dealing with super-aggressive chewer a durable leash made of nylon rope should work fine, and it's easier to manage.
A tip for you:
If your pooch also likes to chew on his harness, you can view my guide to the best chew-proof dog harnesses
here
.
Remember, safety is your first priority. You want a strong attachment clip that's not prone to snap or break. The good thing is most leashes today have metal clips. Popular styles are trigger snaps, bolt snaps, and carabiners. Of these attachments, the strongest option is a carabiner with a locking clasp.
While you're investing in your pal's safety with a quality leash, make sure to find an option that's comfortable for you too. After all, you're the one holding the handle on a walk! Look for a padded handle that can help prevent the material from digging into or rubbing against your hand.
Just remember, padded, foam handles aren't chew proof. While that shouldn't be an issue during the walk, you'll want to keep the leash out of Fido's reach in the home.
The desirable length and weight of the leash vary depending on your pooch. For smaller dogs, you want a lightweight option. Metal chains or rope leashes may be too heavy for teacup pups like a chihuahua or pomeranian.
Leash length can also be an important factor. Longer leashes afford more freedom, but they're heavier.
Why Dogs Bite Their Leashes and How To Stop it?
If your dog is biting his leash, what can you do to change the behavior? The first step is to get to the bottom of what's causing it, then you can take appropriate corrective actions. Some top reasons that dogs mouth their leash include:
He just wants to play. Your pup has pent up energy that he's trying to get out, and the leash makes a great tug-of-war toy. In this case:
He wants your attention. If you're too wrapped up in other things to spend time with your pooch, he may grab at the leash to get your attention, even if it's negative.
Some of the same measures that you would use to address the play behavior apply here. You can spend more time doing additional activities like hide-and-seek, playing fetch, or a training session to fill up your pup's cup. While on a walk, try some rounds of attention heeling, where you teach your pooch to watch you while pacing beside you. Give your pal tasty treats for attending to you and ignoring his leash.
He's frustrated that things aren't going his way. When the leash prevents your furbaby from making friends or investigating something interesting, he may turn to bit the cord that's holding him back.
For frustration, you can try to avoid the events that trigger your pup's frustration. If he's frustrated when he sees other dogs on a walk, learn his threshold distance. How far away do you need to stay from other canines to keep your pooch under control? Avoid crossing the invisible line. You can also try teaching an alternate behavior such as sitting quietly. Reward your pal for listening to you and not biting his leash.
He's overstimulated. Some dogs get really excited when you get home or take them outside for a walk. They may mouth their leash as a coping mechanism.
If your pooch goes bonkers for walks, you may need to slow things down a bit. Gradually introduce the stimulation by starting out in a setting that has fewer triggers. Stay low key when you come home or as you prepare for a stimulating event. Don't ramp up the excitement. Make him sit or wait calmly while you attach the leash. If Fido is too excited at the moment, wait a while to let him calm down before leashing up.
Some other general measures you can take do discourage leash biting include:
The Lead Leash - Our Top Pick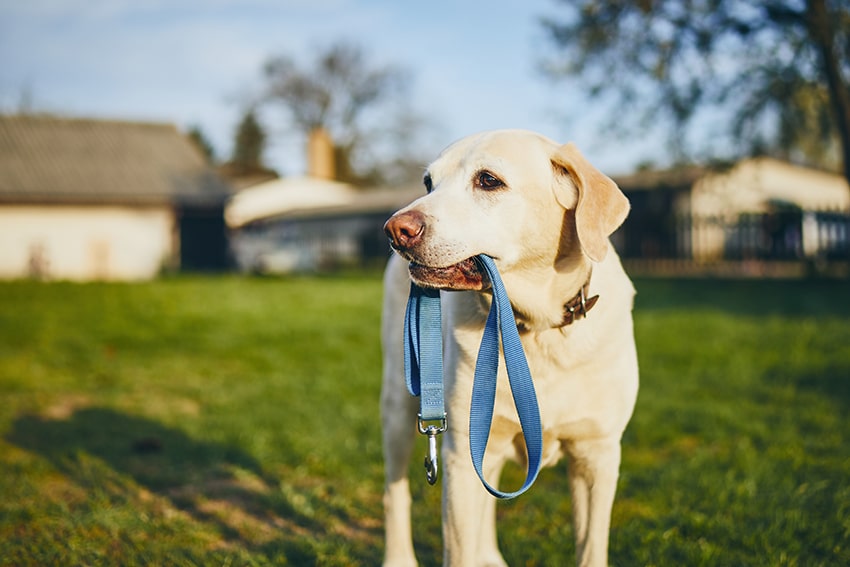 This leash is made of durable steel cable that's chew-proof. It's strong and lightweight so that you can use it with any size dog. The heavy-duty clasp swivels to prevent tangling.
The handle has an ergonomic design and padding for your comfort. There's also a waterproof plastic coating that makes this leash easy to clean.
With this combination of features, the steel cable BAAPET leash is our pick for best chew proof dog leash.