Humans come up with various ways to stay cool in the "dog days" of summer, but what about our pups?
It doesn't matter whether you have a Pomeranian or a Saint Bernard. Canines are at least as vulnerable to the heat as we are. The fact is that our four-footed pals don't have the same ability to sweat as we do. Their cooling systems are not as effective, so we need to be diligent to help our pooches stay comfortable.
When our dogs are exposed to extreme heat, they can experience a host of problems, including dehydration and heatstroke. Pups suffering from this condition may become disoriented, have uncontrollable panting, become agitated or depressed, and eventually lose consciousness. Unless you take immediate action, heatstroke can lead to death.
If you can't bring your dog in the house, you can still do things to keep him cool in extreme heat. Provide shaded areas and most of all, offer a high-quality dog house. A well-constructed enclosure can be like a cool oasis from the sun and adverse weather. But not all dwellings are made equal…
Let's take a look at some products on the market that can help to protect your pup in warm weather and talk about what you should consider when you're looking for a dog house for hot weather.
Top 10 Dog Houses For Hot Weather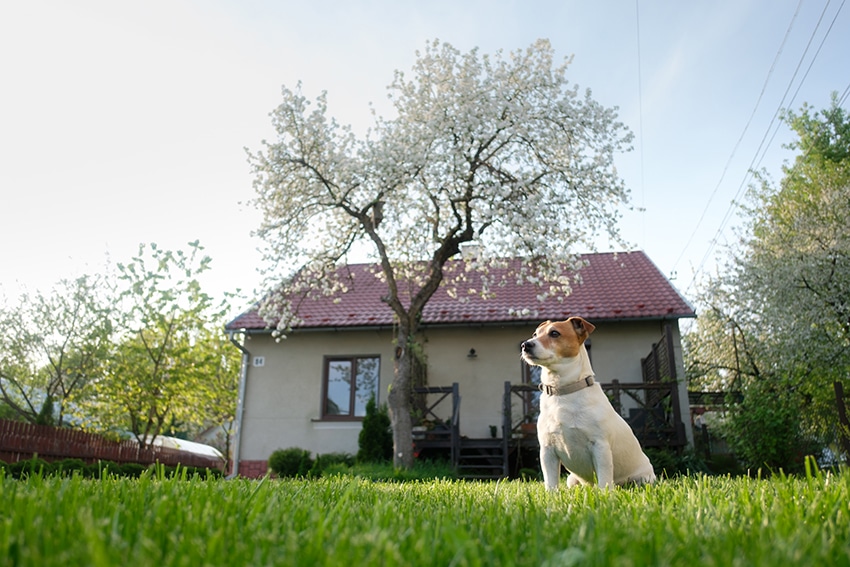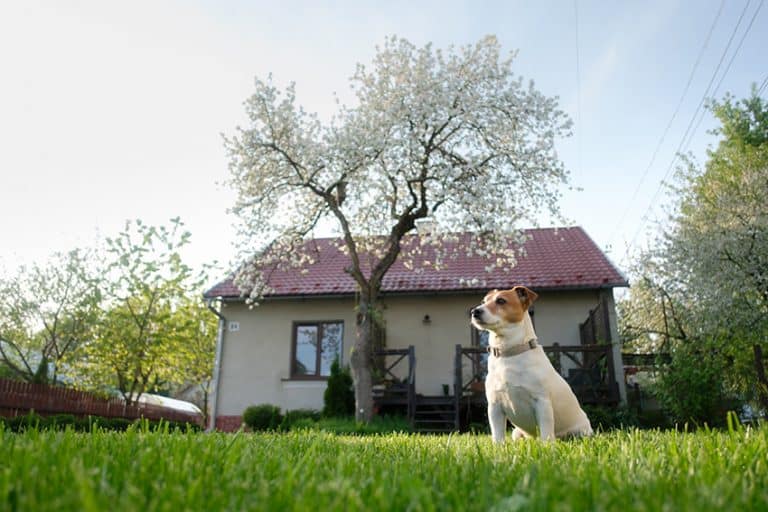 Suncast Outdoor Dog House
The Suncast Outdoor Dog House is made of durable materials that will withstand fading and rotting. With an attractive appearance and design, the kennel is made to blend with your yard decor. This product has parts that snap together making it easy to assemble, so your pooch can move right in. There are vents on the sides for improved ventilation and a removable roof for easy cleaning. It includes a vinyl door that provides security from the elements. If you need to relocate this dog house, that's no problem. It's lightweight and portable. This home will fit small to large dogs.
Petmate Precision Extreme Outback Log Cabin
This large dog house has an attractive log-cabin design that should complement your yard. It's made of solid wood with stainless steel legs and hardware that provide long-lasting durability. With a slanted asphalt roof and offset door, the kennel is made to protect your pup from the elements. The adjustable feet allow you to balance the home on any kind of surface. It has an elevated floor to allow for air circulation. You can purchase this house in Small, Medium, Large, and X-Large sizes.
The Petsfit Dog House features solid wood and stainless steel hardware. You won't have any trouble cleaning this kennel. It has a removable floor and a roof that opens. The shelter has a waterproof top and door flap to protect your furbaby from the elements. There are adjustable feet to allow you to balance the dog house on any surface. With an offset door and elevated floor, your pal can stay cool and protected in the heat. It comes in Small, Medium, and Large sizes.
TRIXIE Classic Outdoor Wooden Dog House
The Trixie Classic dog house has an attractive appearance to fit your yard and landscaping. Made of solid pine construction, it's made to resist the weather and provide a cool place for your pooch in the summer. The boards have a tongue-and-groove design to reduce drafts and a removable, raised floor to provide good air circulation. You'll be able to clean this shelter and change bedding easily as it has a hinged roof with locking arms. The adjustable legs allow you to level the kennel even if the ground is uneven. It's available in three size options.
With an attractive igloo shape, this outdoor dog house from Indigo is constructed with Microban antimicrobial materials for easy cleaning and to help prevent bacterial growth and odors. The heavy-duty construction offers insulation to keep the interior cool in the summer and warm in winter. It has roof vents for air circulation and a raised floor with side moats to keep your pooch dry. The offset door provides added protection from the elements. You can remove the floor for easy cleaning. This kennel is available in three sizes that can accommodate pets ranging from 25 to 125 pounds.
Pets Imperial Extra Large Insulated Wooden Norfolk Dog Kennel
This kennel from Pets Imperial is not only stylish, but it's also insulated to help your pal keep cool in the summer. With layers of timber, plywood, and styrofoam, the walls are 150% thicker than the average dog house. There are two support rails for the floor so that it can support over 150 pounds, and the floor is removable for easy cleaning. You can also access the interior through the hinged roof. Keeping the shelter level on uneven ground is no problem with the adjustable feet. It features an offset door to protect your pooch from the elements.
Giantex Plastic Dog House
Your pup will have plenty of airflow in this ventilated dog house with an elevated floor. Made of durable plastic, it has smooth surfaces for easy cleaning. The roof is detachable for access to the interior. This product has base supports for stability and a slanted roof to divert water from the shelter. The design features thermal balancing to keep the kennel cool and comfortable in the heat. It's available in 2 sizes.
Neocraft My Pet Companion Outdoor Dog Kennel
Ventilation is no problem with this indoor/outdoor wire mesh kennel. The stainless steel wire walls are hinged and pre-welded and easy to assemble – just unfold and set up. It has a double-door and a dual-sided canopy roof to provide shade from the sun. You can fold up the shelter for easy transport or storage. It comes in two sizes.
Dog Palace Large Dog House by ASL Solutions
The ASL Solutions Dog Palace has an attractive barn design that should fit your yard. With durable, lightweight plastic and real foam insulation in each panel, this shelter is made to keep your pooch cool in hot weather. It features an easy pass-through door, removable front and rear window panels for air circulation, and a raised floor with drain to keep the interior dry.
Boomer & George Large Dog House Lodge with Porch Deck
With this Dog House Lodge, your pooch will have his own personal cabin. The solid wood materials provide a sturdy frame with natural insulation. A side window and door provide cross ventilation to keep your pup cool and comfortable. This spacious shelter features a raised floor and a sundeck for your pal's comfort.
Products to Help Your Dog Stay Cool
In addition to a dog house/shelter for hot weather, you may want to invest in gear that can help your pal stay cool.
RUFFWEAR Dog Cooling Vest
The RUFFWEAR cooling vest provides protection from the sun and a way to keep your pooch cool when you're active. This three-layered jacket has an outer layer that reflects solar rays and aids with evaporation, a middle section that absorbs water, and an inner mesh lining to keep Fido dry. It offers UPF 50+ protection and is harness-compatible for walks. With side-release buckles, it's a snap to put on and take off. There are six sizes ranging from XX-Small to XX-Large.
Accessorize your dog house or provide a comfy spot indoors with this cooling bed. It features copper-infused sherpa top and foam fill that offers natural anti-microbial and deodorizing properties. The thick layer of memory foam provides support and pressure relief for your pup. There's cooling gel to diffuse heat and moisture and keep your pal extra comfortable. It's machine washable and has a non-slip bottom. This bed comes in two sizes: small and medium/large.
Hugs Pet Products Cooling Mat
This pressure-activated cooling mat is a wonderful addition to your outdoor kennel, but it can also be used indoors or in the car. The non-toxic gel technology absorbs body heat to cool and comfort your pooch. You can recharge it when your pal isn't using it. The product is lightweight and folds for easy transport and storage. It's available in medium, large, and XL sizes.
Convert your pup's kennel into a cool den with the Metro Vacuum Crate Fan. This portable device operates on 2 D batteries and offers up to 100 hours of breezes. It clips conveniently on your crate, cage, or pet barrier and has 2 speeds. With an ultraquiet motor, it shouldn't disturb your pooch's rest.
Solar Powered Dog House Fan
The Billionaire Asia solar fan uses the sun to charge and run the exhaust fan. It's rated to replace the air in your pup's doghouse up to 5 times per minute. It uses passive exhaust when there's no sun. There's also an 8' cord to connect to a second solar panel that's in direct sunlight. It's easy to install and safe to use.
Petmate Store Insulation Kit
Provide extra protection from the elements for your pooch with this doghouse insulation kit. This sleeve fits large-sized Petmate kennels and features poly-foam padding. You can easily attach the lining using velcro and straps. The outer lining is machine washable.
Floppy Dawg Just Chillin' Elevated Dog Bed
Your pup will look like a movie star with this elevated dog bed and canopy. The shade helps keep Fido cool and out of the sun. Made from 1680D Oxford fabric and a steel frame, the materials are durable. The lightweight pet cot has breathable fabric for extra cooling, and it's easy to move and assemble. It's available in medium and large sizes, and the large has three color options.
Factors to Consider When Selecting a Dog House for Hot Weather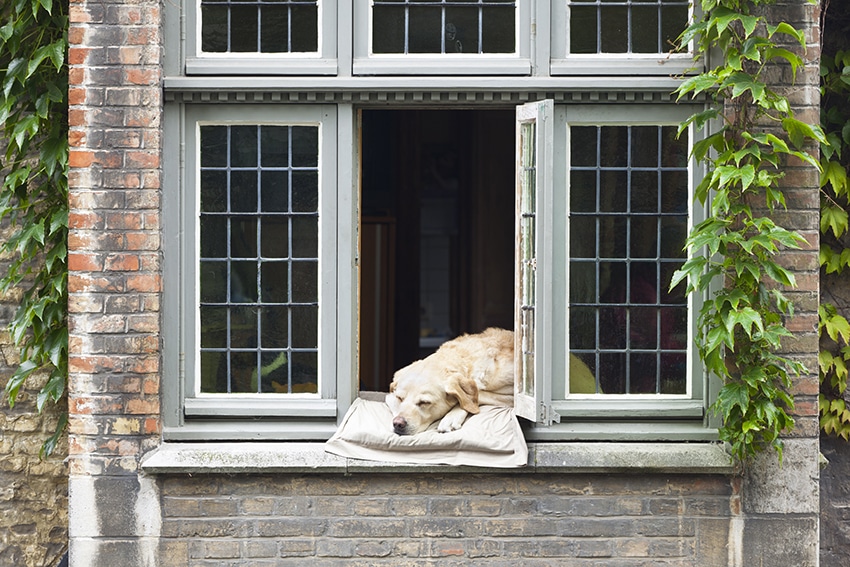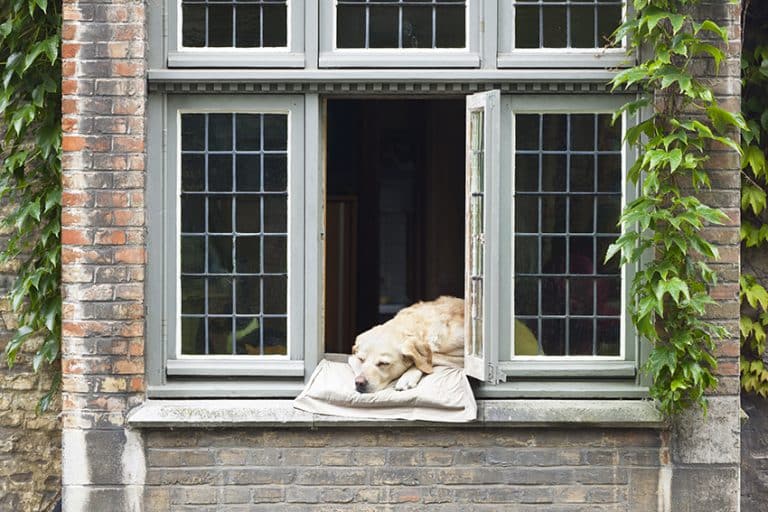 It takes some time and consideration to find the best dog house for your furbaby. When you're evaluating kennels, keep the following factors in mind to help you make a choice that fits your pup's needs.
Size – Start with the size to hone in on your options. Depending on your pooch's personality, you'll need a dog house that's at least big enough for him to stand and turn around comfortably inside. If your special pal is nervous or anxiety-prone, don't go too big. Pups like this like a cozy den feeling for security. Otherwise, you and opt for a more spacious kennel.
Size – Start with the size to hone in on your options. Depending on your pooch's personality, you'll need a dog house that's at least big enough for him to stand and turn around comfortably inside. If your special pal is nervous or anxiety-prone, don't go too big. Pups like this like a cozy den feeling for security. Otherwise, you and opt for a more spacious kennel.
Insulation – You may think that insulation is mostly for cold weather, but it works both ways. Good insulative materials prevent the transfer of heat. So, on a hot day, they will keep the warm weather out. If your dog's house lacks insulation, you can install foam or plywood on the sides and roof of the kennel. Wood is a good natural insulator.
Durability – Look for a structure that's built to last and stand up to your climate and weather conditions. Plastic tends to be more durable, but a sturdy wood house with protective paint may provide a better balance of durability and comfort in the heat.
Elevation – Ideally, your dog house will not sit directly on the ground. Elevated kennels help to prevent dirt, fleas, and water from entering the structure. It also allows for better airflow around the exterior to keep the floor dry and prevent rotting. Look for an elevation that's a few inches off the ground.
Ventilation – Airflow and ventilation are key factors that help your pooch stay cool in the summer. Because dog sweat glands are mostly on their footpads, they have a harder time staying cool. Look for ventilation holes or a gap between the roof and sides of the house to let air move through the structure.
Materials – In addition to looking for materials that are durable, you want components that help keep the interior cool. Plastic and metal are not your best options because they transfer heat. Wooden houses offer better insulation for both summer and winter.
Portability – If you're the type of person that likes to rearrange things until you have the perfect location, you'll want a house that's lightweight and portable. Kennels made of oak or cedarwood are usually lighter than other materials.
Easy to Clean and Maintain – Make sure you find a dog house that's easy to maintain and clean. Products with removable floors or a top that can be opened will be easier to wash out and keep in good condition.
Design – There are so many different designs available out there. Look for a house that fits your home or yard and is aesthetically pleasing to you.
Tips For Keeping Your Dog's House Cool in the Summer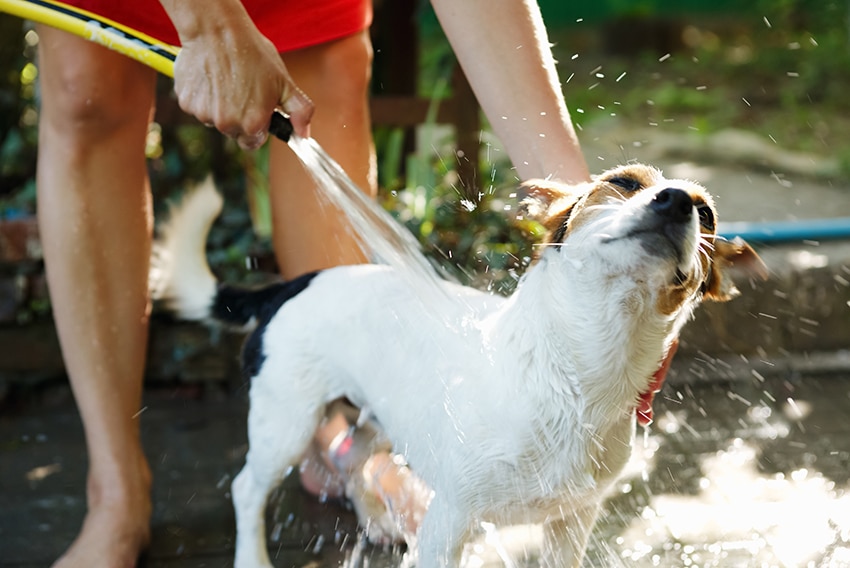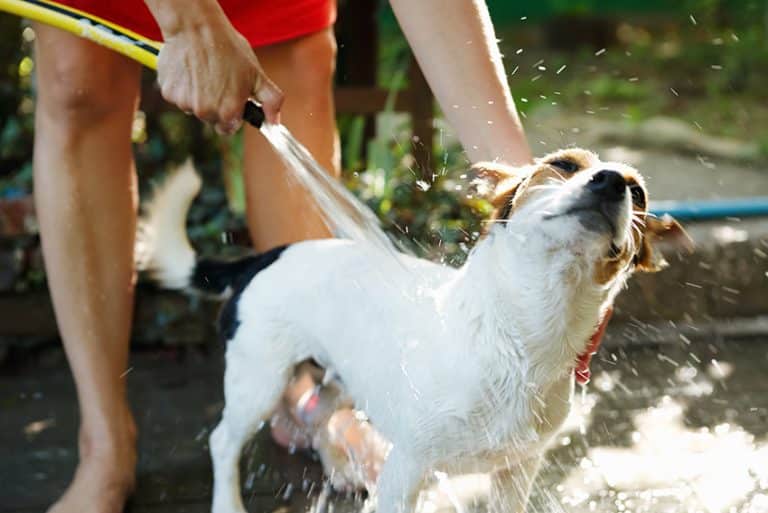 Remember, your pup's house is his den. The last thing he wants in the summer is to step into a sauna. Here are some things you can do to help keep Fido's dog house cool:
Place it in a shady part of the yard. Pick a spot under a big tree or under your deck or eaves. The less sun the kennel gets, the less it will heat up.
Elevate it. If you lift the house up onto pavers or another stable support, you'll provide air circulation under the dog house.
Insulate it. We add insulation to our walls and attics when we can't keep the house cool or warm enough. Do the same thing for your furbaby. Add a layer of foam or other insulation then cover it with plywood to protect it from your pup's curiosity.
Cool it. You can cool the house's interior by increasing airflow. Try a solar-powered fan to pull hot air out. Another option is to mount a small window air conditioner on one side. Just be sure to cover the wires. In addition, you may want to put a water-filled mat, or cooling bed, in the kennel for your pooch.
Update it. If your dog's house is made with plastic or metal materials, it's time to think about replacing it. Get a product made with wood for better cooling properties.
How Hot is Too Hot for My Dog?
During the hot months, you need to vigilant to protect your pooch from overheating. But how hot is too hot? The answer varies by breed, size, age, and condition. Pet plan dog insurance has a helpful chart that you can use to determine your special pal's risk level at different temperatures.
The biggest risks your pooch faces in hot temperatures are dehydration, heat exhaustion, and heatstroke. Providing your pooch with a cool, shaded place and plenty of water can help prevent these conditions. Still, be alert for the warning signs of heatstroke:
Heatstroke is a medical emergency for your pooch. If you suspect your dog has signs of heatstroke, cool his body by running water over him or placing a cool wet towel on his body and take him to the vet immediately. Even with intensive care, the survival rate for heatstroke is just 50%. That's why prevention is your best route.
Stay Cool With Our Top Pick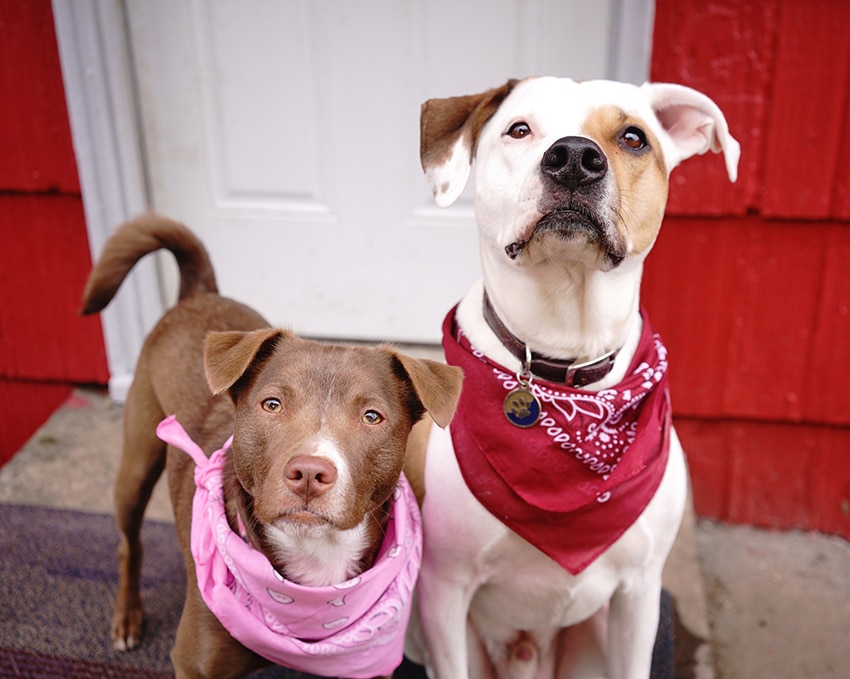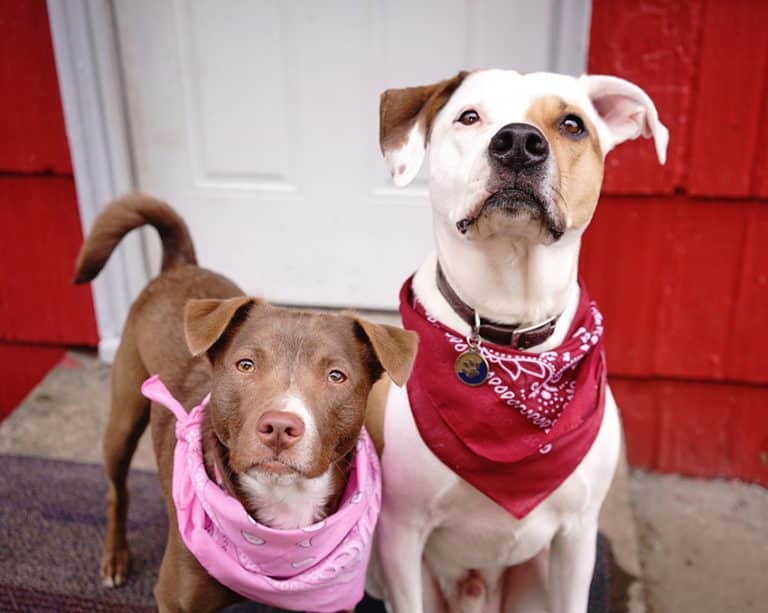 With an elevated floor and opening roof, there's room for air circulation to keep the kennel well ventilated. The extra-large size will provide space for most dogs. It's easy to clean by removing the floor or opening the hinged roof. This dog house for hot weather has a sturdy design with support beams for the floor.
Based on the above features, we recommend this house to keep your pooch cool in the heat.