Skin conditions in pets are some of the most frustrating and distressing conditions to manage and treat. No pet pawrent can bear to see their fur-baby scratch and lick their skin until it's red raw so we've put together a comprehensive list of shampoos to soothe and treat skin irritated by yeast infections.
Yeast infections are one of the most commonly diagnosed conditions in small animal veterinary practice and one of the best treatment methods is topical shampoo baths.
Our top pick for best dog shampoo for yeast infections are Curaseb Antifungal & Antibacterial Chlorhexidine Shampoo for Dog & Cats which is gentle enough to use as a routine shampoo on pooches prone to infections.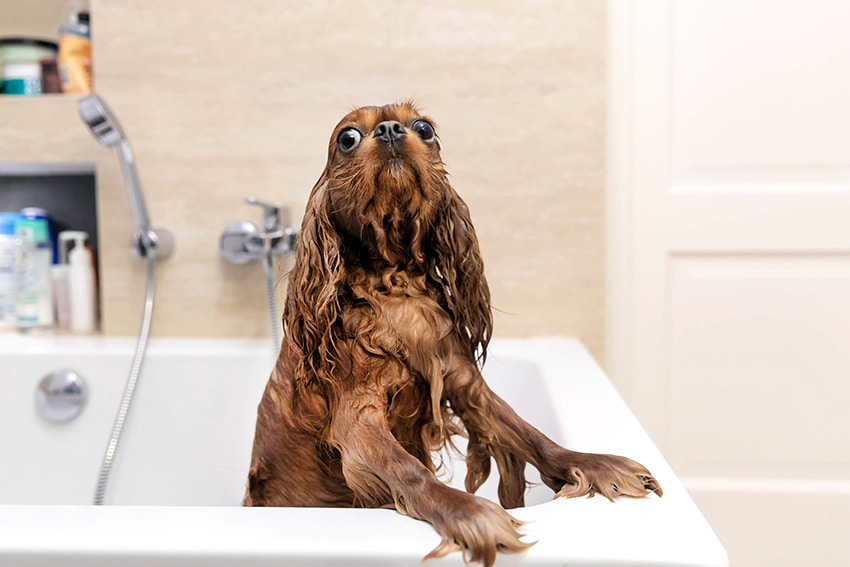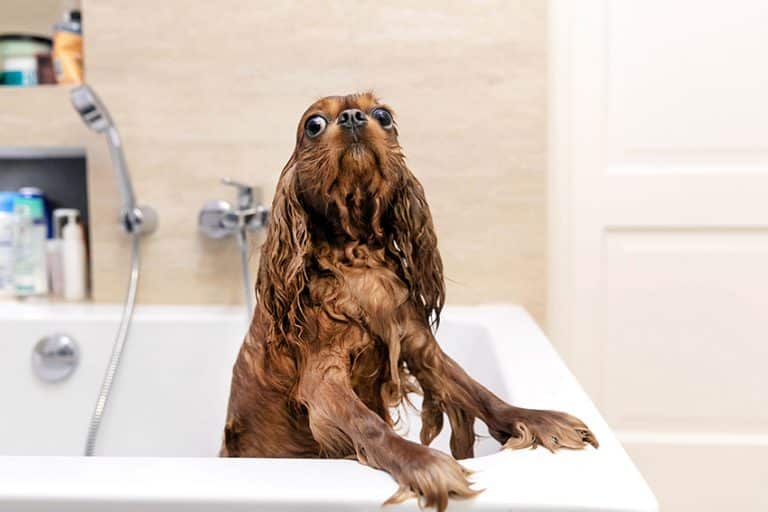 Synergy Labs have developed this veterinary formulated antiseborrheic shampoo specially for irritated skin, particularly pet's with parasitic infections such as mange. This is a great shampoo to use for pets with sensitive skin due to the added oatmeal and allantoin.
Features:
Active ingredients include coal tar, salicylic acid and micronized sulfur to both eliminate excess sebum (skin oils) and treat flaky skin. This shampoo may help to reduce some of the itchiness that comes with yeast infections too.
This broad spectrum veterinary formulation is specifically targeted against yeast and fungal infections including ringworm. Containing 2% chlorhexidine and 1% ketoconazole, this shampoo both cleanses the skin while treating any yeast infection present.
Features:
Contains 2% chlorhexidine disinfectant shampoo to cleanse the skin. Chlorhexidine has antifungal and antibacterial actions and is still active for up to 2 days after application.
Dechra Miconahex + Triz Pet Shampoo
Dechra have developed this shampoo for use in dogs, cats and horses suffering from fungal or bacterial skin infections. Added ceramides help to provide moisture to dry skin which soothes and helps to repair damaged skin.
Features:
2% chlorhexidine and 2% miconazole have residual activity on your pet's skin even after rinsing. This shampoo should only be used under the direction of your veterinarian.
Davis Benzoyl Peroxide Medicated Dog Shampoo – Dermatitis and Demodectic Mange
This well known American company, Davis have developed this medicated shampoo for pets suffering with dermatitis. Containing 2.5% benzoyl peroxide, this coconut scented shampoo helps to strip away excess sebum and allow the hair follicles to be exposed to the air.
Features:
Containing natural moisturizers, this product can be used daily if directed by your veterinarian. While the product is reportedly suitable to treat demodectic mange, you should always have your veterinarian confirm such an infestation prior to use.
Pet MD - Antiseptic and Antifungal Medicated Shampoo for Dogs with Chlorhexidine and Ketoconazole
PetMD have formulated this antiseptic and antifungal shampoo with veterinarians to treat skin problems and infectious dermatitis. While it won't cure all infections, it will certainly relieve the irritation and itching associated with them.
Features:
Containing 2% chlorhexidine and 1% ketoconazole, this medicated shampoo kills yeasts that are most commonly associated with skin infections in our canine counterparts. Though this product is alcohol free it does have some astringent qualities to help dry excess oils from affected areas.
PetHonesty Antibacterial & Antifungal Chlorhexidine Shampoo w/Ketoconazole & Aloe for Dogs
PetHonesty's chlorhexidine shampoo contains 2% chlorhexidine and 1% ketoconazole to target fungal and bacterial infections and skin rashes. Suitable to use on pet's with itchy skin and hot spots, this shampoo also deodorizes stinky pups.
Features:
Lightly scented with cucumber melon, the active ingredients target bacteria and fungi that cause itchy and painful infections while reducing the levels of skin oils and deodorizing your pooch. The easy pump action is great for those whose puppers don't sit still for long when bathing.
Chlorhexidine Shampoo for Dogs - Medicated Dog Shampoo
Strawfield Pets have formulated this no-sting, formula that's suitable for sensitive skin in treating a range of skin irritations and yeast infections. Containing 4% chlorhexidine, one of the highest concentrations available, this shampoo has a broad spectrum of action.
Features:
Paraben free, this no-sting and soothing formula treats seborrhea, dermatitis and canine acne alongside fungal, bacterial and yeast infections in pet's skin.
counterparts. Though this product is alcohol free it does have some astringent qualities to help dry excess oils from affected areas.
Smiling Paws Pets have formulated this veterinary grade product containing both 2% chlorhexidine and 1% ketoconazole to provide rapid relief from irritations and skin infections.
Features:
This deodorizing medicated shampoo kills multiple yeast, bacteria and fungi that cause irritations, itching and dry skin. Specifically formulated for cats and dogs, this shampoo also contains moisturizers with a delicate cucumber and melon scent.
Virbac Allergroom Shampoo 16-Ounce
Virbac Allergroom's soap free formulation cleanses your pet's skin without stripping away all the skin's natural oils. This shampoo contains a patented glycotechnology which speeds up skin healing and provides extra protection against bacteria and yeast proliferation on the skin that leads to infections.
Features:
The active ingredients have residual activity even after rinsing your pooch, this shampoo is vet recommended and can be used as the regular shampoo for sensitive skinned pets.
VetWELL Ketoconazole Chlorhexidine Shampoo for Dogs
Another shampoo using the combination of ketoconazole and chlorhexidine, VetWELL have added colloidal oatmeal and aloe vera for a little extra TLC for your pooch's skin.
Features:
2% chlorhexidine and 1% ketoconazole target many of the fungi, yeasts and bacteria implicated in common skin conditions in our pets while oatmeal and aloe extracts help to soothe and skin. Extra fatty acids and vitamin E help to moisturize and improve skin healing too.
Vetoquinol Universal Medicated Shampoo for Dogs
This gently degreasing shampoo contains chloroxylenol, salicylic acid and sulfur (in the form of sodium thiosulfate) to help remove scales and reduce sebum levels without interfering with topical flea and tick treatments. Suitable for routine use, this shampoo is safe to use on both cats and dogs.
Features:
This deodorizing and soothing shampoo helps expose hair follicles to the air while removing nasty smells from your pooch's fur. Salicylic acid helps to lift dead skin cells up from the skin allowing you to easily wash them away.
Stratford Pharmaceuticals KETO-C Medicated Shampoo, Chlorhexidine with Ketoconazole (Antibacterial & Antifungal)
Stratford Pharmaceuticals KETO-C shampoo is super concentrated, only needing a tiny dollop for each bathing. The mixture of 2% chlorhexidine and 1% ketoconazole treats a number of skin infections, including those caused by yeasts.
Features:
Delicately scented with cucumber and melon, this concentrated antiseptic shampoo both cleanses and deodorizes your pet's fur and skin. All-natural ingredients, this shampoo is produced to high quality standards in the USA.
Nootie Medicated Dog Shampoo: Antifungal, Antibacterial Dog Shampoo
Nootie's soap-free shampoo has been formulated with 2% chlorhexidine and 2% miconazole to target a number of skin conditions including yeast infections.
Features:
Veterinary grade formulation with a long lasting fragrance that's free from parabens, sulfates and harsh chemicals.
Dr. Muller Pet Solutions Chlorhexidine 4% Shampoo for Dogs
This antiseptic shampoo from Dr. Muller Pet Solutions is suitable for use as both a therapeutic and regular grooming shampoo. 4% chlorhexidine provides powerful yet gentle cleansing for your pet's skin to remove excess skin oils and provide antimicrobial action against yeast and bacteria that cause infections.
Features:
This shampoo also contains phytosphingosine, a pro-ceramide phospholipid that helps to reduce irritation and support the natural function of skin.
Sogeval Douxo-Chlorhexidine PS/Climbazole Shampoo for Dogs
Sogeval Duoxo medicated shampoo has a strong antiseptic activity to treat yeast and other microbial infections. Phytosphingosine salicyloyl enriches this product to help control excess sebum associated with these infections without drying out the skin.
Features:
Duoxo shampoo leaves a protective film over your pet's skin that resists rinsing, supports the natural barrier function of skin and protects against dehydration. Added climbazole acts as a strong treatment against Malassezia, one of the most common causes of yeast infections in pets.
VetriMAX Command Antifungal, Antibacterial Medicated Dog Shampoo
VetriMAX have formulated this anti-itch shampoo for pets with chronically irritated skin to aid in treating microbial skin infections, including those caused by yeasts. This deep cleansing formula is gentle on sensitive skin and can even be used on puppies.
Features:
This deodorizing shampoo is free from fragrances and doesn't dry out sensitive skin. Clinically tested with the active ingredients salicylic acid and sodium hypochlorite this formulation is suitable for frequent use on all pets.
How to Pick a shampoo for yeast infection: Things to Look For?
Medicated shampoos are some of the most commonly used veterinary products so it's really important that you select a product suitable for your pooch and their condition.
Dog skin tends to be more sensitive to products compared to humans. This is partly due to the fact that your pooch's skin is only 3-5 cell layers thick while us humans have thicker skin at around 10-15 cell layers.
Human shampoos are generally not suitable for use on our canine companions. Here, we give you a rundown on what to look for when selecting shampoo to treat yeast infections in your pup's skin.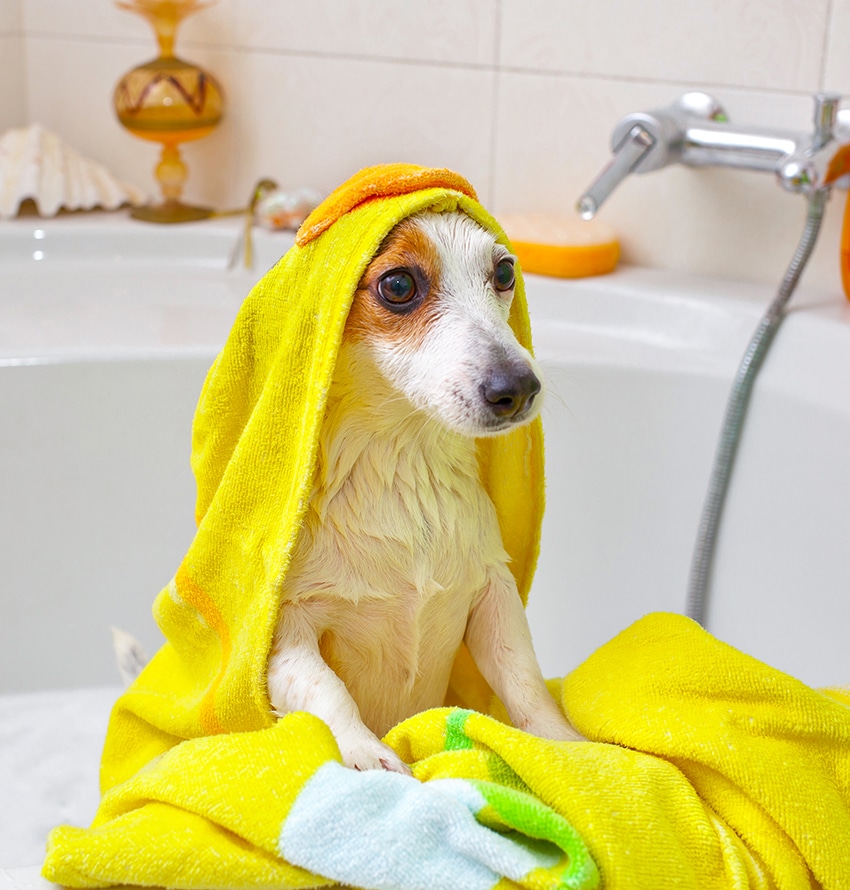 Active Ingredients
There are a huge array of shampoos available which can lead to difficult decision making when selecting one for your pet. Some of the most common or well known ingredients are listed here to help inform you about their activities.
Sulfur: Sulfur is usually used in conjunction with salicylic acid and acts as a degreaser. This removes the skin oils which support yeasts.
Salicylic acid: Often combined with sulfur to act as a degreasing agent in shampoos, salicylic acid also helps to remove dry, flaky skin. 
Benzoyl peroxide: A degreasing product, benzoyl peroxide helps to remove oils that feed yeasts on your pet's skin. Benzoyl peroxide can help to treat secondary bacterial infections. 
Coal Tar: This isn't a commonly used ingredient in shampoos these days due to the strong odor but it does help with flaking skin irritations. While coal tar can reduce itching it tends not to be as efficacious as some other products. 
Selenium sulfide: This antifungal agent is a relatively new ingredient in veterinary shampoos for treating yeast infections. Selenium sulfide helps to remove oils that cause greasy skin allowing yeast to thrive.
Ammonium lactate: Known as having both keratolytic and keratoplastic activities. Ammonium lactate helps to remove excess scaly skin (keratolytic) while slowing down the rate of skin cell replacement (keratoplastic).
Phytosphingosine: Another relatively new ingredient to the veterinary sphere, this phospholipid is naturally found in skin. Phytosphingosine helps to reduce irritation, maintain hydration and support the natural barrier function of skin.
Chlorhexidine: This antiseptic disinfectant removes skin oils and also kills yeasts on the skin. Nontoxic, chlorhexidine has residual action for up to 2 days and tends to be well tolerated by irritated skin. 
Ethyl lactate: This naturally derived cleanser has mild anti-yeast activity and helps to reduce the amount of skin oils present.
Antifungal treatments
Miconazole: Only available as a topical medication, miconazole attacks the fungal cell wall to fight infections.
Ketoconazole: Belonging to the same medication family as miconazole, ketoconazole also attacks the fungal cell wall.
Acetic/Boric acid: These ingredients tend to be primarily available as special wipes for localised use to cleanse affected areas.
Zinc gluconate: Important in wound healing, zinc can also help regulate the oil production in skin which can help to reduce inflammation.
Cooling Agents
These are ingredients that help to soothe irritated and inflamed skin. Many of these tend to be naturally derived such as aloe vera extracts and oatmeal. Some ingredients that help to soothe skin work through hydrating skin and these include coconut oil and shea butter. 
Essential Oils
These can be a minefield when researching online as you may see conflicting opinions about safety and efficacy. The Federal Drug Administration (FDA) does NOT approve cosmetic products so unless your veterinarian has recommended or prescribed a shampoo for your pooch you should seek their advice before use to minimize the risks of adverse effects on your pet. 
pH Balance
Another difference between dog and human skin is the natural pH. Human skin tends to be mildly acidic at pH 5.5 while canine skin is close to neutral around pH 7-7.5. You want to use a shampoo that is pH neutral to prevent irritating or drying out your pet's skin. Not using shampoo with an appropriate pH can also change the normal bacterial flora on your pet's skin which could lead to skin infections. Your veterinarian may recommend a product that contains ethyl lactate or salicylic acid, both of these mildly and temporarily reduce the pH of skin as part of their mechanism of action in order to remove excess oils and help to remove dry flakes. 
Conditioners/Moisturizers
Conditioning ingredients are designed to hydrate skin and prevent dry, flaky scales. Two main ingredients are emollients and humectants. Emollients actively supply oil to the skin and provide moisture while humectants draw moisture from within deeper layers of the skin to hydrate the outer layer. Emollients are oils and animal fats including coconut oil and lanolin. Mineral oil and petrolatum are also emollients that may be used in some commercial shampoos. Humectants include sodium lactate, glycerin and propylene glycol which are all commonly seen in both pet and human shampoos. 
Deodorizers
These ingredients aim to reduce any nasty odors from your pet's skin (or something stinky that they decided to roll around in) and can either be natural or artificial. Ideally you should aim for natural fragrances over artificial ones to reduce the risk that your pet may have a reaction, but if your pooch is suffering from an active yeast infection, then you should avoid fragrances altogether if possible. The smell that comes from a yeast infection will be eliminated by the action of medicated shampoos as they kill the yeast causing the problem for your pet (and your sense of smell). 
Residual Actions
Some of the ingredients in medicated shampoos have residual action after application. These include chlorhexidine and benzoyl peroxide which means that you don't need to struggle with bathing your pet daily if they have a nasty infection. Over-bathing pooches with already irritated skin can cause further dehydration of skin and increase inflammation.
Hypoallergenic
The term "hypoallergenic" doesn't have a legal definition or description but is generally accepted to mean a product that has reduced risk causing allergic reactions than similar products. If your veterinarian prescribes a shampoo that claims to cure or treat an illness then that product will be regulated by the Federal Drug Administration (FDA) but the majority of shampoos touted as "hypoallergenic" are not regulated in any way so always do your research before selecting one of these products. 
Safe for Puppies
Puppies tend to be very wriggly and you want their first bath to be a good experience. Choosing a puppy safe shampoo is essential for this. These shampoos tend to be tear-free formulated to reduce irritation if it gets into their eyes and non-irritant to their tummy if they accidentally ingest some. Puppies love to taste their world and licking their shampooed skin is no exception, especially if it's a yummy scent. Puppy shampoos also tend to be free from medications so if your pet has an infection you should have a chat about a suitable product with your veterinarian. 
Manufactured in the USA
Many feel that products manufactured in the USA are of superior quality and while this may be the case, certain ingredients may still be sourced in the same places as foreign produced products. One benefit of buying a shampoo that's been manufactured within the USA is that the product must meet certain regulatory standards. Coupled with a reduced carbon footprint if you live in North America, these products are good for your pup and for the environment. 
Top 5 Ways dog shampoo for yeast infection can help your dog
One of the most common skin infections in our canine companions is dermatitis caused by the yeast Malassezia.
Yeast is a normal inhabitant of skin so there have to be some changes to the skin's surface to allow yeast infections to develop. These changes include allergy flares where your pup becomes so itchy that they traumatize their skin allowing the yeast to proliferate.
Over-production of natural skin oils (seborrhea) also provides yeasts with the perfect environment to proliferate. While yeast infections tend to be symptoms of an underlying disease (eg. allergy), some breeds seem to be predisposed to them. These include West Highland White terriers, Cocker Spaniels, Maltese terriers, Chihuahuas and Dachshunds. 
Degreasing shampoos help to remove excess skin oils which makes the skin environment less hospitable to yeast growth. 
Help to remove dry, flaky scales prevent crusts from forming and providing a cosy, moist environment for yeasts to grow. 
Moisturizing/Conditioning ingredients help to hydrate the skin and support it's natural protective barrier without causing excess oil production.
Soothing ingredients help to reduce itching and redness which gives your pet relief from skin irritation.
Most yeast shampoos are suitable for prolonged use and can be used all over your pet's body, not just the affected area.
Do dog shampoo for yeast infections work? Tips for Getting the Best Results
Shampoos targeting yeast infections are possibly the most effective method of topically treating your pet's skin infection.
Some infections may require oral therapy too, but these shampoos can control the majority of yeast infections without some of the nasty side effects of oral treatments.  Here are some tricks to get the most benefit from medicated shampoos.  
Know the product: Research the product you plan to use to ensure it is suitable for your pooch's condition.
Follow manufacturer Instructions: For best results, always bathe your pet in accordance with the manufacturer's instructions. Many medicated shampoos require a "contact" period of 10-15 minutes before rinsing.
Consult your Veterinarian: If your pup has sensitive skin or you're unsure about a product, you should always involve your veterinarian to help you choose the best product for your pet.
Multimodal therapies: Shampoo alone may not be enough to treat your pet's infection. Your veterinarian may prescribe oral or systemic antifungal treatments if your pet has a severe infection. Topical creams or wipes may also be useful for infections around delicate tissues like the eyes and mouth. 
Side effects & Risks: Always check the ingredients to ensure your pet isn't allergic to anything in the shampoo. All products carry risks of irritating sensitive or injured skin so you should test on a small area of skin first and wait 24 hours. If you're not sure about a product, your veterinarian will be able to advise you.
Can you use Selsun Blue on dogs?
Selsun Blue is a medicated human shampoo containing selenium sulfide.
Selenium sulfide helps to strip excess oil from the skin, has some antifungal action and is used in veterinary shampoos for this purpose.
Selsun Blue shampoo, however, can be very drying to a pet's already irritated skin. Remember, canine skin's pH is around 7.5 but the pH of Selsun blue is between 5-5.4 which is significantly more acidic. 
Veterinary formulated shampoos containing selenium sulfide as the active ingredient are more appropriate for your pup than Selsun Blue. 
Essential oils for dog yeast infection
There's lots of conflicting information on the internet about essential oils and their uses for our canine companions, scientific data however, is lacking.
You may see that ingredients of some shampoos contain essential oils, but these are usually extracts and the parent oil may not actually be safe to use on your pet.
If your veterinarian recommends an essential oil then you can trust it should be safe once used as directed by your veterinarian. 
How to bathe a dog with yeast infection?
Choosing a shampoo is the first step, you want to select one that targets yeast infections and is suitable for your pup (i.e. no ingredients to which they're allergic).
If your pooch has oily build-up then you want to select a product that has degreasing properties such as benzoyl peroxide, conversely if your pet has an abundance of dry, flaky skin then you need an ingredient such as ammonium lactate to help remove these scales allowing the underlying skin to breathe and heal. 
General Technique
If your pet's skin is really dirty then you may need to pre-shampoo and rinse with a mild, non-medicated shampoo. This can allow medicated shampoo to have better contact with inflamed skin while also helping to save some product and money.
Contact time is essential and the length of time will vary with each product but the standard procedure is to lather well and leave the product on your pet's skin for the allotted time. Using a timer or clock is helpful, particularly if you have a wriggly pet who doesn't like waiting. 
Rinse thoroughly!! This is really, really important as the active ingredients in many shampoos can be irritating to sensitive skin if not rinsed away fully. 
F.A.Qs
Q: Does chlorhexidine kill yeast on dogs?
A: Chlorhexidine is a disinfectant with antibacterial, antiviral and antifungal properties. Most shampoos containing this product carry between 2-4% chlorhexidine which does kill yeasts without being toxic to pets. 
Q: What kills yeast on dogs?
A: Chlorhexidine and antifungal medications (e.g. miconazole) kill yeasts. Many active ingredients have actions making your pet's skin inhospitable for yeasts by stripping away excess oils from the skin. Selenium sulfide slows the replication of yeast which does help to control infection. 
Q:Does coconut oil kill yeast in dogs?
A: Coconut oil does have antifungal activity, but not against all yeasts that cause problems for our canine sidekicks.
Q: How often should I bathe my dog with skin allergies?
A: Bathing frequency depends on a number of things including the humidity where you live and how mucky your pup likes to get. Most pups only require bathing once a month with shampoo with water rinses in between. In humid regions, bathing with shampoo up to once per week may be suitable. Therapeutic shampoos may require use up to 3 times per week on pets with significant yeast infections.
Q: What can I bathe my dog with for a yeast infection?
A: There are a huge number of shampoos available, check out our list below to find out more.
Q:Does vinegar kill yeast on dogs?
A: Acetic acid, the primary ingredient in vinegar (aside from water) is astringent and dries skin and inhibits yeast replication.

Q: Can I use antibacterial soap on my dog?
A: Yes, many of the soaps on our list are antibacterial but the trick is to use one that is suitable for canine skin and not a human product. 
Q: How can I treat my dog's yeast infection at home? 
A: Treating the underlying cause of infection is key to recurrent yeast infections. Yeasts are naturally present in our pet's skin but infections tend to develop when there is a breakdown in the skin's natural barrier. If your pet has allergies or very sensitive skin then management of these is paramount to prevent infections.
If your pet has an active yeast infection, you can use a medicated shampoo (following the manufacturer's instructions) to relieve their irritation and remove excess oil and skin flakes that allow the yeast to thrive. When using these products, if there is no improvement or if your pet's skin becomes more irritated then you should contact your veterinarian for an appointment as stronger therapy may be required.
Our verdict: What's the best dog shampoo for yeast infections?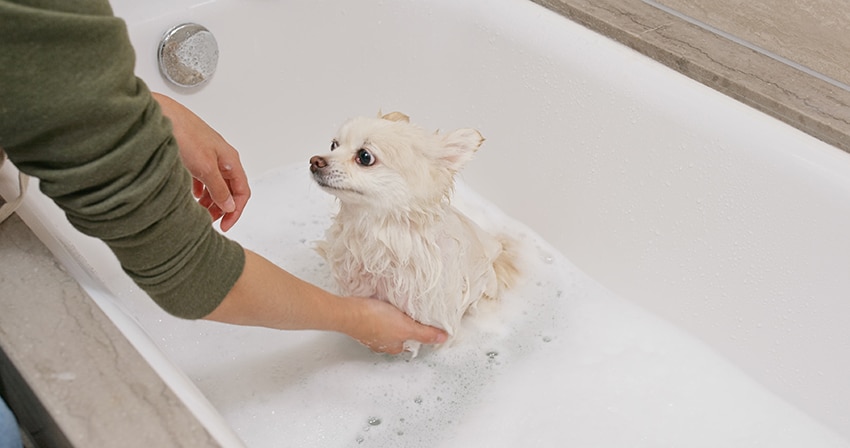 Skin problems are incredibly frustrating for both our canine companions and their fur-parents and vet bills can run into hundreds rapidly.
If your pooch is prone to yeast infections then your veterinarian may recommend using a shampoo to soothe their skin and help fight these infections.
From our research we've found Curaseb Broad Spectrum Veterinary Formula shampoo with chlorhexidine to be the best dog shampoo for yeast infections.
Curaseb combines chlorhexidine and ketoconazole to treat any active yeast infection present. The money-back guarantee means it's a no risk trial for you and your pup.