The skin makes up to 24% of your pooch's body weight, acting as a protective barrier, skin plays a role in temperature regulation, environmental protection, and producing important substances including vitamin D.
Skin is exposed to challenges daily including temperature and moisture extremes, particularly in the winter months when it's cold and wet outdoors, while we humans have indoor heating which can dry out your dog's skin.
If your dog is scratching more than normal, fleas tend to be the first thing on your mind. While parasites are a common cause of dermatitis and frantic itching in pooches, there are some other factors that can be serious.
Intense itching is also known as pruritus. Intense scratching or chewing, red skin patches, or hair loss are all reasons to take your fur-baby to the vet to investigate the cause. Causes include infections and allergies or if your pup is lucky, it may just be sensitive skin.
If your pup has dry and sensitive skin, your vet may advise that you use a hydrating shampoo to soothe your pup's skin.
Choosing the right shampoo can be frustrating if your fur-baby has allergies or inflamed skin as you don't want to irritate them further. Here we review some popular shampoos to help you determine what's the best dog shampoo for itchy skin.
I used my 7 years of veterinary experience to review over 30 dog shampoos for itchy skin to find the best one. After evaluating over 30 shampoo formulas, I found that "Veterinary Formula Clinical Care Antiparasitic & Antiseborrheic Medicated Dog Shampoo" contains a range of quality, active ingredients to soothe, moisturize and heal inflamed skin.
However, I know that no two pups are alike, and your doggie or you may have different needs. That's why I prepared a shortlist of our top 3 choices.
Before you select the best dog shampoo for itchy skin for Fido, it's always important to consider whether it's the best thing to do. That's why I explained the main reasons why your dog has itchy skin, and important things to know before buying & using a dog's shampoo.
Once you decide that a shampoo for itchy skin is right for your pooch, you can check out these 15 shampoos that I shortlisted for you.
If my shortlist doesn't include an option that meets your furbaby's needs for some reason, I prepared a quick checklist to assist you in finding the best shampoo for itchy skin for her and answered a few common questions from dog parents.
Always remember that the recommendations in this review are not intended to replace your doctor-patient relationship. Consult your veterinarian before you make any significant decisions.
Let's get started.
Top Reasons Your Dog Has an Itchy Skin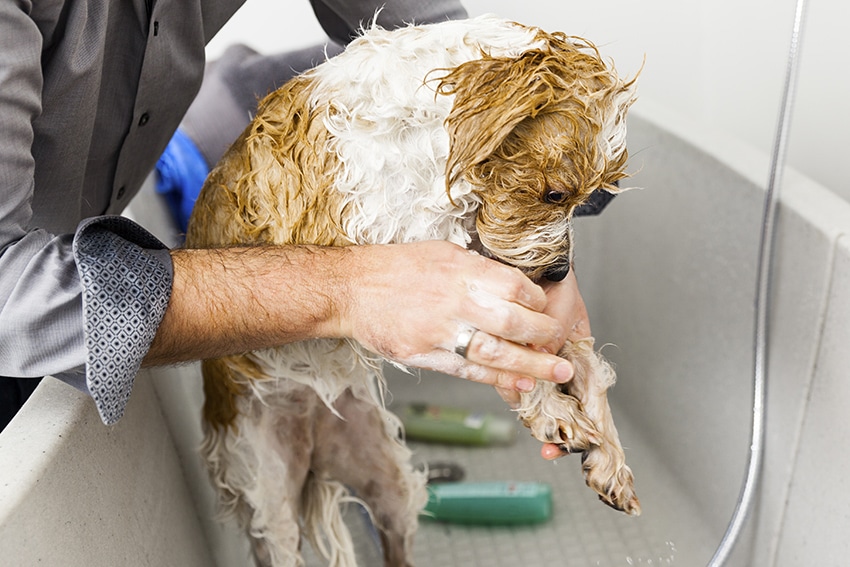 As a veterinarian, skin problems are possibly the most common reasons for my patients' appointments. One of the signs owners often notice is dry flakes in their dog's coat that leads to itchiness which can cause your dog to traumatize their skin and exacerbate the problem, while also being distressing for owners to watch.
Your veterinarian is best placed to advise you about your dog's specific concerns, but here's a rundown of some of the main causes of itchy skin in dogs.
Dry skin
There are many reasons your pooch may suffer from dry and itchy skin including diet, harsh weather conditions, and irritation due to harsh grooming products or overwashing. Dry skin is really a symptom of an underlying issue with dogs.
Allergies
Environmental allergens (aka Atopic Dermatitis). are a common cause of itching, chewing, and licking in pooches. These can be seasonal such as pollens or may be present year round such as dust mites. Skin allergies are generally chronic and lifelong management is necessary. If your dog has skin allergies, you tend to see irritation around their face, ears, paws, under elbows, along the belly, and around the groin and base of their tail.
Food
True food allergies are relatively rare in dogs, but we do see them occasionally. Skin signs of food intolerance tend to be similar to those seen in atopic dermatitis.
External Parasites
Fleas: As well as causing the typical irritation, some dogs are allergic to flea saliva and only a single bite can cause a flare-up.
Mites: Mites such as sarcoptic mange can cause intense itching in dogs.
Infections (Bacterial and yeast)
The majority of skin infections are secondary to trauma, often because of intense scratching and chewing in dogs suffering from allergies. These infections tend to be recurring and can make the itching even more intense leading to further damage. Once the infection has developed, antibiotics and anti-yeast treatments are needed alongside tackling the underlying issue.
Hormone Imbalances
There are a number of hormone disorders that cause skin changes including hypothyroidism and hyperadrenocorticism. Hypothyroidism tends to cause hair loss with dry, thickened and scaly skin. Hyperadrenocorticism is also known as Cushing's disease which darkens the skin, produces oily dandruff (seborrhea) and secondary bacterial infections.
Autoimmune diseases
Luckily, autoimmune disorders are rare in dogs; these are diseases where the animal's own immune system starts to attack the body. Pemphigus complex is one group of these diseases that causes blistering, pustules, and ulcers.
Nutritional deficiencies
Thankfully nutritional deficiencies are rare due to modern, balanced diets. Nutritional support does play a role in supporting your pup's skin health. Essential fatty acids and diets fortified with vitamin B complex can help to improve coat quality and skin health.
3 Important Facts To Know Before Using a Dog's Shampoo for Itchy Skin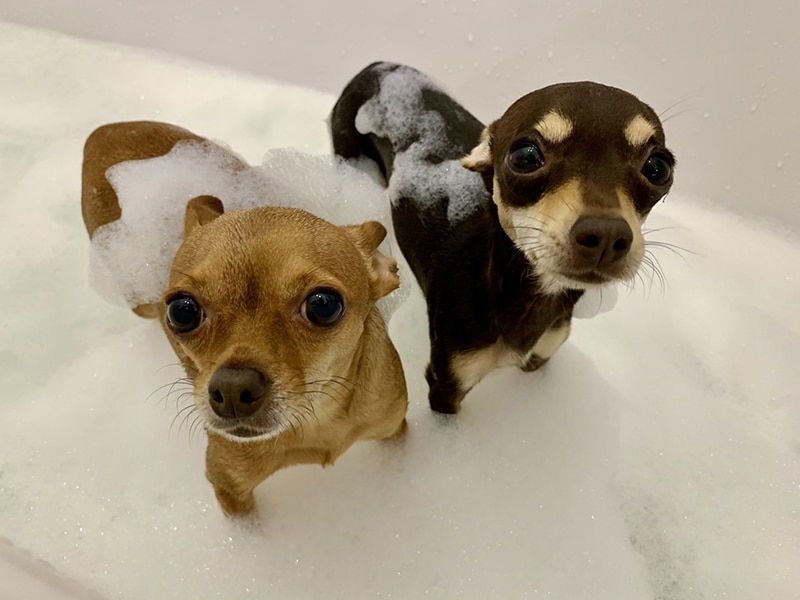 How Can Dog Shampoos Help in Case of Itching?
Depending on the cause of your pooch's itch, there are many shampoos on the market. Most human shampoos have a slightly more acidic pH than is suitable for canine skin, specially formulated dog shampoo should be used instead.
Shampoos that contain conditioning ingredients help to de-tangle hair to allow ease of grooming while also providing a barrier to help the skin retain moisture. Using a suitable shampoo, thoroughly rinsing, and not overbathing your pup will all help to relieve itching.
Bathing your dog with shampoo once a month should be sufficient for most dogs without dehydration though if you live in a more humid region you may be able to bathe your dog up to once per week without causing excessive dryness.
How Frequently & for How Long Can You Use Anti-itch Shampoos on Dogs?
Anti-itch shampoos can be used long-term in dogs once they don't have any adverse reactions but the frequency will depend on the individual shampoo and your dog's underlying skin condition. Always follow the instructions on the packaging.
Why You Shouldn't Use Human Shampoo On Dogs?
The primary reason is pH as mentioned before, canine skin has a pH of around 7 while human skin is around 5.5.
Disrupting the pH balance can leave your pooch's skin more vulnerable to injury while drying it out. Canine skin is also a lot thinner and more sensitive than us humans so any harsh chemicals or dyes in a human shampoo can irritate sensitive doggy skin.
How to Pick a dog shampoo for itchy skin?: Quality Control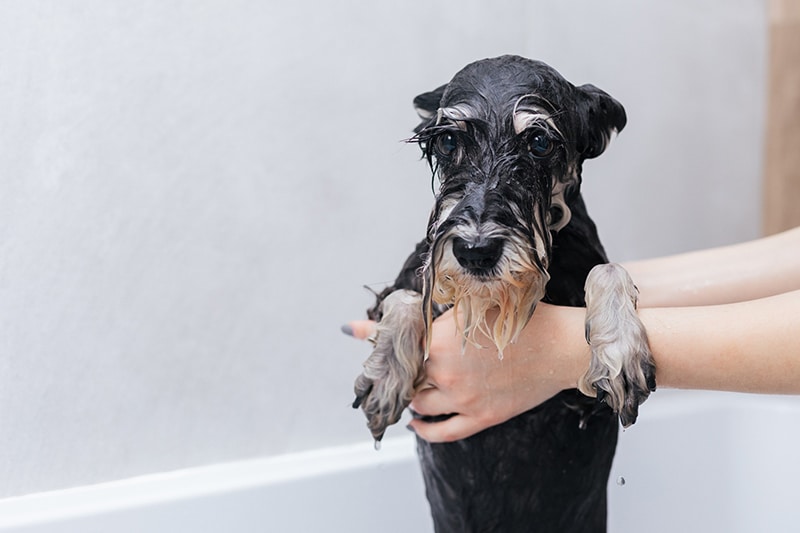 There are so many shampoo formulations it could make your head spin when searching for the best one to relieve your itchy pooch. Here's a rundown on what to look for when purchasing shampoo for your dog.
Active Ingredients: Choosing a shampoo will depend on what type of skin your pup has alongside the cause of their itchiness. You should select active ingredients that will soothe and moisturize your dog's skin.
Hypoallergenic Formula: dogs with itchy skin or allergies tend to have sensitive skin so select a shampoo that is suitable for the most sensitive of pooches. This is particularly important if your dog has any skin conditions causing redness or flaking.
Natural Ingredients: Artificial fragrances can irritate sensitive skin so selecting a product with natural ingredients is a better bet.
Medicated: Shampoos infused with medications are designed to treat more severe skin issues and the majority are prescription only. There are some over-the-counter medicated shampoos available that may be appropriate after your dog has been diagnosed by your veterinarian.
pH Balanced: As we mentioned before, canine skin is slightly more alkaline than human skin. Ensure that your pup shampoo is pH balanced for their skin to help soothe their skin and prevent further irritation.
Safe for puppies: Puppy baths can get messy and fur-babies tend to taste anything that smells good so you need a shampoo safe for their little tummies, noses, and eyes if they get splashed
Conditioners: You can choose a separate conditioner designed for canine coats to help restore moisture and natural oils following a deep clean. Many skin-soothing shampoos have conditioners and emollients incorporated within.
Deodorizers: Most dogs love to get muddy and roll in questionable content so deodorizing shampoo is almost an essential in your pup's grooming regime.
Anti-parasitics: Over-the-counter anti-parasitic shampoos may help with parasite infestations but they won't completely eliminate these tiny passengers so your veterinarian will prescribe appropriate treatments too.
Our 2023 Review For 15 Best Dog Shampoos for Itchy Skin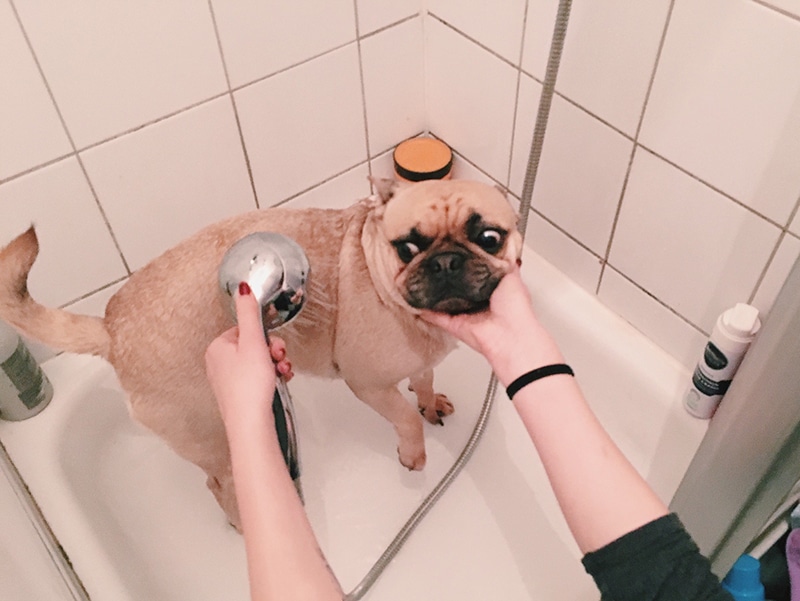 After reviewing more than 30 dog shampoos for itchy skin using the criteria mentioned above, I've chosen 15 that I recommend using if your dog has itchy skin.
Veterinary Formula Clinical Care Antiparasitic & Antiseborrheic Medicated Dog Shampoo
Synergy Labs have developed this shampoo with active ingredients such as salicylic acid, coal tar, colloidal oatmeal, and allantoin to soothe a variety of skin complaints.
Features:
This fast-acting formula relieves itching through coal tar and salicylic acid's activity while oatmeal and allantoin help to hydrate and heal any skin injuries.
Best for: best dog shampoo for itchy skin
What We Like About It?
pH balanced for canine skin
No dyes or parabens that may interfere with hormonal function
Natural moisturizers to relieve inflammation
What We Don't Like?
Some owners report that the scent is very strong
Can only use on puppies over 12 weeks old
Wahl Dry Skin & Itch Relief Dog Shampoo
Wahl has developed this concentrated, coconut-derived shampoo to give itchy pups with dry skin some relief while moisturizing their skin deeply.
Features:
Wahl are a well-known company within the dog grooming industry and this oatmeal shampoo is designed to be suitable for pups with skin allergies.
Best for: Our Runner-Up Pick
What We Like About It?
Trusted company
pH balanced for canine skin so it won't dry your dog's skin
Free from alcohol and parabens to prevent drying or irritating skin
What We Don't Like?
May not completely eliminate itching in dogs with severe pruritus Some owners report that the scent is weak
Burt's Bees Natural Hypoallergenic Dog Shampoo
Burt's Bees have developed a hypoallergenic pup shampoo enhanced with shea butter and honey to moisturize dry skin.
Features:
Free from harsh chemicals, this shampoo can be used on dogs of all ages without affecting topical parasite treatments.
Best for: Most affordable shampoo for itchy skin
What We Like About It?
Natural, high-quality ingredients including healing honey and hydrating shea butter
Free from sulfates, parabens, phthalates, colors, and fragrances so no harsh chemicals drying out your pup's skin
Trusted company
Veterinarian recommended
What We Don't Like?
Doesn't form a rich lather due to its soap-free formulation
Veterinary Formula Solutions Soothing Oatmeal Shampoo for Dogs
Synergy Labs have developed this Veterinary formula shampoo to both cleanse and deodorize even the muckiest of pups without irritating sensitive skin.
Features:
Specially formulated with baking soda, zinc, aloe vera, and oatmeal, this shampoo is pH balanced and enhanced with fragrance extenders to provide a long-lasting scent.
What We Like About It?
Manufactured in the USA
Veterinary Formulation with quality natural ingredients including oatmeal and aloe vera to soothe and moisturize irritated skin
Deodorizing
What We Don't Like?
Vet's Best Hypo-Allergenic Shampoo for Dogs
This veterinary formulation blends natural ingredients into a hypoallergenic shampoo that's gentle on the skin and helps to relieve itching.
Features:
Aloe vera and vitamin E enhance this soap-free shampoo to cleanse fur of allergens without drying their skin. Allantoin helps to speed up skin healing.
What We Like About It?
Safe to use with other dog treatments and parasite medications
Soap, paraben, dye, and sulfate-free
Trusted company
What We Don't Like?
Doesn't produce as rich a lather as some detergent-based shampoos
Some sensitive pups may have an adverse reaction after use
Vet's Best Allergy Itch Relief Shampoo for Dogs
This veterinary formulated itch-relief shampoo is designed to soothe itchy skin without interfering with topical flea and tick treatments.
Features:
Oatmeal and tea tree oil combine to soothe and moisturize inflamed skin while washing away allergens.
What We Like About It?
Doesn't affect topical parasite treatments
Trusted company with a veterinary formulation
Produced in the USA
Natural ingredients include oatmeal and aloe to soothe and moisturize inflamed skin
What We Don't Like?
Doesn't form a rich lather like a soap-based shampoo
May not resolve itchiness for all dogs
4-Legger USDA Certified Organic Dog Shampoo
This USDA-certified organic shampoo claims to be 100% non-toxic and hypoallergenic without anything artificial.
Features:
A 30-day money-back guarantee allows you to try this shampoo with your sensitive pup completely risk-free. Delicately scented with lemongrass and citrus to help deter parasites.
What We Like About It?
Safe for use on puppies
100% natural ingredients including aloe, lemongrass, and hydrating coconut oil
Paraben, detergent, and sulfate-free so no drying chemicals on your pup's skin
What We Don't Like?
Some owners report a bad smell from the product
TropiClean Shampoo for dogs
TropiClean has developed this soap-free, delicately scented shampoo with oatmeal and tea tree oil to help eliminate dandruff while moisturizing delicate skin.
Features:
Salicylic acid helps to remove dandruff while oatmeal, tea tree, and added vitamin E help to hydrate skin and leave a glossy coat.
What We Like About It?
Soap, paraben, and dye-free
Produced in the USA
Natural ingredients such as oatmeal soothe irritated skin
Safe for dogs and cats
What We Don't Like?
Some owners report that there isn't a nice scent
Some owners report seeing more dandruff after using this shampoo
HONEYDEW Natural Dog Shampoo with Colloidal Oatmeal
Dog Pleasant Lavender Oatmeal shampoo is designed to soothe flaky dry skin while comforting lavender oil helps to calm crazy puppies.
Features:
This gentle and safe shampoo is manufactured in the USA and has a 100% money-back guarantee.
What We Like About It?
Hypoallergenic so this shampoo is designed to prevent reactions in sensitive dogs
Veterinary recommended
Suitable for puppies
Satisfaction guarantee
What We Don't Like?
Very sensitive pups may react to the shampoo
Some owners report seeing more dandruff after bathing
Pro Pet Works Oatmeal dog Wash Shampoo + Conditioner
Pro dog Works have produced this veterinary-recommended shampoo and conditioning formula for dogs with a number of allergies including food, grass, and fleas.
Features:
This shampoo has no harsh chemicals and is completely natural with all organic ingredients. Enhanced with vitamins and aloe extract to soothe irritated skin while being gentle on pups' eyes and noses.
What We Like About It?
Free from soap, alcohol, sulfates, dyes or fragrances
Natural and organic ingredients such as aloe vera to help cool and soothe inflamed skin
Cruelty-free
What We Don't Like?
Doesn't produce a large amount of lather
Some owners report a smell of "wet-dog" due to the lack of fragrance in the shampoo
Paws & Pals 5-In-1 Oatmeal Dog Shampoo
Paws & Pals have developed this quality shampoo that cleanses sensitive dogs while respecting nature and the environment.
Features:
Chock full of natural ingredients, oatmeal helps to soothe and moisturize your pup's skin while enhanced pro-vitamin B5 helps to heal traumatized skin.
What We Like About It?
Tear-free formulation
Enhanced with oatmeal and vitamins which nourish the skin while providing cooling aloe vera extracts to relieve itchy skin
Produced in the USA
What We Don't Like?
Some very sensitive pups can have adverse reactions
Some owners report that the fragrance isn't nice
Oliver's Choice Dog Shampoo
Oliver's Choice dog shampoo is specially formulated for both adults and puppies to relieve inflamed skin while eliminating stinky pooch smells.
Features:
This cruelty-free, naturally derived shampoo is free from parabens and is biodegradable to reduce pollution. Oatmeal, aloe, and shea butter all help to soothe and hydrate irritated skin.
What We Like About It?
Produced in the USA with a money-back guarantee
Safe for puppies with no parabens that could influence hormonal activity
Money-back guarantee
What We Don't Like?
Some owners report that the smell is too strong
Some dogs are sensitive to lanolin and have adverse reactions
Dog Heads Feeling Flaky Strawberry Yogurt Shampoo
Pet Heads have developed this sensitive skin shampoo packed with high quality natural ingredients to soothe skin and condition fur.
Features:
This shampoo contains yucca, silk, and chamomile and is pH balanced to soothe and nourish sensitive skin and return a healthy shine to your dog's fur.
What We Like About It?
Manufactured in the USA with high-quality ingredients
Cruelty-free and Eco-friendly
Petroleum and DEA free to prevent irritation to already itchy skin
Suitable for puppies
What We Don't Like?
Some owners report that the smell is medicinal
Buddy's Best, Natural Dog Shampoo and Conditioner in One
Buddy's Best have produced a shampoo and conditioner all in one product with pet-safe ingredients to cleanse and soothe sensitive skin.
Features:
Free from harsh chemicals, this hypoallergenic soap contains oatmeal, shea butter, and aloe vera to gently nourish dry skin and return shine to fur.
What We Like About It?
Suitable for puppies
Free from soap and alcohol to prevent excessive drying of your pooch's skin
Contains biotin which may help with fur growth and health
What We Don't Like?
Doesn't form a rich lather due to soap-free formulation
Some owners report that the scent is too mild
Common Questions from Dog Parents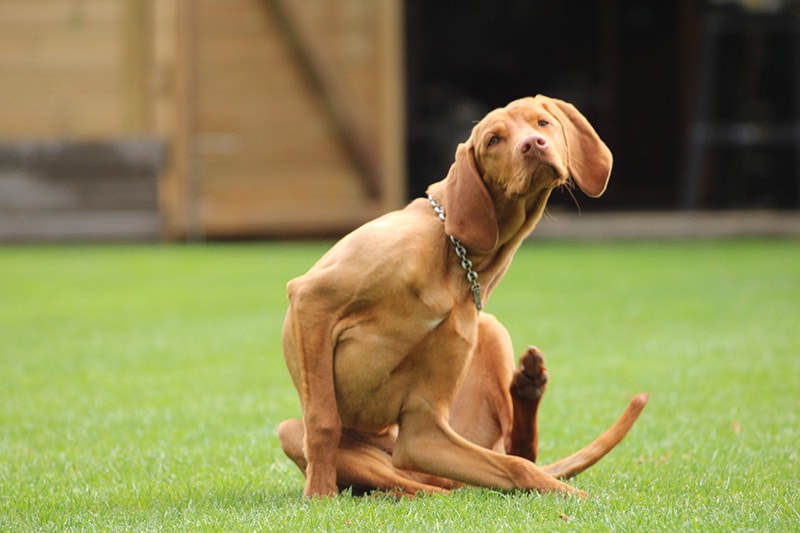 What to wash a dog in to stop itching?
There are a lot of shampoos available, but you should aim to choose one that is soothing, hypoallergenic, and ideally contains no artificial dyes or fragrances.
Can you give a dog Benadryl to stop itching?
Benadryl is not licensed for use in dogs, though your veterinarian may advise you to give your dog Benadryl in certain situations. As this is a human medication, it can be very easy to overdose your pooch so you should always contact your veterinarian or emergency clinic before giving ANY human medication to your dog.
Why does my dog itch at night?
If your dog has itchy skin or allergies they are likely scratching almost constantly but it can often feel like it's worse at night. This is usually because we notice it more when the house is quiet and we're spending more time with our dog.
The Final Woof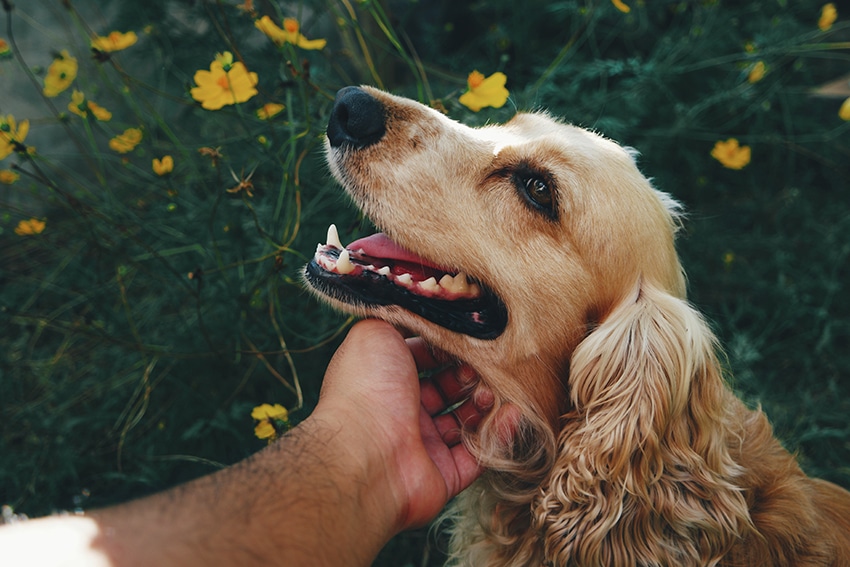 There are a huge number of shampoos available to soothe itchy skin but not all are created equal and we've done the legwork to help you select the best dog shampoo for itchy skin for your pooch.
Synergy Labs developed a veterinary formula shampoo specifically for itchy dogs. Veterinary Formula Clinical Care Antiparasitic and Antiseborrheic Medicated Shampoo for Dogs contains a range of quality, active ingredients to soothe, moisturize and heal inflamed skin. This shampoo is budget friendly and suitable for puppies over 12 weeks making it a versatile choice for sensitive skinned pooches.