Much Like an umbrella for people, this product serves to protect your pooch from either rain or sun. The difference is that an umbrella for dogs looks like the wind turned it inside out. The canopy is at the bottom and faces outward to cover Fido, and the handle is at the top.
Does Every Umbrella Come With a Leash Attachment?
The short answer is no. Some umbrellas for dogs come with a hook or clasp of some sort to connect to your pup's existing leash. One thing to remember about these products is that you'll need to use a short leash to make sure Fido stays under the protective canopy of the umbrella.
Can The Umbrella Be Attached to a Harness?
Umbrellas with a leash attachment work like a regular leash. You should be able to attach it to a regular dog collar or a harness that has a leash-attachment ring.
Will an Umbrella Work for Large Breed Dogs?
Unfortunately, an umbrella for a large breed dog is not practical. The canopy would have to be huge to cover your pal from nose to tail. In addition, to clear Fido's head, the handle would probably be at the level of your shoulder or head. Try managing that on a walk. Awkward!
Will an Umbrella Work for a Dog That Pulls?
Whether the umbrella can stand up to a puller will depend on how sturdy the product is and how hard your pooch yanks. When a dog lunges or pulls, the force affects the leash and the umbrella handle. If your furbaby exerts tons of pressure, you'll want a product with a very strong frame.
Of the top six products that we reviewed, I would choose the
Push Pushi Dog Raincoat
. This item comes in size options that could fit my pooches. The umbrellas we reviewed are only suitable for small or medium-small dogs.
The larger sizes are available in yellow, which will help make my furbaby more visible in the rain. None of the umbrellas have reflective tape or other ways to improve visibility for safety.
Because I live in the northern United States, I also like that the raincoat has a light fleece lining for extra warmth when it's wet and windy outside. The umbrellas may provide a shield from the rain and wind, but they won't protect from the cold.
With a raincoat for my pooches, I won't have to worry about opening or closing the canopy, fitting through doors, or walking off-road.
Finally, using a coat for Fido frees me up to use my umbrella to protect me from the rain. I won't be juggling two handles while I'm walking my special pal. We can both stay dry that way.
For my personal needs, I choose the Push Pushi raincoat because it meets the criteria that I value for my pups.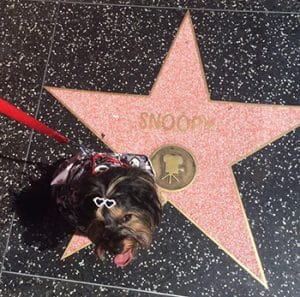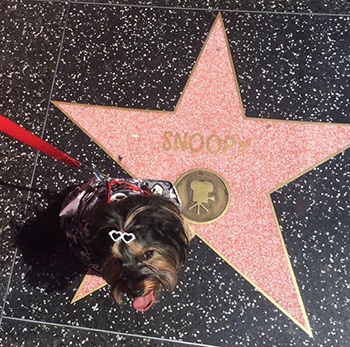 One request from Speedy
Dr. Libby Guise put so much effort writing this blog post to provide value to the dog parent community. It'll be very helpful for me, if you consider sharing it on social media networks.
SHARING IS ♥️