We know our pooches love to take walks and we truly enjoy taking them. But sometimes your day is so full that you just do not have the time to get out there with them during the day. You may end up waiting until after dark to take your furbaby out. And this can be dangerous if you cannot see your pup while you are out and about, even if they are on a leash. That is why the glow in the dark dog collar is such an amazing invention.
To get started, first we are going to share with you our top picks for the glow in the dark dog collar, which will include:
Illumiseen LED Dog Collar
This is an excellent collar that comes in six different sizes from xx-small to x-large. It also comes in six different colors, which include orange, pink, green, blue, red, and yellow. The durable construction is pawesome and even if it does break, there is a lifetime guarantee. You cannot beat that with a stick, right? In addition, the Illumiseen LED Dog Collar is simple to use, bright enough to be seen from a couple blocks away, and has five hours of continuous use before needing a charge. That means it can last for a week or two without charging if you only turn it on when you are outside taking a walk.
Luckily, it has an on/off switch so it does not stay on all the time because that would be annoying at night when you are trying to sleep, and your pup is lighting up your bedroom. Although the switch may be accidentally turned on by your pooch scratching so you can either put tape over it or just take it off when you are not using it. The last thing you want is to be woke up in the middle of the night by a strobe light thinking the cops are outside with their lights on!
This is the most affordable dog collar and looks similar to a glow stick for kids but is thicker and more sturdy. It also has an on/off switch and different modes: steady, slow flash, and quick flash. Unlike a kids glow stick, these can be recharged with a USB, so you don't have to throw it away after the first use. It is one size fits all, which seems unbelievable considering how large a St. Bernard's neck is compared to a Toy Poodle.
However, it is easy to adjust to your dog's neck size by cutting it to fit. Also, since the collar is so lightweight, it is great for those pupsters who do not like collars. They can barely feel it on there.
They come in five different colors; red, pink, orange, blue, and green. The brightest color is red, and then green, pink, orange, and blue. These collars are easy to use as well. In fact, the BSEEN LED dog colla is the easiest dog collar to use out of the three collars. And since they are customized to fit your dog, you don't have to worry about whether the large is large enough or the small is small enough. It fits fur-fectly to your specific pooch. Finally, this is probably the most water-resistant since it is similar to a glow stick.
Blazin' Safety LED Dog Collar
This collar has the most variety of colors with black, blue, green, orange, pink, purple, red, and yellow. In fact it even comes in Christmas (red/green) and Halloween (orange/black) varieties. The Blazin' Safety LED Dog Collar is also brighter than the others and the unique design makes it a better fit.
With the others, the thick LEDs will not fit through the resizing clasp, so they do not fit properly. This one has individual bulbs that fit through the clasp. They do come in four sizes from x-small to large and can be adjusted to fit on all dogs.
The Blazin' Safety LED Dog Collar can be seen from 350 yards away and can save your pup's life if they get away and run into the street. This one also has the longest-running time. You can run it for eight hours straight without a charge. That equals out to be over a week if you only turn it on during walks. And they charge from any device from a plug in or a computer or laptop with the USB charger included. This one also has a 100% lifetime guarantee so you can get your money back if you are not happy for ANY reason.
If your dog has a favorite collar that you do not want to remove or you need more visibility than just a collar, the Illumifun LED Dog Leash is awesome. Even if you have a Glow in the Dark Dog Collar, have you ever had your dog pull the leash out of your hand? Or maybe you were texting or Facebooking with your phone while walking your pup and just dropped it. The LED collar is not going to help you find the end of the leash. But this light-up leash is perfect for times like that. It is also a fur-fect idea for pet parents who have a dog with a long coat. Because that long fur is going to cover up that light-up collar but not this leash.
Not only does the leash light up, it also has three glow modes; steady, slow, and fast. The flash settings make it even more visible, great for people who have trouble seeing in the dark, like me. It only takes two hours to fully charge and lasts up to 10 hours on slow flash. That is almost three weeks if you take half-hour walks. The best part is that it is 100% guaranteed so if you want to send it back for whatever reason, you can get your money back. No questions asked.
Some dogs just do not like to wear collars. Can you blame them? After all, who wants someone to be tugging at something wrapped around your neck? In fact, according to the American Kennel Club (AKC), a harness is safer for small dogs who can be hurt by collars and it gives you better control. This is also fur-fect for those little escape artists who seem to be able to get out of any collar, no matter how well it fits. And this vest is very lightweight and looks awesome. Your dog will be walking around in style with the noxgear LightHound harness.
And if you cannot choose which color you want for your dog? You don't have to with this vest. It has all the color choices at the click of a button. Cyan, green, pink, purple, blue, magenta, yellow, and red. As if that isn't enough variety for you, there are also six flashing color modes including Photon Burst, Independence Day, Rescue, Cool Comet, Rainbow, and Disco Dog. So your dog can wear a different color every day of the week and then some! It is also rechargeable and lasts up to 12 hours, which is about three weeks. It comes in four sizes from small to x-large, so it is great for any pooch. I really like this one!
BSEEN LED Dog Harness LED Dog Vest
Just like with the other harness, this style is awesome for dogs that do not like collars or know how to get out of them. What good is a glow in the dark collar if your pup takes it off or pulls out of it while you are walking them? It is also great for little dogs who are more susceptible to neck and spinal damage from dog collars. It gives you more control than a regular dog collar as well. In fact, it is even good for those old or injured pups who need a little help getting up from the floor (like I do). And if you have a new puppy, this is fur-fect for training them.
One thing that stands out about this glow in the dark harness is that it hugs your furbaby, which is great for those pups who need to feel more secure when out walking, especially if you are in a noisy area. And it is lightweight and made of mesh so it won't cause your pooch to overheat in the summer but will give them a bit of warmth during the winter. There are four colors to choose from; rose, blue, red, and green and three basic sizes; small, medium, and large. The measurements are provided in the advertisement, so you know exactly what size to choose for your dog.
If you do not feel like doing the whole collar, harness, or leash thing every time you take your fur buddy out, you can always try a clip-on LED light for their collar. These are easier, faster, and cheaper to boot. You can carry it in your purse or pocket so you have it when you go out if you need it and since they are so inexpensive, get two or three so you can have one at home and one for the dog sitter. They come in blue, disco, green, red, pink, white, and the five-color variation. They each glow or flash, whichever you choose, and can be seen from really far away. Further than most flashlights.
Your dog will not even know that they are wearing it unless it is turned on and then they really will not care. Unless you have one of those dogs that like to chase lights. That may be an issue. Just attach it to the back of the collar instead of the front. They are water-resistant, so you do not have to worry about it when you take your pooch out in the rain. The batteries are supposed to last about 20 hours (but they do not) and can be replaced by unscrewing the back. You can get these batteries really cheap so buy a bunch of them and you never have to worry about it going dead on you.
This is our choice for Third Place because it is inexpensive, cute, and easy to use.
If you want to keep your canine kid safe in the dark, you can get a glow in the dark collar, harness, or leash, or just get a few of these Higo LED Dog Tags instead. These little beauties are super bright, come in blue, white, yellow, purple, or red, and they even come in a cute doggy bone style that also comes in different colors; brown, orange, red, or yellow. They fit any collar and have a lobster claw clasp for extra durability. You can get a two-pack or three-pack for pretty cheap so you can get a couple of packs and use them for other things as well.
Like what, you say? Well, attach one to your keychain so you never lose your keys in the dark, wear it on your jeans or around your neck for your own safety, hook it on your children so you can find them in the dark, or attach it to the back of your bike when riding at night. However, we are doing a review for dog lovers like you and me, right? So make sure you put one on your pup before heading out for your nighttime walk or if you are going to be out and about with your pooch after dark at the dog park or beach.
Clip-On Pet (Dog Collar LED Light)
Our final review, this clip-on light comes in a pack of six for families with multiple canine kids. Also great for those who cannot choose a color, you can get all six colors; blue, orange, red, green, yellow, and white. They are simple to attach. Just clip on and go. To turn them on all you have to do is click them. Click once for steady on, twice for slow flash, three times for fast flash, and then another time to turn it off. They do use batteries, and these come with extras, so you do not have to buy tons of batteries right away.
Just like the other glow in the dark clip-on lights, they have more uses than just for dogs. You can clip them on anything you do not want to lose in the dark, wear when you are running at night, or attach to your keyring to help you see to unlock doors when it is dark. And even though they are nice and compact, they put out plenty of light. Enough to spot your pooch from a ½ mile away. The Clip-On Pet dog collar is also water-resistant, durable, and the battery life for these seem to last longer than the others.
This is our choice for Best Clip-on light because it comes in a six-pack and the batteries last the longest.
You are probably wondering why a glow in the dark dog collar is so impawtant to you as a dog parent. Well, because it is dark outside, duh! Seriously though, many of us do not have the time to take our pups for a walk during the day because we are working so the evening may be the only time we can go.
Similarly, during the summer when it is up in the 90s during the day, walking your dog at night may be the best option. When the sun goes down and the temperature drops, taking your fur buddy out is a much better option for both of you. Especially if you have a furry dog or one that is brachycephalic, which is a pup with a broad and short skull like a Pekingese, Bulldog, or Pug. These types of dogs with short snouts are more susceptible to the heat since they cannot pull enough air in to cool off their body. These types of poochies do not need to be going out in 90-degree weather no matter what.
Say you are out walking with your dog and the leash breaks or you accidentally drop it. Or maybe your pup sees a cat and pulls it out of your hand. Now your furbaby is running down the street and it is too dark to see where they went. How are you going to find your pooch if you cannot see them? If your dog is wearing a glow in the dark dog collar you will not have to worry about that at all.
Don't Lose Your Best Friend
For example, there was a time when my Black Labrador Retriever, Sheba, broke the leash while my daughter was walking her. She took off after another dog and she could not see where she went. We searched for hours for her and could not find her.
Luckily, she came back on her own after a while and was okay. But she could have been hit by a car or something because she is just not visible at night. Had she been wearing a glow in the dark dog collar my daughter could have seen where she went and gotten her. Instead, we spent several hours looking for her, worrying that we would never see her again.
Choosing the best glow in the dark dog collar for you depends on your needs. If you have a big dog or a dog with a wide neck, make sure you get one that is big enough for your pooch and if your dog is tiny, be sure that you get one small enough. Some of these collars are one size fits all and others have different sizes you can choose from. You may have other needs such as needing a collar that is water-resistant, a long-lasting battery, etc.
Can We Go Out in the Rain and Snow?
I don't know about you, but my dog loves to play in the rain and snow. She will go out and roll around in the snow and make doggy snow angels if you let her. So, will these dog collars last through that kind of abuse?
Probably. These glow in the dark dog collars are water-resistant but not waterproof. You can take your pooch for a walk in the rain or snow without hurting the collar, but you cannot go deep-sea diving with it on. If you plan on taking a swim, take the collar off fur-st. Take it off before giving your dog a bath too. You probably will not need it unless you are going to bathe your pooch in the dark. You probably don't do that, right? That would be weird.
All the Bells and Whistles
Whether you want a collar with all the bells and whistles or just a plastic ring that glows in the dark, one of these collars should be fur-fect for you and your pooch. By bells and whistles, I do not really mean bells and whistles. That is an expression meaning extras or accessories. You probably already knew that, but I wanted to make sure you were not expecting a glow in the dark dog collar with actual bells and whistles. By extras, I mean that some of these have on/off switches, different settings like flash or strobe, some last for several hours while others last for days, and most are rechargeable. Some take all day to charge while others can be charged in an hour or two. By the way, they recharge with any device with the USB, which comes with the collar.
With some glow in the dark dog collars, the color really does matter. The most popular for brightness is the green color although there are a few that say the pink is the brightest. All of these are better on flash mode than solid because it is like a beacon in the night. It also lasts longer before having to charge it if you keep it on flash mode. No matter what, they are all very bright and you can see your pooch from quite a distance. Some say up to 350 yards, which is 1,050 feet for those like me who have no clue.
If you do not like using the traditional dog collar design, there are also glow in the dark dog harnesses that do the same job with a different design. These are great for big or small pups and provide even more light. Better for those of us with bad eyesight.
Also, if you would rather just use a clip-on LED light, they have those too. These are great if you just want to clip it on your dog's collar and go. Finally, there is the LED dog leash, which is also great for those of us with bad eyesight. Double it up and use the harness or collar with the leash for extra visibility.
And you can clip one of the LED clip-ons as well. That may be overkill but we love our pups and want to keep them safe so nothing is too much for our baby.
All products have questions that buyers want answered before they purchase them. These dog glow in the dark collars, leashes, and harnesses all have similar questions as well.
Do they have an on/off switch?
All of the dog collars have on/off switches. However, many of the switches are easily turned on by the pooch wearing it just by scratching or rubbing up against something. Some pup parents use tape to keep their dog from turning them on when not needed.
What kind of charger do I need to recharge it? They all come with a recharging cord and are easily recharged by plugging it into an electric outlet or computer.
Are they washable? They can all be hand washed. However, since they are water resistant and not waterproof, you should not put them directly into the water or in the washing machine.
Our Verdict on These Pawesome Products
The Illumiseen LED Dog Collar
is the top choice because it is the most durable, well-made, and nice-looking collar out of the bunch. It is easy to use, has many color choices, and is guaranteed for a lifetime so you never have to spend any more money on another one. They will keep sending you a replacement or your money back as many times as needed. Although the Blazin' Safety LED Dog Collar had some cool designs and was able to be seen further away, it was more expensive and not as water-resistant.
The best choice for glow in the dark a harness is by far the
BSEEN LED Dog Harness LED Dog Vest
because it is a much more affordable price and will not irritate your dog in the summertime because it is mesh and lightweight. It is also brighter, and it is the only one that has a light that comes on to warn you that you need to charge it. The noxgear LightHound harness was pretty pawesome because it had all the colors in one vest, and it was the only one that said it was machine washable. However, it was almost five times as much as the other one.
That being said, nothing is too expensive when it comes to your furbaby because they are family.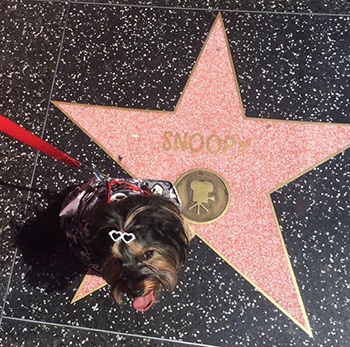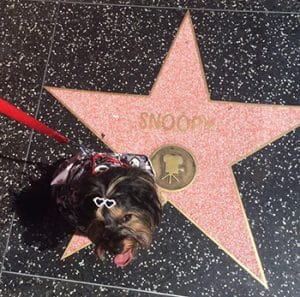 One request from Speedy
Patricia Oelze put so much effort writing this blog post to provide value to the dog parent community. It'll be very helpful for me, if you consider sharing it on social media networks.
SHARING IS ♥️