If you love to run and love dogs, there's something special about combining your passions.If you love to run and love dogs, there's something special about combining your passions. Before you leash Fido up for your cross-country outing by making sure you invest in the right gear for your furbaby. Take his safety into account. 
A dog harness will give you more control over your dog and help prevent stress injuries. But all harnesses are not equal..
That's why we evaluated several products available on the market to help you find the best dog running harness for your special pal.
Before we talk about the products, we're going to look at the reasons to use gear that's specifically made for running with your dog and describe the features you want in a harness. Then we'll discuss safety tips and good running practices.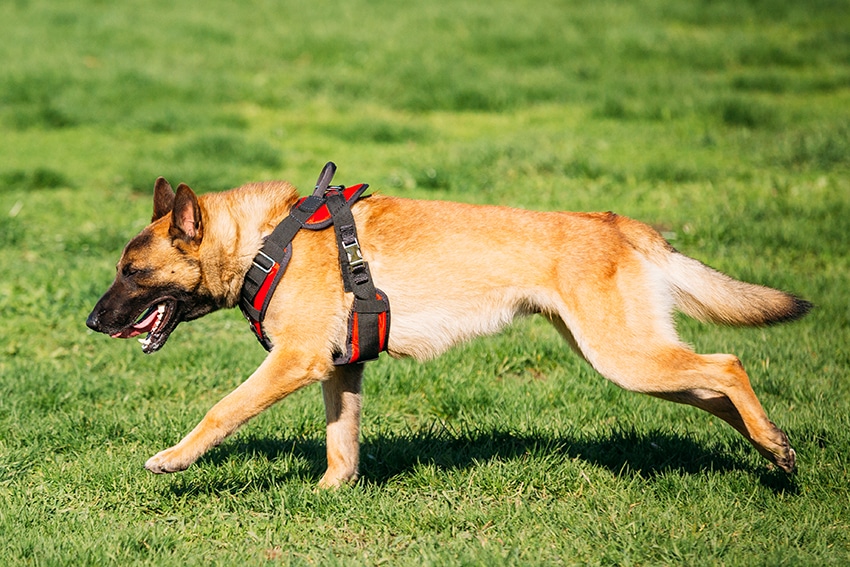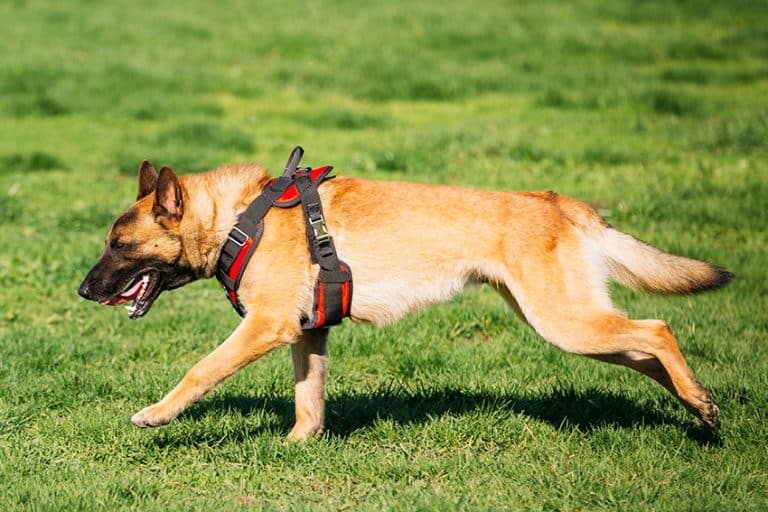 Available in five sizes ranging from XX-Small to Large/X-Large, the Ruffwear Front Range Dog Harness comes with a trail-tested promise. It's made with durable, lightweight nylon and has four adjustment points. There are two leash attachments. The back has an aluminum double D-ring on the back and a reinforced webbing loop on the front. With bright fabric and reflective trim, this product should be easy to see at night. There are foam-padded strips for the belly and chest for comfort. The product includes an ID tag pocket.
Made for active dogs, this multi-use harness has five adjustment points for the right fit. There are a reinforced mesh handle and an aluminum V-ring leash attachment on the back. This product has foam padded straps for your pal's comfort. It's made of lightweight yet durable nylon and has reflective trim. A built-in safety light loop provides a place to attach a beacon when you're out on the trail. This harness comes in five sizes from XX-Small to Large/X-Large.
Made for active dogs, this multi-use harness has five adjustment points for the right fit. There are a reinforced mesh handle and an aluminum V-ring leash attachment on the back. This product has foam padded straps for your pal's comfort. It's made of lightweight yet durable nylon and has reflective trim. A built-in safety light loop provides a place to attach a beacon when you're out on the trail. This harness comes in five sizes from XX-Small to Large/X-Large.
This harness has reflective stitching and a waterproof padded chest sleeve made of neoprene. There's a quick-click buckle to make it easy to put on and off. There's a one-click fit system that allows for quick and easy fitting. It comes in six sizes.
With front and back attachment points and padding for the chest and belly, this harness is made for active pups. It uses reflective nylon webbing and sturdy oxford materials for durability. The product also has double stitching and load capacity buckles to resist heavy pulling. There are four adjustment points for a proper fit. The leash attachments are aluminum and zinc alloy rings. It includes a lifting handle. This harness is available in 5 sizes.
This Tuff Mutt harness has four adjustment points and is easy to customize to your pooch. The chest and belly panels have extra padding for your pup's comfort. There's a metal V-ring leash attachment on the back and a reinforced webbing loop on the front. There's reflective stitching on the straps and reflective trim for extra night visibility. It has strong buckle connectors for a secure fit. This harness comes in Medium and LargeX-Large sizes.
This adjustable harness comes in four size choices ranging from S-XL. It has metal D-ring leash attachments on the front and back. You can slide the neck part over the head and buckle the easy-release clips around the chest. There are four adjustable straps on the product for a snug fit. The chest and neck areas have breathable mesh padding for comfort. Reflective threading in the straps provides visibility at night.
Made of nylon and fully padded, this sport harness is made for activity. It has an ergonomic design and reflective woven strapping on the chest band. There are ten sizes and an adjustable chest strap to help you find the right fit for your pooch. This product has a metal ring leash attachment on the quick grab handle on the back. 
This Chai's Choice harness is made of durable Oxford material and has nylon webbing with reflective stitching on the straps. There's a reinforced handle on the back and leash attachments on the front and back. The chest and belly parts have soft mesh lining with sponge padding for comfort. It comes in five sizes from X-Small to X-Large. This product has Duraflex buckles with a large loading capacity for durability and strength.
The Embark Adventure harness features military-grade nylon and strong metal leash attachments in the front and back. There are four adjustment points for a snug fit. It's lightweight and has reflective trim for night safety. There's soft padding around the neck and chest. This product has a handle on back to help you control or assist your pooch. It comes in four sizes from Small to X-Large.
This Sport harness has a back metal D-ring leash attachment to prevent tripping. The neckline has elastic with padding for a snug, comfortable fit with some give. There's a padded chest piece with an adjustable girth strap and reflective piping. It also has sturdy quick snap buckles for easy on and off. The product includes a top handle for control and assistance. It comes in four sizes from X-Small to Large.
Made for hands-free or hands-on, this SparklyPets leash is made for medium and large dogs. The waist belt has a durable buckle with two stainless steel clasps to distribute the pulling force. Flexible bungee in the leash provides shock absorption for your pal. An easy-grip handle lets you take control when you need to. The leash is made of weather-resistant nylon and has reflective stripes.
The Tuff Mutt Hands-Free Dog Leash features an easy glide buckle that can slide back and forth on the belt to give your pup more freedom. The bungee leash is 4 feet long and can stretch to 5 feet. There are dual handles for extra control when you need it. This product includes reflective threading for night visibility. The waist belt is adjustable for your comfort and can fit a 26-48" girth. It's made primarily for medium to large-sized dogs.
Favorite Gear For Running With Your Dog
This poop dispenser has velcro wrap attachments that work with any leash or hands-free running belt. It lays flat, so there's no dangling or bouncing when you're moving. The pouch has room for a few extras like your key fob, spare cash, or a few treats. There's a convenient dispenser to remove one bag at a time, and it comes with a roll of eco-friendly poop bags.
Ruffwear Grip Trex trail-ready boots come in 7 sizes based on your pup's foot width. You can buy these in sets of two for four booties. They have a rugged Vibram outsole for protection and traction. The rest of the shoe features a breathable woven mesh to keep dirt out and for ventilation. It has a slip-on opening with a hook and loop closure for a secure fit. These boots also have reflective trim for low-light use.
Zuke's Natural Hip and Joint Treats offer a great way to support your running pal's joints. The formula includes 104 mg of glucosamine and 34 mg chondroitin and is free of fillers. The chewy tidbits have real beef and digestible whole grains. You can break them into smaller pieces for training treats.
The SafteyPUP vest has blaze-orange Oxford-weave fabric and reflective trim for visibility at night or in the woods. There are adjustable straps and dual-sided fabric to prevent chafing and wearing. This vest comes in four sizes.
This handy clip-on LED light can attach to your pooch's glow in the dark collar to light your path at night. There are glow and flashing mode settings. It has a stainless steel spring clip, and it's lightweight and water-resistant. You can select from different beacon colors.
This 18 oz water bottle is lightweight and safe for your furbaby to use. It has an invertible cap that works as a water bowl. There's a screw top and sealed silicone gasket to prevent leakage and protect the contents from contamination. The product has a wrist strap for easy toting.
How to Keep Your Dog Safe and Comfortable On a Run
Why Use a Running Harness and Not a "Regular" One?
You may imagine you and your pal out on the trail running side by side without a leash. However, in most cases, that's not safe or practical. There are two important reasons for investing in a quality running harness if you want to bring your pooch with you when you go for a run:
First, it's rarely safe to let your pup run free. Even the best-behaved pooch can spook or wander off under the right circumstances. That can put your dog or others at risk. Remember that it only takes a few seconds to dash in front of an oncoming car. As Fido's master and caretaker, it's your responsibility to keep him under your control at all times.
Second, your standard leash and harness aren't designed for the constant body motion that's involved in running. A leash and collar alone could lead to pressure and damage to the neck region, and regular walking harnesses may rub and chafe your pal's skin. If your pooch feels uncomfortable when running, it won't be a good experience for either of you. 
What Features Should I Look For in a Dog Running Harness?
When you're checking out running vests, you want something that suits your pup and your activity(light jogging, cross-country, etc.). With that in mind, here are some features to consider when you look for a running harness: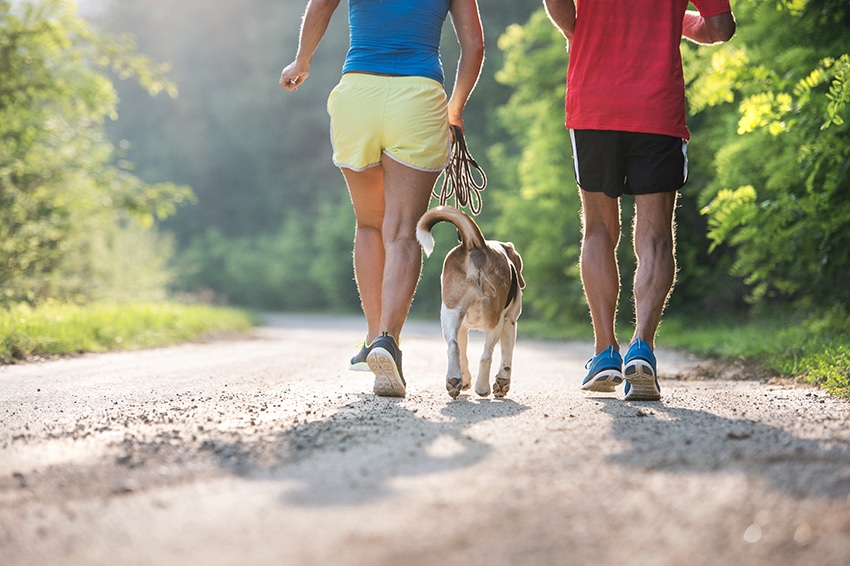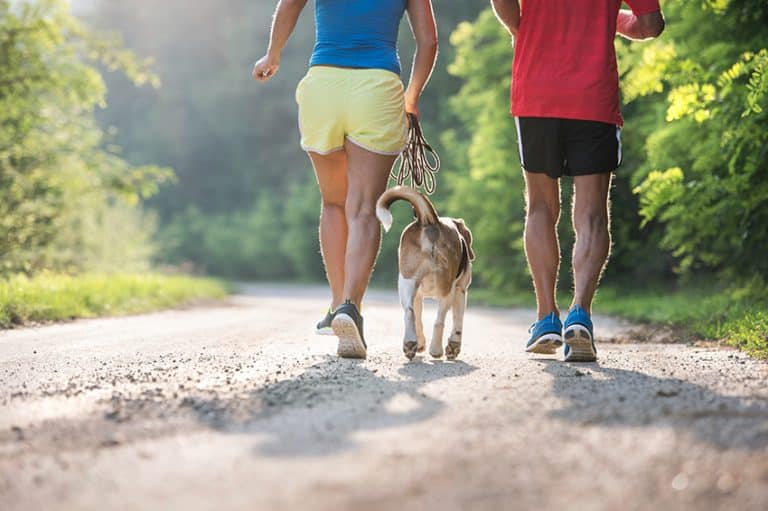 Material – The harness you use for running will need to be sturdy and able to stand up to more wear-and-tear than a standard vest. Look for durable textiles like nylon, double stitching on the seams, heavy-duty buckles and straps, and strong metal leash attachments.
Size Range – Just like you don't want running shoes that are too tight or too loose, you want the right fit for your pooch. Look for products with size options that are suited to your furbaby. Pay close attention to manufacturer sizing charts and take time to carefully measure your pal's neck and chest girths. If his measurements fall in between two sizes, get the larger option. Just make sure it's adjustable.
Adjustable Straps – Neck and chest measurements give you a general harness size, but every dog is different. That's why you want a harness that's easy to fine-tune to your pup's unique size. Look for options that have multiple points where you can adjust the straps for a snug fit.
Comfortable – If your pup isn't comfortable in his harness, he probably won't want to go on runs with you, and who can blame him? You wouldn't want to run in shorts that are too tight or shoes that give you blisters either. Look for a harness that shows minimal sliding or movement when attached to a leash and that has breathable fabric and padding in high-friction zones like the chest and neck.
Secure – Hey, there are exciting things outside, like rabbits and squirrels. That's why it's important to have a secure harness that fits well. You don't want something that Fido can slip out of if he suddenly wants to chase something.
High-Visibility Finish/Reflective Strips – This is a key safety component, especially if you want to run at night or early in the morning. You want drivers and other people to be able to see you and your dog. Many quality harnesses have reflective striping or high-visibility materials sewn into the seams.
Front or Back Leash Attachment – Harnesses come with at least one leash attachment. For walking, a front connection is useful to prevent pulling and to better control your pooch. With running, a back attachment tends to work better. It's often safer for your pooch and may be less likely to break in some harnesses.
Accessories – Some harnesses have extra bells and whistles, like handles, pockets, or lights. You can select these based on your pooch and your running plans.
Style – There are two main harness styles on the market. The step-in variety slips over your pup's head and legs. Once on, you use a clasp on top to tighten the leg straps. The other style is a buckle harness. Most of these have the fasteners on the side to connect and adjust as you put the gear on your pooch. This is often the preferred harness type for running.
Leash Length – If the harness offers a leash option, check the length. Generally speaking, you want one that's fairly short, about 4-6 feet. It's best to keep your pal close to your side on a run. That way you have control over your pup.
A Word of Caution:
We do not recommend a retractable leash for running. They don't allow enough control over your pal especially when you're moving at higher speeds.
Hands-Free Leash Options for Running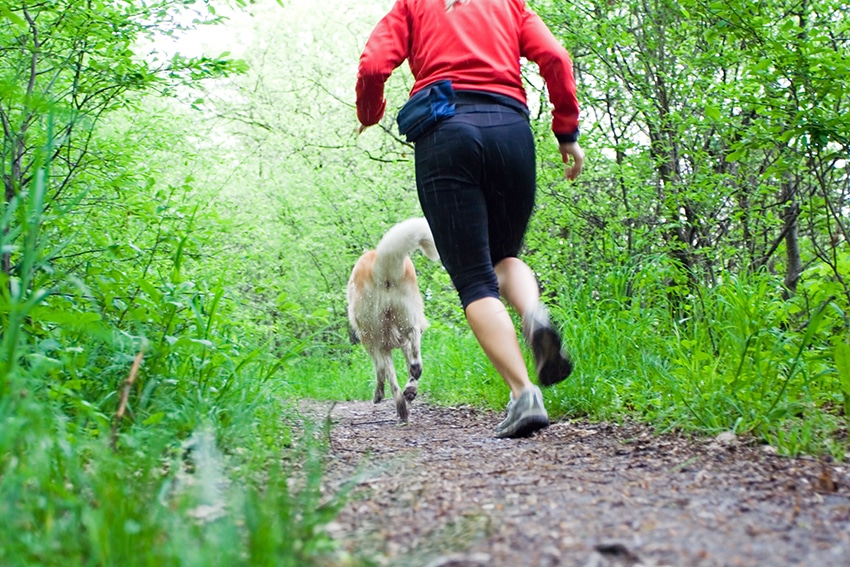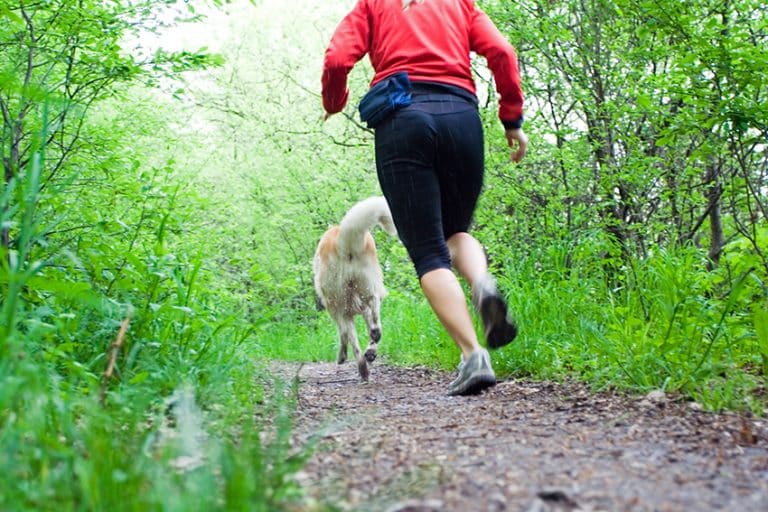 If you like to pump your arms when you run, hands-free leashes could be the way to go.
These nifty creations feature an adjustable strap or belt that you wrap around a part of your body in place of a handle. Depending on the brand, the strap may go around your arm, chest, torso, or waist and leave your hands free.
The dog-end of the leash is more conventional. It has a clip or clasp to attach to the harness or collar and is usually made of standard nylon webbing.
Can All Dogs Run With You?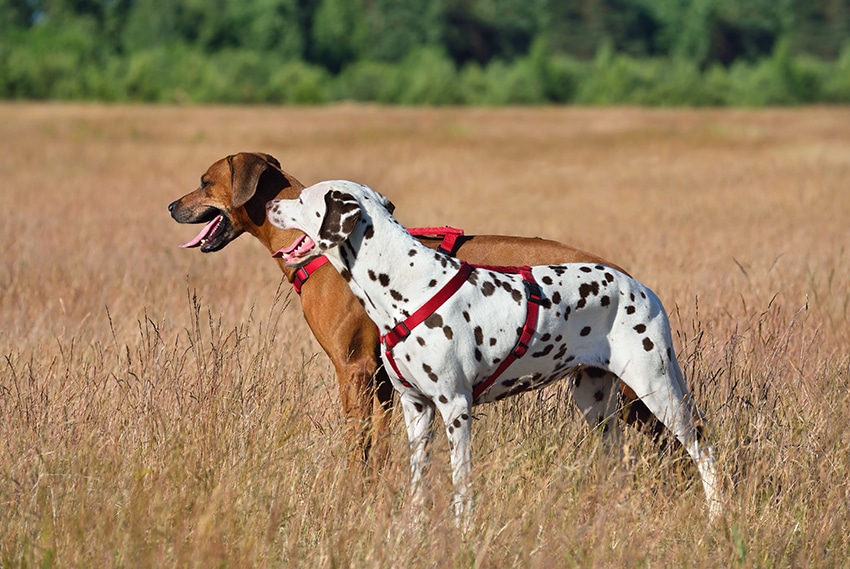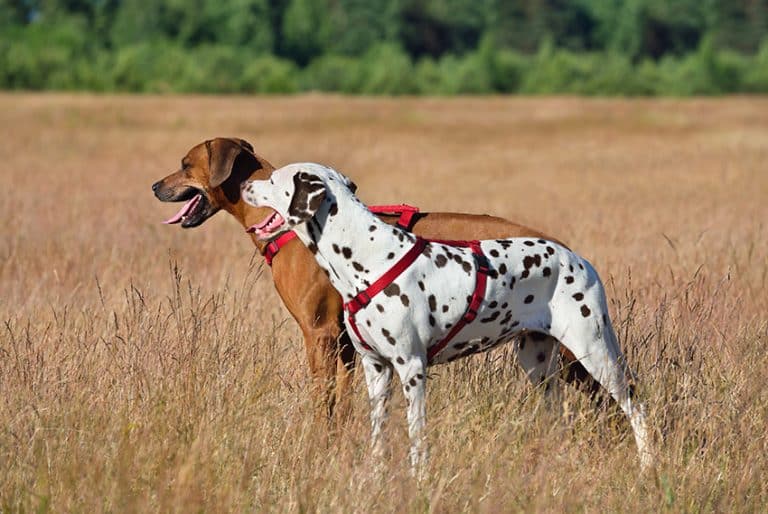 Plain and simple, no. While most dogs can run for short distances, some breeds can not tolerate long distances. Dogs with a short snout, like pugs or bulldogs, and toy breeds aren't built for this kind of exercise. So, if you're considering adopting a pooch, and you want a cross-country partner, research breed abilities first.
Another factor that affects whether your pup can run with you is his age. Larger breed dogs should not go on runs as puppies. Their bones and joints need time to develop first. Trying to include them in your outings before they're about 8 months old could affect their growth. Talk to your veterinarian about your pooch before starting an exercise plan.
Safety Tips For Running in the Heat With Your Dog
If you live in a climate where it gets hot for at least part of the year, remember that your furbaby can't shed his coat. However, there are some things you can do to help keep your pal more comfortable.
Safety Tips For Running at Night With Your Dog
Whether you run at night to beat the heat or because there's less traffic, you need to take appropriate precautions. So, here are some things you can do to boost your safety.
Rules of Thumb For Running With Your Dog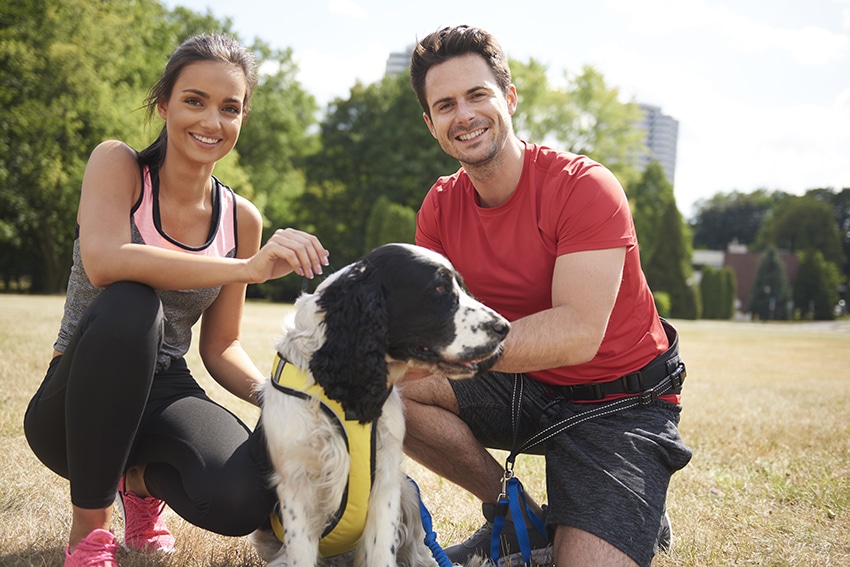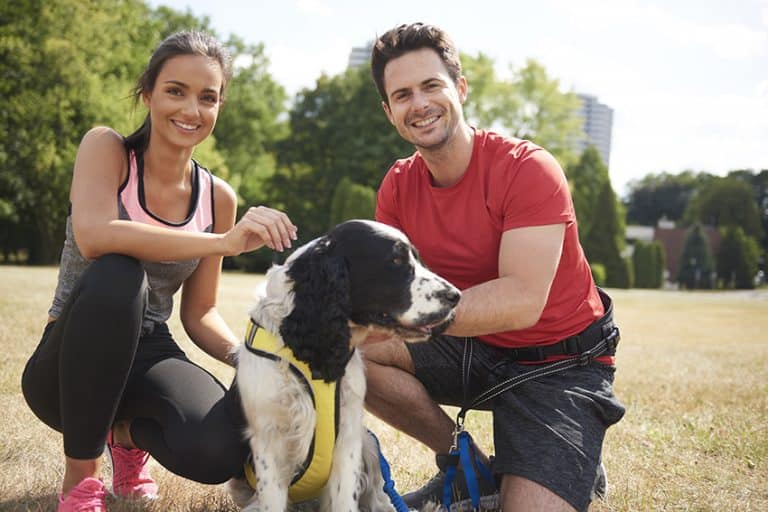 Do you have to readjust the fit every time you put it on? For some harnesses, you may need to readjust the neck portion after sliding it over your dog's head. Other than that, the buckles should not slip after you adjust them.
Is it crash-tested? Some harnesses may have multiple purposes. If they're intended for use as a car safety harness, the manufacturer should have crash test results listed for your review.
Will the harness fit a male dog? The harnesses we reviewed have chest/belly parts that are located far enough forward for male dogs. They should not interfere with the sheath.
Breaking the Tape - Our First Place Pick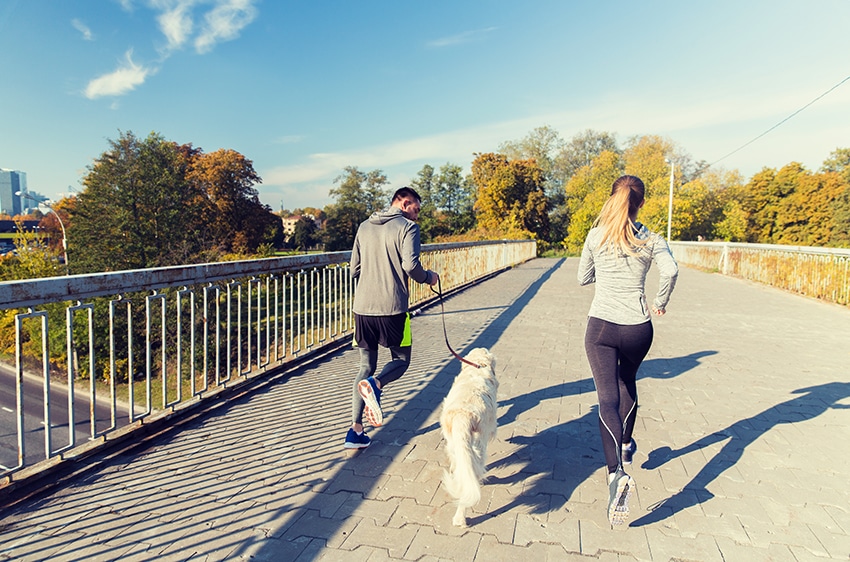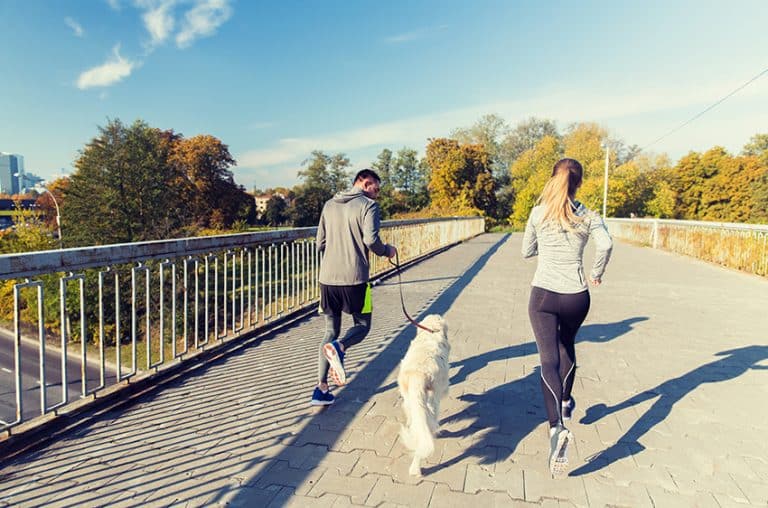 It's made of sturdy nylon material and has reinforced stitching for durability. The chest strap has woven reflective strips. This product comes in ten sizes, so you'll have an easier time finding a good fit.
The straps are fully padded to prevent chafing. There's a quick grab handle for added control when needed. It's easy to slip on and has a side-clip for the girth. The snaps are heavy-duty, and the back leash attachment is a durable metal ring.
The above features make ComfortFlex harness our top pick.