We know that many humans have allergies to dust and other things in the environment, but did you know our dogs can be allergic to dust mites too? It's true.
If your furbaby has an allergy to these invisible creatures, it may cause watery eyes, a runny nose, sneezing, and lots of licking. Fortunately, there are things you can do to provide relief for your special pal.
In this review, we'll examine what causes canine dust allergies and how hypoallergenic dog beds may help with dog allergies. We'll talk about what features you should look for when purchasing a pillow for your pooch. Then we'll share our product findings with you to help you select the best option for your furry friend.
Top 20 Hypoallergenic Dog Beds
Brindle Shredded Memory Foam Dog Bed with Removable Washable Cover-Plush Orthopedic
This pet bed has 4 inches of dense support foam to provide added comfort for your pooch. The outer cover has soft velour and a 100% waterproof encasement to protect the inner filling from accidents. There are three size options(S, M, L), and it has a non-skid bottom to keep your pal's bed in place. It has a flat mattress design and comes in six color/pattern options. The product includes a 3-year warranty.
MidWest Homes for Pets Deluxe Super Plush Pet Beds
With seven size options ranging from toy-sized to X-Large, you should be able to find a good fit for your furbaby. The design of this product is flat, and there are three cover patterns to choose from. It's 4-inches thick and is soft for your pup's comfort. This product comes with a 1-year quality warranty.
Other desirable features in the product include an ergonomic design and a thick layer of dense foam. It comes in 6 sizes ranging from Small to Jumbo Plus, and you can select from contoured, chaise, or sofa designs depending on your pup's sleeping style. There are four color options.
PetFusion Ultimate Dog Bed
This PetFusion dog bed comes in a sofa design with pre-filled bolsters. It has a waterproof inside liner to protect the memory foam core. There's a non-skid bottom to keep the bed in place. The foam is 2.5 inches thick in the middle for comfort and support. You can purchase this product in sizes ranging from Small to XXL(Jumbo), and it comes with a 3-year warranty on parts.
Barkbox Memory Foam Platform Dog Bed
With four sizes ranging from Small to X-large, this bed can fit most dogs. It has 3-4 inches of gel memory foam to keep your pup cool and comfortable. This is a flat platform-style bed made to accommodate any sleeping position. The polyester fleece cover is water-resistant to protect the inner core and keep it smelling fresh.
Milliard Orthopedic Memory with Anti-Microbial Removable Non-slip Cover
This bed is a platform-style bed with 2 inches of dense foam and 2 inches of memory foam to provide your pooch with optimum support. The polyester cover has a waterproof TPU lining to repel moisture and keep the core dry. You can remove and wash the shell to eliminate dead skin and mite debris. There's a non-slip surface on the bottom to keep the mattress in place. It comes in 4 sizes.
Friends Forever Orthopedic Dog Bed
This bed is made with your pup's comfort in mind. It has 5 inches of orthopedic mattress foam and polyfill bolsters for head and body support. The water-resistant cover is soft, easy to clean, and has a non-skid bottom. There are four sizes and five color options.
Dogbed4less Pressure-Relief Dog Bed
With six sizes ranging from S/M to XXL, you're bound to find a good fit for your pooch. Each mattress has 4 inches of high-density memory foam. A waterproof liner encloses the bed, and the cover is heavy-duty with a strong zipper and reinforced stitching to stand up under washing. You get two cover choices with your purchase. One is soft denim, and one is microsuede
PETMAKER Memory Foam Dog Bed with Removable Cover
With 2 inches of orthopedic memory foam and 2 inches of egg-crate memory foam, this product offers distributed support that minimizes pressure points. The wrap-around zipper makes it easy to remove the outer cover for machine washing. It comes in M, L, and XL sizes and has a non-skid backing.
Furhaven Pet Dog Bed Therapeutic Traditional Sofa-Style
With a variety of color and style options, this bed is made for your dog's comfort. The pet-friendly design features side bolsters and a curved backrest. It has a reversible base cushion with faux fur on one side and suede on the other side. There's thick foam in the bolsters and orthopedic memory foam in the mattress. You can purchase the sofa style in Medium, Large, or Jumbo sizes.
Go Pet Club Solid Memory Foam Orthopedic Bed
This platform-style bed had 4 inches of high-density orthopedic memory foam. It comes with two washable covers. The inner sleeve is a waterproof surface that protects the mattress. The outer layer is faux suede with a non-slip rubber bottom. There are four sizes and four color options available.
Sealy Lux Quad Layer Orthopedic Dog Bed with Cooling Gel
The Sealy Lux bed has four layers for your dog's support and comfort. There's a gel foam layer that helps to regulate your pal's body temperature when he's sleeping. The Pet Rest Memory Foam is made to conform to the body contours and movement. A layer of bio-orthopedic foam provides even distribution of Fido's weight to limit pressure points. The bottom layer features a high-density pro-charcoal foam base that combines support and odor absorption. This product also has a water-resistant liner and a non-slip bottom. It's available in four sizes and four color options.
Barkbox 2-in-1 Memory Foam Dog Cuddler Bed
This bed has a combination of gel memory foam and orthopedic-grade, high-density foam to support and keep your pup comfortable. The bed is a crate-style with bolsters on all four sides. It has a water-resistant, machine-washable fleece cover with a non-slip bottom. You can purchase this product in a small, medium, or large size. A free toy comes with the bed.
Molly Mutt Dog Calming Bed
Pre-shrunk and durable, this bed cover is made with natural cotton fibers. You can stuff it with your old clothes or bedding to provide a familiar and comforting scent for your furbaby. It's washable and fully zippered and gusseted. The duvet is available in three sizes and a variety of patterns.
The ANWA dog bed comes in four sizes ranging from Small to X-Large. It has a soft, plush sleeping surface and a non-skid bottom. There's 100% cotton fill in the core. Toss the bed in the washing machine to clean and remove dander and dust mites. This product makes a comfortable crate pad or a stylish bed in your home.
This sleeping mat uses a non-toxic, breathable fleece for the outer cover to provide an easy-to-clean surface. It has a high-density cotton core and a non-slip bottom. There are three sizes available. Place the mat in your washer fleece-side out to clean and dry on low heat. Use it in your pup's crate or on the floor to provide a comfortable sleeping surface. This product is not chew-proof.
Cheerhunting Outdoor Dog Bed
With an easy-to-clean surface, the Cheerhunting dog bed is ideal for outdoor use. You can wipe it clean, rinse it, or run it through the washer. It comes in L and XL sizes and has reinforced stitching. The bottom side has an anti-slip surface for extra stability. This bed comes with a travel bag, and it's easy to pack and carry with you for your outings. 
Carhartt Durable Canvas Dog Bed
This bed has a heavy-duty cotton duck canvas cover that's treated with a non-toxic water-repellant coating. There's a removable polyester filled pillow. Both the shell and the insert are machine washable. The zipper is extra wide and concealed under a flap. It's available in small, medium, and large sizes. 
AmazonBasics Water-Resistant Dog Bed
With raised sidewalls and a back bolster, this sofa-style bed offers a comfortable nest for your pooch. The water-resistant oxford shell is made to be both soft and durable. It's easy to clean and a low front edge to allow easy access for older pups. It has a separate filled pillow center for easy cleaning. This bed comes in sizes ranging from small to jumbo. It's backed by a 1-year warranty.
Dust Allergies in Dogs and the Value of Hypoallergenic Bedding
For dogs with environmental allergies, dust mites are the worst. About 30% of allergic pups show a reaction to these microscopic critters.
Dod beds are a major culprit for harboring mites and other allergens. Sometimes it's the content of the pillow or fabric itself. More often, however, it's a result of the accumulation of dead skin, dust mites, and molds. The organic matter may trigger itching, sneezing, irritability, skin infections, and more. Hypoallergenic bedding can help combat these reactions and allow your pooch to rest peacefully.
How Can a Hypoallergenic Dog Bed Help With Your Dog's Allergies?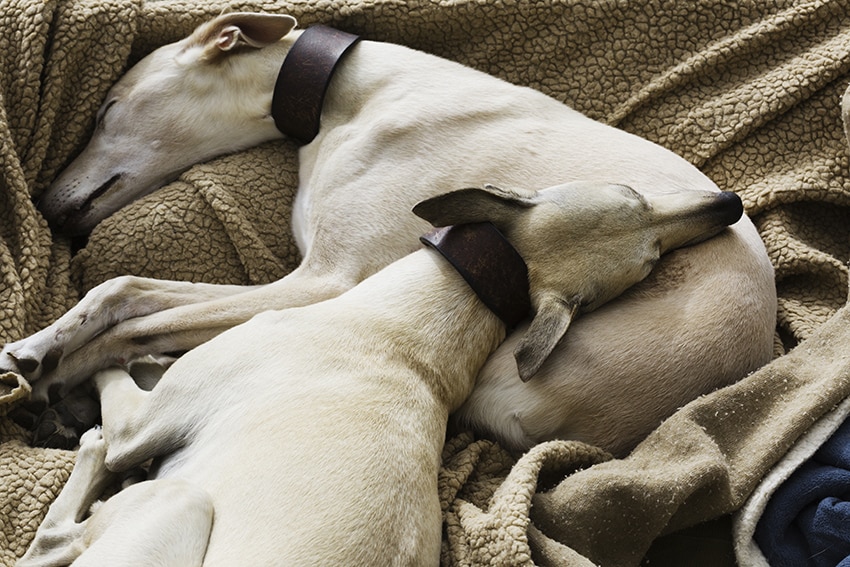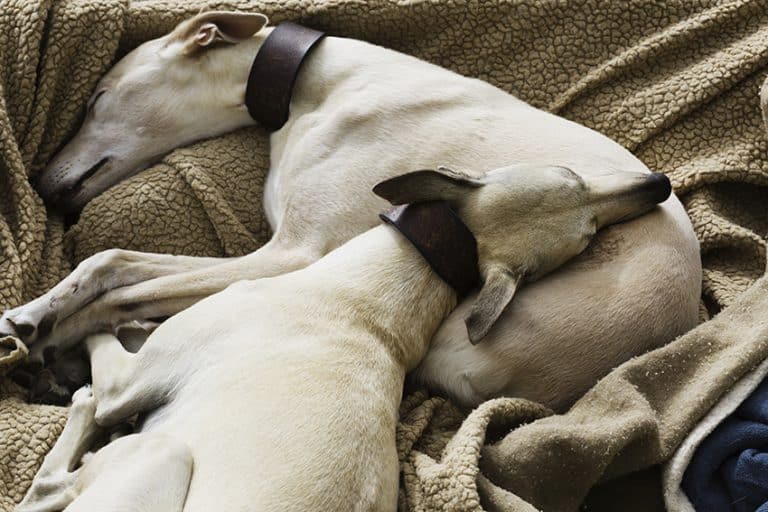 Many dog beds have a synthetic filler like memory foam for your pal's comfort. While these materials are usually resistant to mite and mold growth, they can still collect dead skin cells on the surface or under the fabric covering. According to veterinary
dermatologist Dr. John Gordon
, "While the foam beddings will not facilitate the growth of house dust mites or molds within the foam, they may accumulate on the surface if skin cells and moisture are present."
The Importance of Choosing the Right Outer Fabric
While the filling of your pup's bed is the most likely source of allergens, there are some fabrics that can trigger allergies. Synthetic fibers are often treated with chemicals like flame retardants that are allergenic. Some natural fabrics can harbor bacteria, dust mites, and molds.
Materials that work well include tightly-woven 100% cotton or microfiber and hemp fabrics. These fabrics are hypoallergenic, easy to clean, and can block the passage of dust mite debris. Dr. Hyunmin Kim also points out that hemp is, "not sprayed with chemicals or pesticides and is particularly resistant to mildew."
Why You Should Regularly Replace Your Dog's Bed?
If you have an itchy, sneezing pooch, it's probably due to dust and storage mites. According to Dr. Gordon, one veterinary study "found a significant increase in the amount of house dust mite allergen collected in pet beds older than one year." The findings were the same regardless of bed type or frequency of cleaning.
Another household culprit that researchers are finding causes allergies is the
storage mite
. Although often found in foods like cereal, grains, or cheese that can get moldy they also comingle with dust mites. They can be present in upholstery, fabrics, bedding, and mattresses and may now be the leading allergen for humans.
What Makes a good Hypoallergenic Dog Bed?
When selecting the right bed for your pooch, you want to look for products that are designed to prevent allergic reactions and to keep your pal comfortable. Before you start shopping, you need to know what it is that makes a bed hypoallergenic.
Qualities That Make a Bed Hypoallergenic
Hypoallergenic beds should be made from materials that don't trigger allergic reactions in a dog that has sensitivities. The cover material should be made with a hypoallergenic fiber like 100% cotton, hemp, wool fleece, microfiber, or organic buckwheat hulls.
So, when you need a bed for your pooch, consider the following features:
Comfort – You wouldn't want to sleep on something that's hard as a board, so why should your furbaby? Look for thick, dense memory foam to provide support for your pal's body.
Quality/Durability – Hypoallergenic materials are an investment, so you want something that will last. Quality memory foam shouldn't flatten in a few weeks. Some products come with a "no flat" guarantee for a defined number of years. Another reason for getting durable materials is that you want the bed to stand up to any chewing or nesting behaviors.
Easy to Clean/Machine Washable – You want a product with a washable cover. Regular cleaning helps to minimize bacteria and dead skin debris that can attract dust mites.
Materials – High-quality materials will do the best job of preventing allergens. Look for medical-grade, dense memory foam in the core. If your pooch tends to overheat when he's sleeping, gel foam is also a good option. On the outside, select fibers that are known to be hypoallergenic such as those mentioned above.
Water-Resistance – Materials that are water-resistant can be easier to wipe clean. These fabrics are ideal if you have a senior dog with diminished bladder control.
Hair-Resistant and Odor-Neutralizing – Materials that resist hair and neutralize odor like medical-grade memory foam help with allergens. These materials prevent a buildup of organic materials that attract dust mites. They also tend to keep mold and mildew away.
Size – Size matters. Your pooch is probably already feeling more irritable because of his allergies. Pick a bed that fits his body weight and size so that he can rest comfortably. A rough guideline for sizing is:
X-small 10 lbs and under
Small   11-25 pounds
Medium 26-40 pounds
Large 41-70 pounds
X-Large 71-90 pounds
XX-Large 91+ pounds
Design – Beds come in several designs and color options. In addition to selecting something that fits your decor, keep your pal's needs in mind. A dog that likes to stretch out on his side may do better with a flat bed or one with a bolster. Pups that curl into a tight ball could benefit from gel-foam to regulate their body temperature.
Tips For Reducing Dust Mite Exposure in Dogs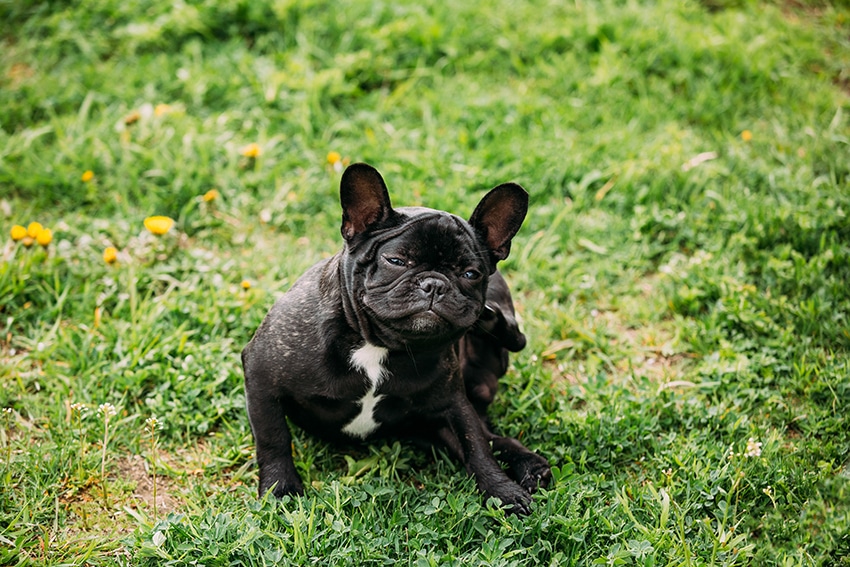 Dust mites live in all the carpeting, furniture, bedding, and other areas of homes. The problem is they secrete a protein that causes an allergic reaction in many people and dogs. While you're not likely to completely eradicate these bugs from your home, there are some things you can do to reduce the number:
Keep the dog off your bed if possible. Otherwise, use a plastic mattress cover and launder the bedding every week. Make sure you use heat when drying.
Replace your carpeting with hard floors or steam clean them frequently to kill the mites and remove debris.
Vacuum other surfaces at least once a week with a quality filter vacuum.
Get rid of any feather pillows and regularly replace stuffed dog toys. They can harbor dust mites.
Leave fabrics out in the sun for 12 hours then vacuum them to remove dust mites and debris.
Use central air or heat to control household humidity, and change the filters regularly.
Get a low-allergy, micro-porous cover for Fido's bed. Wash the cover weekly and air-out the filler or run it through the dryer. Replace beds every six months.
Frequently Asked Questions
Can dogs be allergic to pet bedding?
Yes, some dogs can have an allergy to contents in their beds. There may be chemical treatments for the fabric or foam that trigger sensitivities. Otherwise, the bed could be harboring dust mites.
How do you know if your dog has a dust mite allergy?
A dog with dust mite allergies may have itchiness, sneezing, watery eyes, and a runny nose. These symptoms will occur year-round and not on a seasonal basis. The signs also tend to be worse when your pup is indoors, and especially after vacuuming. The condition can be hard to diagnose, but there are serum and intra-dermal tests that your veterinarian can run.
Will a hypoallergenic bed cure my dog's allergies?
No, a hypoallergenic dog bed will not cure your dog's sensitivities. However, it can help minimize or possibly eliminate the offending allergens so that your pal experiences less discomfort.
The Results Are In - Our Top Pick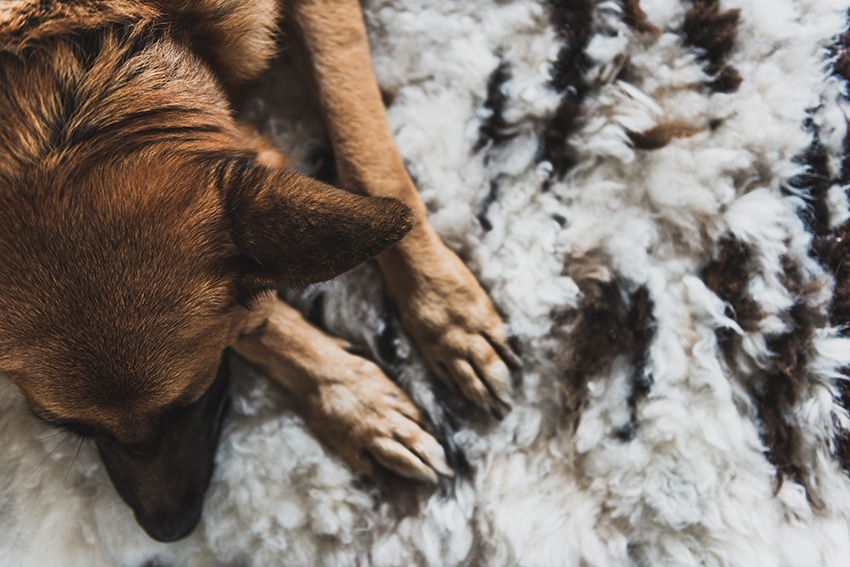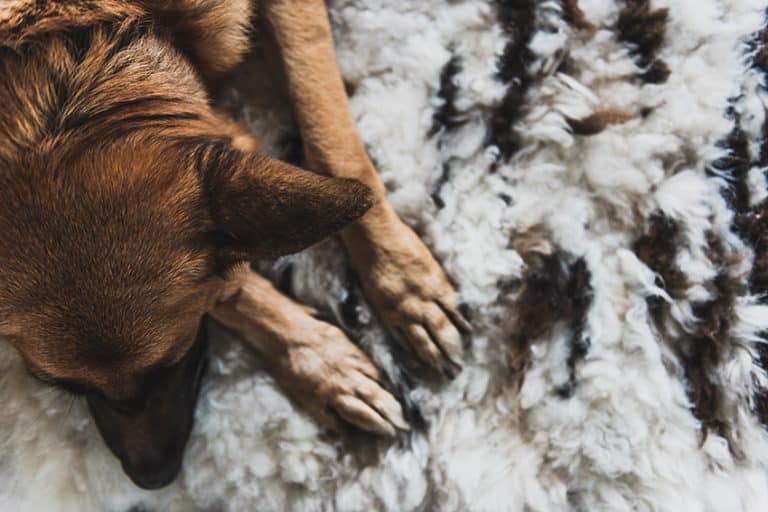 This sofa-style bed has three layers of foam and a removable nylon cover that's machine washable. These qualities help to make the bed allergen resistant. There's also a charcoal base to absorb and neutralize pet odors.
In addition to hypoallergenic features, the bed is made to support and comfort your dog with layers of memory foam, orthopedic foam, and cooling gel foam.