You know your dog is the cutest thing ever. But wouldn't he or she be even cuter with a bow or two? It certainly couldn't hurt. And to be honest, I am a bit of a dog hair accessory freak. A really big fan! So, my dogs have a plethora of dog hair accessories from bows to barrettes in all colors and styles. I compiled a list of some of my favorites.
Our Top 7 Favorite Dog Hair Accessories: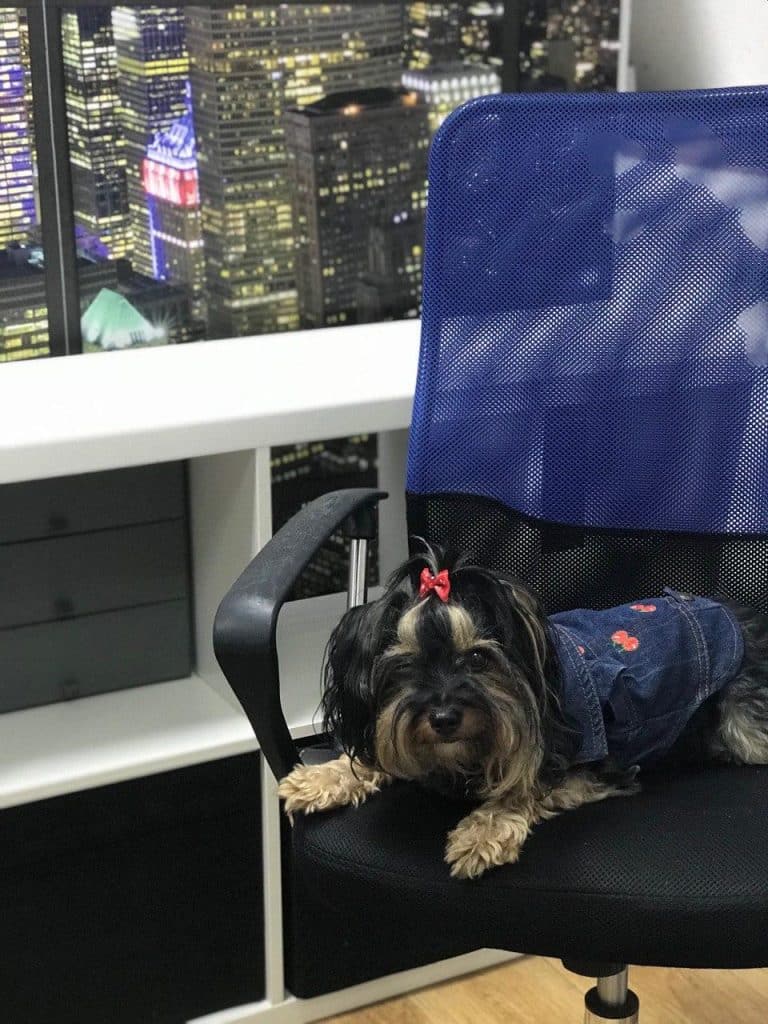 How to Put a Hair Accessory on Your Dog?
The first thing you need to do is make sure your pooch is clean and well groomed. Because you will have to take the dog hair accessories off when you give them their next bath and putting them on is sometimes not as easy as it looks. So, make sure they are fresh and fine before putting on those bows or barrettes. Dogs with longer coats like Yorkies can take more time to properly comb out their baby-fine hair.
Attaching Rubber Band Bows
Part your pup's fur on top with a fine-toothed comb. Brush it straight up and back like you are brushing their hair out of their eyes. Make a ponytail by wrapping a grooming band around a tiny bit of fur to hold it in place. Then you can run the ribbon through the band or have the bow already on there and ready to go.
Dogs with furry ears look absolutely adorable with a bow on each ear. For this, just comb the hair on the ears and put a grooming band on a tiny section right in the middle of the ear. Do the same with the other ear and attach the bow.  
This only works well if your dog has long enough fur to attach the barrette and keep it in place. For some dogs with really fine or thin hair, you may need to make a ponytail first with a grooming band. Then clip the barrette right above or under the band. Make sure the barrette is not too heavy or it may annoy your pooch. You don't want your furbaby chewing or pawing it off because it is too heavy.
If your pup's fur is just too thin or fine for a barrette but you really want to use it, try some 
bow gel
. It is kind of like hair gel that we humans use. Just make a ponytail and add some gel to the hair before putting on the rubber band. Then attach the barrette right underneath the band and it should stay in place
Casual Everyday Hair Accessories
YAKA 60PCS Small Hair Bows with Rubber Bands
These hairbows come in so many different colors and styles, your pooch can wear a different one every day for two months! Polka dots, flowers, stars, and many more. And you can choose from clip-ons or rubber bands. Each bow is .98 inches wide and 1.5 inches long. The clips used are small steel alligator clips that are good for dogs with any coat type. Rubber bands are small but can be stretched up to 3.5 inches. And if you are not 100% satisfied, you get your money back. 
Comsmart 60Pcs Dog Bows (30 Pairs) Hair Bows with Rubber Bands & Rhinestone Pearls
With rhinestones, pearls, colored stones, and lace, these fancy bows add a delightful touch to any pup's look. You get 60 bows with at least 30 dif-fur-ent styles and colors. Bows are held in place with rubber bands that will not pull your dog's hair out when you remove them. Each set comes with three sizes so you can choose what size you want for your size pooch. Perfect for pet portraits and special occasions too. 
The Thoughtful Brand 50 Pcs Dog Bows with Rubber Bands (25 Pairs)
Let your pup be the star of the show with these adorable hair bows. You get 25 pairs of adorable bows in a range of colors made of high-quality fabric and double stitched for durability. Ten of them also have a cute little pearl securely attached. Rubber bands attached are strong but safe on your pup's fur. At the size of 1.4 inches by 0.6 inches, these sweet little bows look great on any dog. You even get a free metal grooming comb! 
PET SHOW Mixed Styles Hair Bows with Rubber Bands Pack of 20
These unique bows are different from most in their design, which makes them even more delightful. You get 20 bows and you can choose from a variety of blues, greens, pinks, reds, purples, light pinks, assorted, or mixed plaids. Each one is adorned with a pearl, gemstone, or flower and come in a range of sizes. They are easy to put on with the rubber band attached that is strong but easy on the fur. 
MEWTOGO 30 pcs/15 Pairs Dog Hair Bows with Rubber Bands
Handmade and cute as can be, these dainty little bows come with 15 pairs in a variety of dif-fur-ent colors. In each set, you'll find prints like plaid, pawprints, shamrock, flowers, anchors, and more. Each one is 1.8 inches by 0.8 inches, has a strong but gentle rubber band to make it easy to attach, and they are made well for durability. Be sure to get some pics of your pooch all prettied up to share with us.
yagopet 40pcs/20pairs Dog Hair Clips Mix Colors & Varies Patterns
Your pup will be the star at the dog park with her cute hair bows. These adorable 1.4-inch doggy hair bows are so cute, you may want to wear some too. Go ahead! Matching with your furbaby is a great idea! The styles and colors are varied and although you will get 40 bows, they may not all be pairs, but they will all be pawfectly delightful. Polka dots, stripes, checks, and even some glittery bows. Each has a stainless-steel alligator clip to keep it attached. You also get a dog tag as a free gift!
Rimobul Yorkie Pet Hair Bows Rubber Bands - Pack of 50
With all the colors and styles in this set of 50 bows, your pooch can wear a different one every day for almost two months! From 1.4 to 1.6 inches, you'll get many colors and prints adorned with flowers, pearls, gems, and pom poms. They are easy to put on with the durable rubber band attached. Get a free Rimobul coaster too! 
QUMY Dog Hair Clips Mixed Styles
This set of bows and clips are special, just like your furbaby. You get one 3.7-inch double bow, a 2.5-inch polka-dot bow, a 2.3-inch skinny bow, two 2.5-inch stars, a 2.1-inch glittery crown, a 1.7-inch glittery heart, a 1.8-inch glittery bunny, and a pair of tiny flower barrettes. Choose from blue, pink, red, or silver. Each one has a clip on back and comes with 150 free rubber bands for easy attachment. 
PET SHOW Crown Rhinestone
Is your dog a true princess? Get her a tiara or crown to prove it. This glittery rhinestone tiara clip is fur-fect for any pooch for parties, pictures, or just hanging out at home. The hair clip on the back is high-quality, easy to use, and stays in well. You can even wear it yourself if your furbaby doesn't mind! It's THAT cute!
PET SHOW Dog Hair Bows with French Barrette Clips Pack of 10
These 1.8-inch bows are adorable as well as durable. With a variety of colors in each batch of 10, you can choose from polka-dots or solid colors. The French barrette clips are easy to use and keeps the bows right where they belong. Very well made and fashionable, perfect for any pup and will make for some pawesome furbaby photos.
Aria Feather Bows for Dogs, 100-Piece Canisters
If you have a lot of furbabies to dress up, this is your best choice! You get 100 feather bows in this set in all different colors! And each one has a white gemstone in the middle of it. They are so darling, and they look pawfect on any pup. The attached rubber band is strong and easy to use.
yagopet 10pcs/Pack Dog Hair Bows Bright Flowers Designs
These pawsitively adorable rose flower bows are so vivid and colorful! You get 10 bows of all different colors and styles, each with a perfectly shaped rose in the middle. They are about 1.5 inches wide and are made of nylon and cotton with a thick rubber band attached. You even get a dog tag as a free gift!
Rimobul 1" Mini Pet Hair Clip - Pack of 18
You get 18 one-inch dog bone hair clips in so many styles and colors, your pup can wear a different one every day for almost three weeks! Not only are they cute but they are made of metal so they will not fall apart like many bows do. And you don't even need to use a rubber band. Just snap it on and go. You also get a free Rimobul coaster!
TAOBABY Small Dog Bows,Colored Ball Design 24pcs/Pack in Pairs
Pom poms for your Pomeranian? Sure! But these dainty and colorful pom poms look stylish on any type of dog. The 24 sets of pom poms come in 12 different colors and they are made of high-quality gauze. They are about an inch wide and each one has a strong but gentle rubber band to hold it in place.
pony princess Dog Bows Hair with Clip Handmade Mix Styles
These princess dog hair accessories are excellent for your princess pup. There are two different sets. One has 16 pairs with various bows, tiaras, and pearl barrettes. The other set has 15 pairs of various types and patterns of bows, flowers, and pom poms. Some have pearls or gems in the middle. Very fancy, well-made, and come in a nice gift box.
yagopet 30pcs/15pairs Dog Hair Clips 2 inches Bows Polka Dots
You want your pupster to look even more adorable than usual for your next family photo, try these handmade topknot polka dot bows. They have alloy clips and are two inches long so they will look pawfect in any furbaby's fur. You get 30 in all different colors made of nylon and cotton. You even get a free dog tag for your pooch! 
PET SHOW Flowers Bows W/Rubber Bands
Going to a pet show, out on the town, or just hanging out at home? No matter what you and the pup are doing, these rose dog hair accessories will make her the fanciest pooch around. They come in a pack of 20 with a variety of vibrant colors like lavender, pink, blue, burgundy, and gold. Easy to attach with the rubber band sewed on back and you can even use them in your hair so you can both look fancy!
yagopet 20pcs/10pairs Dog Hair Bows with Rubber Bands Colored Curve Decoration Mixed Colors
Uniquely precious, these vibrant bows with curled ribbons look like party wear so take her to a party! Staying home? That's okay, you can have your own party! You get 10 pairs with different colors like fuchsia, light blue, yellow, and red. They are each about two inches in diameter and have very strong rubber bands on the back. The netting material is light, so it doesn't bother your pup. Super cute!
YAKA 24pcs/12 Pairs Dog Hair Butterfly Bows with Rubber Bands 2.5inch 12 Color
These bows are dif-fur-ent from the rest because they are butterflies! Large enough for any dog but still small enough for your teacup Poodle, they are each about 2.5 inches wide. The butterfly print makes them look like real butterflies and they come in a pack of 12 pairs, each a different color. Handmade with care and the rubber band is tied right into the bow so it won't come apart.
yagopet 10pcs/Pack Yorkshire Dog Hair Clips bow with Pearls
Want your dog to stand out from the rest? She certainly will with these bunny-ear dog hair bows. Each of the 10 bows are different colors and various prints from flowers to butterflies. And they all have a pretty white pearl in the middle. Made of nylon with metal alloy clips on the back for easy attachment. You'll fall in love with these bows. And you get a free dog tag as a gift!
PET SHOW Cute 0.9" Waterdrop Small Snap Hair Clips
So far, all of the dog hair accessories have been for furbabies with longer coats. What about those pups with short hair? These dainty snap hair clips are furfect for short-haired pooches everywhere. Simple to get on and off, just snap them in and go. They come in packs of 20 with 10 different colors including green, purple, pink, fuschia, yellow, light blue, red, dark blue, orange, and gold. So your dog can be adorable in any color outfit!
KRexpress Bling Rhinestone Luxury Dog Hair Bows
Get your beautiful dog some bling for her next visit to the dog park, family photos, or playdate with her best fur-iend. These lovely bows are made of high-quality lace with a trio of roses in the middle. They even have several rhinestones to make her shimmer when the light hits them just right. The spring clip keeps it firmly in place without pulling hair and you can choose from blue, yellow, or pink.
Hixixi(TM) 24pcs/12pairs Pet Dog Hair Bows Rhinestone Flowers
If you want a variety of stunning hair bows for your furbaby, try these handmade beauties. They come in two sets; flowers that come in 12 pairs of different colors and styles with roses and daisies in the middle or shiny ones that come with rhinestones or pearls in the middle. Both sets have various sizes from one to two inches wide and rubber bands to hold them in place. 
POPETPOP 50pcs Dog Bows with Rubber Bands, Multicolor Rhinestone
Get a plethora of different dog hair bow styles, colors, and patterns with this set of 50 hair accessories. Some have lace, others have pearls, and others have flowers. Each tiny bow is made of soft premium material and thick rubber bands that won't break easily when you try to put them in. They range in sizes from 1.4 inches to 1.8 inches and can be used for any type of furbaby. 
Chenkou Craft 100pcs Dog Hair Bows
If you like variety, get this set of 100 various doggy hair bows for your pooch. The soft ribbon comes in many patterns such as polka dots, checks, flowers, stripes, glitter, butterflies, and more. They are about 1.5 inches long and have strong rubber bands to hold them in place. Your best fur-iend can wear a different color and style every day for over three months.
JJ Couture 30 Dog Hair Bows Large 2 inch Size 3D with Shiffon Flower & Beads
Bows and beads are delightful and look so pretty on your furbaby you will be taking pictures for days. Each two-inch bow has a flower in the middle with a center of a dozen beads in various colors. Many are made of chiffon while others are satin or glittery lace and are held in place by a grooming band. There is a color for every season, holiday, and outfit. 
PET SHOW 10pcs Dot Hair Bows with Rubber Bands for Small Medium Dogs
Do you like polka dots? Well, this is the set for you then. Get 10 bows with polka dots in random colors such as red, blue, black, pink, orange, and green. Each one of these adorable and dainty bows are handmade and have a gorgeous rhinestone in the middle to make your pup shine. The thick band on the back holds it in place without pulling fur. 
PET SHOW Small Dogs Hair Bows with Rubber Bands Curly Colorful Pack of 20
These are the most unique doggy hair accessories so far with curly-Q ribbons in a large variety of colors from vivid yellow, green, blue, and pink rainbows to special red and green Christmas bows. There are even some red, white, and blue bows for Independence Day, orange and black for Howl-o-ween, and orange, yellow, and brown for fall. Choose from the variety pack of 20 dif-fur-ent colors and styles or a set of 20 rainbow curly-Q bows. Each one is ready to attach with durable rubber bands sewed on. 
Wiz BBQT 2 Pcs Adorable Cute Cat Dog Pet Hair Head Bands
your furbaby in the partying mood with these party headbands. There are four designs including glitter tiara, glittery party hat, gold crown, and lacy party hat. Each set comes with pink and blue headbands that stay in place easily with a ribbon that you just tie on. Your furbaby will be the belle of the ball and the life of the party in one of these. You also get a free tape measurer to record your pup's growth. 
PET SHOW Pet Rubber Bands for Pack of 1000
Do you use a lot of rubber bands in your pet's hair? This pack of one thousand rubber bands make grooming your pooch easy. And they are gentle on your dog's hair, so you don't have to worry about pulling on them when removing. Very strong too! And they come in a plethora of different colors including red, blue, green, yellow, and every other color you can think of.
Masue Pets 50pcs in Pairs Dog Hair Bows with Rubber Bands
Polka dots with daisies, lace with pearls, and round flower bows with roses are just a few of the types of dog hair accessories you get in this set. You'll find 50 bows with rubber bands attached in a wide variety of colors, shapes, and prints. Your pooch will have enough to wear a dif-fur-ent one every week for almost the whole year!
Aria Sparkle Feather 100 Piece Bows for Dogs
Sparkly feather bows with rhinestone centers are pawfect to make your furbaby stand out in a crowd. Take her to the dog park and she will be the best dressed pup in the park. You get 100 1.5-inch feathers in four different colors with sparkling silver streamers. The rubber band makes it easy to attach and keeps it securely in place. 
Aria Pixie Bows for Dogs, 100-Piece Canisters
These pixie bows are a good size for all pups at 1.75 inches, and they are made of premium quality satin ribbon. Each set of 100 comes with pink, white, and purple bows with a sequin flower and beads in the middle for sparkles. The small rubber band on back is easy to use and doesn't break when stretched, so they will last a long time. 
yagopet 2pcs Bling Diamond Crown Dog Hair Bow
Sometimes one pair is all you need. That is exactly the case with these high-quality handmade pink bows with crowns. They are so well-made and cute; your dog won't need any other bows to wear. Each 1.6-inch chiffon bow has a grooming band attached and a crown with jewels is sewn securely onto the ribbon, so it won't fall off during playtime. Flaunt your pretty pup at the dog park and make all the other pups jealous with this stunning bow. 
yagopet 30pcs/Pack New Dog Hair Clips Sunglasses Style Mix Colors
If you have been trying to get your furbaby to wear sunglasses with no luck, grab some of these doggy hair clips. Each one has a pair of adorable shades in one of nine different colors. You'll get green, pink, yellow, purple, white, pink, blue, black, and red. Securely attached to metal alligator clips that are easy to put on and take off, your pup can wear them anywhere, whenever you want. 
Senniea 50pcs/25pairs Spring Summer Dog Hair Bows with Rubber Bands/Clips
Make your furbaby unique with these special 1.4-inch bows in 25 different colors, patterns, and shades. Some are flowered, some have dog bones, others have stripes, hearts, stars, checks, and there are even some with the Batman logo on them! They are each held in place with alligator clips made of alloy, so they do not rust if they get wet.
Dogs Kingdom 10Pcs Dog Hair Clips Lace Bows
If you want some quality dog hair ribbons that will last for a long time, get some of these well-made bows. Each one is about an inch long and is made of premium chiffon and silk ribbon. The metal alloy clips are lined so they won't pull your pup's fur when you take them off. You'll get a set of 10 bows in various colors like pink, lavender, red, yellow, and baby blue.
Oruuum 12 Pcs Pet Head Flower Dog Hair Clip
Are you having a hard time getting your pooch to wear a hat? Try these princess hat clip-ons and she won't even know she has it on. Each one is adorned with a satin bow decorated with a tiny pearl and a ring of silver beads. You get 12 in assorted colors and prints that are about 1.4 inches, and the crocodile clip is furfect for any length of hair.
PET SHOW Crown Dog Birthday Hat
Birthdays are special and your furbaby is special too, so make sure she looks pawesome on her birthday with these party crowns. They come in pink or blue and have reusable numbers so you can use it every year. The hat is glittery and has a circle of roses on the rim with a bow to tie it on. You can also get a set with the hat as well as a bandana and collar bow. 
KEVIN-KW Dog Birthday Boy Bandana Scarfs-Crown
This is the first set that comes in either boy or girl styles so if that matters to you, check these out. The birthday crown has numbers 0-9 so you can use it on every birthday, and it comes with a glittery bow collar too! And you can choose other sets that have a tassel bandana, blue bandana, or light blue bandana and they even have one with a clown hat.
Another set for either boys or girls, but this one has everything you need for the birthday party! The blue set comes with a birthday bandana, collar bow, glittery hat, cake topper, and a birthday banner. The pink set has a sparkly crown, birthday bandana, a chiffon tutu, and a birthday banner. The bandanas and tutu are washable, and the hats are reusable, so save them to use every year.
Masue Pets 20pcs/10 Pairs Dog Hair Bows for Valanetines Day
Let your pup celebrate Valentine's Day with you wearing some of these gorgeous bows. Although this 20-piece bow set is for Valentine's Day, you can use them any time of the year because they are so adorable. The tassel bow is two inches and the double bow is 1.6 inches with hearts and a heart jewel in the middle for some bling. Securely held in place with durable but gentle rubber bands. 
Show off your pup's luck of the Irish spirit with these Irish topknot bows. The set of 20 come in various shades of green with prints, stripes, dots, and solids. The grooming band holds it in place even while playing and won't pull your pup's hair. They also come in other sets such as blue, orange, pink, purple, plaid, and assorted colors. You even get a box opener for a free gift! 
Senniea 30pcs Easter Dog Hair Bows with Rubber Bands Beads Rhinestone
Everyone loves Easter, and your pooch will too with these pawfectly adorable Easter bows. You'll get 30 bows in various colors and styles like bunny fabric with bunny buttons, Easter egg ribbons with jellybean buttons, and flowery double ribbons with rhinestones. Held in place with a sturdy rubber band, you don't have to worry about losing it even when your pup is playing.
yagopet 20pcs/10pairs Small Dog Bunny Hair Bows with Rubber Bands
This set of 20 dog hair accessories has something for every holiday and celebration. Bunnies with polka dots or faces, butterflies, hearts, dogs with bows, apples, strawberries, and flowers. No matter what the season, your pooch will be stylish in these one-inch resin bows in assorted colors. There is a rubber band sewed on securely to keep them in place and you even get a free dog tag.
Aria Stars and Stripes Bows for Dogs, 100-Piece Canisters
Show off your furbaby's American pride with these red, white, and blue striped hair bows. You get 100 premium quality double-bows with a silver star in the middle of each one. They are about 1.75 inches long, and each one has a rubber band to keep it in place. But don't just use them on the 4th of July! These patriotic pup bows are pawfect all year long!
Masue Pets 20pcs Handmade Dog Hair Bows for 4th of July US Flag
Even if your pooch is afraid of fireworks, they will love to wear these Fourth of July bows for Independence Day. You get 20 of these 1.8-inch bows in six different styles, but they are all red, white, and blue with stars and stripes like the American flag. The rubber band is attached securely so it will stay in place. Don't just use them on the holiday though, she can wear them all year long to show her patriotic pride! 
Hixixi 20pcs/Pack Halloween Dog Hair Bows
Make Howl-O-Ween festive with these curly-Q dog hair ribbons. These are perfect whether you are taking your pup trick or treating, having a party, or just passing out candy this year. Each one is two inches in diameter and has purple, white, black, and orange ribbons that say "Boo!" Handmade and attached securely to the rubberband, the set of 20 ribbons are actually cute enough to wear all year.
JJ Couture 40 Hair Bows-1.5 inch Fall Collection
In this precious Autumn-themed set of 40 bows you will get polka dotted, chiffon, and satin bows with pom poms, roses, or daisies. The yellow, orange, and brown shades are pawfect for Autumn or any time of the year! Each one is 1.5 inches long and has a strong double-looped rubber band on back to hold it in place.
yagopet 40pcs/20pairs Small Dog Hair Bows For Autumn
Thanksgiving is a great time of year with plenty of food, fun, and festivities with your furbaby. Make sure to put some of these adorable bows in your pup's hair to make them look even more cute than usual. The 40 bows come in a variety of orange ribbons with stripes, dots, checks, prints, and flowers. Perfect for getting some Fall family photos.
PET SHOW Mixed Styles Small Dog Hair Bows with Rubber Bands
This set of superior bows in a variety of oranges, browns, and yellows are great for the pawfect autumn season accessory. You get a pack of 20 in various types and sizes. Some of them have pom poms, others have gemstones, and some have roses in the middle. Attached to hair bands to hold them in place without pulling on your dog's fur and made of quality materials for durability and appeal. They even come in other colors and you get a free gift too!
yagopet 20pcs/10pairs Dog Christmas Hair Bows Rubber Bands
Does your pup love Christmas? Let them show it with these precious holiday bows. The 20 ribbons come in satins, lace, and chiffon in different shades of red, green, gold, and white. Some of them have Santa Claus adornments while others have snowmen, Santa hats, hearts, or pom poms. The variety is pawesome and they all come with a hair band to attach them securely. You even get a free dog tag as a gift! 
CSPRING 28PCS/14Pairs Mix Styles Dog Hair Bows with Rubber Bands for Christmas
With this dainty set of 1.3-inch Christmas bows, your pooch will be stylin' at all the holiday parties and family get-togethers. Ribbons are premium quality and come in Christmas characters like Santa Claus, Rudolph, Frosty the Snowman, and many more. The elastic bands are durable and stretch easily without breaking with normal use. They look so adorable you can even borrow some for yourself. 
JJ Couture 30 Dog Hair Bows Christmas Collection
These handmade Christmas hair bows are made with love for your furbaby. There are 30 organza ribbon bows that are about 1.5 inches long. You'll get red double bows with white, green, or gold accents. And each one has an adorable pom pom or star in the middle of it. The elastic band is sturdy as well as gentle on your pup's fur so pop one in before heading out to that holiday party. 
Hixixi 30pcs Dog 3D Shiny Hair Bows Rhinestone for Christmas
In this set, you will get 30 shiny or glittery ribbons with a gem in the middle of each one. The colors are assorted and range from red and green to purple and gold as well as shades of blue, orange, pink, and yellow. Pawfect for any time of the year, really. They are double bows that stand out more than typical single bows and are about an inch long. The band on the back is gentle on your dog's fur but strong enough so you won't worry about losing them when your pup is playing.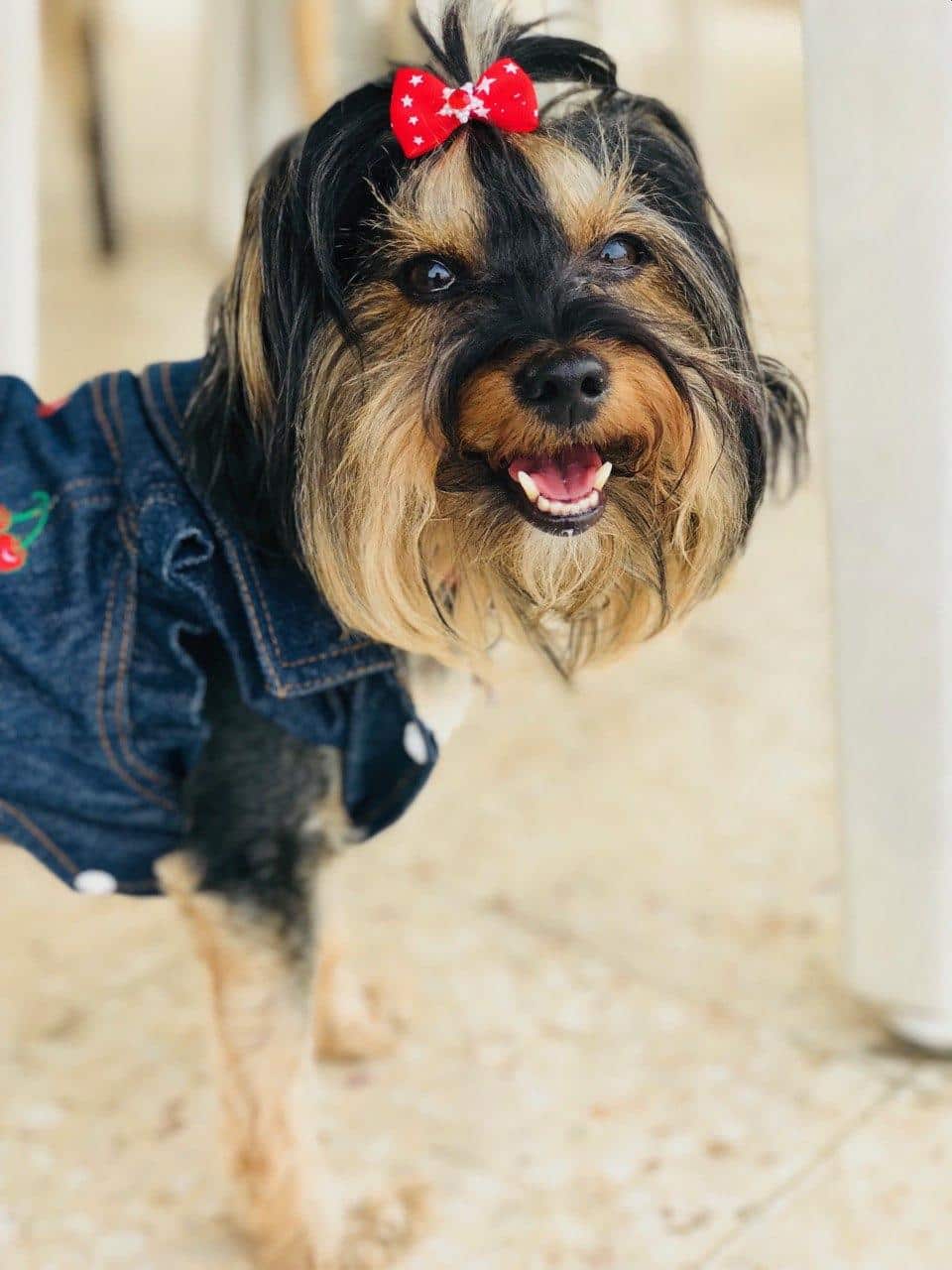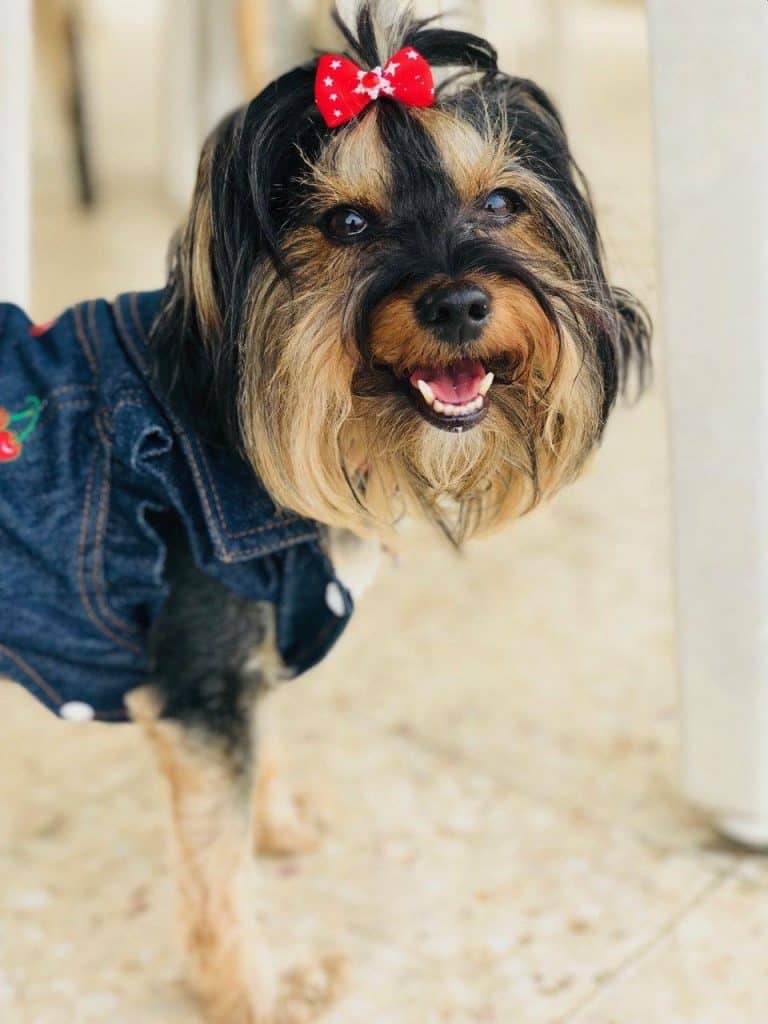 No matter what your pooch is wearing in their hair, they always look adorable, but with any of these pawesome dog hair accessories, they will be that much cuter. Whether you are going out to a party, visiting with family, taking photos, or just headed to the park for a walk, your furbaby will look and feel special in one of these cute bows or other accessories. Be sure and take plenty of selfies and pics with your pooch so you can share them on social media. And share them with us in the comments below! We love to see your furbabies.