Face it: if you have a shaggy furbaby, the matting can be a huge problem. Not only can these knots be uncomfortable for your pooch, but they also trap bacteria that cause skin infections. Fortunately, regular combing or brushing can help prevent mats.
Even with regular grooming, it's often a struggle to keep the tangles out. Using a quality detangler solution on your pup's hair could make the task easier. That's why we evaluated 18 products to help you find the best dog detangler spray for your needs.
First, let's talk about why mats are an issue, what you can do about them, and features to look for in a detangler spray.
Review of 18 Detangler Products Currently on the Market
Vet's Best Moisture Detangler Spray
Made for dry hair and skin, this combination conditioner and detangler spray is made with natural, plant-based ingredients. It includes aloe, vitamin-B5, cucumber, and sage to moisturize your pal's skin and help detangle the coat. The formula works with other topicals like flea and tick sprays. This is a veterinary-formulated, leave-in solution. The cucumber and sage ingredients leave a light, fresh scent.
Cowboy Magic Detangler and Shine
Cowboy Magic is a deep conditioning detangler with no water or alcohol. It's a leave-in product that includes Vitamin B5, fragrance, parabens, and silicone-based ingredients. The concentrate can be massaged directly into the hair or diluted and used as a spray detangler. A small quantity goes a long way. This product is made in the USA and comes in a 4 oz bottle.
BioSilk Therapy Detangling Spray
Formulated and pH balanced for dogs, BioSilk Therapy is sulfate and paraben-free. It has natural ingredients including silk proteins, Vitamin B5, aloe, jojoba oil, and oat extract. This product has a fresh fragrance and is safe for dogs that are 8 weeks or older. Apply a small amount to the coat and massage in for best results. 
TropiClean Tangle Remover Spray for Pets
This dog detangler spray is paraben, alcohol, and dye-free. It has a sweet-pea scent and is made from plant and mineral-based raw materials. There's also Vitamin E in the formula for skin and coat health. Use this spray to minimize frizz, restore moisture, and loosen tangles. It's a no-rinse formula that's made in the USA. 
The Stuff Dog Conditioner Ready to use
The Stuff for dogs is hypoallergenic and non-toxic. This formula includes silicone for working out mats and repelling dirt. The concentrated solution is available in a 16 oz. spray bottle. It's pH-controlled and acid balanced to work on all types of dog hair. You can spray the solution directly on your pal's coat or dilute it before application for conditioning and grooming help. It's a leave-in product. 
Pet Head Fur Ball Detangling Spray for Pets Strawberry Yogurt
With a strawberry-yogurt scent, Pet Head spray is non-toxic and pH balanced. The formula has natural ingredients including Vitamin E, essential fatty acids, and sunflower seed oil. It comes in a 100% biodegradable bottle. This product is made for all dogs and specifically formulated to work on long, curly hair.
Isle of Dogs Everyday Jasmine & Vanilla Silky Coating Brush Conditioning Spray
As a grooming aid, Isle of Dogs conditioning spray is formulated to reduce mats, tangles, and statics. The solution has a jasmine vanilla scent and comes in an 8 oz spray bottle. There are chamomile and rosemary leaf extracts in the formula. It's also paraben-free and has dimethicone for detangling and dirt-repellent properties.
Nature's Specialties Quicker Slicker Ready to Use Conditioner for Dogs
This detangling and conditioning spray from Nature's Specialties is pH balanced and has cosmetic-grade silicon. It's pet-safe and includes a proprietary blend of conditioners. Use before a bath or spray it on to aid in grooming. It's made to assist in detangling so that you can cut your drying and brushing time by half.
John Paul Pet Lavender Mint Detangling Spray
With a concentrated botanical formula and lavender-mint fragrance, this detangling spray is pH balanced for pets. It includes 13 conditioning agents to help manage tangles and soften and moisturize hair. This product is eco-friendly, paraben-free, and made in the USA. It comes in an 8 oz spray bottle. Shake well before applying to your pup's coat.
Lillian Ruff Dog Leave in Detangler Spray
This leave-in spray from Lillian Ruff is a gentle formula that's safe for all types of skin and hair. There are no parabens, sulfates, alcohol, dye, or gluten in the non-aerosol product. It has a light, fresh scent that lasts and is made in the USA. Shake and apply generously to your pup's coat to aid in grooming.
Bodhi Dog detangler spray has an apple scent and comes in a 17 oz spray bottle. Designed to penetrate and condition mats, this product has aloe vera, jojoba oil, and mineral oil in the hypoallergenic formula. There are no parabens, alcohol, detergents, or other harmful chemicals in the solution. It's made in the USA. 
This detangler uses aloe, dimethicone, and conditioner in its formula. There are no parabens, alcohol, or dyes in the product. It has a natural fragrance and is tear-free. You can safely use this with flea and tick sprays. It comes in a 12 0z pump spray.
BarkLogic Dogs Leave in Conditioner & Detangling Spray
BarkLogic is a hypoallergenic, plant-based conditioner for your dog's coat. It has no parabens, sulfates, or phthalates but is infused with essential oils. The leave-in spray includes aloe and chamomile in the formula. It's safe for all breeds and ages. Spray it on dry fur to make grooming your furbaby easier. 
FURminator deTangling Waterless Spray
This waterless detangling spray from FURminator has papaya leaf extract, aloe, and colloidal oatmeal in its formula. With vitamin E and omega fatty acids, this solution is made to nourish your pal's skin and coat. It's formulated to help loosen the dead undercoat and reduce shedding. The conditioning and detangling agents help to loosen snags and mats for easier grooming.
PeachyDog DogFresh Oatmeal Skin & Coat Spray
DogFresh spray by PeachyDog includes oatmeal and baking soda in the formula to soothe the skin and refresh the coat. The solution is paraben, detergent, and sulfate-free and contains gentle ingredients for sensitive pups. You can spray this product on your pal's coat, his brush, or a soft cloth to apply to the hair. The spray tip allows you to apply the solution as a stream or spray. 
Burts Bees for Dogs Natural Detangling Spray with Lemon and Linseed
Burt's Bees detangler for dogs uses natural ingredients like lemon and linseed oil. It's pH-balanced and safe for puppies. The solution has no parabens, sulfates, dyes, or fragrances. You can use this after a bath or in-between as a grooming aid. It comes in a 10 oz bottle. 
The Blissful Dog Shine-On + Sheen Coat Spray
This Shine-On + Sheen Coat Spray is a comprehensive grooming tool. It's designed to help undo tangles and loosen mats in your pup's coat. The conditioners help to bring shine and polish to the hair between baths. You can also use it as a finishing spray to reduce static during brushing. It's paraben-free and has silk proteins, organosilicon, a botanical blend of natural ingredients, and vitamins to nourish the hair. This product is available in a 4, 8, or 16-ounce bottle.
The Coat Handler Anti-Static Detangler Dog Spray
The Coat Handler detangling spray has no silicones, lanolin, or other products that will leave a residue on your furbaby's coat. It's made in the USA and comes in an ergonomic, 8 oz. bottle. The formula includes coconut/palm conditioner and almond fragrance. It's designed to eliminate static and make all coat types easier to brush or comb.
Understanding Mats - The Causes, Problems, and Solutions
Matted Dog Hair - Why It Happens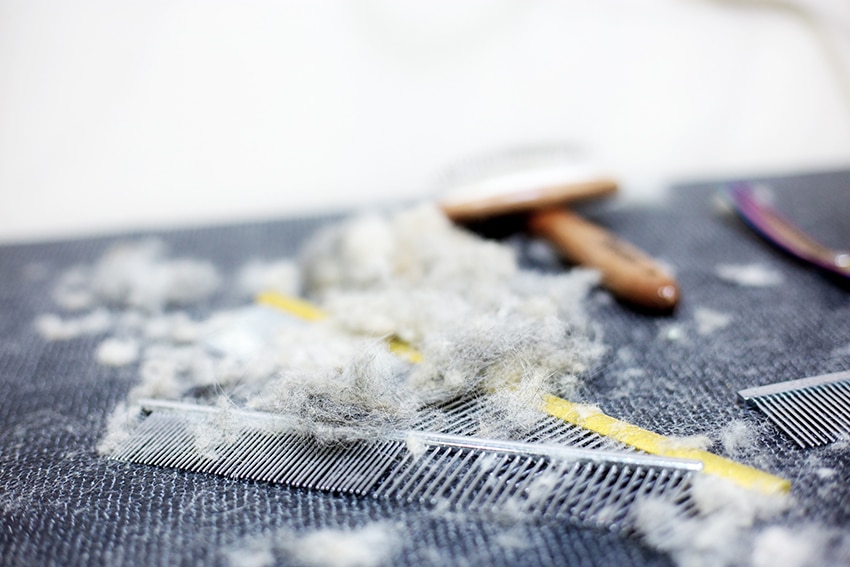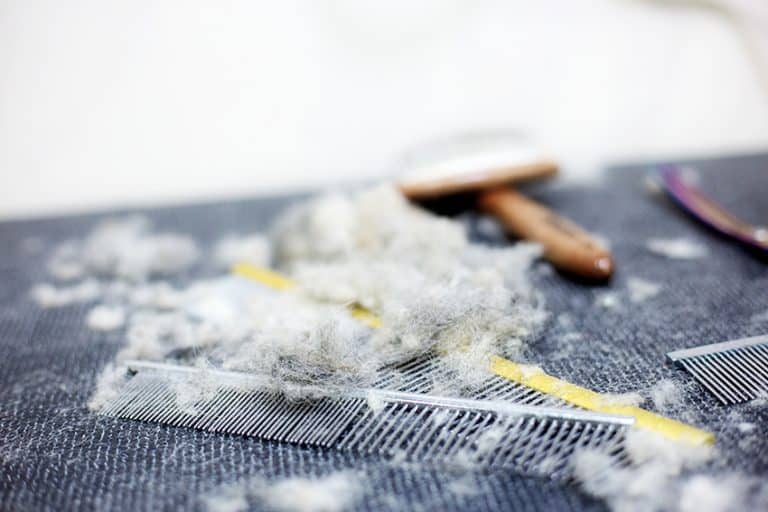 Longer-haired dogs can get mats in their coats if you don't brush them frequently. This happens when the individual fibers tangle and wrap into a tight clump or ball of dead and living fur. Unless you do something, the mat will keep growing.
The most common location where mats form is at a point of friction like under the collar or harness, behind the ears, or on the back of their rear legs. Mats also tend to form more often during high-shedding periods. That's because the loose hairs can become trapped against the skin and tangle with the coat unless your pooch gets a good brush-out.
As you can imagine, some dogs are more prone to matting than others. Pups like doodles, poodles, and Bichon Frisés are more at risk because of their curly hair. Likewise, dogs with long or double coats like Springer Spaniels and Collies also are likely to have issues with matting.
6 Reasons Mats Can Be Dangerous to Your Dog's Health
They can be painful! When you have to brush or comb out a mat, it's not a pleasant experience for Fido. But even before that, these hairballs can get tight and tug at your pup's skin. Depending on the mat's location, the pain may limit mobility or make your furbaby miserable.
They harbor bacteria and dirt. The hair in a mat acts to collect and trap moisture, dirt, and organic matter like feces and urine. It can become a breeding ground for bacteria that cause skin infections or make the clump smell really stinky.
They can cause circulatory and skin problems. Overgrown mats can pull at or press against the skin and hinder circulation. If they're bad enough, they may bruise the tissue or cause tears in the skin that lead to open wounds.
They can hide skin parasites or injuries. Hair mats can block your ability to see what's underneath. Fleas, ticks, or other parasites may hide or embed under the hairball. Likewise, if your pooch has a rash, skin injury, or other condition, you may not be able to see it. This can prolong your pal's suffering or lead to the problem getting worse before you notice any signs.
They can cause hematomas. If you're dealing with heavy matting around the ear, be prepared. The removal of the mat may trigger a sudden rush of blood toward the tip of the pinna. If the delicate vessels rupture you'll have an aural hematoma.
You may have to do a full shave. If your pup has matting all over his body, a full shave may be your only option. The extreme grooming process stressful for some pups. What's more, the sudden loss of the coat's insulation may pose problems during cold weather.
Tips For Preventing Matting in Your Dog's Fur
The most important thing you can do to help prevent matting is to regularly and thoroughly comb or brush your dog's fur. How often you groom your pooch depends on the length and type of hair he has and whether it's shedding season. The frequency will range between daily and at least once a week. Some dogs may also need regular brush-out appointments with your groomer. 
Other things you can do include:
Investing in a rolled leather collar

Removing the harness when you don't have your pal on a leash

Keeping Fido's coat short with regular trimming 
What to Do When Your Dog's Coat Gets Matted?
You find a mat while you're brushing your pooch. Now what? Depending on the severity of the tangle, you may be able to work on it with a slicker brush or a comb. But just like a knot in your hair, trying to brush it out can be painful.
The first step is to spray a little bit of detangler spray on it. Then try to loosen the clump with your fingers and isolate it from the rest of Fido's hair. Pinch the bottom of the mat with one hand and use a comb or brush to work on the mat. Start at the end using small strokes, and work a little bit at a time. Take breaks and give treats to help your pooch endure the process.
If you're thinking about cutting the mat out, avoid using scissors unless you have experience and good grooming shears. It's too easy to cut your pup's skin, and that will require a trip to the vet. You're better off using grooming clippers and shave the hairball off if you're talking an isolated mat. For more widespread matting, call the groomer.
What is Detangling Spray?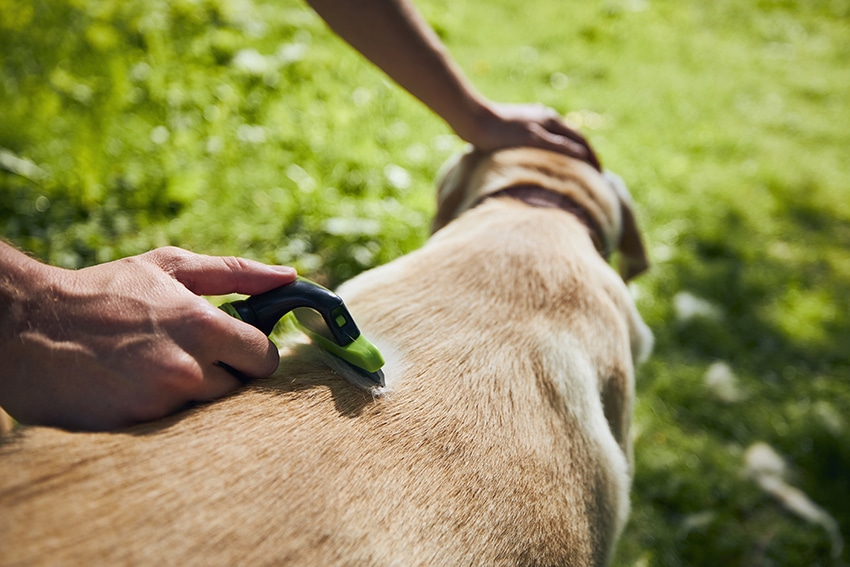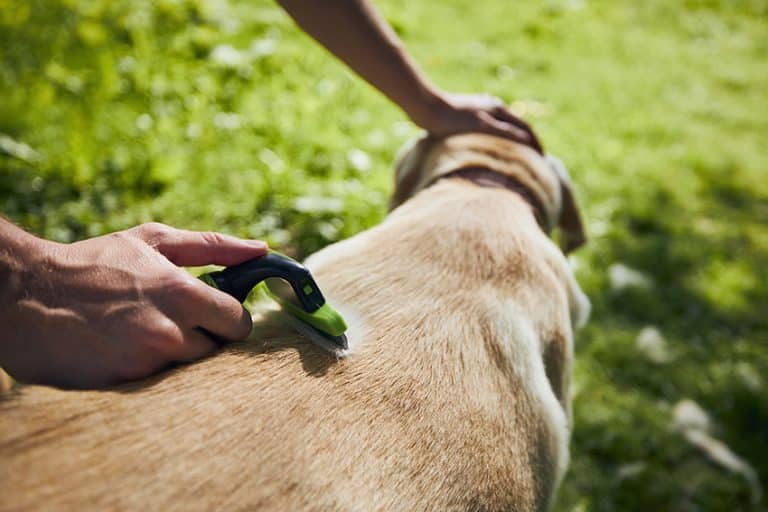 Detangling spray is a type of leave-in conditioner that can help to lubricate and soften the hair. These products work to protect the hair from breakage and minimize static. When you apply detangler to your pup's coat, it may make it easier to brush the hair and loosen knots.
Why Sprays Are Just One Part of the Solution for Dog Hair Matting?
Detangler sprays are useful to help lubricate and loosen tangles, but they're not meant to stand alone. It's imperative that you develop a regular grooming routine and invest in the right kind of tools for your dog's coat. Talk with your groomer or veterinarian about proper techniques for your furbaby's hair.
Another component of coat care is periodic bathing. It helps clean out any build-up from detangler sprays, keeps the coat smoother, and removes loose hair. Take time to learn your pal's bathing needs so that you don't overdo it. Before you give your pooch a bath, thoroughly brush out the coat. Afterward, rinse the shampoo and conditioner completely and blow-dry the coat in sections until it's fully dried.
Choosing a Dog Detangler Spray - What to Look For
When choosing a detangler solution for your pooch, you want to find something that's safe for your pooch, effective, and good for his coat health. Consider features like:
Ingredients – Avoid products with harmful chemicals like parabens, phthalates, alcohols, or artificial colors. Natural ingredients are a plus.
Efficiency – You want a product that's an effective lubricant. The detangler should help you loosen tangles in a short time period to minimize the pain and frustration.
Finish –  When the tangles are out, you don't want a greasy or sticky residue. The solution should leave the coat feeling smooth and soft with a healthy shine.
Scent – Dogs have a more developed sense of smell than we do. Look for a scent that's fresh and pleasant but not overpowering.
Is My Dog's Diet a Factor?
Yes!  A well-balanced diet that includes omega-3 fatty acids can help keep your dog's coat healthy and minimize matting. Feed your pooch foods that have lean proteins and healthy fats. You can also supplement his meals with natural sources of essential fatty acids like salmon, flaxseed, and blueberries.
Frequently Asked Questions
Is matted hair painful for dogs?
It can be. If mats grow large enough, they tend to pull at the skin and can cause significant pain or discomfort. 
What about dog conditioners?
A quality dog conditioner can help your pup's coat look soft and shiny. These products are intended for use after shampooing and need to be rinsed clean. Many conditioners complement your grooming products by reducing shedding and matting.
Can I use human detangler spray on my dog? You're better off using a solution that's formulated for dogs. Human products may not give you the same results because dog hair and skin are different from those of people. Some of the ingredients in our products could also irritate your pup's skin.
Best in Show - Our Top Pick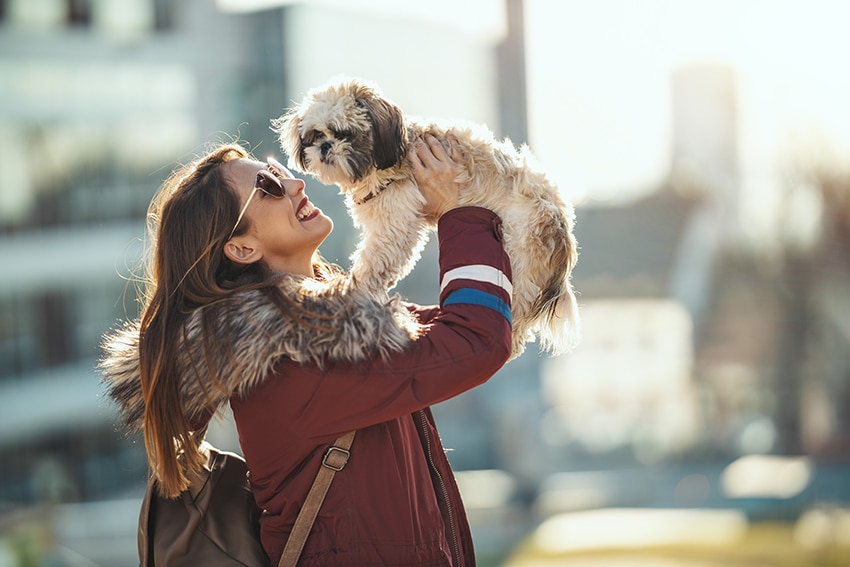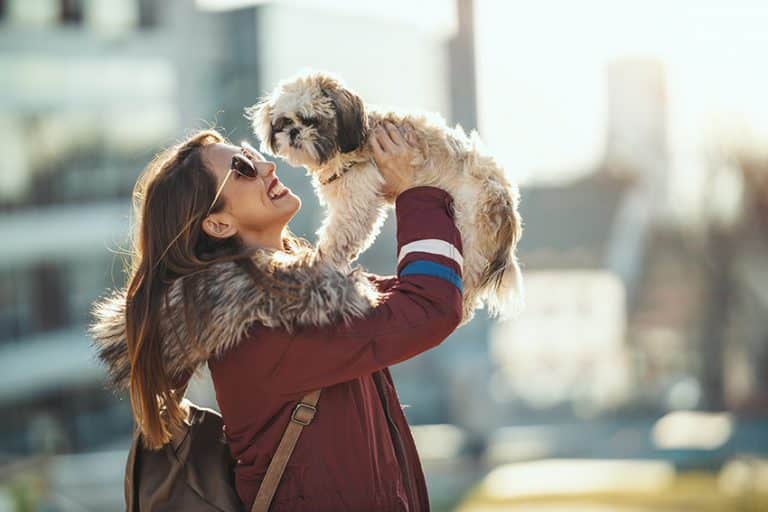 After evaluating the products above and comparing them to our list of criteria for a dog detangler spray, we selected The Blissful Dog Shine-On + Sheen Coat Spray as our top pick. 
This product has natural ingredients that are safe for the skin and hair. There are no parabens, phthalates, detergents, or alcohol in the solution. 
Owners report that the spray helps with grooming and loosening tangles. It leaves the coat looking soft and shiny like a show dog, and there's no residue. The product also has a light almond scent that owners find to be pleasant.