Top 6 Best Cordless Vacuums For Pet Hair Reviews
Let's take a look at  awesome cordless vacuums for pet hair that I think you'll love. 3 of them are stick vacs and 3 are handheld vacuums.
3 Best Cordless Stick Vacuums For Pet Hair
Hoover Linx Cordless Stick Vacuum Cleaner

The Linx Cordless Stick Vacuum by Hoover is a high-quality affordable cordless vacuum that offers more than enough features to clean up after your fur-baby makes a mess in your house. Dirt, dander, hair, and spilled dog food are no issue here.
The fade-free lithium ion battery charges on a station separate from the entire vacuum. Have you seen how some stick vacuums charge by hanging the entire vacuum on the station? You won't have to worry about that cumbersome situation with the Linx. Plus, you can purchase a second battery so if you would happen to run out of battery life (if Fido is extra messy or if we forget to put the battery on the charger) you don't have to stop cleaning!
The multi-floor brush head easily transitions between carpet, rugs, hardwood floors, and tile without any issues. It's versatile enough to clean messes on any of these surfaces. The fingertip control makes it easy to switch modes while the battery gauge clearly states how much battery life remains.
Lastly, reaching under furniture won't be an issue since the extreme recline handle pairs well with the cordless feature. Just zip around all the furniture legs in your house to reach all the pet hair you wouldn't normally see!
What we like:
To recharge, just remove the battery back and put it on the charger instead of hanging the entire vacuum on a charger.
Interchangeable batteries!
Works great for daily use in between main vacuuming sessions.
The amount of suction has no problem picking up dirt and pet hair.
A gauge shows how much battery life is left before it needs charging again.
It's small and lightweight so it's easy to maneuver through the house compared to a big clunky vacuum.
The price point is very affordable for the value of the stick vac.

What we don't like:
Battery only lasts about 15 to 20 minutes. If that's enough to sweep your house, that's great. Might not work so well for larger houses.
Hoover is known for their vacuums failing after about 1 year.
ONSON Cordless Stick Vacuum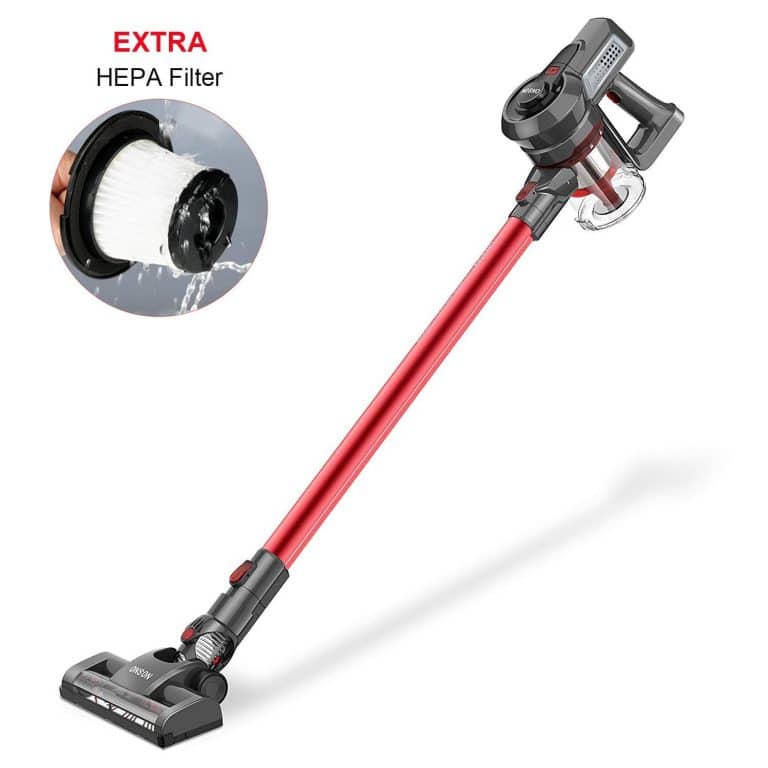 The ONSON cordless stick vacuum has a classic stick vac look, but also converts into a handheld vacuum. The bagless 1-liter canister holds a large amount of debris. The brush head draws unseen particles and allergens out of any carpet. The main unit weighs only 2.64 pounds, which means you can use the crevice tool attachment to sweep away spider webs or other dirt above your head. The third attachment is perfect for use without the tube to sweep away dirt on mattresses or furniture.
The wall-mounted charging station keeps the ONSON at a convenient reach. The lithium ion battery requires only 4.5 hours to fully charge and offers up to 45 minutes of run time. And with the one-handed design, you can carry the children (or Fido) while effortlessly sweeping away dirt, spilled food, or pet hair.
The 100-watt suction is capable of picking up kibble, cereal, and other large particles that someone might spill. The flexible brush head easily maneuvers around furniture and toys so you don't have to work too hard. That's the vacuum's job!
And for anyone with allergies, the ONSON comes with a second HEPA filter so you can use one while you wash and dry the other. Just hand wash and air dry.
What we like:
Seems great for in-between vacuums if you have to clean up kitty litter crumbs or short dog hair.
Super simple to set up and store in your home!
Incredibly lightweight and easy to carry between rooms and messes.
Comes with an extra HEPA filter. Some of us love our furry friends but we're allergic to their dander and these filters help so much.
You don't have to hold your finger on the on/off button. This is great for maneuverability under and around furniture.

What we don't like:
Not as much suction as we were hoping, which was for full-house use and deep cleaning.
Like a lot of brush heads on vacuum cleaners, longer dog/cat hair (sometimes human hair, if you're like me) get tangled in the bristles. You'll have to do occasional cleaning on the brush head for optimal usability.
Shark Navigator Freestyle Upright Cordless Stick Vacuum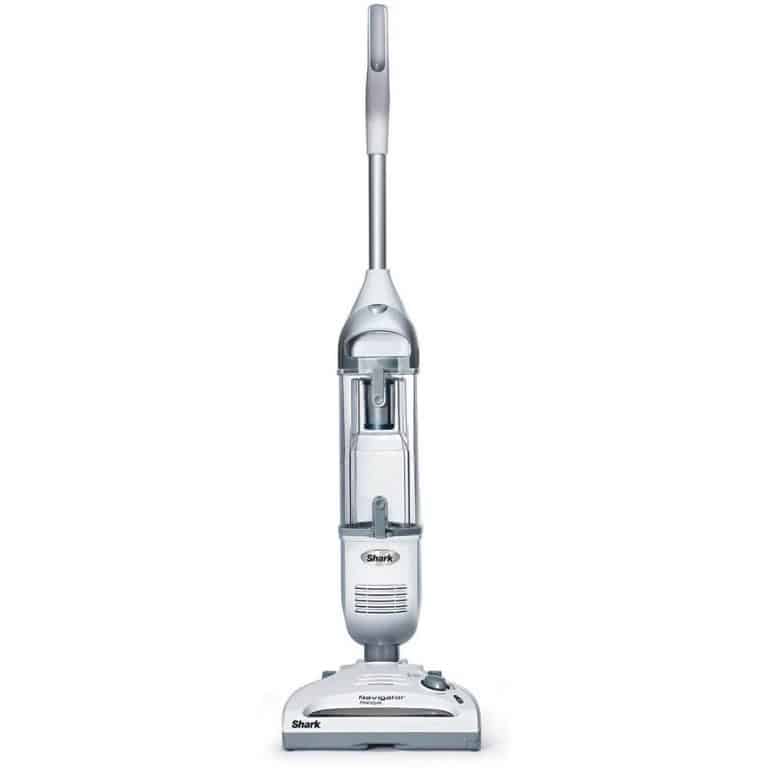 The Navigator Freestyle by Shark is an upright cordless stick vacuum combines the power of a regular upright vacuum with the convenience of a stick vacuum. The extra-large canister is bagless, which will save you the cost of buying vacuum bags every week.
The 108-volt battery charges in only 4 hours. The charging station doubles as a storage dock. You'll have a fully-charged vacuum every time you need it when you return the product to its station.
The brush head features 2 speeds for carpet and bare floors. Whether you have hard wood floors, tile floors, area rugs, or small carpets, you won't have to switch to a different vacuum during your cleaning time. Weighing only 7.5 pounds, you can easily carry the vacuum up a flight of stairs or around the house.
The suction is powerful enough it will pick up dog food, kitty litter, crumbs, cereal, or other larger particles. It'll also pick up unseen particles, like allergens, that lie deep in the carpet.
Overall, Shark is known for its high-quality vacuums. This is another one of their great products. We're pleased with its performance on all floor types and various types of debris.
What we like:
Lightweight and portable if you have a multiple story house and need to carry the vacuum up and down a flight of stairs.
Picks up pet hair and human hair very well. Again, some humans shed just as much as doggies!
Cool swivel feature makes it versatile for maneuvering under and around furniture or between carpeting and bare floors.
Convenient charging stand!
The battery charge lasts for about 1,300 square feet of space, so it's great for smaller houses!
Versatile on hardwood floors, tile floors, and area rugs. Just step on a button and keep sweeping!
Made us hate vacuuming a little less! Especially on a daily basis.

What we don't like:
Seems to have a shorter lifespan than we'd like. I'm talking about 1 year, give or take a month or two. Maybe that's long enough for your standards. Yay! Maybe not so great for others.
Brush roll tends to clog with hair, which makes it seem like the brush roll has stopped working altogether. Nope, it just needs cleaned out once in a while.
3 Best Handheld Cordless Vacuums For Pet Hair
Holife Handheld Cordless Vacuum
The Holife handheld cordless vacuum comes with a slue of attachments and accessories: 2 filters, a crevice tool, a brush head, a rubber jar tool, and a charging dock. The rubber jar tool, you ask? Yes, the Holife cleans up liquid messes! That's our favorite feature. Maybe Fido spilled his water bowl. Or maybe the cat knocked over your glass of juice. (Why do they always do that?) Either way, the Holife will clean it up.
Meanwhile, the brush tool is perfect for picking up pet hair off the couch or the car upholstery. The crevice tools get those crumbs that magically get left behind from the kids. And with 30 minutes of battery life, you won't have a problem cleaning up anything in your path. The battery only takes 4 hours to recharge and offers many safety features: over-voltage protection, over-current protection, over-temperature protection, over-charge protection, short-circuit protection, and over-discharge protection.
The Holife offers 6kpa of cyclonic suction power in a cordless, handheld style. The motor is 90 to 100W of high performance 3-in-1 action. The lithium battery holds more energy per volume and is confirmed to be non-toxic with a quicker recharge time. That means 30 minutes of battery life with as little as 3 hours of recharge time.
What we like:
Cleans up dry AND wet messes! Maybe the dog spilled his water bowl. Maybe the cat tracked litter across the floor. It'll clean up both!
Attachments galore! Crevice tool. Dry mess brush. Rubber jar tool. Amazing!
30-minute run time is perfect for cleaning stairs, furniture, and everything in between.
Super duper lightweight for carrying up and down stairs, cleaning up high, and vacuuming out your car.
Quiet motor doesn't disturb pets who might be afraid or aggressive towards vacuum cleaners.
Super safe operation with over-voltage protection, over-current protection, over-temperature protection, over-charge protection, short-circuit protection, and over-discharge protection. Not a single thing to worry about!

What we don't like:
It does not provide as much suction as we were expecting. It cleans up minor dirt but isn't the best for pet hair on upholstery.
Out of curiosity, we searched for replacement parts in case something broke. It's rather difficult to find any.
Shark Pet-Perfect II Cordless Bagless Hand Vacuum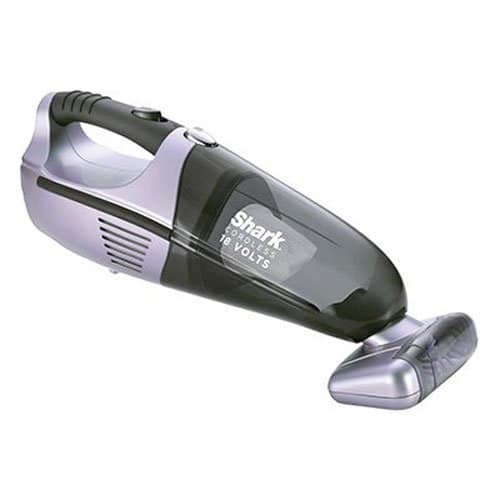 The Shark Pet-Perfect II is one of the best models we can recommend for small clean-up jobs on your stairs, on your upholstered furniture, or in your car. It's small yet powerful. The 18-volt vacuum provides more than enough suction to pick up all the dander, dirt, and dog hair that might cover small spaces where your normal vacuum can't reach. The Lithium Ion battery lasts long enough to clean up Fido's messes that may get dragged across the carpet for upholstery.
The extra large detachable motorized brush reaches deep into the carpet and fabric. But it's lightweight enough at 4.92 pounds that you can easily carry it around the house. It also comes with a crevice tool and dusting brush for versatile cleaning. Just be sure to wash the filter when it's full so your vacuum continues to work at optimal power. Don't machine wash it or use a hair dryer. That could cause damage to the filter. Just hand wash and air dry. It's that simple!
The Shark Pet-Perfect II comes with a wall-mounted charging stand that could also sit on a table top. The station holds all the accessories in one place for your convenience.
What we like:
Attachments! Crevice tool, extra-large motorized brush head, and dusting brush.
Shark is already a pretty popular brand of vacuum so we were excited to try this one from the beginning!
Superb suction! Picks up all the little messes on stairs, in cars, and all over furniture that a regular cord vacuum just won't reach.
The overall small size of the vacuum is awesome for nooks and crannies in cars. Kids and pets leave crumbs and dirt everywhere. This little gadget gets that taken care of.
The motorized brush head spins so well! It cleans up hair of all lengths. Quite efficiently, I might add.

What we don't like:
Requires a 16-hour charge after every 15 minutes of use. Yikes. Nobody has time for that.
We noticed a poorly soldered transistor on the inside of the vacuum at the on/off switch. After discovering issues with the battery not holding a charge, properly placing and soldering the transistor fixed the battery problem right away. But not all of us are electrical wizards.
BISSELL Pet Hair Eraser Cordless Hand Vacuum
The Pet Hair Eraser by BISSELL must be a great product for pet owners based on the name alone! Unfortunately, our fur-babies will continue to shed no matter how much we vacuum. This BISSELL model is extremely affordable and will last for years. BISSELL is already a well-known name for high-quality vacuums. The Pet Hair Eraser was designed specifically for pet owners.
Kibble on the kitchen floor? Fur on the car seat? Dirt on the hardwood floor? No problem. This handheld vacuum cleans upholstery, carpet, hard surfaces, and cars. It comes with a rolling brush head for carpet, a crevice tool for tight corners, and an upholster tool that attracts dirt with felt.
The Pet Hair Eraser operates at 14.4 volts of power. The battery recharges with a cord attached to the back of the vacuum and plugs into a wall outlet. This handheld will be within arm's reach whenever necessary.
The 0.7-liter easy-to-empty dirt bin lets you get rid of dirt without getting your hands dirty. At only 3 pounds in weight, you can carry this gadget wherever you need it without causing any back or shoulder pain.
What we like:
The name! Pet Hair Eraser? We wish pet hair could be erased permanently!
Attachments! Just for pets, too. Motorized brush tool, upholstery tool, and a crevice tool.
Picks up a canister full of pet hair every time we use it. It actually picked up dog hair I couldn't see disguised in the carpet. Eureka!
Had no problem picking up hair ball tumbleweeds left behind by a Golden Retriever.
Clear canister lets you see exactly how full it is. No guess work on when to empty the dust bin while using the vacuum.
If you need to clean the brush head, just use a coin to open the cover and clean out any hair or debris you might find.

What we don't like:
Seems to take a while to charge and has about 10 minutes of run time. Not as great as other handheld vacuums we've tested.
A couple we noticed a very small electrical shock at the power button while the motor was running. Not sure if it was just a hiccup in the motor. Not enough of a shock to harm anyone, but a little uncomfortable at the time.
2 minutes before sharing our final verdict with you, we would like to offer a super important piece of information you should know about cordless vacuums for pets.
What Are The Advantages Of A Cordless Vacuum?
Personally, I love my cordless vacuum because it can go anywhere I want. No cord to hold me back. No searching for outlets. I just zip around, sweep up all the dog hair, and boom – I'm done.
Now, you do need a charging station. You'll need a spot on a wall near an outlet to anchor the charging port that accompanies the vacuum. But you can easily find a discreate spot near a cleaning closet, in a laundry room, or in the basement.
Cordless vacuums are available in a lot of different styles, too. My Dyson V6 stick vac is great for my small house. Greta has really short fur so I don't need a super powerful vacuum.
You can also find a canister style vacuum that will hold more pet hair and dirt. Handheld vacuums are awesome, I've found, for sweeping stairs, furniture, and elevated places that you can't reach with a regular vacuum.
Then there's the even-bigger upright vacuums that are often the most powerful and hold the most hair and dirt.
If you're worried about the battery being powerful enough to let you vacuum your entire house, you're not alone. I was skeptical, too. But my little Dyson vacuums a 1,200-square-foot house without a problem. The canister is full by the time I'm done, but the battery doesn't falter at all.
Manufacturers have made cordless vacuums to be long-lasting for large houses. You should be able to sweep up all your pet's hair in one shot as long as you're dedicated to that charging station.
Most cordless vacuums are bagless. If you don't mind dumping dust and dog hair into the trash can, you'll cut back on operation costs. Not having to purchase bags is definitely a benefit. Empty the canister, empty the filters, and you're good to go!
What Are The Weaknesses?
You have to keep your vacuum on the charger. If you leave it lying around the house, the battery will die even if you're not using it and you won't be able to vacuum until you let it fully charge. Vacuums with cords might be better if you tend to forget to charge your gadgets.
Like all vacuums, you have to regularly clean out the filters. Pet hair gets clumped up and can clog the filters and tubes. If it gets bad enough, the fur might even cause your vacuum to shut off.
It's happened to me when I didn't realize that Greta's short hair would clog my vacuum. I've had German Shepherds and Golden Retrievers over the years. Their fur was so long and life got ridiculous when they shed their winter coats. I thought there's no way a Pit Bull's short fur could do the same thing. Ha. I was wrong! Both of my vacuums shut off on me one day. Sure enough, I opened up the filters, cleaned out clumps of short dog hair, and the vacuums worked just fine!
What's The Best Way To Use A Cordless Vacuum?
Personally, I use my stick vac for quick clean-up in small areas if someone tramples grass, dirt, or leaves into my kitchen, for example. I use a bigger corded vacuum on a weekly basis and then I use my stick vac in between.
You can get high power cordless vacuums that will clean your carpets just like a corded vacuum. Maneuver the vacuum slowly over your carpet so it has a chance to thoroughly collect dirt and hair. If your vacuum has different carpet heights like "bare floor" to "high carpet", utilize them. They're highly beneficial.
Sometimes I'll cheat and use the "bare floor" setting on my carpets to make sure they're super clean. But be careful doing that so you don't burn up your vacuum's motor.
What To Look For In Cordless Vacuums For Pet Hair: What Do You Need?
What areas will you be cleaning? Tile floors? Hardwood floors? Indoor/outdoor carpeting? Shag carpeting? How many square feet? How many floors are in your house? If you have 2 or 3 stories to clean, you'll probably love a cordless stick vac or canister vac. They're easy to carry up and down flights of stairs.
What's the battery life you need? With a bigger house, you'll probably need a longer run time, which means longer charging time. Some vacuums have swappable batteries, which means you can keep cleaning even after the battery drains.
Where will you hang your docking station? Do you have a suitable spot on a wall or near an outlet to charge the vacuum? My stick vac has to be mounted on a wall near an outlet, which makes the placement a little tricky because I don't have a designated laundry room.
What's the capacity of the canister? If you have a larger living space and/or dogs with longer fur, you're probably going to need a larger capacity vacuum cleaner. I only have 1,000 square feet and a Pit Bull so my vacuum is pretty small.
Do you want bag or bagless? Bagless is great for saving money on vacuum bags. But if you're squeamish or allergic and don't want to dump dust into a trash can (which can go flying back into the air), then you may want a vacuum with brags.
How heavy of a vacuum can you handle? Will you need to carry the vacuum up and down flights of stairs? If so, a lightweight stick vac may be your best bet. My house is only one story, but having a lightweight stick vac is GREAT. So effortless.
How much suction power do you need? More suction power is great when you have shag-like carpet and long-haired pets. It's even more necessary if you're like me and have long hair yourself. I shed almost as much as the dog! It's crazy. So, the more suction power – the better.
Do you need HEPA Anti-Allergen filters? If you or a member of the household is allergic to dander, these filters might be necessary. And even if you don't have allergies, having these filters can be beneficial to your general health anyway.
Does the manufacturer offer a warranty? Parts break. Things don't run right. You might not like the way it runs. It might not be powerful enough. So, it helps when the manufacturer offers a warranty to replace parts or entire vacuum cleaners.
Does the vacuum come with attachments? A crevice tool or brush can reach those tight corners where the usual vacuum head won't reach. A lot of vacuums automatically come with attachments.

How much do you need to spend on a quality cordless vacuum?
$100 to $150 for a stick vac is plenty. You'll get a quality piece of equipment that should last for years and comes with a warranty and replacement parts.
$50 to $75 for handheld vacuum is pretty good. Again, that'll get you a quality product for a decent price.
What type of floors do you have? Will the vacuum clean them?
Tile? Hardwood? Wall-to-wall carpet? Rugs? Most vacuums can thoroughly clean all types of floors. Some vacuums have different height settings on the brush roll for each type of floor. Either way, you'll be able to clean every floor in your home.
How big is the space you're vacuuming?
In smaller houses, a stick vac can easily clean 1,000 to 1,500 square feet of floor space. Larger houses may need a canister vacuum with longer battery life.
Does the vacuum come with attachments or accessories?
Nearly all vacuums have attachments. Yay! All the vacuums we talk about in this post have attachments. Versatility in one unit is perfection for different floor types, corners, stairs, cars, and upholstery.

The winner is: Shark Navigator Freestyle Upright Cordless Stick Vacuum!!
No, it's not a handheld vacuum so you can't really vacuum your car or upholstery. However, we love that it's a little bigger and can handle cleaning up after German Shepherds, Golden Retrievers, and other super furry loveable friends.
The features and capabilities we like best about the Shark Navigator Freestyle are the lightweight design for multiple story homes, yet it's powerful enough for long hair (including humans who shed, too).
The swiveling brush roll is awesome for vacuuming around furniture, table legs, and probably around dog toys that never seem to stay in the toy basket.
And like we said, it made us hate vacuuming a little less! That's never a bad thing.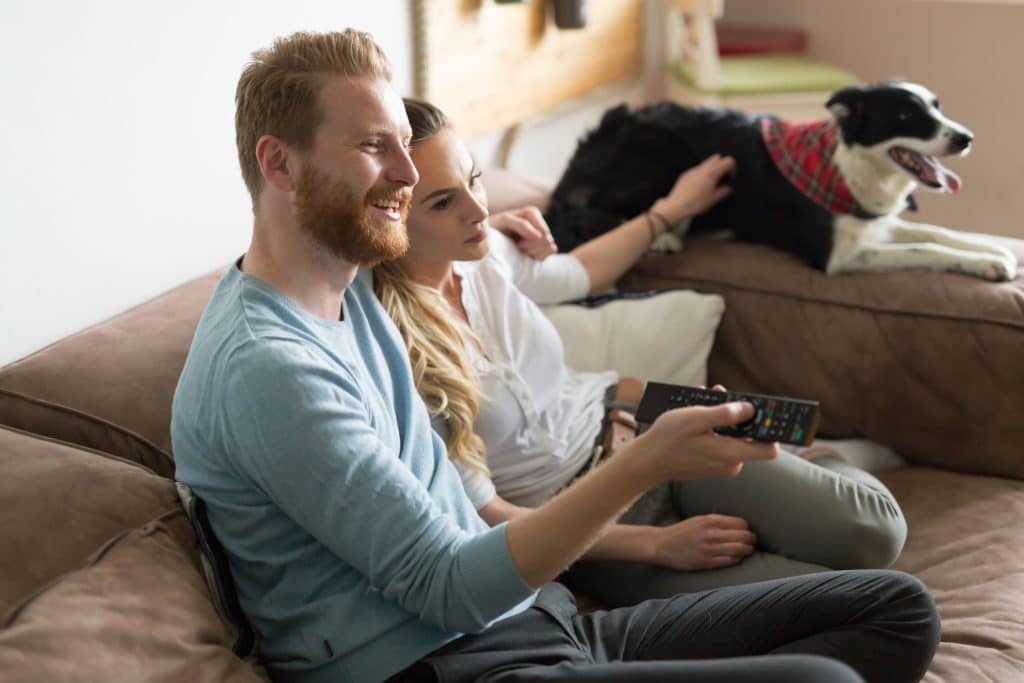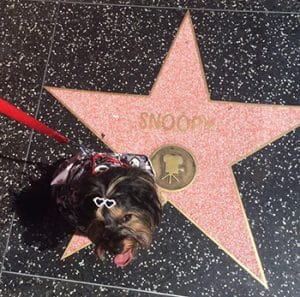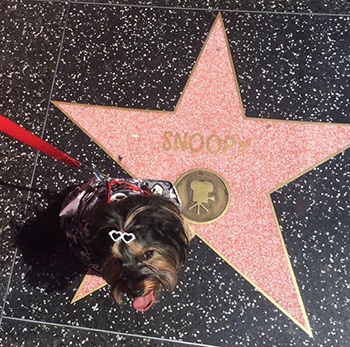 One request from Speedy
Kelly Siedhof put so much effort writing this blog post to provide value to the dog parent community. It'll be very helpful for me, if you consider sharing it on social media networks.
SHARING IS ♥️