Has this happened to you? You just finished your spring landscaping with a fresh layer of mulch. When you let Fido outside, he checks out the new materials and starts munching on a piece…
Is eating mulch ok? In this review, we're going to examine why dogs eat mulch, the benefits of mulch, and the types of mulch that are dog-safe and the types that are dangerous or poisonous. Then we'll review 12 products currently on the market to help you find the best mulch for dogs.
This ground cover from Playsafer is made from recycled rubber. It comes with a 12 year color guarantee. The product is available in 6 color options. It's certified 99.9% wire free. There's 1.55 cubic feet in a 40 pound bag. It dries quickly after rain and will not attract mold or pests.
International Mulch Company NS8RW Redwood
Made from recycled rubber, this redwood-colored mulch works for playgrounds, dog runs, and general landscaping. It provides excellent drainage and helps to prevent mold, fungi, and dust. The product comes with a 12-year color guarantee and a 5-year warranty. One bag contains 0.8 cubic feet of mulch
Thunder Acres Natural Wheat Straw
Thunder Acres Wheat Straw comes in 4 pound boxes and can be used for pet bedding. As an all-natural product, this material is pet safe. It provides a soft, warm ground cover for your pal's run or outdoor dog house. You can also use the mulch on the garden to keep plants moist.
Cedarcide Insect Repelling Cedar Mulch
Cedarcide granules are all-natural cedar shavings. Depending on the thickness of your mulch cover, 1 8 pound bag can treat up to 3,500 square feet. You can use this for your lawn, garden, or outdoor dog run to repel pests like fleas, ants, and mosquitoes. It's certified as pet-safe and uses non-GMO sources.
Kaytee Pine Bedding for Pet Cages
This bedding uses all-natural pine shavings for pet bedding. It's biodegradable and 99% dust-free. You can use this product in small pet cages or for your dog bedding. It's available in 4 size options ranging from 600 cubic inches to 4 cubic feet.
Understanding Mulch for Dogs
Combining dogs and landscaping material can pose some hazards. If your pup is a munch monster, mulch or other yard improvements might be appealing to him. Why does fido eat mulch, and what can you do to keep your property looking its best while also keeping your furbaby safe? Let's take a look.
Most mulch is made from tree bark, and it has an attractive aroma for canines. Dogs are also natural chewers and some of them like to gnaw on wood. Even though most types of mulch are not poisonous to our furbabies, they still pose a risk for choking or obstructions.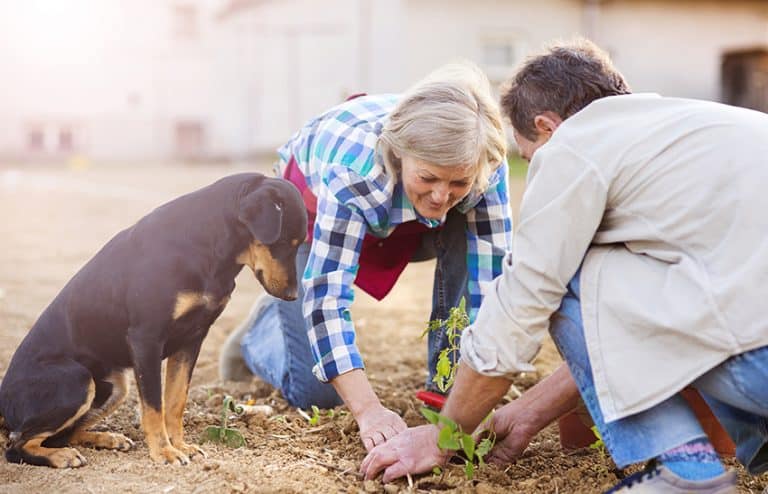 If your furbaby likes to munch on mulch, you may be better off to avoid using it in your yard. However, Fido may still encounter ground cover on walks. Keep your furbaby on a leash and steer him away from landscaped areas. That being said, some mulches are pet-safe and others may be harmful or toxic. Read on to learn which options are hazardous and which are ok to use in the yard.
Is Dyed Mulch Safe For Dogs?
Most colored mulches made today use one of two pet-safe dyes – iron oxide or carbon black. However, to be extra safe, check the bag for a seal of approval from the Mulch and Soil Council.
What Are The Best Types of Mulch to Use With Dogs?
Cedar mulch is considered safe for dogs. It doesn't have any toxic chemicals but can still pose a risk if your pooch swallows large pieces. As we stated above, cedar also has some insect-repelling properties. This product has a pleasant aroma and attractive natural red color that can pop in your yard.
Another mulch that's non-toxic and safe for dogs is pine. If your landscaping material includes pine needles, be careful. They can irritate or puncture the stomach if your pal eats them.
Natural woods that haven't been dyed or treated are also safe for dogs. Even though dyes used today to color mulch aren't toxic, the chemicals can leach into the soil.
Rubber mulch, usually made from recycled tires, is safe for dogs. It looks like wood, but it doesn't have the same aromatic scents as wood mulches. Most dogs will not be tempted to munch this product. An added bonus with this product is that it's durable and lasts 5-10 years.
Cocoa Bean Mulch Can Poison Dogs: Warning! Toxic Mulch for Dogs
One popular type of landscaping material that people like to use is Cocoa Bean Mulch. It has a pleasant aroma and looks attractive in the yard. However, this product contains small amounts of theobromine. This is the compound found in chocolate that's toxic to dogs. If a pooch eats large amounts of cocoa mulch, they can show signs of chocolate poisoning like:
Lack of appetite
Vomiting
Diarrhea
Elevated heart rate
Panting or rapid breathing
Hyperactivity/restlessness
Drooling
Cherry red gums
Tremors/seizures
It's best to avoid this type of landscaping. If you have cocoa mulch in your yard and thing Fido may have eaten some, contact your veterinarian immediately.
Another option for flowerbeds and other non-lawn areas is rocks. While most pups find stones unappealing, there are a few canines that will eat them. If your pal swallows a rock, it can cause an obstruction. The material can also dry out the soil and make it harder to maintain plants. If you choose to use stone in some areas of the yard, look for smooth rocks. They'll be less likely to cut or injure your furbaby's paws.
What's the Best Mulch for a Dog Run?
If you're setting up a dog run and want to line it with mulch, make sure you use a non-toxic material. Rubber mulch is a great option because it won't blow away, it's easy to clean, and it's gentle on the feet. With rubber, you'll have good drainage and you'll be able to hose the run down for easy cleaning. If you prefer a natural substance, go with cedar. It provides warmth as bedding and can also help prevent pests.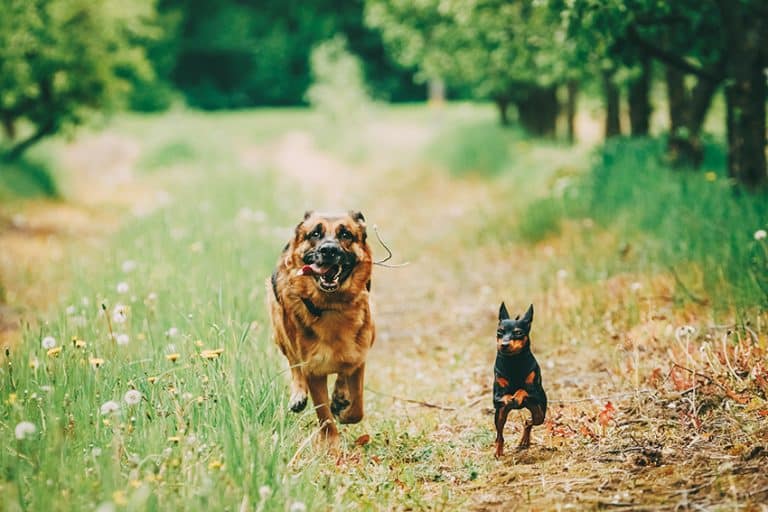 How to Keep Your Dog From Turning Your Yard Into a Muddy Mess
When you have one or more energetic pooches, grass may not hold up to their activities. So, you may need to find other materials that are safe and practical. If you really want some lawn, section off dog-free areas and keep Fido off. For other parts of the yard, you can use:
Pea gravel
Wood chips
Artificial turf
Before laying out the material, level the ground and cover it with plastic sheeting or landscaping fabric to discourage weeds.
Can Mulch Help With Flea and Tick Prevention?
Some wood-based mulches like cedar, cypress, and pinewood help to repel fleas, ticks, and other pests. The action is due to chemicals that occur naturally in the material. For example, cedar releases an oil called plicatic acid into the environment. This compound has some repellent properties that may last for a few months.
Can I use this product on an outdoor dog run with no roof cover? Yes, these products can be used in outdoor dog runs. Rubber may be more resistant to windy weather because it's heavier.
Will it repel insects? The natural chemicals in cedarwood act as an insect repellant and can help reduce the numbers of mosquitoes, fleas, ticks, and other pests. Rubber mulches do not have inherent repellant properties, but the synthetic material will also not attract any insects.
How much area will a bag cover? The amount of coverage will depend on the size of the bag and how deep you plan to lay the mulch. Check the manufacturer specifications to find out.
Best in Show: Our Top Pick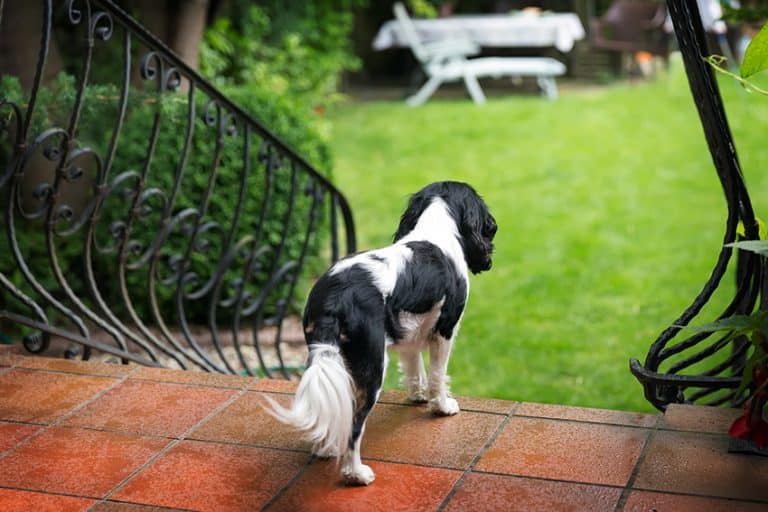 After evaluating the above products and checking against our criteria of dog safety and usefulness, we select
Pet's Pick Cedar Bedding
as our best mulch for dogs.
This product is all-natural and made from shaved Eastern Red Cedar. It's kiln-dried to help minimize dust. Pet's Pick offers odor control and insect repelling properties. Best of all, it's dog-safe.