Because of their reported anti-inflammatory, pain-relieving, anti-anxiety, and other properties, CBD oil products are gaining popularity as natural remedies for humans.
What about our furbabies? Can hemp oil help aging dogs with arthritis or pups that struggle with anxiety? If these products had been around when I was in small animal practice, they would have been a useful option for clients interested in a natural and holistic approach to their pooch's care.
In this review, we'll examine hemp oil for dogs: what it is and how it might benefit your special pal. We'll talk about the difference between CBD oil and phytocannabinoids like hemp oil and what you need to know when selecting a product for your furbaby. Then we'll look at Tree of Life Seeds Hemp Oil products and why you can trust them.
Ready? Let's dive in.
Tree of Life Seeds CBD Pet Products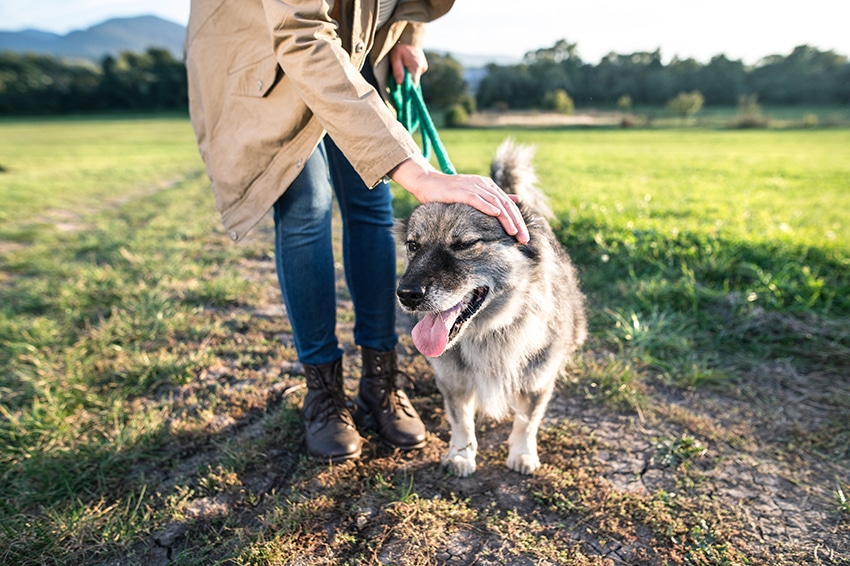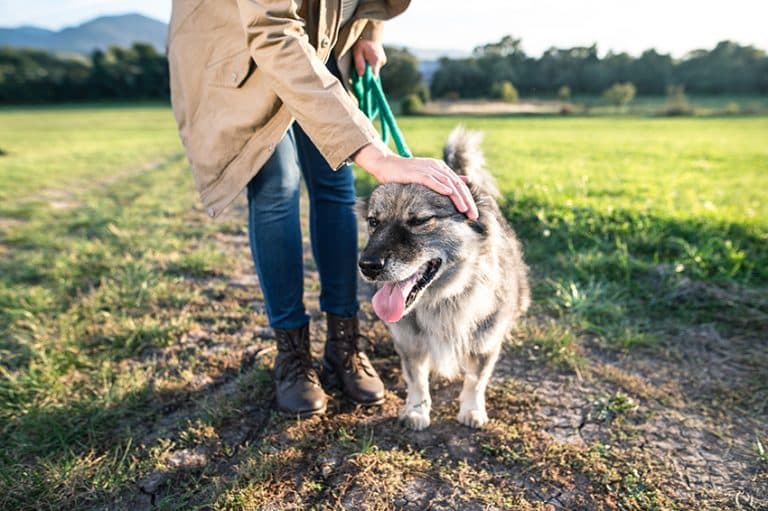 Based in Little Rock, AR, Tree of Life Seeds is an industry leader in premium hemp genetics and CBD products. Using natural cross-breeding, the company developed Cherry Wine, their flagship hemp plant.  This hybrid produces as much as 25% CBD with virtually undetectable traces of THC. As a result, Tree of Life Seeds is able to produce THC-free products using domestic non-GMO hemp that's responsibly-grown. With a commitment to honesty, integrity, and stewardship, the team at Tree of Life Seeds strives to help the Hemp Industry reach full potential in US agriculture.
To confirm that the materials are free of heavy metals, pesticides, toxins, or solvents, they undergo testing at a 3rd-party lab. The CBD products themselves are made using all-natural, full-spectrum, PCR oil. Then the oil is nano emulsified to render 3-5 times better absorption than other brands.
These claims have not been evaluated or confirmed by the FDA. Therefore, the products are not intended to treat, prevent, or cure any disease.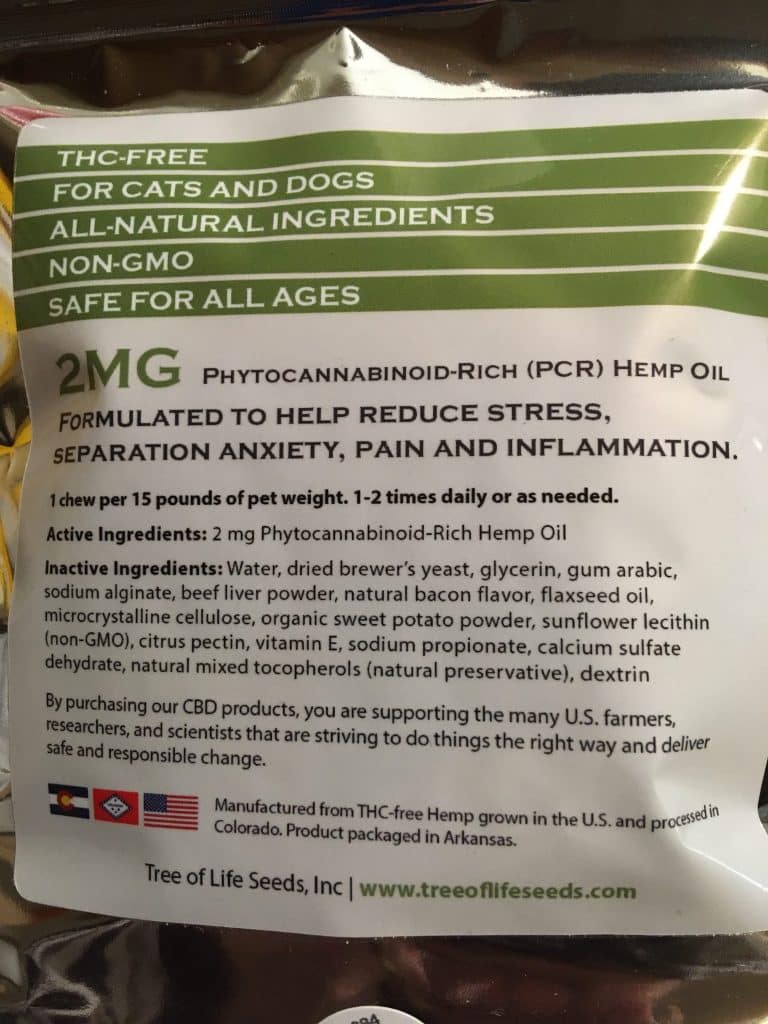 Tree Of Life Seeds CBD Oil Pet Chews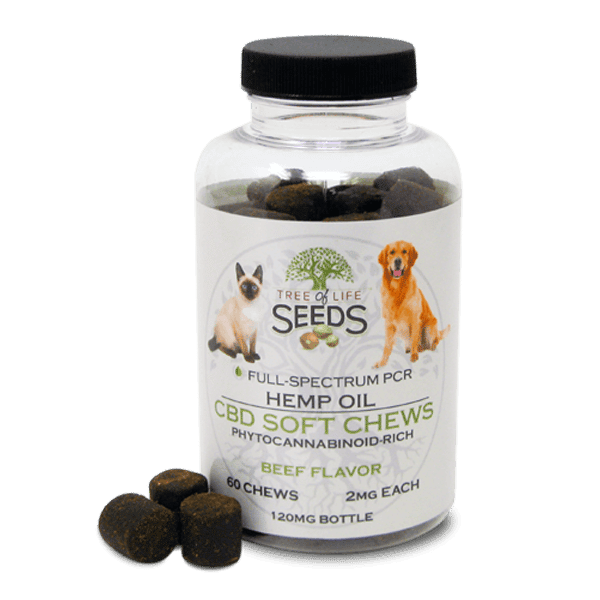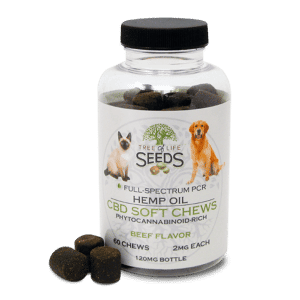 Tree of Life Seeds pet chews
are veterinary formulated treats made for dogs and cats. Each tasty tidbit has 2 mg of broad-spectrum CBD oil. The morsels are beef-flavored, formulated using nano-emulsion technology, and easy to digest. There's no THC in the all-natural, non-GMO hemp products. There are 60 chews in a bottle.
Give 1 chew per 15 pounds body weight. 1-2 times per day or as needed
As with any supplements, consult with your veterinarian before giving this product to your pooch. They know important health details about your furry friend and can provide direction. Remember to start slow when introducing the chews.
Tree Of Life Seeds CBD Oil Pet Drops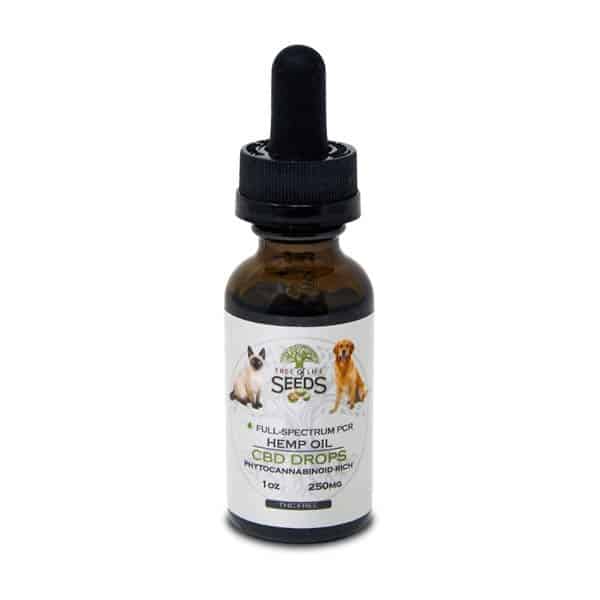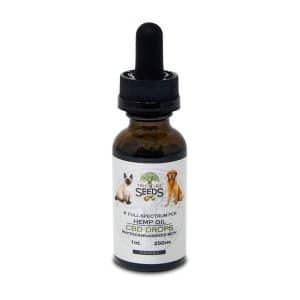 Made with broad-spectrum CBD, this
pet product
offers a rich profile of cannabinoids and terpenes. The oil comes from non-GMO hemp and other all-natural ingredients that are sourced in the US. This product is nano-emulsified to provide better bioavailability and absorption. You can give the oil to your furbaby by dropping it in the food or administering it under the tongue. A one-ounce bottle contains about 25 droppers full.
Recommended starting dosage, based on weight is:
After consulting with your furry friend's doctor, start slow with the product. Take time to observe how your pooch responds to the oil and adjust dosing accordingly. Always communicate changes with your veterinarian.
Tree of Life Seeds carries CBD pet products that are veterinary formulated, and they only use the highest quality, broad-spectrum oil. Both the pet drops and the pet chews include their PCR hemp oil in the formula. With two product options, you can choose the best option for your special pal to help him experience the benefits of Full-spectrum CBD oil. Company
CEO Jason Martin explains
, "Right now, we're the top-five hemp seed producer in the U.S. – we're a top-five biomass producer in this industry." By using a natural cross-breeding process, Tree of Life Seeds developed a hybrid seed that allows for higher yield and better outdoor grows. This approach provides the most value to the company and its customers
While most studies concerning the benefits and potential side effects of CBD have involved rats or humans, there are many commonalities between people and their pets. Because this is true, the potential risks or side-effects of this product are likely to be similar between dogs and their owners.
Fortunately for both man and animal, when you're dealing with CBD oil that's free of THC, like the Tree of Life Seeds products, there are very few side effects. However, if you administer too much, you may notice:
The jury is still out on potential risks. More research is needed to understand the effects of hemp oil products. Currently, the U.S. Food and Drug Administration
(FDA) has not approved
the use of CBD in dogs or people, and they have not developed dosing guidelines.
There are no hard and fast answers to this question. You won't always see immediate results. The time it takes to see changes will vary depending on:
The condition you're trying to impact in your pooch. For example, you may see reduced anxiety in 30-60 minutes, but it could take 2-4 weeks to see noticeable improvements in chronic joint pain.
The method of administration – sublingual or oral
The dosage
Your dog
There are no guidelines from the FDA, so you should follow the producer's recommendations. Tree of Life Seeds lists their dosage instructions on the product label.
What are Phytocannabinoids?
Cannabinoids are chemical compounds that occur naturally in animals and cannabis plants. Those found in plants are known as phytocannabinoids. There are over 80 naturally occurring phytocannabinoid compounds in the hemp plant. They're formed by removing carbon dioxide from the carboxylic acids found in the plant's resin. Two of these compounds that are better known are the psychoactive chemical Tetrahydrocannabinol (THC) and non-psychoactive cannabidiol (CBD).
What Does PCR Hemp (full spectrum) Oil Mean?
Full-spectrum PCR Hemp oil is phytocannabinoid-rich oil. That means that the oil contains more compounds than traditional CBD oil isolate. It undergoes a different manufacturing process that results in a higher concentration of naturally occurring fatty acids, flavonoids, terpenes, and vitamins. PCR Hemp Oil contains trace to no amounts of THC and is not psychoactive.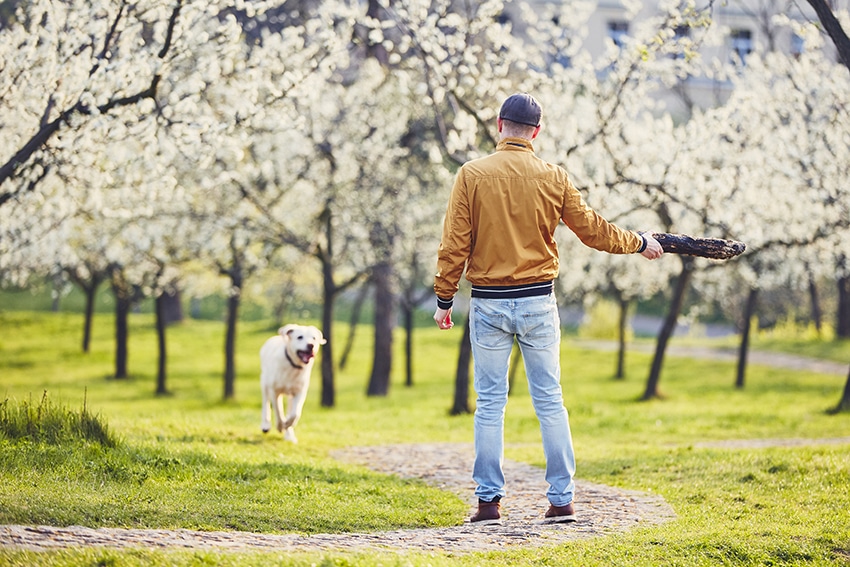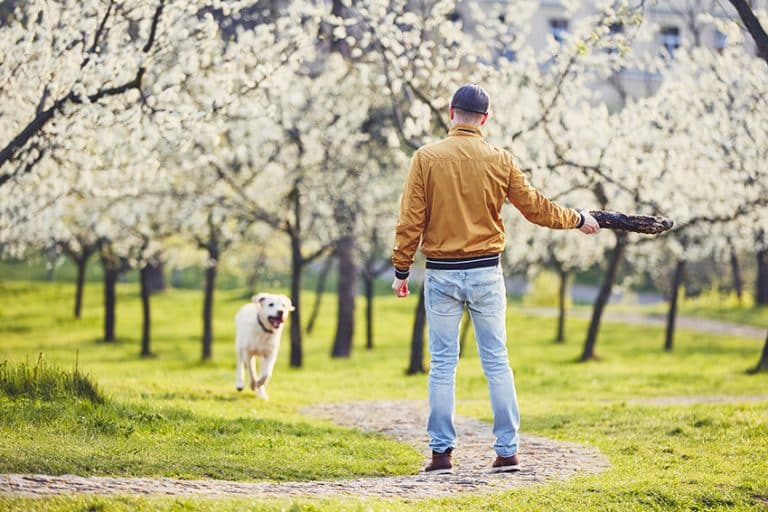 Scientific studies on the effects of phytocannabinoids in the body reveal a number of potential benefits. While further research is needed before we can make conclusive health claims, the results are promising:
May reduce severity and number of seizures or convulsions –
When researchers gave rodents the phytocannabinoid CBD and then induced seizures, they observed a
significant reduction
in the number of animals that had severe convulsions.
May exert anti-inflammatory effects
– In several studies, CBD and other phytocannabinoids demonstrated anti-inflammatory activity in lab animals.
Among the positive effects
that researchers noticed were:
reduced arthritic pain and swelling
neuropathic pain relief
relief from fibromyalgia
May help pups and their owners deal with anxiety and PTSD from the 4th of July Holiday – Based on the anecdotal reports regarding the anti-anxiety effects of CBD, Tree of Life Seeds recommends using a quality full-spectrum PCR product to get the maximum effect. The company suggests starting the product a few days before the fireworks. This allows time to build up a loading dose in your pal's system and gives you a chance to see how they respond to the product.
What is Hemp Oil, and How Does it Differ From CBD?
Marijuana and Hemp are two different varieties of the Cannabis plant species. While the former has high levels of THC, the hemp plant must have less than 0.3% of this psychoactive compound by law. These trace amounts are not enough to produce a "high" sensation.
Hemp plants also have at least 12-18% CBD.  CBD oil for dogs products come from the hemp plant, but they often go through an extraction procedure to leave nothing but pure CBD. Hemp oil, on the other hand, is a whole-plant extract that includes other beneficial compounds from the hemp plant.
Comparing Phytocannabinoids and Cannabinoids
Cannabinoids (sometimes called endocannabinoids) are naturally occurring chemicals in mammals that help to regulate a variety of functions in the body including mood, sleep, injury response, and appetite. There are cannabinoid receptors throughout our and our pups' body systems where these compounds exert their effects.
Phytocannabinoids are chemicals found in the hemp plant that closely resemble the cannabinoids found in animals. When the plant compounds go through a heat process, they convert from cannabinoid acids to chemicals like CBD and THC.  These products can interact with the receptors in our bodies to produce a range of effects.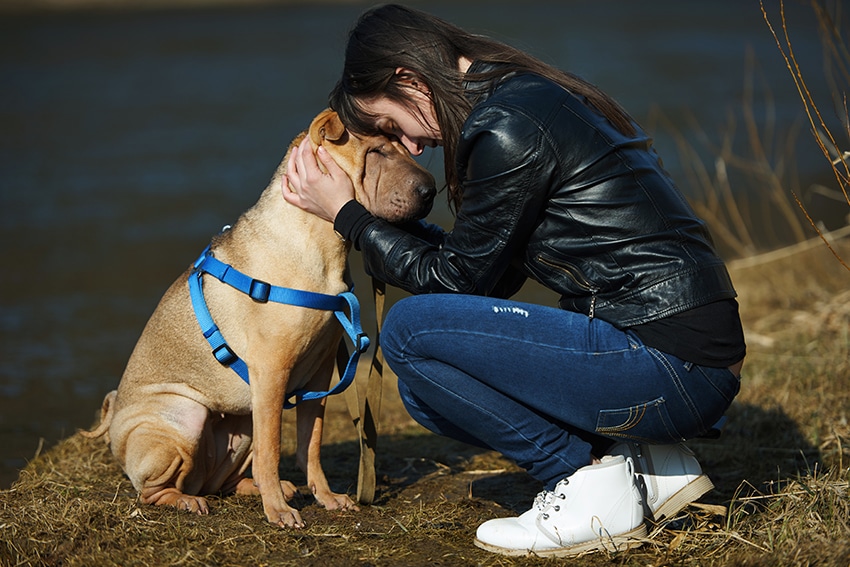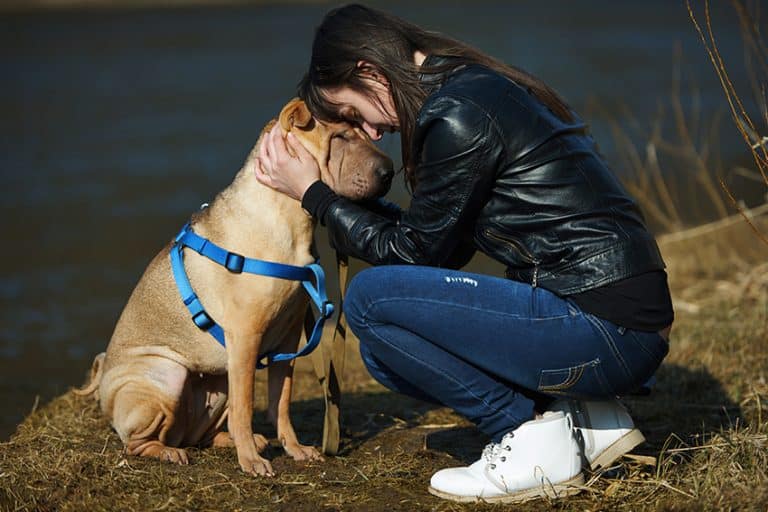 Never Purchase a CBD Oil for Your Dog Without Looking at the Certificate of Analysis (COA): There are lots of CBD oils on the market, and some are better than others. You want a product that has a COA from a third-party laboratory. This certificate shows that the product was tested and provides evidence that claims on the company's label are accurate.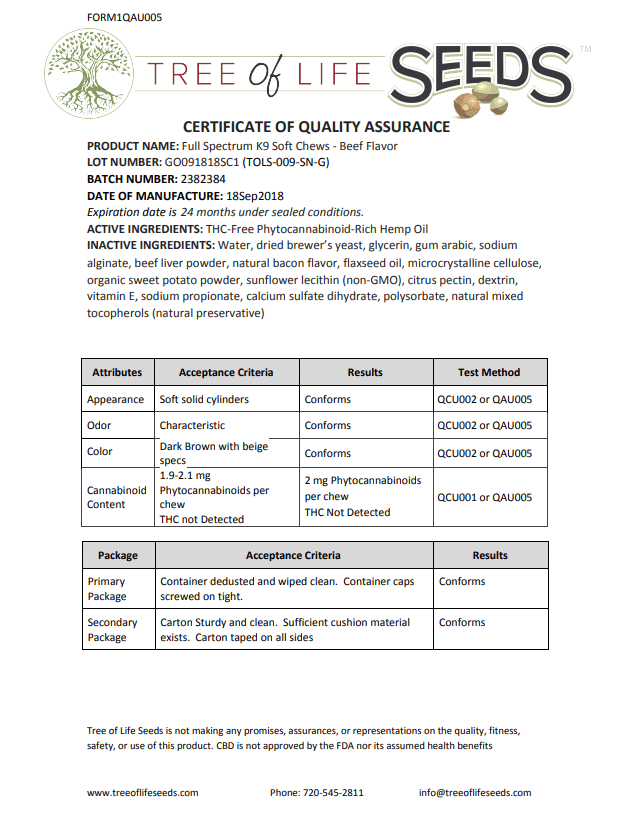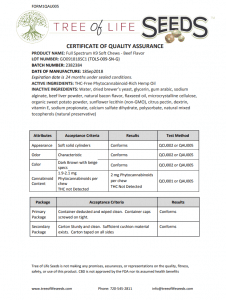 Go for a full-spectrum product over a CBD isolate: There's so much more in the hemp plant than CBD. When you choose a full-spectrum product, you'll get other phytocannabinoids, fatty acids, terpenes, and vitamins that can benefit your pooch.
Choose "Nano-Sized Microemulsion" CBD: Nano-sized microemulsions or nanoemulsions are products that undergo a process to combine two different liquids that usually won't mix. This allows for maximum absorption of the oil.
Choose a Product That is THC-free: THC is the psychoactive chemical found in Cannabis. By choosing a certified THC-free product, you are protecting your pal and staying within the legal federal limits (less than 0.3%).
Only Purchase an Organic Hemp Product: Organic products support the environment and can be safer for your pal. These farmers do not use synthetic pesticides or other chemicals on their plants, and that means there's less risk of having harmful residues on the hemp or in the oil.
Beware of Products Labelled as Only "Hemp Oil": If a product bears the label "Hemp Oil" but does not claim to have CBD, it may be made from hemp seed. The oil derived from the seeds contains trace to no amounts of CBD or other cannabinoids. This type of oil is good in cooking and beauty treatments but may not have much therapeutic benefit.
Choose Full-Spectrum Instead of CBD Isolate: The isolate is refined to contain only CBD. While this is a desirable product, there are other compounds in the hemp plant that can be beneficial. A full-spectrum CBD oil includes other beneficial chemicals from the plant that may offer additional health and nutritional support.
Read Reviews: Customer reviews of the product can provide useful information. How did the product work on other animals? Did dogs like it? Were there undesirable side effects or results that other pets experienced?
Learn More About the Company Selling the Products: You want to know about the company's product sourcing. Do they have their own farm or get their raw materials from a consistent farming partner? Having a single source helps to ensure greater product consistency.
Final Thoughts About Tree of Life Seeds Pet Products
The bottom line is that CBD products for dogs whether in
chew or oil form
, have some anecdotal reports of helping with issues such as anxiety, convulsions, and chronic pain. However, there haven't been enough peer-reviewed studies to substantiate the claims. That's why your best bet is to consult with your veterinarian about your furbaby's condition and follow the doctor's advice.