A dog bike basket for riding with your favorite fur-baby gives you a more personal experience on the road. Instead of just sitting in a car and driving around, you have your best friend in front of you, enjoying the enrichment of wind in his hair just as much as you.
To get started, first we are going to share with you our winners!
Top 8 Dog Bike Baskets Review
This fabric doggy bike basket is made of durable microfiber. It attaches to the bicycle handlebars with 2 clasps and straps, making it versatile for many bikes. The bottom of the basket features a brace bar that supports the weight of your dog while resting against the main tube of the bicycle for more support and steadiness. This basket can support up to 14 pounds.
The buckles are spaced 10 inches apart and are 1 inch thick. The bottom support bar will rest on your bicycle 10 inches below the buckles. Make sure all brake cables are free when installing the basket so as to avoid any accidents.
Accessories included with this basket are a rain cover, a safety strap for your dog's harness, and carrying handles. The Snoozer basket also features 3 pockets for storing treats, toys, sunglasses, leashes, or whatever else you might need on your journey.
For storage when you're not using it, the basket folds flat and won't take up much space in your home.
For easy cleanup, the inner pad is removable in case your pup has dirty paws or has a bathroom accident. A simple wipe clean and you're good to go!
What we like:
Go from biking to carrying your pup with easy removal of the basket and carrying handles.
Hide from sudden rain showers with an easy-on rain cover that allows your pup to peep his head out of the basket.
Carry a pup that weighs up to 14 pounds.
Versatile storage pockets on the outside of the bike to carry all your treats, leashes, sunglasses, cell phone, and whatnot while you ride.
Clean up is easy with the smooth microfiber that feels dirt-resistant.

What we don't like:
There are 2 straps across the top of the basket. Their purpose is to prevent the basket from sagging under your dog's weight. At first, it seemed like those straps would scrape a dog's neck if he leans on them but we found that if you train your dog to sit in the middle, he will be fine.
This wicker basket is lined with faux-sheep skin and looks reminiscent of an adorable hot air balloon basket! We love it just for being cute. Besides its looks, the PetSafe basket carries up to 13 pounds of puppy weight with its weather-resistant resin wicker. Its dimensions are 15" x 11" x 9.5".
The faux-sheep skin liner gives your pup a comfortable surface to sit on while riding around. The sturdy wicker basket is breathable so your pup doesn't overheat during summer bike rides.
We love the safety feature of this basket. The leash attachment prevents your pup from jumping out at the sight of a squirrel or bunny. It also keeps him secure in the unfortunate case of an accident. He won't go flying across the road and get hurt even more.
Who doesn't love washable materials? We were so happy to learn that the faux-sheep skin liner is easily removable and machine washable. So simple! Dirty puppy paws? Crumbs from doggy treats? Just wash it away!
Lastly, as for the safety of your pet in a PetSafe product…. PetSafe has been a leading U.S. manufacturer of pet behavior, containment, and lifestyle products since 1991. We often talk about PetSafe products. We love how durable and reliable all of their products are. So, you will know your pup is safe in one of their bike baskets.
What we like:
Adorable wicker basket looks like a hot air balloon basket. So cute!
Faux-sheep skin liner is comfortable, soft, and washable!
Wicker roof protects pup from rain and sun.
Adjustable leash strap keeps your pup secure and safe.
Holds a puppy up to 13 pounds.
You can purchase a wire cage that fits under the wicker roof for added security. Your fur-baby will still get the wind in his fur without worrying about him falling out or jumping out.
Easy installation.
PetSafe is a reliable brand.

What we don't like:
The basket seemed a little unstable when we first put it on our bike. But the basket comes with 2 smaller straps that are supposed to attach to your dog's harness. We used the small straps to secure the basket to the handlebars and it worked like a charm! That's not exactly their intended purpose but it fixed the problem without any extra cost!
As a rear bicycle seat, the Snoozer Pet Rider can hold a pup that weighs up to 24 pounds. The internal dimensions measure 15" x 12". The base of the basket is foam formed and reinforced with plywood. Your pup will be comfortable on his bike ride while you have peace of mind that he's secure.
The inside of the basket features a 3-point safety strap system to secure your pup. And for additional safety, the basket features a reflective strip for higher visibility in low-light conditions.
When it comes to clean up, the liner of the basket is removable and machine washable, which we love. However, removing the liner does involve some disassembly of straps inside the basket. We felt it was a minor inconvenience but worth the extra work for the convenience of the washable liner.
What we like:
It's a bigger basket so it can hold a heavier dog, which is great for those of us without toy breeds. All puppies deserve to go for a bike ride!
The basket simply straps to a rear bike rack on the bicycle, which is super simple. Just make sure your bike is equipped to hold a rear bike rack.
The foam lining keeps your pup comfortable.
The plywood reinforcement offers greater stability while riding.
The 3-point safety strap system keeps your dog securely in the basket.
The liner of the basket is removable and machine washable.

What we don't like:
It felt like there should be one extra safety strap. With the way the basket is set up with the 3-point safety harness, the dog is still able to jump off the back of the basket. If you add one extra harness to prevent that, you're good to go.
The PetSafe Solvit Tagalong basket doubles as a carrier bag, as well. The basket measures 16" x 12" x 11" and features an adjustable, removable shoulder strap for carrying. It can hold a doggy up to 13 pounds.
For safety and peace of mind, the basket has an adjustable safety leash to secure your dog and prevent jumping or falling.
The basket attaches to the bicycle with a unique bracket system that makes for easy on and off. The brackets adjust in 3 ways for an ideal fit on any bicycle without pinching the brake cables.
The PetSafe Solvit Tagalong comes with an adorable roof to keep the sun and rain off your puppy's head. And for your convenience, the basket features 3 storage pockets for treats, leashes, cell phones, sunglasses, doggy bags, or whatever else you need on a bike ride. There's even a mesh pocket for your water bottle!
What we like:
It doubles as a basket and a carry bag with an adjustable, removable shoulder strap.
It has an adjustable safety leash to secure your pup while riding the bike. No jumping or falling!
It attaches to any bicycle with a unique bracket system that adjusts in 3 places for an ideal fit without restricting the brake cables.
Weather roof to prevent your dog from overheating in the sun or getting soaked in the rain.
Storage pockets for all your necessities, including a mesh water bottle pocket.

What we don't like:
We were concerned with how securely the basket attached to our bike. It's not a major defect, but to be sure the basket wouldn't bounce around too much, we secured it with zip ties. Problem solved!
The Petsfit Safety Dog Bike Basket is an adorable doggy bike basket made of weather-resistant cloth and reflective detail for added visibility during evening rides. It holds up to 10 pounds of weight and measures 16" W x 13" D x 9" H.
It's one of our favorite doggy bike baskets because it has all the necessary safety features. A safety leash and drawstring mesh top prevent jumping or falling out of the basket while in motion. The mesh top allows airflow so the fur-baby doesn't overheat in warm weather but blocks the water in the event of a rain shower. The solid bottom prevents your pup from sliding or sinking. No metal brace needed!
We also love that the basket quickly disconnects from the bike and becomes a carry bag with a shoulder strap in mere seconds. Your pup can be with you all the time!
Inside the basket, the double-use mat has a plush side to keep your pup warm in winter and a nylon side to keep your pup cool in summer. It's also removable for easy cleaning! How great is that? Just wipe clean and you're good to go.
And of course, the dual-use basket has pockets on 3 sides for storing treats, toys, leashes, sunglass, cell phones, and everything else.
What we like:
It's made of soft material to keep you pup comfy during short and long bike rides.
It has a reflective strip for visibility and safety.
It has a safety leash and drawstring top that provides airflow but blocks the rain.
Dual-purpose mat in the basket is perfect for both winter and summer. And it cleans up easily.
It dismounts easily from the bike and becomes a carry bag with a shoulder strap.
It has outside pockets for storage of all your goodies.
It folds flat for easy storage when you're not using it.

What we don't like:
It holds up to 10 pounds of weight, which is great for toy breeds. However, since there is no brace bar a slightly bigger pooch made the basket sag too much for our liking.
We were worried about the safety leash being too long. It seemed like if a dog were to jump or fall out, it might hang from the safety leash. We made a simple fix of stitching the safety leash so it's shorter and we feel much better about the issue.
Here's another rear bike basket! This one looks like a cute little laundry basket with a roof. It holds up to 12 pounds and measures 11" x 14" x 14". The holes in the basket and the mesh roof offer incredible ventilation for your pup. The most of all the baskets on this list!
The mesh roof zippers for quick access to your pup. It removes entirely if you'd rather ride without it. Inside the basket is a padded mat to keep your pup comfy on short or long bike rides.
A spring-loaded quick-release mechanism makes for simple installation and removable of the basket on your rear bike rack. There's also a safety tether for added security and stability.
Just like the other rear bike rack basket, you need to purchase bike rack separately. One does not come with the basket, but the basket is fairly universal on bike racks.
If you're not comfortable with handlebar doggy baskets, the rear bike basket won't distort your steering due to the weight of a dog. Even a few pounds can change your balance, especially if your pup moves from one side of the basket to the other.
What we like:
Major ventilation! Great for summer bike rides in warm weather! Our test pups loved the wind in their ears and all the smells to sniff.
Mesh roof prevented pups from jumping out at the sight of a squirrel, bunny rabbit, or other critter. It also removes pretty easily if you'd rather not use it. (It's held on by elastic bands.)
The spring-loaded quick-release mechanism is pretty simple to attach it to the bike. We love quick and easy!
Compared to handlebar baskets, the rear rack basket doesn't mess with your steering abilities due to the weight of the dog.

What we don't like:
There's no internal safety leash. However, we remedied this easily by weaving a leash through the holes of the basket and attaching that to our pup's harness.
Purchasing a rear bike rack separately can be a pain, but it's worth the effort to give your pup a ride!
This multi-use bike basket doubles as a shoulder bag for your pup so he can hang out with you all the time. It holds up to 10 pounds and has a comfortable inner pad with front air vents and plenty of space to relax and lay down.
The ALL FOR PAWS Delux installs easily to the handlebars with a set of adjustable straps and buckles. We tested a few different handlebars and it fit everyone.
In the 2 in 1 design, the 45" should strap also doubles as a leash if needed. There are also 2 sturdy bands for carrying the bag in your hand.
On the outside of the basket is a reflective band for higher visibility. There are also 3 zippered pockets on the sides for ample storage. We were able to fit a leash, doody bags, and a handful of treats with room to spare in the pockets.
And if you need to clean up any messes in the basket, the inner pad removes easily and wipes clean in moments.
What we like:
The basket doubles as a carry bag for your shoulder or in your hands. The shoulder strap also doubles as a leash in a pinch.
The inner pad is comfortable and removable for easy cleaning. While it may not be machine washable, simply wiping the pad clean seemed pretty easy for us.
Front vents keep your dog cool and comfortable in warm weather. Dogs overheat faster than humans so vents are important.
Adjustable straps and buckles allow for easy installation on nearly any bicycle handlebar.
The reflective detail keeps you and your pup safe in low light conditions.
3 zippered pockets let you store as much as you want on longer bike rides.

What we don't like:
The basket only holds 10 pounds, so slightly bigger pups would cause the basket to sag.
The Pet Lovingly Pet Carrier is a cute 2-in-1 basket/bag duo that holds up to 10 pounds. The drawstring mesh opening keeps your pup safe and secures while also preventing rain from making him all wet and smelly.
Inside the basket, a plush inner pad is soft and machine washable. Yay!
The shoulder strap has a movable pad to keep you comfortable as you carry your pup. Perhaps you're running errands? No problem. Going to lunch? He can go with.
Multiple storage pockets make this a great basket, like a few of the other baskets. What pup doesn't love a constant supply of treats? Store them in the basket!
What we like:
2-in-1 design lets you take the basket for a ride and then for a walk. The padded shoulder strap lets you walk with your pup without getting a sore shoulder.
Mesh top with adjustable drawstring keeps your pup safe and dry while riding or while in the rain.
The plush inner liner is soft and machine washable.
Storage pockets to bring treats, a leash, sunglasses, a cell phone, or waste bags when you need them.

What we don't like:
The bottom of the basket was soft for the well-being of the dog but isn't as stable as we had hoped.
Which types of dog bike baskets are available?
We'll talk about 5 different types of doggy bike baskets and help you decide which
Some bike baskets come with a feature that lets you attach your dog to the basket. We love this feature for any adventurous pups out there who might try to jump out of the basket after seeing a squirrel, another dog, a cat, you name it…
Another way to prevent your pup from jumping out of the basket is to use a dome basket or mesh-top basket that zips up.
If you're taking your pup on a long bike ride, you may want to bring a few supplies such as a water bottle, treats, a leash, or a couple of toys. While it's easy enough to store those items in your backpack, you may want to keep them closer to your pup in a basket that features pockets. It may not seem necessary to you but we found pockets to be a simple bonus to the average doggy bike basket.
Some doggy bike baskets are designed for the front of the bicycle, at the handlebars. Other bike baskets are designed for the back rack of the bike. Meanwhile, other baskets can be used in either position. This is just something to think about with your dog's temperament and comfort in a bicycle basket. It's easier to monitor your dog if he rides at your handlebars, but that position is only suitable for very small dogs.
Some doggy bicycle baskets double as a car seat, portable carrier, or doggy bed. If that type of basket appeals to you, search for the multi-functionality. Personally, I love this type of basket for people with small houses who don't need a separate basket, car seat, carrier, and bed taking up a ton of space in the house or apartment.
Typically, a doggy bike basket can only handle a dog that weighs less than 20 pounds. That doesn't mean bigger dogs have to miss out on biking adventures! Bigger breeds can ride in a bicycle trailer pulled behind the bike.
Your dog should be fairly relaxed. An anxious dog won't enjoy the ride and may try harder to jump out of the basket. Your dog may be nervous and unsure the first time you put him in the basket, but he should calm down after he gets used to riding. If he doesn't calm down after a few bike rides, he may not be suited to ride in a bicycle basket.
Be patient with your pup! When you bring the basket home, set it on your floor at home and let him sniff it and get acquainted. Place him in the basket and see if he's comfortable just sitting there. If he's content, that's a good sign he'll enjoy a bike ride.
Position: If your dog is less than 20 pounds, you should be able to use a front handlebar basket as long as it's built for your dog's weight. If your dog weighs more than 20 pounds, you could be able to use a back rack basket. If your dog is less than 20 pounds, he can also ride in a back rack basket if that's what you prefer.
Material: Materials like heavy-duty nylon will hold up against normal wear and tear like doggy claws and the possible rainstorm. Wooden or wicker baskets lined with nylon can be both stylish and functional.
Size/Weight Limit: We cannot stress how important it is to pay attention to the weight limit of a doggy bike basket. Even if your dog is below the weight limit by 1 or 2 pounds, we recommend getting a heftier basket just in case your pooch gains a couple pounds over time.
Storage: You may want to take the basket off your bike once in a while. So, you probably don't want a bulky contraption taking up space in your closet. Some baskets are small and store easily while other baskets double as doggy beds. How convenient!
Safety Features: Many doggy bike baskets feature straps, buckles, or mesh lids that prevent your dog from jumping or falling out of the basket. This is another feature we highly recommend shopping for. If your pup sees a squirrel, he may want to charge for it. If an accident occurs, you don't want your pup flying out of the basket. Safety features could save your dog's life! Keep in mind, however, that if you use a safety strap in your basket, attach it to a harness and not your dog's collar. If he would happen to jump or fall, hanging by his collar could injure or choke him. A harness is much safer.
Protection Roof/Rain Cover: You're probably going to get caught in the occasional rainstorm. It's bound to happen. So, you're going to want a rain cover or protective roof so you don't have that wet dog smell blowing into your face while you're riding.
First: how heavy is your dog? Doggy bike baskets have strict weight limits. Even if your doggy is 1 or 2 pounds below the weight limit, you may want to buy a bigger basket with a higher weight limit. Just in case your pup gains a couple pounds over time, you don't want to compromise the durability of the basket.
Second: if your dog is too big for a basket, whether it's a front-loading handlebar basket or a rear-loading back rack basket, you could opt for a doggy cart that attaches to the back of the bicycle. With 2 wheels of his own, your dog can weigh more without being unsafe.
And third: is your dog comfortable being in a bike basket? Even if you have a Teacup Yorkie who is small enough to ride around in probably any basket, he might not feel safe or comfortable in a basket. He might be too scared. In that case, don't force your pup to do something he's not comfortable doing. A bicycle basket just isn't in the cards for your fur-baby.
When could I use a doggy bike basket?
If your pup enjoys riding around in a bike basket, you definitely have a number of great opportunities to bond.
It would make a "Pawesome" Instagram photo!
If you're lucky enough to not only take your dog to work every day but have the convenience of riding your bike to work.
It's simply an enjoyable time together, having fun with your fur-baby while you're getting some exercise.
It's the perfect way to give some extra attention to older dogs who need constant supervision or a few more adventures before they cross the rainbow bridge.
If your dog is injured and can't walk very far but you still want him to enjoy life you can go biking together.
1. Closely follow the weight restrictions on doggy bike baskets. If the weight limit says 12 pounds, for example, don't put your 13-pound dog in there. You risk your dog falling through the basket because he's too heavy.
2. Also follow the dimensions of the basket. Measure your dog when he is sitting and lying down. Make sure he will fit comfortably in the basket so he can relax while riding around with you.
3. Obey the positioning of the basket on your bicycle. If it's built for the front handle bars, it's not safe to attach the basket to the back rack. It won't attach currently and you risk your dog falling off the bike while in motion.
4. Do some research and ensure the basket will attach securely to your particular model of bicycle. Some handlebars and back racks have different dimensions. You don't want to be inconvenienced with returning multiple baskets that don't fit your bike, right? Nor do you want to attempt to make your dog sit in an ill-fitted basket that could fall off as your ride down the road.
5. We highly suggest utilizing a harness clip to prevent your dog from jumping out of the basket. Your pup may be the best-behaved boy in the world, but you never know when he might spot a wild critter or another pooch and make a mad dash for the exit.
If my dog is only a couple pounds over the weight limit, can I still use the bike basket? We don't recommend going over the weight limit. To be safe, we recommend buying a basket with a weight limit 2 or 3 pounds over your dog's weight. That will ensure the stability, safety, and durability of your dog and the basket.
Which is better? Handlebar baskets or rear bike rack baskets?  It depends on your dog's weight and your comfort steering with his weight shifting. Extra weight on your handlebars can mess up your steering and balance. If you're not so steady we recommend a rear bike rack basket.
How do I get my dog comfortable with a bike basket? Place the basket on your floor at home and place your puppy in it. Give him treats and praise him for being in the basket. When he's comfortable with this, put him in the basket on the bike. Walk the bike so your dog gets the sensation of movement while in the basket. Again, give praise and treats. When he's comfortable with that, try riding the bike with your dog in the basket. Don't rush your dog. Let him take his time in getting comfortable!
Do the rear bike rack baskets come with a bike rack? Not always. It's best to buy a rack separately and making sure it fits your bike. Rear baskets are pretty universal and should fit your new rack.
Should a handlebar basket have a supportive brace? It should if your dog is heavier – around 10 pounds or more. If you have a 3-pound pooch, you may not need the extra support.
Can I put multiple dogs in my bike basket? Sure! But only if their combined weight doesn't exceed the weight limit of the basket.
Thanks for reading about our favorite bike baskets for dogs! We hope you found what you are looking for. Our Top pick for the best dog bike basket is the Snoozer Sporty Bike Basket. It's versatile, functional, and looks cute on pretty much any bike. And you can buy it for an affordable price! It was also easy to clean when muddy paws left some dirt behind while riding through the park and walking on some trails. In a light rain, it proved to hold up against that wet dog smell with the drawstring opening. Our pup was able to look around and stay dry at the same time.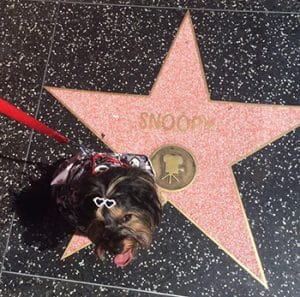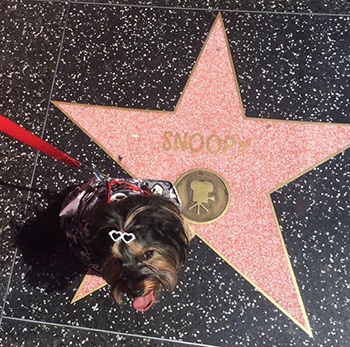 One request from Speedy
Kelly put so much effort writing this blog post to provide value to the dog parent community. It'll be very helpful for me, if you consider sharing it on social media networks.
SHARING IS ♥️