If you have a motorcycle and you have a dog, you know these two things go together so you need a safe way to carry your pooch on your bike.
One of the major safety issues to consider is that traveling is much less stressful when you know your fur baby is safe as well as comfy as you two see the world together.
After evaluating more than 30 motorcycle dog carriers, I chose the "Pillion Pooch" as my favorite because Its safety standards and ability to hold two dogs or one up to 70 pounds. The roll cage was tested by standing a truck on top of it so it can withstand up to one ton of pressure and the harness that holds your fur buddy inside was approved for up to 240 pounds.
But I understand you might have different needs, whether you're looking for a motorcycle dog carrier for your large breed or a backpack-style carrier. That is why I prepared a shortlist of our favorite motorcycle dog carriers that address different styles & needs.
Before we dive into the review section below, we'll explain is it safe for your dog to ride on a motorcycle with you? The different types of motorcycle carriers for dogs, we'll guide you step by step on what criteria you should use to make the best selection for your needs.
So let's get started.
Is it safe for a dog to ride on a motorcycle?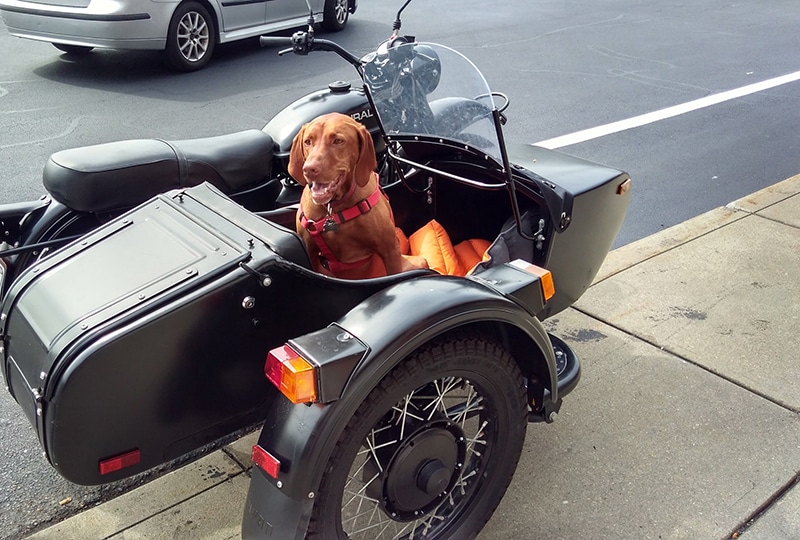 Just because it is legal, that does not make it safe so is it safe to take your dog on a motorcycle ride?
As long as you use the right kind of safety carrier and equipment, it is perfectly safe for your pup to go on the road with you.
In fact, with some of the safest carriers they have on the market, it may actually be safer for your dog than it is for you, since he is in an enclosed space and you are not! There are several ways to carry your dog on a motorcycle. We are going to talk about these below.
Do dogs like motorcycle rides?
Whether your dog likes motorcycle rides really depends on your dog. Some dogs are anxious and high-strung and may not do very well on the back of your bike. Others are ready to go as soon as they hear you start the motor. While just about any dog can be trained to enjoy riding the bike with you if you start them as a pup, some do better than others.
The types of dogs that typically do well on motorcycles are usually:
Easy to train
Very sociable
Calm
Small to medium breeds
Dog Motorcycle Carrier Types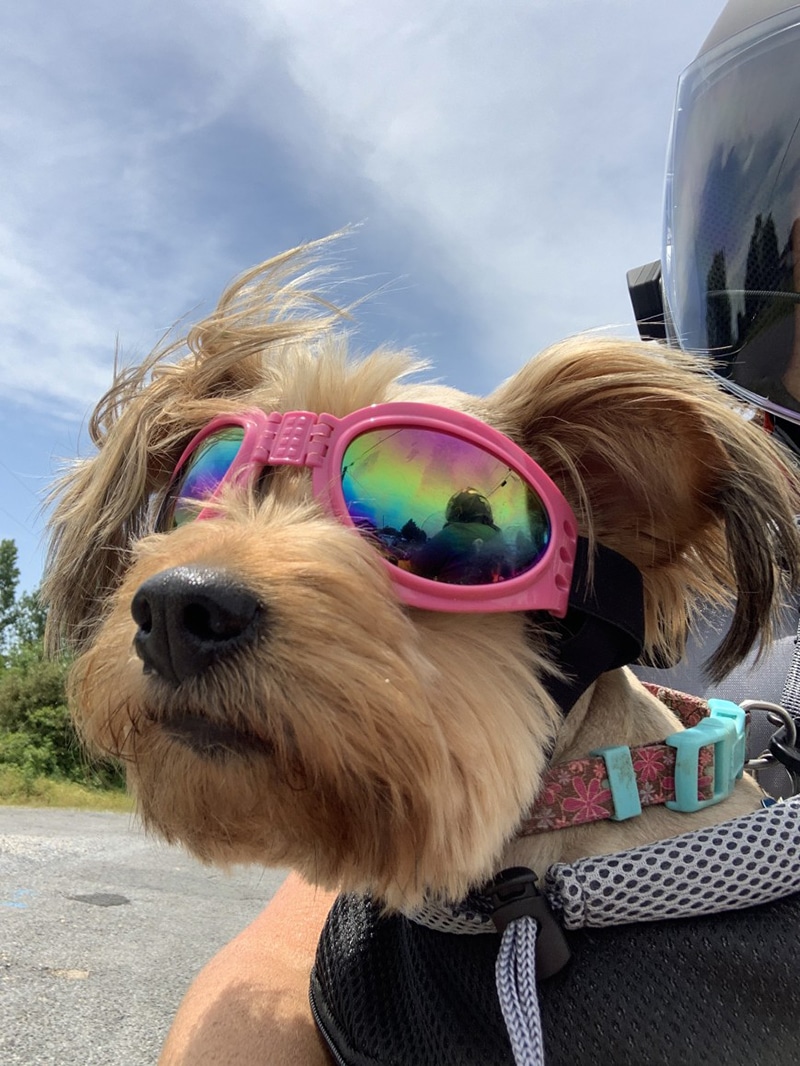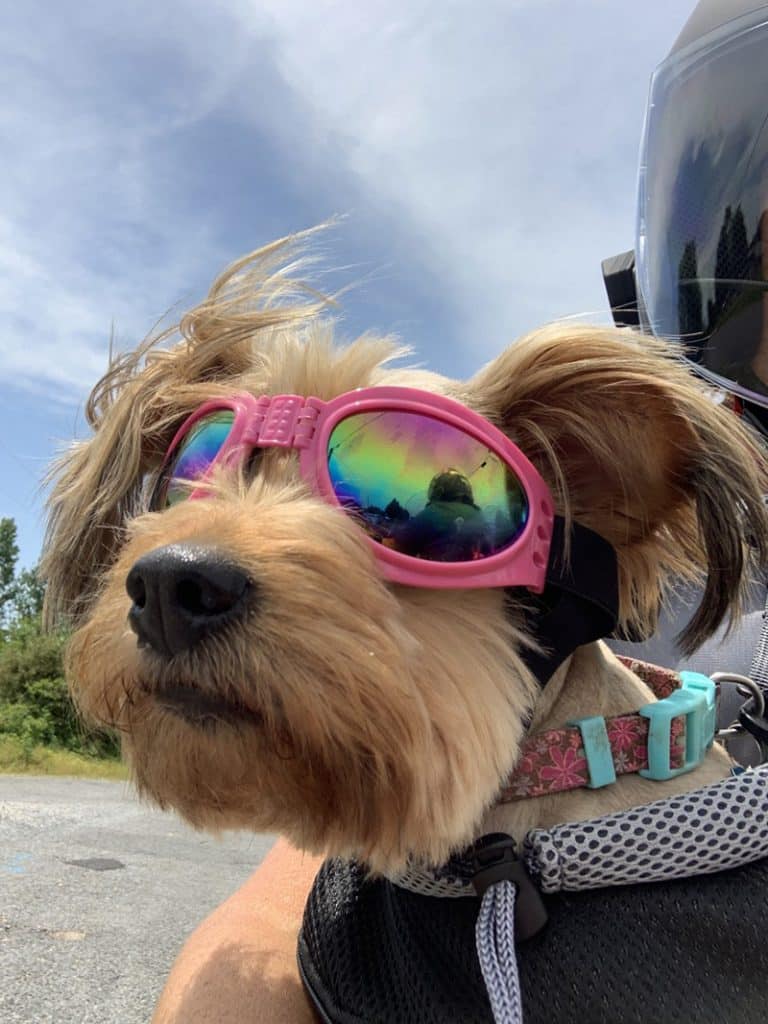 Although there are many ways in which to carry your pooch on your motorcycle, some are clearly better and safer than others. But then this can vary depending on your dog's size, temperament, and age. The main choices they have for having your dog as your passenger include a dog seat, wearable carrier, a crate carrier, backpack, or a sidecar.
Dog seat: A dog seat is like a baby car seat that is attached to the back of your motorcycle. Your dog can sit comfortably in the dog seat but it needs to have a secure and durable restraint system. Tethers that attach to a harness on your dog are best and will keep your pup restrained.
Wearable Carrier: Using a wearable carrier is also a choice but most pet parents balk at this idea because it can be uncomfortable for both of you. The carriers usually attach to your front and keep your dog secured with a harness and clip as well as straps that wrap around your body. Some think these are dangerous if your dog moves around when you are trying to drive but it may work if you have a passenger who uses it.
Crate-Style Carrier: This is the safest and most comfortable way to take your pooch on the road. As long as your dog is small enough, a carrier that attaches securely to your bike is furfect for trips. They are usually placed behind you and attached to the luggage rack. In most carriers, your dog will be comfy and have room to move around but will have a safety harness and clip to keep them from moving around too much.
Backpack: A backpack carrier is the same as a wearable carrier except it is made to go on your back rather than in front of you. These can be safer for the single rider since your pup is not in the way of your driving. However, they are not usually as safe as a crate carrier.
Sidecar: Another fantastic way to let your pooch ride with you is in a sidecar. Similar to the crate carrier, your dog would be restrained by a harness and leash system. This is a better choice for a larger dog that cannot fit into a carrier or a seat on your bike. He will have his own seat with a secure system to keep him safe as he rides.
11 Rules Of Thumb When Buying a Motorcycle Dog Carrier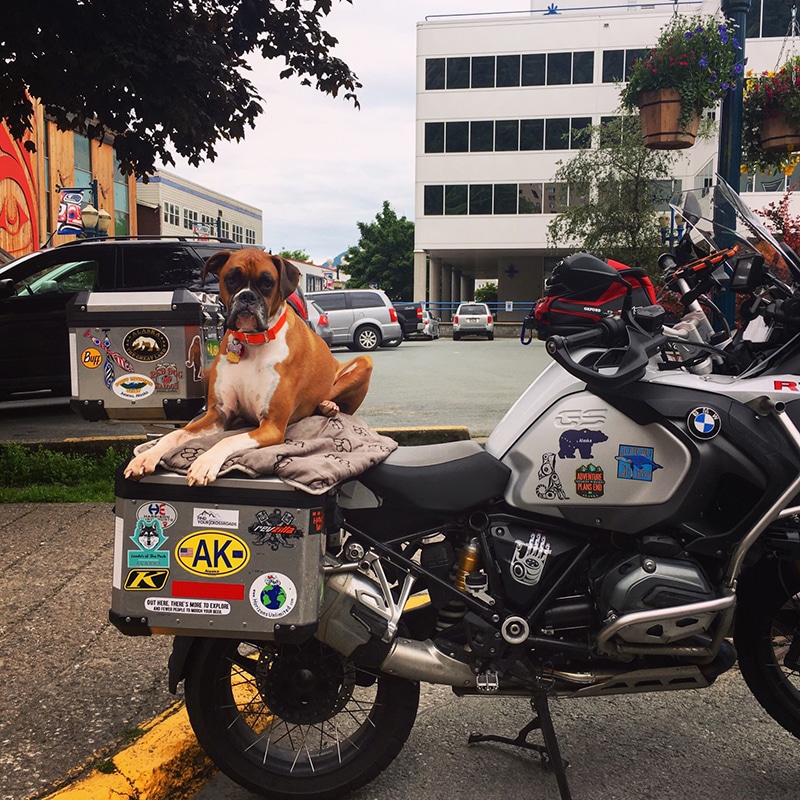 No matter what kind of pup you have or what kind of motorcycle you own, you will need to take some things into consideration when choosing a motorcycle dog carrier. For example, you will need to check the size, safety mechanisms, comfort, portability, and installation.
You should also think about your pooch's airflow and ventilation, whether it has food and water trays, and whether it is durable enough for your pup. And make sure it is weatherproof, has a warranty, and is easy to clean too.
Size: The carrier you get should be the right proportion to your dog. For example, a medium or large dog would not do well in a backpack or other body carrier but a sidecar would be great. Some crate carriers are made for dogs up to 35 to 50 pounds so that may work too.
Safety Mechanism: Regardless of the size of your dog and the type of carrier you get, the safety mechanism(s) is the most im-paw-tant part. It is best to have a double safety mechanism so that if one does fail, the other one will keep your fur baby safe.
Weather-Proof: You may not want to ride in the rain or snow but sometimes it cannot be helped so make sure your pup is going to be protected from the elements. A good carrier should not just be water-resistant, it should also have sun protection as well as plenty of air so your pup does not overheat.
Comfort: Your fur baby's comfort is also a very big deal. You do not want your best fur-iend to be uncomfortable on his ride or he is not going to want to go with you anymore. There are plenty of carriers on the market that are just as comfy as being in his own bed. Especially if you can fit his bed inside of it.
Portability: Backpack and wearable dog carriers are portable since they go wherever you do. But some of those bulky crate carriers may not be so portable. Check the instructions to find out if it is what you want before you purchase it.
Installation: Some of these carriers and dog seats are easy to install while others may require a Ph.D. or brain surgeon. Make sure you find out how easy it is to install before making that purchase.
Durability: Of course, you want anything you buy to be durable. After all, it is made to protect your best fur-iend so you want to know that he is safe. Check to see how durable it is and read the reviews.
Airflow and Ventilation: If your pooch is going to be in a wearable carrier, make sure he is able to get enough airflow while you ride. It is not possible to see what your pup is doing if you are wearing him on your back so you need to check the ventilation out before buying and using any carrier. The crate carriers are typically ventilated on three sides with a shield in the front to protect your pooch from the wind.
Trays for food and water: If you stop for food and drinks on the way, you want your fur buddy to be able to fuel up too. Having a way to give your pup food and water without unhooking and removing him is a good idea. Some crate carriers have built-in trays while others have pockets to carry them.
Ease of cleaning: Anything you buy for your pup is bound to get dirty, especially when traveling on the back of a bike for hundreds of miles. So, be sure to get one that is easy to clean. Wearable carriers are usually machine washable and crate carriers typically have a removable crate pad or bed you can toss in the w3sh.
Warranty: It is a good idea to get a warranty that is more than the typical 30-day one that is automatically offered by Amazon. If the company is not willing to stand behind its product with a good warranty, you may not want to trust your dog's safety in their product.
Made In The USA: The United States has very strict rules and regulations about anything made for pets so you know their products are safe. This is not to say that other countries do not make quality products but you know that the US has to follow the rules so they are a better option in many cases.
Accessories for Dogs On Motorcycles
Before you put your pooch in his pouch on your bike, you may want to consider some accessories for him to keep him safer on your ride. There are many kinds of motorcycle accessories for dogs like helmets, glasses, and goggles as well as some really cool jackets for your biker dog.
Dog helmet: Although a dog helmet is cute, the ones they make for your fur baby are not standard helmets that will protect their noggin if they should fall off the bike. They look great but they are not likely to help in the case of a crash. That being said, they are better than nothing and will protect your little buddy from rain, snow, and other flying debris on the road.
Dog bike glasses: Protective eyewear for pups, on the other hand, do provide some safety. Not only do they help keep his eyes protected from bugs, dirt, and rocks but they also keep his eyes from drying out. All that wind can dry out your dog's eyes quickly. Some of them also provide UV protection as well.
Motorcycle jacket: Your dog may have a fur coat but does he have a motorcycle jacket? For those chilly days on the bike or just because you want him to look cool like you, you can get a biker vest or jacket for your pup made of leather, cotton, or polyester in all shapes, sizes, and styles.
Our 2023 Top Best 7 Motorcycle Dog Carriers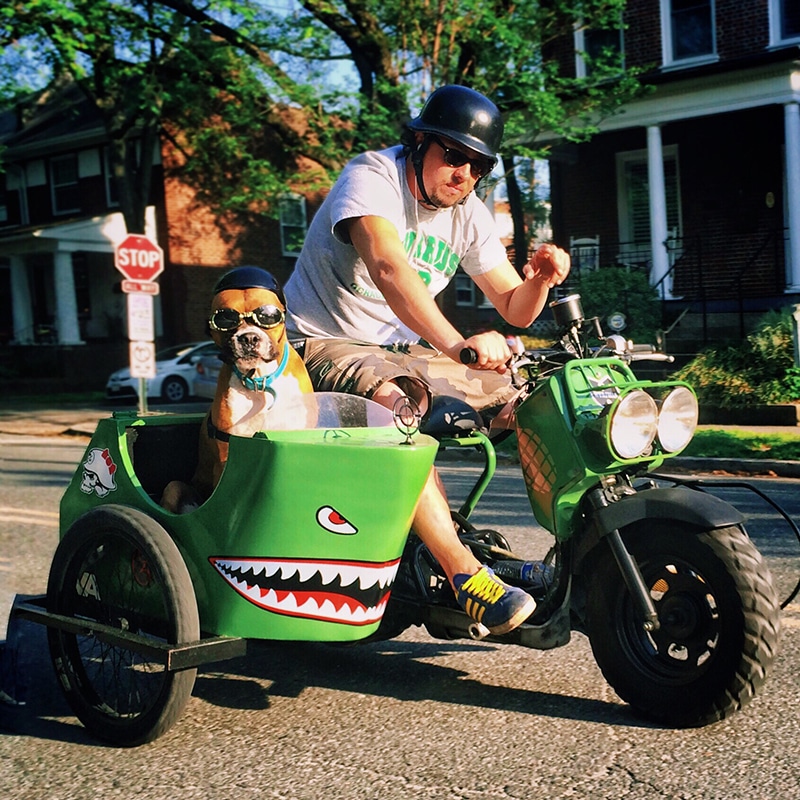 After reviewing more than 20 motorcycle dog carriers using the criteria mentioned above, we chose 7 that we think are the best for you and your dog:
Pillion Pooch
Safety Features: Harness tested to 240 pounds and roll cage tested to 1 ton
Material: PVC and metal
Durability: Extremely durable
Warranty: Yes, for 30 days
Made in the USA: Made in the UK
Best for: Our Top Pick Overall / Medium dogs
This super-cool dog carrier looks like a pup tent but it is made with your dog's safety in mind. The harness that holds your fur baby in the carrier was tested up to 240 pounds of pull and the roll cage was tested for up to one ton of pressure. So, your dog is safer than you are with this carrier protecting him.
They come in yellow or orange and can be used for one or two pups. The single dog carrier can hold up to 35 pounds while the double holds up to 70 pounds. It attaches securely to a rear rack with u-bolts and stays secure unless you use the quick-release to remove it. The tent cover is made of PVC canvas that protects your pup from the sun and rain while also having ventilation holes and soft bedding.
What We Like:
It is safety tested for up to one ton
The harness can handle up to 240 pounds of pull
It comes in one- or two-dog sizes
What Dogs Love about it?
He can see out and feel the breeze
The bedding is comfy
What We Don't like:
NICREW Front-Face Dog Carrier
Safety Features: Built-in leash ring
Material: Polyester and mesh
Durability: Not very
Warranty: Yes, for 30 days
Made in the USA: No
Best for: Affordable Price
The best thing about this carrier is that it is cheap. But that is what it is, cheap. The only security your dog gets in this carrier is the small clip that holds his harness or collar to the inside of the pack. While this is good for a short trip as long as the passenger is the one carrying your fur baby, it is not recommended for long-term use.
It would not be bad as a carrier to walk around with or even to do some hiking, but it does not have enough protection for a long bike ride. It does come in four sizes: small is for, under 5 pounds, the medium is for 5 to 9 pounds, the large is for 9 to 13 pounds, and x-large is for 13 to 16 pounds.
What We Like:
It is cheap
It has four sizes
What Dogs Love about it?
He gets to keep his feet and head out
What We Don't like:
It is not safe enough for bike riding
Saddlemen 3515-0131 Pet Voyager
Safety Features: Safety harness
Material: Vinyl
Durability: Durable
Warranty: Yes, for one year
Made in the USA: No
Best for: Crate-Style Carrier for Toy Breeds
This Saddlemen carrier comes with an adjustable sissy bar strap system or Versa-Mount seat harness that is easy to attach to the sissy bar, luggage rack, or motorcycle seat. You can use the quick-disconnect straps to remove it easily when needed but it stays securely in place otherwise. The plush backrest is soft and cozy for your pup's comfort.
It also has plenty of pockets and compartments to store clothes, food, water, etc. It even has a liner and a sliding leash mount so they can stay safe while being able to move around. The removable tray has water and food trays as well.
What We Like:
It is easy to put on and remove
There are a lot of pockets
It is affordable
What Dogs Love about it?
The backrest is soft and comfortable
He can see out of the top and the air flaps
What We Don't like:
It only holds very small dogs
Kuryakyn 5288 Grand Pet Palace
Safety Features: rigid internal frame, adjustable straps
Material:1200 denier textile
Durability: Very durable
Warranty: Yes, for one year
Made in the USA: No
Best for: Small dogs
You can take Fido with you on the road easily with this Grand Pet Palace. Light as a backpack but sturdy as a crate, this pack attaches to your passenger seat or luggage rack and you can easily remove it to carry your pup with you using the convenient carrying strap. It only holds up to 20 pounds and it is not huge so you will need to check the measurements against your dog's size.
The internal leash is adjustable and it comes with several different sizes and strengths. It also comes with a stash pouch, two dishes, and a bottle pocket. It also has a top window for your pup to look out and four mesh windows for ventilation. The foam cushion is removable for easy cleaning as well.
What We Like:
The extra leashes are great
It has weather-resistant material and a rain cap
It is easy to remove and carry
What Dogs Love about it?
The pad is comfy
He can look out the top
What We Don't like:
It only comes in one size
My CoPilot
Safety Features:

Safety harness

Material: Iron frame and vinyl upholstery
Durability: Extremely durable
Warranty: Yes, a lifetime warranty
Made in the USA: No
Best for: Large dogs
For the large dog up to and over 100 pounds, the Moto Dog Cockpit is ready to get you both on the open road. Your pooch will love the freedom he has sitting in his own personal seat on the back of your bike. He is not enclosed in a carrier or in a backpack so he can see around and feel the wind on his face.
The reason why the cockpit can hold any dog is because your motorcycle is what supports your pooch. The baseplates on the carrier just hold your dog in place while the motorcycle frame does the heavy lifting. It is securely attached to the bike just like if you were carrying a child (because he is your child) and your dog gets to sit comfortably in his own seat.
What We Like:
It can hold large dogs
It is very secure
The harness is strong
What Dogs Love about it?
He is not in a crate or backpack
He can see and feel the outdoors
What We Don't like:
It is very expensive
You have to buy the harness separately
Outward Hound PoochPouch Carriers
Safety Features: Inner safety harness
Material: Polyester and mesh
Durability: Durable
Warranty: Yes, for 45 days
Made in the USA: No
Best for: front-face carrier
This Pooch Pouch is one step above the previous pack but it is still not great for safe motorcycle riding unless you have a passenger who is using it. The driver should not wear a front-facing carrier when driving because it can be dangerous if your pooch moves around too much.
It does have a safety harness and drawstring at the top so it is a little safer than the NICREW and it comes in two sizes. The small can hold dogs up to 10 pounds and the medium holds pups up to 20 pounds. This pouch is fine for the passenger to use as long as the dog is securely harnessed but not for the driver.
What We Like:
The price is low
It has a harness
The drawstring helps keep your fur baby still
What Dogs Love about it?
They get to keep their paws and head out
What We Don't like:
It is not safe for the driver to wear
K9 Sport Sack
Safety Features: Caribiner clip, extra safety strap
Material: Polyester and mesh
Durability: Durable
Warranty: Yes, for 60 days
Made in the USA: No
Best for: Backpack-Style
This dog backpack is for your back and it has many more straps and safety buckles for security. In fact, this backpack is very safe and secure for short trips on the bike. The only reason it is not recommended for long trips is because your pup cannot lay down and relax.
The backpack may be comfortable for a walk in the park or hiking, but your dog will not like being stuck in there like that for hours while you drive your bike. However, it does come in different sizes and colors and has back support for both of you.
What We Like:
It has a lot of safety clips and buckles
It comes in four sizes and three colors
What Dogs Love about it?
They can keep their head out
It is comfy for a while
What We Don't like:
It is not comfortable enough for long rides
It is expensive for a backpack
Is it legal to have a dog on a motorcycle?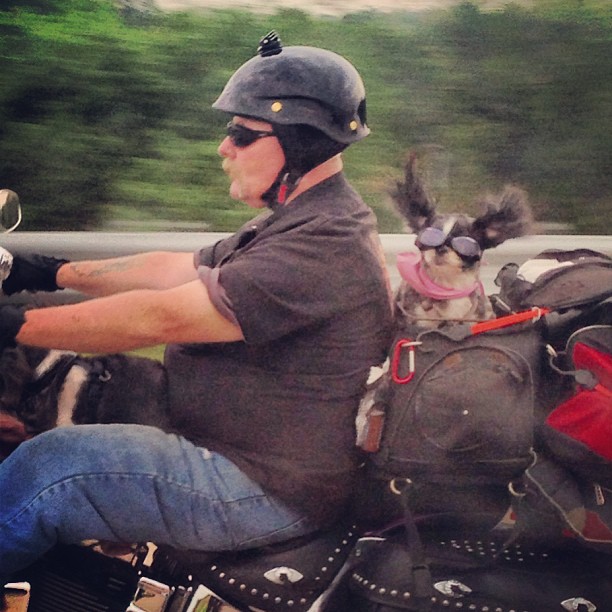 You do not want to break any laws when taking Fido on the road with you so the first thing you should do is find out if it is legal. You will want to check with the state, county, and city laws to make sure that you are covering all of your bases.
In general, it is legal to take your dog on a motorcycle in almost every state in the US as well as all the provinces of Canada. But do your homework first just to be sure.
Although the states may vary as far as conditions go, California has a special code for transporting any animal in or on a vehicle, including your dog.
The code states "No person driving a motor vehicle shall transport any animal in the back of the vehicle in a space intended for any load on the vehicle on a highway unless the space is enclosed or has side and tail racks to a height of at least 46 inches extending vertically from the floor, the vehicle has installed means of preventing the animal from being discharged, or the animal is cross tethered to the vehicle, or is protected by a secured container or cage, in a manner which will prevent the animal from being thrown, falling, or jumping from the vehicle."
The Final Woof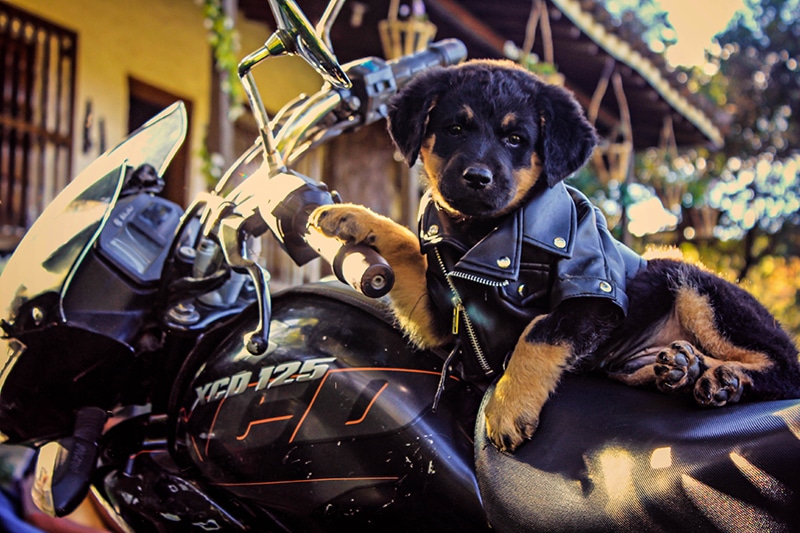 The best motorcycle dog carrier by far is the Pillion Pooch due to its safety standards and ability to hold two dogs or one up to 70 pounds. The roll cage was tested by standing a truck on top of it so it can withstand up to one ton of pressure and the harness that holds your fur buddy inside was approved for up to 240 pounds.
The only negative thing we found was the price and we think our fur baby is worth a few extra dollars so that really does not matter.