Whether you're searching in your favorite pet store or online for anal gland supplements and related products, you're sure to find the Glandex brand.
Formulated by veterinarians at Vetnique Labs, Glandex uses all-natural ingredients as it works to promote firm, healthy stools. This product offers a safe and painless way to treat your dog's anal gland issues.
In this Glandex review, we'll examine the brand in depth. Starting with key takeaways, we'll evaluate the pros and cons of this product line. Then we'll talk about the company's history and background.
Finally, we'll analyze Glandex from the ingredients and types to benefits and side effects and so much more. That way, you'll have the information to decide if Glandex is the brand you need for your pal's anal gland problems.
Glandex: Key Takeaways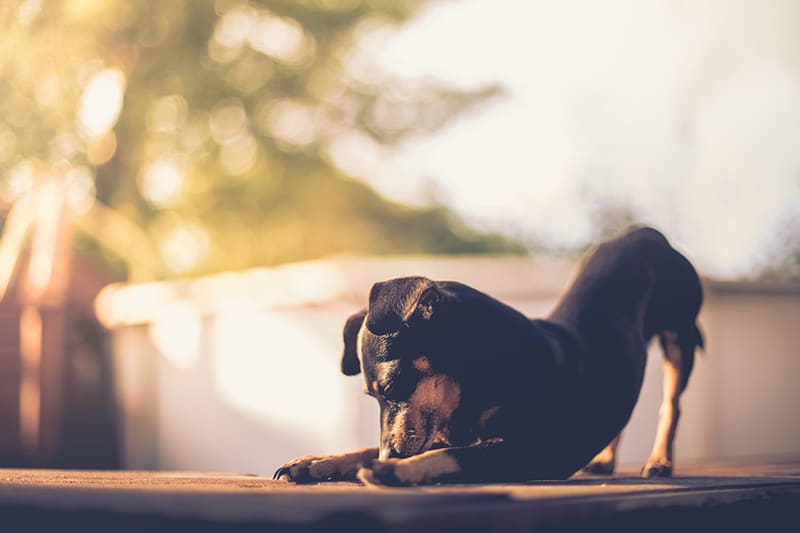 Glandex is an oral supplement that you give to your dog to promote anal gland health.
It comes as a powder or soft chews. Give one dose orally every day with a meal. The powder can be sprinkled on the food or mixed with water to form a gravy.
The all-natural, patented formula includes enzymes, fiber, omega fatty acids, and probiotics.
Glandex Pros and Cons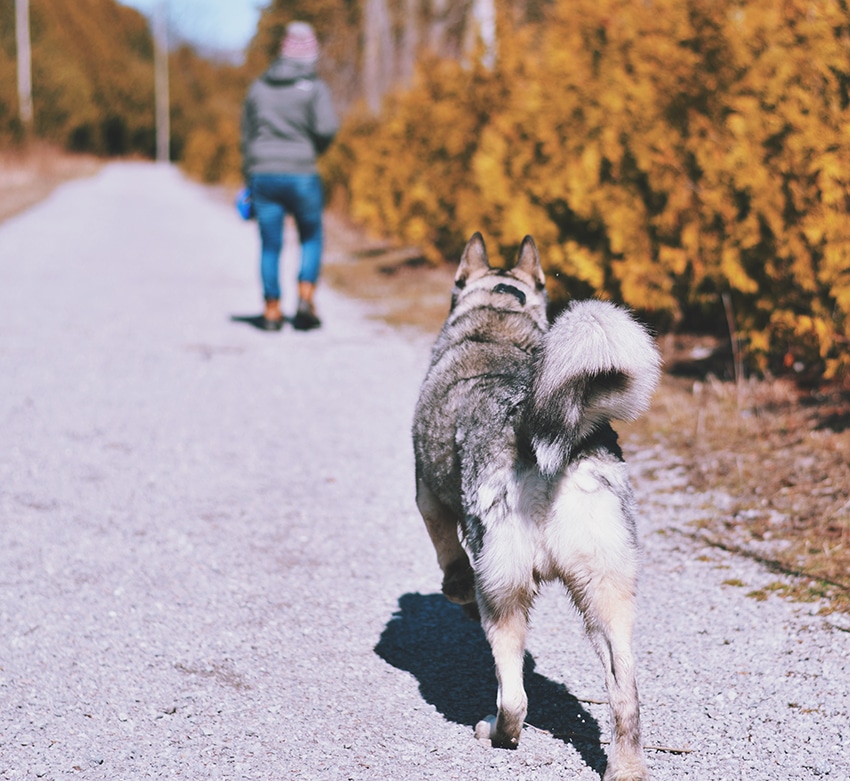 Okay, now you know a little bit about the key features of Glandex. Let's take a look at some pros and cons of this product to help you make an informed decision:
Pros
It's easy to give to your dog. Glandex comes in tasty peanut-butter flavor chews or beef-flavored powder.
The ingredients are all-natural. There are no artificial ingredients or preservatives, and it's corn, wheat, and soy-free
It's formulated and recommended by veterinarians.
It's effective in most dogs in 3-5 weeks.
Cons
It can cause constipation in some dogs. The fiber content of the supplement may add too much bulk to some dog's diet.
It may not be good for pups with food sensitivities. Some dogs with food allergies or sensitive stomachs can't tolerate the supplement.
Some dogs may develop soft stools or diarrhea at first. The high fiber content may trigger an upset stomach and soft stools. The company recommends starting with a half dose for about a week before giving the full dose to let your pal's digestive system adjust gradually to the added fiber.
Consulting Your Veterinarian
If you're reading this review, chances are good that your furbaby is dealing with anal gland issues. Before you start a new supplement or a new diet, it's best to consult with your veterinarian.
Fido's doctor knows his condition best and will be able to help you find the best treatment options for your pooch.
Glandex Story & Background
In 2012, Dr. James Bascharon embarked on a mission to help dogs with anal gland problems. He began to research and formulate a supplement that would target this issue.
With a blend of high-quality fiber, digestive enzymes, pumpkin seed, omega-3 fatty acids, and probiotics, Glandex is designed to promote healthy anal glands from the inside out.
The company started with a powder supplement but added a soft chew option in 2015.
Other products were soon to follow with Glandex Anal Gland Wipes debuting in 2016 and the Anal Gland Starter Kit becoming available in 2018. This supplement line is now available in the US, Canada, the United Kingdom, and Australia.
Glandex In-Depth Review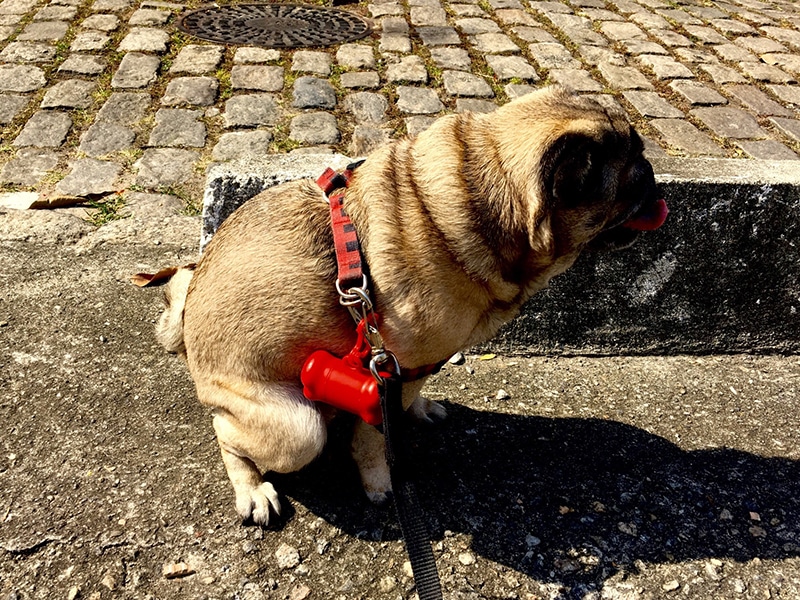 What is Glandex?
Glandex is an oral supplement that's designed to promote healthy anal gland function. It is formulated and recommended by veterinarians.
With high fiber and natural ingredients that support proper digestion, this product works to provide extra bulk and product firmer stools.
How Can Glandex Help My Dog?
Working from the inside out, Glandex supplements provide fiber and digestive support to keep your dog's stools bulky and firm. Then, each time your pup defecates, the poop applies pressure on the anal glands to assist natural emptying.
The omega-fatty acids also help your pal to manage seasonal allergies and the inflammatory response by supporting normal histamine levels.
What Sets It Apart?
Glandex has a patented formula that's designed to support all the underlying causes of anal gland problems. Most other treatments or supplements focus on a single component such as adding fiber.
This product works to bulk up the stool, promote healthy digestion, and control the inflammatory response. It is also formulated and recommended by veterinarians.
How Does Glandex Work?
The ingredients in Glandex work together to promote healthy digestion and anal gland function.
The high fiber content bulks up the feces to make it larger and firmer so that the stool pushes against the glands during defecation. Prebiotic fiber from pumpkin seeds and probiotics promote healthy digestion to help prevent digestive upset and loose stools.
The Omega-fatty acids prevent inflammation and support healthy skin so that the anal gland ducts remain open for proper emptying.
Glandex Active Ingredients – What's In It?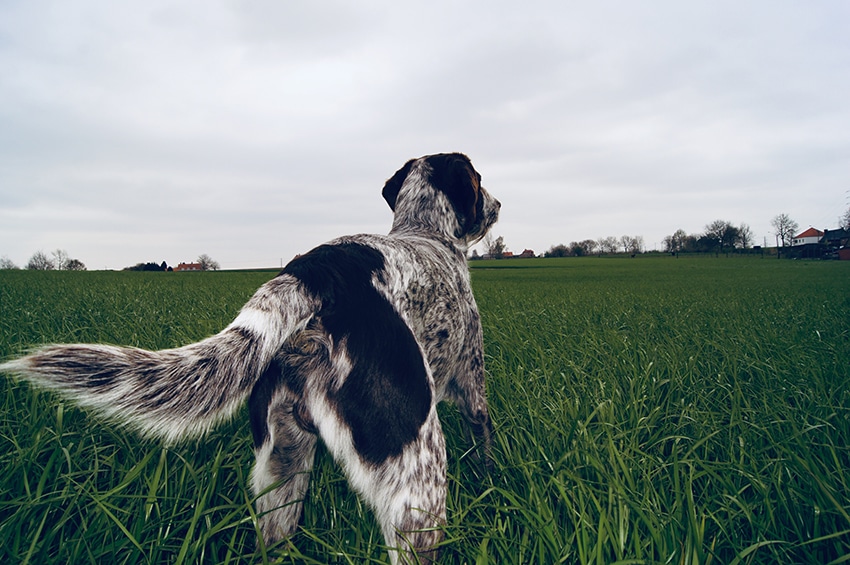 Ingredients 1 and 2: Pumpkin seed powder and Granulated Pumpkin Seed – These top two ingredients pack the power of pumpkin into the supplement. There are several benefits to your pooch from these components. Pumpkin contains high-quality fiber that helps to provide bulk and firm the stools. It also provides Omega-3 fatty acids, vitamins A, C, and E, antioxidants, magnesium, and zinc. These nutritional elements support your dog's overall health.
Ingredient 3: Apple pectin cellulose – this ingredient provides a source of highly digestible soluble fiber to add bulk to the stool.
Ingredient 4: Quercetin dihydrate – quercetin is a plant flavonoid that has antioxidative and antihistamine effects. It may help minimize inflammation and allergic reactions.
Ingredient 5: Lactobacillus acidophilus – this bacterial culture provides probiotics to aid in healthy digestion and support gut health.
Ingredient 6: Bromelain – Bromelain is an enzyme derived from the pineapple plant. This supplement provides digestive aid and may also help to reduce inflammation.
Benefits
Glandex claims it can help your pup boot the scoot by offering these benefits:
It supports firm, healthy stools
It promotes natural anal gland emptying
It maintains gastrointestinal health with probiotics
It has powerful anti-inflammatory effects
Those are some big promises that are based on the ingredients above. Below we'll evaluate the product's effectiveness to fulfill these claims.
Different types of Glandex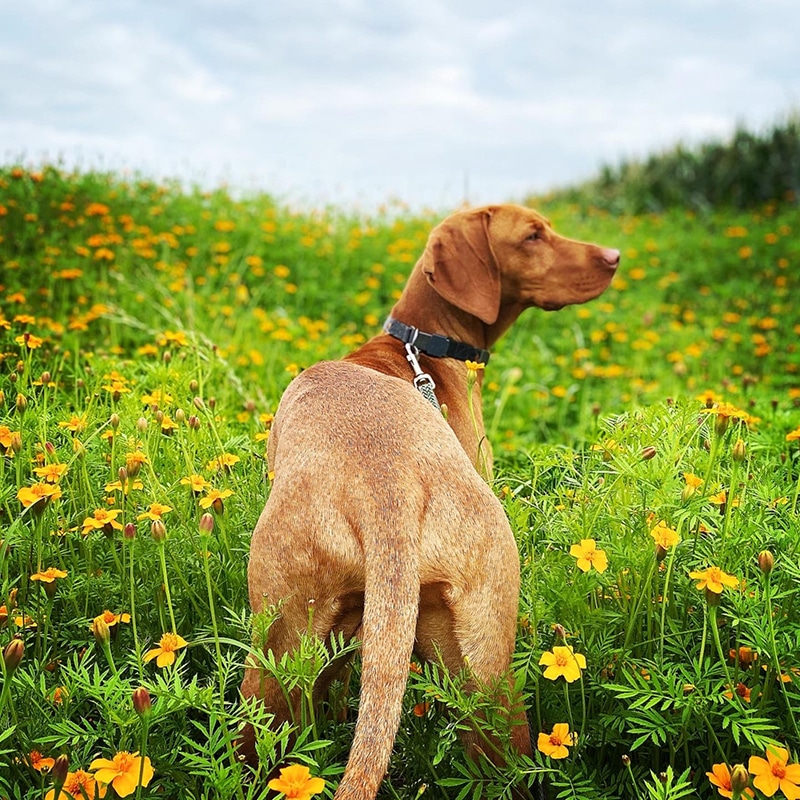 Glandex Soft Chews – Peanut Butter Flavored
Your furbaby may think of these tasty chews as a yummy treat. Provide one daily dose based on your dog's weight to support healthy digestion and anal gland function. It's also available in pork flavor. There are 60 chews in a container.
What We Like?
Many dogs like the flavor
Owners report that it improved their dog's anal gland problems
Some owners not improved digestion when their dogs take this supplement
It bulks up the stool
What We Don't Like?
It doesn't work for every dog
Some dogs with food allergies or sensitivities may not be able to take this supplement
Glandex powder – Beef Liver Flavored
Also available in pork liver flavor, this product is in a powder form. You can add the supplement to your furbaby's meal by sprinkling it on top of his food. Another option is to mix the powder in warm water to make a delicious gravy food topper.
What We Like?
It's easy to add to a meal
It lasts a long time and is cost-effective
Owners report less scooting and fewer anal gland problems
What We Don't Like?
Some dogs refuse to eat it
It may cause the stool to get dry and hard
Glandex Wipes – Anal Gland Hygienic Pet Wipes
With a clean, fresh scent and natural enzymatic deodorizers, these hygienic wipes can help you clean up your pup after a messy anal gland expression. With aloe, vitamin E, and skin conditioners, you can also use these towelettes for other general cleanings of your furbaby. They're non-toxic and paraben-free for safe, daily use.
What We Like?
The wipes are thick and gentle on the skin
The scent is great, and it cleans dirty fur
It eliminates the stinky, fishy smell
What We Don't Like?
They're hard to dispense
Some owners report that the wipes cause their dogs to break out
Glandex Anal Gland Starter Kit
Everything you need to support healthy anal gland function in your furbaby is available in one kit. This product features a 30 dose bag of peanut butter soft chews, a container of beef-flavored Glandex powder, a package of 24 hygienic pet wipes, a measuring scoop, and a bonus item.
What We Like?
It lets you try all the products to see what works best
It comes nicely packaged in an attractive tin
What We Don't Like?
It's not cost-effective if your dog won't eat it
It doesn't work for every dog
Dosage – How Much Will Your Dog Need?
For the Soft Chews:
The package indicates a daily dose of:
½ chew for dogs weighing < 15 lbs
1 chew for dogs weighing 15-25 lbs
2 chews for dogs weighing 26-50 lbs
3 chews for dogs weighing 51-75 lbs
4 chews for dogs weighing >75 lbs
For the Powder:
The package indicates a daily dose of:
⅛ tsp for dogs weighing < 15 lbs
¼ tsp for dogs weighing 15-25 lbs
½ tsp for dogs weighing 26-50 lbs
¾ tsp for dogs weighing 51-75 lbs
1 tsp for dogs weighing >75 lbs
How Long Does It Take for Glandex to Work for Dogs?
Because Glandex is a supplement, it may take some time before you notice improvements in your pooch.
For most pups, the product will start working in 3-5 weeks. However, the full effects may take 2-3 months to materialize.
In some cases, owners may need to double the dosage to get results. The company offers a refund for those canines that show no improvements even after trying a higher dosage for several weeks.
Side Effects
There have been no reports of long-term or significant side effects with this supplement.
Minor side effects stem from adding a high-fiber product to the diet:
Soft or loose stools – the high-fiber may stimulate some dogs' digestive tracts to become hypermotile. You can reduce the risk of soft stools by starting with a ½ dose to help your pup's system adjust to the supplement.
gas/flatulence – Increased gut motility and some of the ingredients may stimulate flatulence in your pooch.
Mild digestive upset – due to the fiber content in the ingredients, this product can cause a minor upset stomach at first. The best way to minimize digestive upset is by starting your dog on a half dose for about a week to help him adjust.
Enlarged stool – You may notice a larger-sized stool when using this product. This is due to the added bulk from the fiber and is the desired effect to help stimulate anal gland emptying during defecation.
Is Glandex Effective: Will This Improve Your Dog's Quality of Life?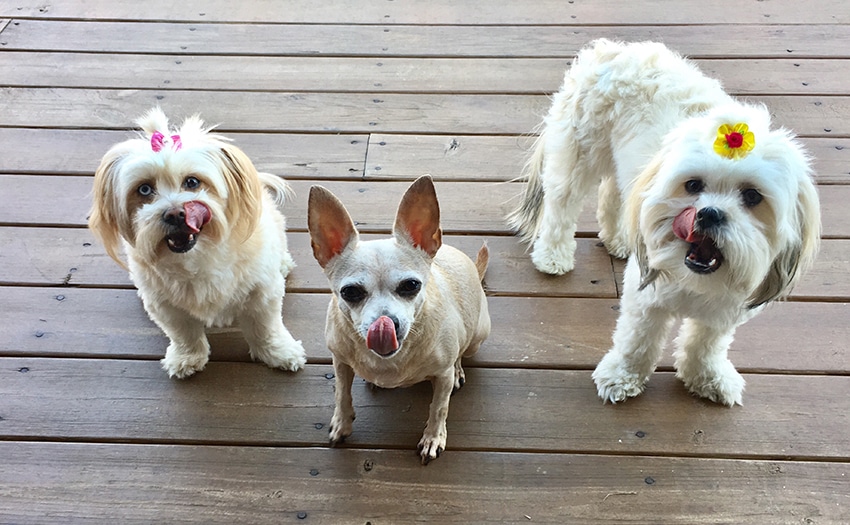 While there's no single anal gland treatment that works for every dog, Glandex has an excellent track record with veterinarians, groomers, and canine owners.
What Veterinary Professionals Have to Say about Glandex?
One veterinary technician found that his dog stopped scooting after about 3 weeks. He was also able to see the anal glands empty naturally when his pooch defecated.
A veterinarian and clinic owner shared that her staff got 100% positive feedback about the Glandex products. The wipes were very effective to eliminate the odor when a staff member expressed anal glands for clients.
A clinic owner shared that she dispensed Glandex to a dozen clients for dogs with chronic anal gland issues. 10 of the 12 reported improvements, but the other two were still in the early stages of adding the supplement.
Several veterinarians reported that patients using Glandex required less-frequent visits for anal gland expression.
What Dog do Owners Say About Glandex?
According to Glandex, 92 % of owners report that the product works on their dogs. Of 1165 customer reviews, over 86% were 4 or 5 stars.
Many dogs stop scooting after taking the supplement for a few weeks.
One customer said Glandex renewed their faith in truthfulness in advertising.
Another furbaby owner reported that her dogs had larger droppings and had a noticeable improvement in their health and attitude.
Glandex helped one owner avoid costly surgery for her pooch.
Is Glandex Safe For Dogs?
The ingredients included in the Glandex formula are natural and safe for dogs to consume. This product has no reported long-term or serious side effects. It's made in the US in an FDA-compliant plant that uses best manufacturing practices.
Where Can You Buy Glandex?
Glandex is available through many retailers and veterinarians. You can also purchase it online through Amazon or Chewy.com.
Pricing: How Much Does Glandex Cost?
Glandex Chews
The online price range for 30 chews is about $15-17.
For 60 chews, the range is about $27.50-33.00.
For 120 chews, the range is about $50.50-60.00.
Glandex Powder
For a 2.5 oz container, the price range is about $14.60-18.00.
For 4 oz, the range is about $24.20-27.00.
For 5.5 oz, the range is about $28.70-36.00.
Glandex vs Pumpkin – Which Is Better?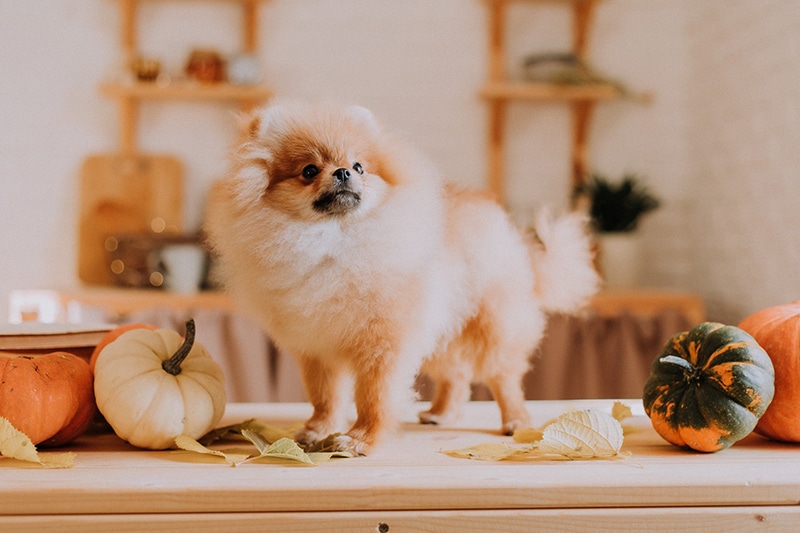 As a food supplement, pumpkin is an excellent, nutritious option. It provides many health benefits and adds fiber, omega fatty acids, antioxidants, vitamins, and minerals.
This offers a low-cost way to help many dogs with anal gland problems. However, Glandex provides added benefits that pumpkin lacks.
This supplement includes digestive enzymes and probiotics to help support digestive health. So, unless your pooch has a food sensitivity to one of the ingredients in Glandex, it is a more complete solution for anal gland problems.
Alternatives to Glandex
When it comes to anal gland treatments, Glandex is the limousine, but it's not the only option out there. Let's take a look at some of the other digestive supplements that may help dogs with anal gland issues.
Glandex vs Vetasyl
Vetasyl is a fiber supplement that uses psyllium husk as its primary source of dietary fiber. This product comes in a capsule that can be broken and sprinkled over the food.
While the psyllium may help to firm up the stool, this additive is not designed to address other underlying issues. It lacks the omega fatty acids, antioxidants, antihistamines, probiotics, and digestive enzymes that Glandex includes.
Glandex vs NaturVet
Like Glandex, NaturVet No Scoot Chews includes pumpkin powder as a source of fiber. This product also includes psyllium husk and beet pulp for added bulk. To assist with anti-inflammatory effects, the ingredients have sources of omega fatty acids from flaxseed and salmon oil.
Glandex vs. Purina Pro Plan Veterinary Diets Fortiflora
Purina Pro Plan relied on a team of veterinarians, nutritionists, and other researchers to formulate this digestive supplement. It includes live probiotic cultures and antioxidants to help pups that suffer from diarrhea.
Unlike Glandex, this product targets a narrow range of underlying conditions. There are no omega fatty acids or antihistamines to help minimize inflammation, and it lacks fiber to firm the stool.
Glandex vs. Diggin' Your Dog Firm Up! Pumpkin Supplement
With limited ingredients for sensitive stomachs, Diggin' Your Dog Firm Up! Contains pumpkin and apple fiber to help add bulk to the feces. There are no other ingredients. With the pumpkin, this product has some omega fatty acids and antioxidants to combat inflammation.
Glandex vs. Perfect Form Digestive Supplement for Dogs from Honest Kitchen
Similar to Glandex, Perfect Form is an all-natural supplement for your dog's digestive health. It includes pumpkin seed as a source of fiber, antioxidants, omega fatty acids, and more. Other ingredients include fennel, papaya leaf, and slippery elm.
How does Glandex Compare to Other Anal Gland/Digestive Supplements?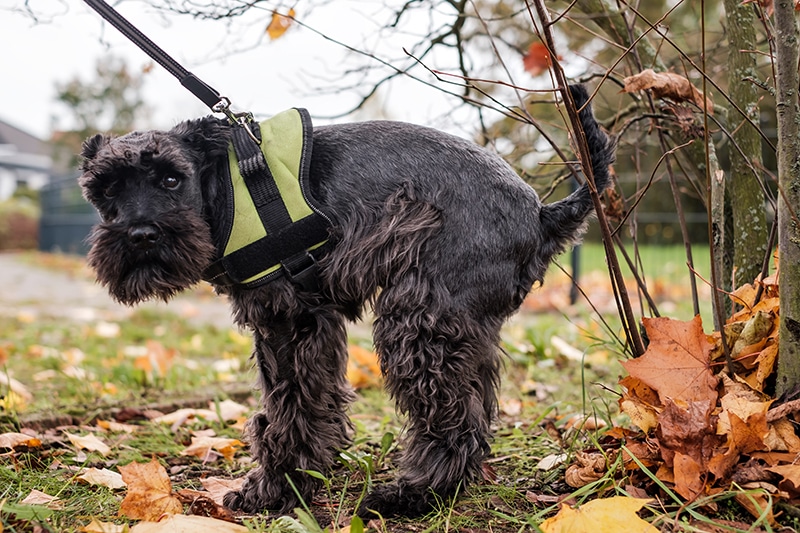 As you can see from some of the top alternatives above, there is a range of supplements for digestive and anal gland health. Many of these products target one or two of the underlying causes of anal gland issues rather than working across the board.
Glandex, on the other hand, has a broad spectrum of ingredients and nutrients to address the range of underlying conditions. It has a high-quality source of soluble fiber to firm up the stool. There are also enzymes, pre-and probiotics to support the digestive system.
Dogs with food sensitivities or allergies can benefit from the sources of omega 3 fatty acids and antihistamines that reduce inflammation and the allergic response. Glandex offers all-around anal gland support that the other products lack.
Frequently Asked Questions
Is Glandex FDA approved?
Glandex is a patented supplement that is registered with the FDA, and all products are made in FDA-registered facilities.
Should Glandex be given with food?
The easiest way to administer the powder is on the food, but the supplement can be given at other times. You should offer plenty of water when giving this product.
How often should I give my dog Glandex?
Provide one dose a day according to the instructions on the package.
Is Glandex a probiotic?
Glandex includes probiotics in the formula, but it also includes fiber, digestive enzymes, and other ingredients.
How do you administer Glandex?
Glandex is an oral supplement. The chews can be given as a daily treat. The easiest way to give the powder is to add it to the food. You can sprinkle the powder over your pal's meal or mix it with warm water to make a gravy.
What is comparable to Glandex?
The supplements listed above have similarities to Glandex, but they are not as complete. This veterinary formula stands alone in addressing all possible underlying conditions that may trigger anal gland problems.
Glandex Rating 4.5/5
After evaluating Glandex and comparing it to other top products on the market, we give Glandex a rating of 4.5 stars out of 5.
If your pup is struggling with impacted anal glands, this product may be the answer you're looking for. It has a high-quality fiber source to firm up the stools and provide for the natural expression of the sacs.
This supplement also includes other key ingredients to support overall digestive health. The omega fatty acid and antihistamine sources combat inflammation from allergies and other conditions. Probiotics and enzymes aid proper digestion for a normal stool.
While some customer reviews report that Glandex was ineffective for their pooch, these negative reports are few and far between. It's possible that some pet owners relied on the supplement alone but did nothing to provide a healthy diet and exercise regimen for overall anal gland health.
Conclusion: Is Glandex Legit (and Probably Worth Trying)?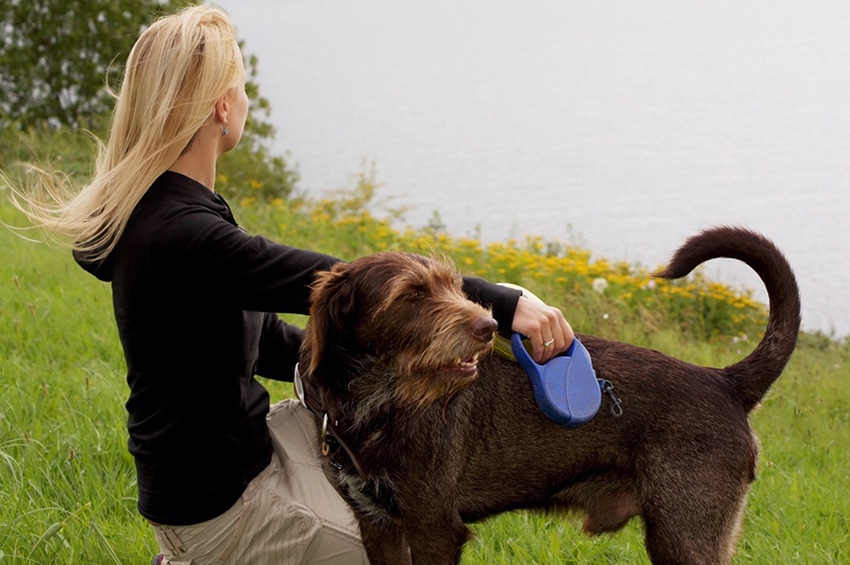 No one likes to see their pooch scooting across the floor or find smelly stains on their furniture or bedding. If your pup is showing these signs, they may have an anal gland issue, and Glandex may be able to help.
Looking at customer reviews of the product, we can see that some owners report great success when they give this supplement to their pups. Reports range from an end to leakage and scooting to firmer stools and happier dogs. Combine these overwhelmingly promising results with a money-back guarantee from the company, and you get a very low financial risk.
While there are no guarantees, and some owners saw no noticeable change when they administered the supplement, the overall results of this Glandex review indicate that the chews or powder is well worth trying.