Joint pain is one of the most common issues we see in aging dogs and causes significant mobility issues. Not all dog joint supplements are created equal and research is needed to choose the best ingredients for your pet's particular needs. Most commonly included active ingredients are glucosamine, chondroitin, turmeric & MSM.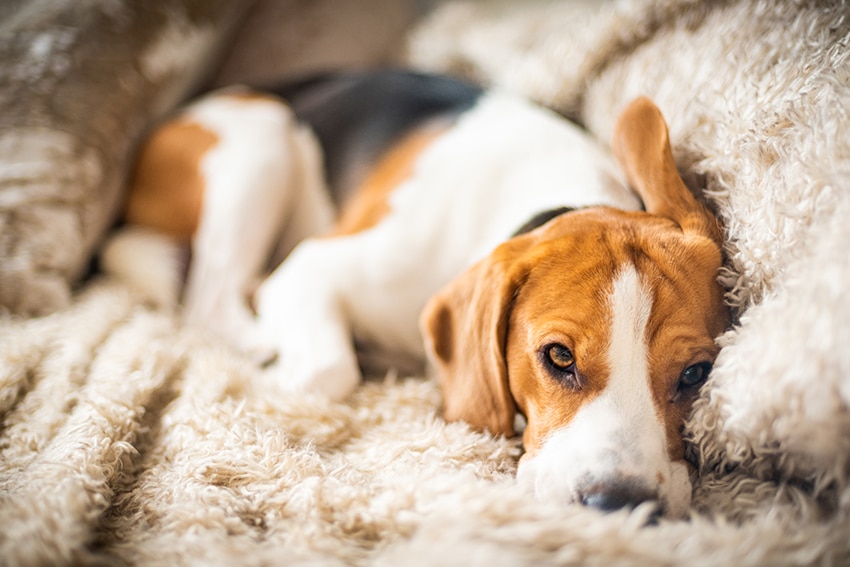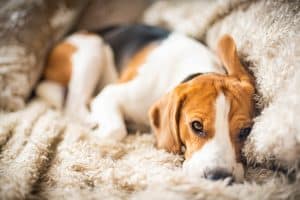 At a Glance: 6 Best Joint Supplements For Dogs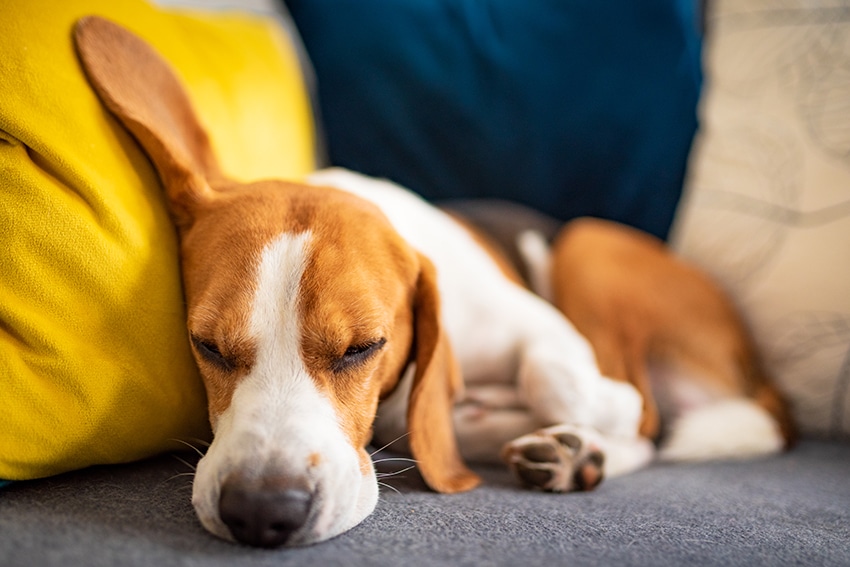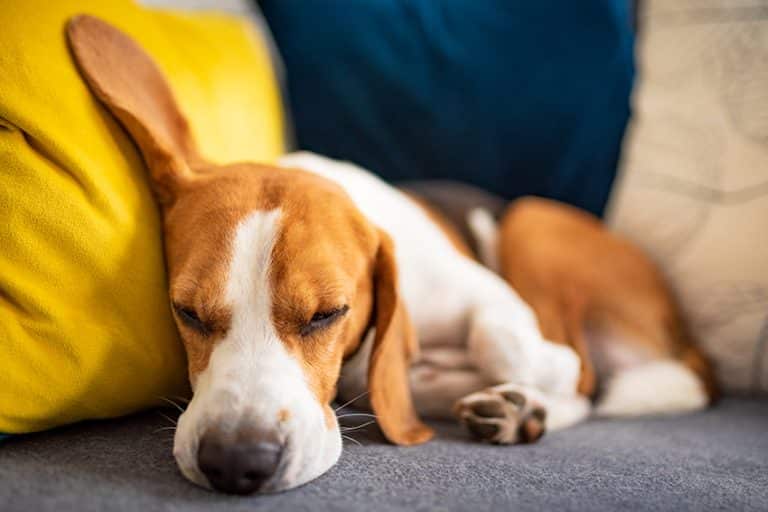 Whether your fur-baby is just a pup or the goodest senior pooch you want the best life for them and with 25% of dogs suffering from osteoarthritis at some stage in life, you want to support their joint health to minimize any pain.
Here we discuss joint health in human's best friends, how to protect their joint health and help to decide on the best dog joint supplement for your pooch.
Our top pick is Nutramax Dasuquin with MSM Joint Health Chewable Tablets. Developed and produced by a trusted company in the USA, these chewable tablets have science behind them to ensure your pup is receiving the best quality ingredients that actually work to support their joint health.
Doggie Dailies Advanced Hip & Joint with Glucosamine, Chondroitin & MSM Soft Chew
Doggie Dailies have developed these soft chew supplements with added MSM to provide even more support for cartilage repair in pets with arthritis.
These delicious chicken flavor chews are packed full of joint supportive active ingredients that act as both anti-inflammatory agents while supporting connective tissue, joint fluid and cartilage health.
Synovi G4 Joint Health Soft Chews for Dogs
Synovi G4 have combined natural anti-inflammatory properties of Boswellia and green-lipped mussel (Perna) with turmeric to help relieve pain and inflammation in pets suffering with joint pain.
These soft chews contain a range of anti-inflammatory and antioxidant compounds combined with glucosamine and MSM to support cartilage health and joint flexibilit.
Nutramax Cosequin, Keeping it simple, these scientifically supported ingredients provide glucosamine, chondroitin and MSM to help produce healthy cartilage within damaged joints.
These chewable tablets support cartilage production and are suitable for adult pooches .
Nutramax Dasuquin are the leading joint supplement brand recommended by veterinarians and Dasuquin has added ASU which has recently been shown to reduce pain and boost the actions of other active ingredients within joints.
Chewable tablets with added ASU which helps to reduce pain in combination with cartilage supportive glucosamine and chondroitin. 
VetIQ Maximum Strength Hip & Joint Soft Chews Dog Supplement
VetIQ have added hyaluronic acid to improve the quality and quantity of joint fluid within joints. Hyaluronic acid acts as a shock absorber and supports smooth movement within joints.
These soft chews contain added hyaluronic acid to replenish lubricating joint fluid alongside anti-inflammatory omega fatty acids and cartilage protecting MSM and glucosamine.
Nutri-Vet Specially designed for older, large breed pets, these chewables combine hyaluronic acid to improve lubrication with glucosamine, chondroitin and MSM to provide healthy cartilage repair in arthritic joints.
These chewable tablets are specially formulated for large breed senior pooches to provide some extra support to their joints in their twilight years.
Extend Joint Care has produced a proprietary blend of cartilage supportive ingredients with extra vitamin C in an easily mixed granular formulation. This veterinary formulation is designed to support the repair of damaged cartilage within joints.
Added vitamin C increases collagen production to help repair damaged connective tissue and cartilage.
BestPaw Nutrition Glucosamine Joint Support, the only liquid glucosamine supplement to make our list, pups with sensitive stomachs may benefit from the extra vitamin B complex within. Best Paw have added co-enzyme Q10 which has been shown to support healthy hearts.
This liquid joint supplement comes in a delicious bacon flavor to provide your pup with cartilage and joint support coupled with immune boosting, anti-inflammatory vitamins
Hyalogic HyaFlex Pro-Complete Dog Joint Supplement, w/Glucosamine MSM
Hyalogic Acid for Joints have developed this tasteless and odorless joint supportive nutraceutical combining glucosamine, MSM and hyaluronic acid. This combination supports cartilage repair while also lubricating the joints to ensure smooth movement and comfort to support mobility in older pooches.
Hyaluronic acid supports the lubricating fluid within joints to keep your pup flexible and comfortable into their golden years.
Infinite Hip & Joint Advanced Formula
Infinite Hip & Joint Advanced Formula, a completely natural joint support supplement adds turmeric to provide anti-inflammatory action alongside supporting healthy cartilage repair within joints.
These beef flavored chewable tablets contain turmeric to combat inflammation and improve your pup's comfort and are manufactured within the USA.
Glyde Mobility natural chews have been developed with additional green-lipped mussels to offer some pain relief for pet's with osteoarthritis while providing active ingredients that encourage healthy cartilage repair.
Chondroitin is bovine origin and not from endangered sharks. These soft chews help soothe arthritis aches while supporting cartilage health and repair.
ActivFlex are confident in their product to the point that they offer a lifetime guarantee. The addition of turmeric, vitamins and Spanish dagger (Yucca) help to combat inflammation within joints that are affected by arthritis.
Suitable for all life stages and breed, these natural chews help to relieve pain and inflammation while repairing joint cartilage and improving your aging pup's flexibility.
ProSense Advanced Strength for Dogs Glucosamine Chew Tablets
Pro-Sense advanced strength tablets are suitable for pets with diagnosed osteoarthritis regardless of breed and size and hold the National Animal Supplement Council Quality Seal to give peace of mind about the quality of their ingredients.
These joint care tablets contain proven joint supportive ingredients to protect your pup's cartilage. Designed for pets of all sizes, these are ideal for older pooches with diagnosed joint disease.
PetHonesty Advanced Hip + Joint Support Soft Chews with MSM Dog Supplement
PetHonesty joint supplements are produced with non-GMO ingredients and contain extra collagen to provide the building blocks for repairing connective tissues. Additional Yucca and Turmeric with vitamins provide anti-inflammatory activity for pets suffering with arthritis.
Delicious chicken flavored soft chews, these supplements are packed with joint healthy antioxidants and cartilage repair ingredients to maintain your dog's active lifestyle well into their older years
What Are Joint Supplements Used For?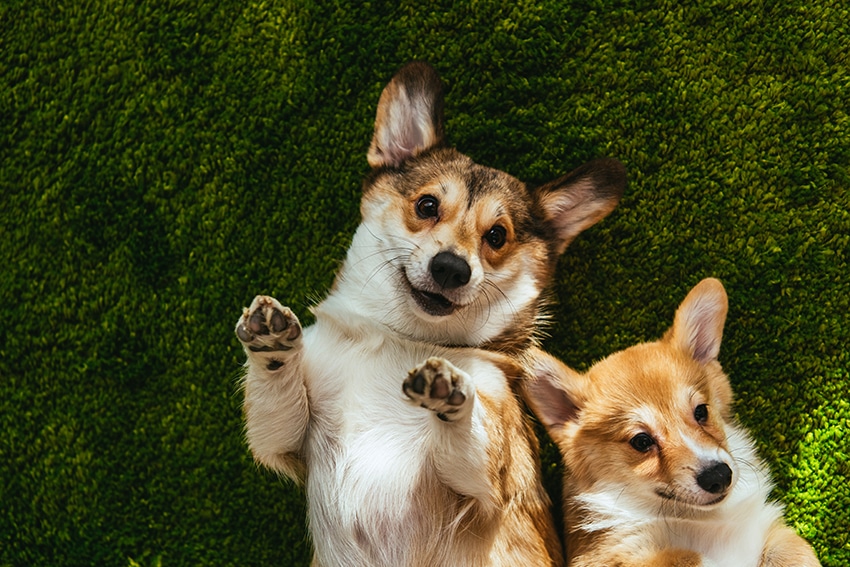 There are supplements available to support multiple systems within our pets' bodies; these are designed to support a healthy joint environment and reduce the effects of joint disease in affected pets. Supplements can be used either as preventatives or as complementary management for pets with joint disease.
These products promote general joint health by providing essential nutrients used within, thus also helping to prevent joint issues in breeds at an increased risk. Large and giant breeds of dogs are particularly prone to joint disorders from a younger age than their smaller counterparts. For example, we tend to see disorders such as hip and elbow dysplasia in German Shepherds and Labrador breeds.
Every dog, no matter their breed can develop joint aches and pains for many reasons, arthritis related to old age, trauma, or post surgical procedures. There are a number of risk factors that increase the likelihood of your fur-iend developing joint problems including breed genetics, obesity and nutritional considerations, some of which can be managed.
Joint supplements can help with general joint health and also in multiple diseases:
Dysplasia (hip and elbow)
Osteoarthritis
Traumatic joint injury
Post surgical support
How do joint supplements work?
Commercially available joint supplements provide high concentrations of certain essential nutrients and compounds used as building blocks within cartilage and joint fluids. These include glucosamine, chondroitin and methylsulfonylmethane (MSM) which are some of the best known components.
Some supplements are enhanced with naturally occurring anti-inflammatory substances such as turmeric and green lipped mussels. The primary goal of supplements is to supply everything the body needs to fight inflammation and deterioration due to wear-and-tear. 
Benefits of using joint supplements

Good quality supplements provide benefits to the majority of pets to varying degrees. If your young pup is taking a supplement before having any signs of joint disease, you may not notice a change in their movement and comfort. That doesn't mean that the supplement isn't working, they act as preventatives too so if your pup is a high risk breed these products can support and strengthen their joint health before any signs can be seen.
Some of the benefits these supplements provide include:
Reduce pain and inflammation
Improved joint mobility
Increased energy and more interest in exercise thus resulting in a happier pooch
How should my pup use joint supplements?

It's important to remember that while these products may reduce pain and inflammation they don't act in the same way as pain killing medications.
Your pup can't just take an occasional pill and feel better, supplements need to be given consistently and over an extended period of time to work best for pets.
Some joint supplements even require that your pet take a higher dose for a period of time to achieve optimal results. 
Are joint supplements worth the cost?

This is one of the most common supplement related questions, the answer is yes and no. Joint supplements act to soothe inflammation within stiff joints but they may not work for all pooches. 
As we always say here at FluentWoof you should chat with your veterinarian to help decide if your pup should take any supplements. Not all supplements are created equal and your vet will advise you on what ingredients might best help your pooch. While most supplements don't interfere with medications, your vet will be able to confirm what's safe for your fur-baby.
When should my Dog start taking a supplement?

Puppies: Where possible prevention is the best strategy so if your new puppy is at high risk of joint problems, supplements from a young age would be prudent.
Senior Pooches: As pooches age, they slow down and their reckless younger years start to catch up to them so joint supplements may help ease inflammation and improve your senior pup's comfort levels.
Active dogs: Athletic pooches put extra pressure and strain on their joints and ligaments and in the longer term these dogs will likely benefit from some extra support.
Ingredients to look for in a good joint supplement
There's a long list of ingredient combinations in joint supplements. Glucosamine and chondroitin are possibly the best known of these while Green Lipped Mussel and turmeric are emerging as promising anti-inflammatory agents in managing osteoarthritis in dogs. More scientific research is needed to confirm the efficacy of many of these compounds.
Glucosamine: Glucosamine has some mild anti-inflammatory properties and is a naturally-occuring chondroprotective compound. This means it helps to support and repair cartilage within joints. Glucosamine is a safe, natural substance often used at all stages of arthritis.
Chondroitin Sulfate: Chondroitin is a major component in cartilage that promotes water retention and shock absorption within joints. Evidence is equivocal regarding the beneficial effects of chondroitin sulfate on dogs with degenerative joint disease but some pup owners report positive effects on their pooches.
Omega Fatty Acids: There are many potential benefits of using omega fatty acids including easing joint pain. Joint disease tends to be associated with varying degrees of inflammation and omega-3 fatty acids have been shown to reduce inflammation.
Beta Glucans: These natural polysaccharides have been shown to have a number of beneficial effects in humans including anti-inflammatory, anti-osteopoprotic and immunomodulating actions. In dogs, beta glucans have been used to treat atopic dermatitis with positive effects.
Green-Lipped Mussel: The New Zealand green-lipped mussel (Perna canaliculus) has long been used in traditional medicine to support joint health. These shellfish are rich in omega-3 fatty acids, vitamins, antioxidants and also contain chondroitin. These interact with inflammatory pathways to reduce irritation and improve comfort and mobility in pups with joint disease.
Collagen: Collagen is a naturally produced protein within the body that plays a large role in the structure of bones, skin, tendons and joints. As animals and humans age the amount of collagen produced by the body is reduced. A recent study found that a supplement containing collagen helped to reduce the clinical signs of pain in labradors with elbow dysplasia.
Methylsulfonylmethane (MSM): MSM is a naturally occurring pain-killer and anti-inflammatory that is rich in sulfur which is used to synthesise amino acids used to maintain healthy skin, hair and joints. While the scientific evidence is limited, it has promising results in clinical trials to treat osteoarthritis.
Turmeric: Curcumin is an active compound in turmeric root. It has recently been lauded as an anti-inflammatory agent and cure-all in the media, but more information is needed. Some early work has shown that supplementing a pet's diet with curcumin may help to reduce signs of pain from osteoarthritis.
Vitamin C: Vitamin C plays a role in the synthesis of collagen and also acts as an antioxidant to reduce inflammation.
Vitamin E: Vitamin E is a well known antioxidant and may slow the progression of osteoarthritis by reducing inflammation.
Selenium: Selenium is a trace element present in cartilage and collagen within joints and helps to reduce inflammation.
Hyaluronic acid: Hyaluronic acid is a compound found in synovial fluid that has been shown to relieve pain in both humans and animals suffering with synovitis which is inflammation of the joint capsule lining.
Co-Enzyme Q10: This compound is found in both humans and dogs within the mitochondria of cells. Mitochondria are known as the 'energy powerhouses' of cells and coenzyme Q10 is essential for high energy cells. Q10 also functions as an antioxidant and anti-inflammatory and has been used to support treatment of heart disease and some cancers in dogs but the scientific evidence is limited, particularly in relation to any efficacy for pups with joint disease.
How to choose the right joint supplement for your dog?


Joint supplements are some of the most popular pet health products sold across the world and with the huge variety available, it can be incredibly difficult to choose a product to help your pup. Here are some helpful tips to watch out for when shopping:
Ease of administration/Palatability
Arguably one of the most important factors when choosing a supplement for your pet. You want a good quality product for your best fur-iend, but it needs to be something tasty to encourage your pet to take them regularly.
Type
Capsules, tablets, powders or liquids all play a role in whether your pup will take their supplements willingly. These all have a variety of added ingredients to improve palatability but may some may upset sensitive tummies or pets with food intolerances.
Tablets: Tablets may have a chalky texture or strange smell that not all dogs will accept.
Liquid: Liquid supplements tend to have less added ingredients than tablets as they're designed to be quickly swallowed or mixed with food.
Chews: Chews may have added sugars and flavors to improve palatability but may not be suitable for pooches with a sensitive tummy.
Powder: These products tend to be easily mixed with food or make a tasty gravy to encourage compliance from your pet.
Safety and Costs
Joint supplements are nutraceuticals which are not regulated by the U.S. Food and Drug Administration in the same way as medications.
As noted before, not all supplements are created equal and the cost of ingredients does play a role in the retail price point.
While a high cost doesn't always guarantee good quality, lower costs do correlate with poorer quality ingredients so you should do some research about the company and their ingredient sources before purchasing.
Read the label
Goes without saying right?! The label gives a lot of information including the country where the supplement was manufactured and any third party laboratory testing that may have been performed to ensure quality.
The label should also include all active ingredients AND their dosage.
You want to be sure that you're giving a safe amount of any product to your pet, and you also need to know that you're giving an effective product that will help your fur-baby.
Will This Improve Your Dog's Quality of Life?

A good quality joint supplement, dosed correctly for your pet's size and health requirements will certainly help your fur-baby's quality of life.
The type of product will play a role as to what visible changes you may see in your dog.
Some products are primarily anti-inflammatory and may give some degree of pain relief while others are aimed toward supporting a healthy joint environment.
The former may allow a pet to run around more and seem to have more energy while the latter may not have such a visible response.  
At What Age Should I start Giving My Dog a Joint Supplement?

Any age is completely fine to start giving a joint supplement, pets who start receiving a joint supplement at younger ages may reap more benefits than dogs who start a supplement after showing signs of joint pain.
Side effects & Risks of joint supplements:

There are some risks and possible adverse effects with any product but in general the active ingredients should be safe.
Overdose: It's possible to overdose on nutraceuticals and the delicious flavors added to many supplements mean they may be irresistible to your fur-baby. Overdose can be serious and your pet would need immediate veterinary attention in such an event. 
Tummy Upsets: Sensitive dogs may have vomiting, diarrhoea or flatulence which usually resolves quickly if the treat is mixed with other food or is offered in a reduced amount.
Dosage

Suitable dosing depends on the size of your pet and the product and active ingredient being given. You should check the manufacturer's instructions for accurate dosing information for your dog.
NEVER give your fur-baby human medications!
F.A.Qs 

Q: Do joint supplements for dogs really work?
A: Yes and no. Responses to supplements vary depending on the active ingredient, timing and duration of supplementation and also individual pets respond differently. You should discuss product choices with your veterinarian to select the most suitable supplement for your pup.
Q: Can a dog get too much glucosamine and chondroitin?
A: Yes, both chondroitin and glucosamine are nutraceuticals rather than medications but overdoses can still occur. If your pet receives other sources of these supplements or manages to break into their stash then you should seek veterinary attention immediately. 
Q: How long does it take for glucosamine to work in dogs?
A: Some owners report seeing improvements in their pup within 2 weeks of starting glucosamine supplementation but it can take up to 6 weeks before you notice improvements. 
Q:  At what age should I give my dog glucosamine?
A: You can start giving glucosamine to a healthy dog from as young as one year old. 
Q:  What home remedy can I give my dog for arthritis?
A: There are many "home remedies" touted online but you should always discuss these with your veterinarian to ensure they're safe before offering to your pup.
Q:  Can I use human glucosamine and chondroitin for dogs?
A: No, you shouldn't give any human products to your dog as the concentrations are different to canine preparations and some of the adjunctive ingredients may even be toxic to dogs.
Q:  Can glucosamine hurt dogs?
A: In general, glucosamine is a safe compound but it should be avoided if your pet has kidney disease or is taking any medications until your veterinarian has approved the supplement.
Q:  How do I keep my dogs joints healthy?
A: Aside from offering a quality supplement that supports cartilage and joint health in your pet you should ensure that they receive adequate exercise and appropriate nutrition to maintain a healthy weight.
Q:  What is the best over the counter anti inflammatory for dogs?
A: There are no over-the-counter anti-inflammatory medications for dogs. If you're concerned that your pet needs a pain relieving medication, the best thing to do is contact your veterinarian for advice. 
Q: Is cosequin the same as glucosamine?
A: Cosequin is a brand of supplement that contains glucosamine. 
Q: Is MSM an anti inflammatory?
A: MSM, also known as methylsulfonylmethane is a natural anti-inflammatory compound. Initial investigations into the use of MSM for osteoarthritis in dogs are encouraging but more work is needed. 
Q:  Does MSM help with parasites?
A: There are some scientific studies that indicate MSM has some efficacy against parasites, particularly those affecting humans. 
Conclusion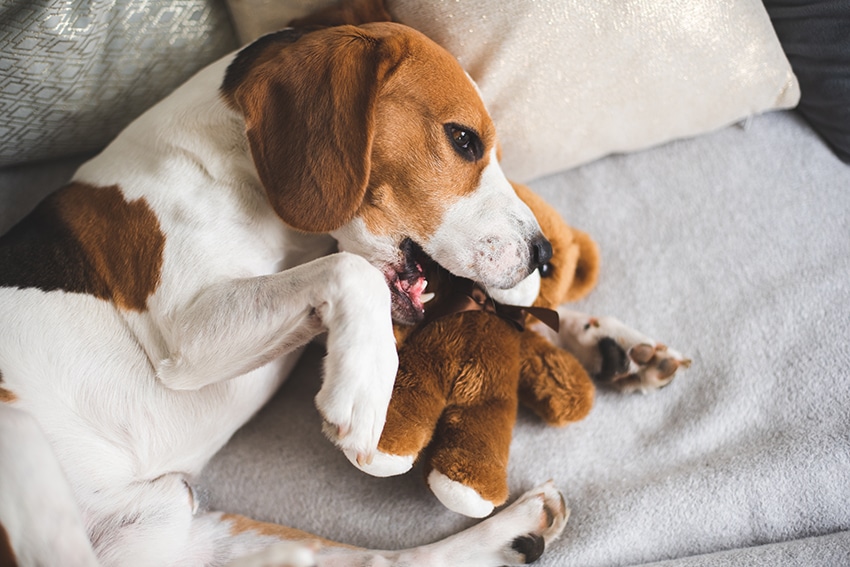 Every paw-rent wants the best for their fur-baby and joint health is essential for their comfort and a long and happy life.
You already offer them the best nutrition and exercise plans to develop strong bones, teeth, muscles and a healthy weight but what about their joints?
Providing your pooch with a quality supplement that prevents inflammation while supporting healthy cartilage and joint fluid function. Nutramax Dasuquin with MSM Joint Health Chewable Tablets are top-dog on our hunt for the best dog joint supplement.
Nutramax Labs are based in the USA with dedicated research laboratories and excellent quality control systems in place.