Some dogs seem to get dirty all the time, and others stink constantly because they're active outdoor pups. When your pooch picks up grime and odor, it's time for a bath. But frequently shampooing Fido might dry out his skin.
When I was in practice and pup parents asked me for advice about how to clean a constantly dirty, smelly dog without drying their skin, I would recommend non-stripping dog shampoo. These products help to gently wash away dirt and grime buildup without compromising Fido's natural skin oils.
In this post, we'll examine what constitutes a non-stripping dog shampoo by describing how certain ingredients in conventional shampoos can strip your furbaby's skin and coat. After that, we'll look at how a non-stripping dog shampoo works to gently cleanse your dog's coat while protecting the skin.
To help you determine if you need to consider a non-stripping formula, I'll describe who should use these products. We'll take time to discuss non-stripping dog shampoo tends to be safer for puppies than other types of adult dog formulas. Finally, I'll examine four popular non-stripping products to help you make the best choice for your furbaby.
So, what are you waiting for? Let's get started.
What is a non-stripping dog shampoo?
Some conventional shampoos contain harsh ingredients, synthetic chemicals, and detergents that can strip your dog's skin of its natural oils. When this happens, the protective skin barrier is compromised and becomes susceptible to drying and invasion by bacteria or fungus. Some chemicals found in shampoo formulas may also open the cuticle of the hair so that it loses condition. The result is a dull coat and flaky skin.
Non-stripping dog shampoo will not contain chemicals, detergents, or other harsh substances that remove the protective oils. The formulations tend to be made with natural ingredients and gentle cleansers like oatmeal. They may also include soothing and supportive materials like aloe vera or vitamins to nourish and support healthy skin.
Non-stripping dog shampoos remove oil and dirt from the fur without stripping the skin's protective natural oils. These products will be pH balanced for canine skin and rely on gentle, natural cleansers such as oatmeal or coconut-based ingredients and they will often include nourishing substances like aloe and vitamin E.
How Does a Non-stripping Dog Shampoo Work?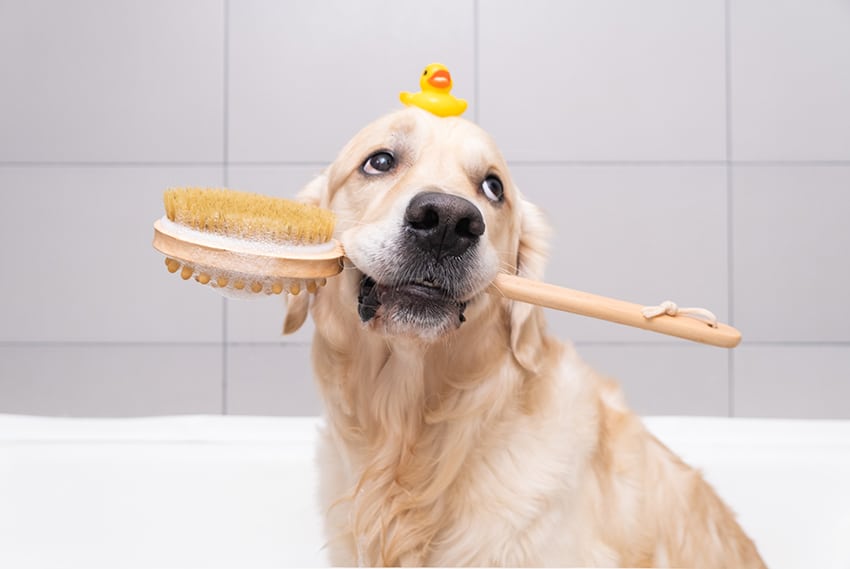 Like humans, dog skin contains sebaceous glands that secrete sebum, a protective oil, on the skin's surface. This oil keeps the skin moist and helps to add a healthy glow to your dog's coat. If harsh detergents or chemicals that are found in some shampoos remove the sebum, the skin can dry and become cracked and irritated. Without the protective barrier, your pup's skin may also be more susceptible to infections. 
When your furbaby gets dirty, the oil on his skin helps to trap the debris. If the dirt and used oils aren't removed, they can build up and make your pooch stinky. That's where non-stripping dog shampoo comes in handy. The natural cleansing agents found in these products gently remove the trapped dirt and used oil so that Fido's coat is clean and healthy. However, they won't strip the healthy, natural oils from the skin, and they won't damage the hair cuticle.
Non-stripping dog shampoo works to gently remove old oils and trapped dirt from your pup's hair. The natural ingredients gently clean the coat without removing the healthy oils or affecting the hair cuticle. As a result, the skin is able to keep its protective barrier of sebum.
Who Should Use a Non-stripping Dog Shampoo?
While a non-stripping dog shampoo is a healthy choice for any pooch, it's particularly important for pups that are prone to dry, irritated skin. Harsh detergents and chemicals that remove the natural oils from your furbaby's skin can affect the body's ability to trap moisture. This often leads to dry, cracked skin. Dogs that have sensitive skin need a gentle formula that won't strip the oils or damage the hair cuticle.
We also recommend using non-stripping dog shampoo if you have to bathe your pooch frequently.Dogs may require more frequent bathing for different reasons. For example, if you have a long-haired or curly-coated furbaby, she may require regular baths to keep the coat clean and prevent matting.
Athletic or outdoor pups like beagles or pointers also benefit from frequent shampoos to remove dirt and control odor. Other breeds, such as the basset have a naturally oily coat that requires more regular washing. Using a stripping shampoo on frequently bathed dogs can damage the skin because the body won't have enough time to replenish the protective layer of natural oil between cleanings.
Non-stripping dog shampoo with gentle, natural ingredients is particularly beneficial for dogs that are prone to developing dry irritated skin. Pups that require frequent baths to prevent coat matting, control naturally oily skin, or remove dirt and odor should also be cleaned with non-stripping products.
Is Non-stripping Dog Shampoo Safe For Puppies?
Puppies require a gentle shampoo because their skin is far more sensitive than their adult counterparts. Because non-stripping shampoos don't usually have harsh chemicals, they are safer for puppies than many other adult dog shampoo formulas.
The natural ingredients like coconut, oatmeal, and vitamin E that are commonly found in non-stripping shampoo tend to be gentle on the hair and skin, and that can be beneficial for young pups. However, if you're shopping for shampoo for your puppy, it's always best to go with a product that's designed for their skin pH.
Most non-stripping dog shampoos contain natural ingredients that are gentle enough to be safe for puppies. However, we recommend choosing a product that's specifically formulated for juvenile dogs if you're shopping for shampoo for your new furbaby.
Popular Non-stripping Dog shampoo Brands
With all the options that are available, how do you find the right non-stripping shampoo for your pooch? The simple answer is to look at the label. Check for gentle, natural ingredients and make sure the formula doesn't include any harsh chemicals or detergents. Let's look at four popular non-stripping dog shampoos.
4Legger USDA Certified Organic Dog Shampoo
Made with all-natural, plant-based ingredients, this shampoo from 4Legger is certified organic. It contains no sulfates, detergents, harsh chemicals, or artificial ingredients that could damage or irritate the skin. With saponified coconut, olive, and jojoba oils, the formula has gentle cleansers that help to remove dirt and moisturize the skin and hair. Aloe vera soothes and restores dry, itchy skin. Including lemongrass and rosemary essential oils, the formula is designed to leave your pooch smelling fresh and clean. The combination of safe and gentle ingredients should not strip your pup's skin of natural oils. It's safe for both puppies and adult dogs.
Burt's Bees for Dogs Natural Oatmeal Shampoo with Colloidal Oat Flour & Honey
This product from Burt's Bees has no harsh chemicals, sulfates, parabens, phthalates, or other ingredients that could strip your pooch's skin of its natural oils. Using soothing, gentle ingredients like beeswax, colloidal oat flour, and honey, the formula is designed to cleanse your pal's coat and moisturize his skin. There are no fragrances, dyes, or artificial ingredients in the product that could harm the skin or cause irritation. With the combination of gentle, natural ingredients, this product is safe for puppies.
TropiClean Dog Shampoo – Derived from Natural Ingredients
Soap, paraben, and dye-free, this non-stripping shampoo from TropiClean is safe for dogs that are 12 weeks or older. It's made using naturally-derived ingredients that won't strip the hair or remove natural oils from the skin. Gentle cleansers include coconut and colloidal oatmeal that safely remove dirt and moisturize the skin. A botanical blend of natural fragrances helps to leave your pooch smelling fresh and clean. The formula also helps to exfoliate dead skin cells and control shedding in your pooch.
WAHL Dry Skin & Itch Relief Pet Shampoo for Dogs – Oatmeal Formula with Coconut Lime Verbena
As an oatmeal-based formula, this shampoo from Wahl contains no alcohol, detergents, parabens, or harsh chemicals. Coconut-derived ingredients in the product provide gentle cleansing for your dog's fur. The formula should not strip your pooch's skin of natural oils or damage the cuticle. Aloe vera helps to restore dry skin. Made to be hypoallergenic, the solution is pH balanced for canine skin. Because it's a concentrated product, a small amount will go a long way.
The Final Woof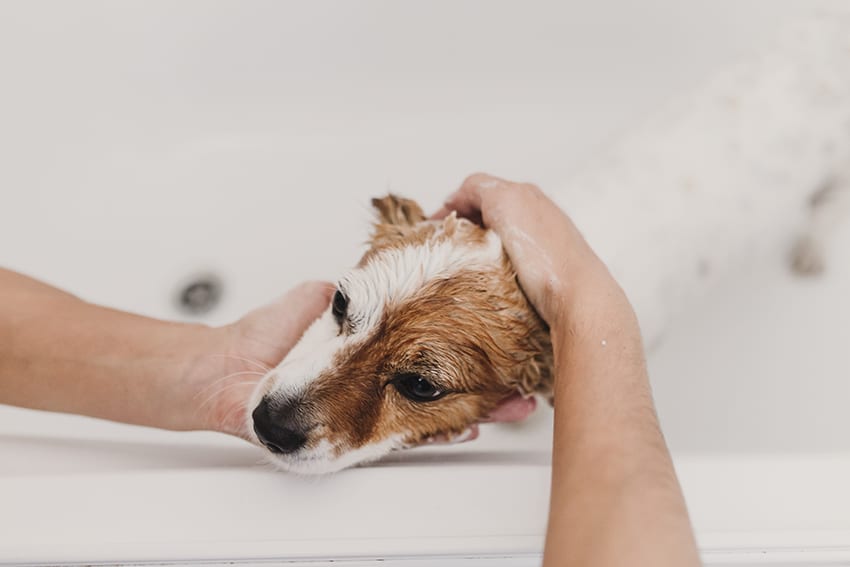 Non-stripping dog shampoo is free of harsh chemicals and detergents that can wash away the skin's natural oils and possibly damage the hair cuticle. These formulas often include natural ingredients that gently clean your dog's fur and remove trapped dirt and grease without affecting the protective skin oils. 
Because these products rely on gentle, natural substances, they are generally safe to use on most dogs, including puppies. You can use non-stripping dog shampoo on almost any dog, but it's particularly important for dogs with dry or sensitive skin and pups that require frequent bathing.