You just spent time at the dog park, and your furbaby splashed through muddy water and needs a bath now. But when you get home, all you have on the shelf is your cat's shampoo. Is it safe to use on your dog or not?
In practice, we had many pet parents with dogs and cats at home, so this was an occasional question. When an owner inquired about using the cat's shampoo on their dog, I would ask them about the product and its ingredients. More often than not, I could give the OK to bathe Fido with the shampoo, but I always urged them to buy their pup his own shampoo as soon as possible.
In this article, I will discuss the differences between dog and cat shampoos and whether you can safely use cat shampoo to bathe your four-footed friend. We'll go over what can happen if you use cat shampoo and whether other products like kitten shampoo or dry shampoo are ok to use on puppies and adult dogs. We'll also talk about whether your cat's shampoo could kill your pooch.
After we talk about the safety of cat shampoo in general, I'll share my findings regarding the safety of six commercial products that pet parents commonly ask about. After we look at the shortlist, I'll share some dog-safe alternatives that you can use to clean your pup in an emergency.
So let's dive in.
What's the Difference Between Dog Shampoo and Cat Shampoo?
The major differences between dog and cat shampoos are the pH balance, the cleansing agent, and whether the product includes ingredients to combat fleas and other parasites. Because feline skin is more sensitive and has a slightly lower pH, cat shampoos have milder cleansers and may have a lower pH than dog products.
To understand the difference between dog and cat shampoo, let's start with the skin. Dog skin usually has a surface pH of around 7.5-8 depending on your pup's breed, climate, gender, and size. Cat skin pH is slightly more acidic, averaging around 6. So, if you're using cat shampoo on your pooch, it may not be properly pH balanced for her skin. 
Cat skin is also more sensitive than dog skin. As a result, feline-specific shampoos use gentle cleansers that are less likely to dry or irritate the skin. These products should also be hypoallergenic and perfume-free. The mild washes work well with cats because they tend to be fastidious self-groomers.
One final difference between cat and dog shampoo is that dog shampoo often contains ingredients to help manage fleas and other skin parasites. Some of these substances are toxic to cats, so feline shampoo will not include them.
What Happens When You Use Cat Shampoo on a Dog?
When you use cat shampoo on your dog, you may not be able to clean him as well, and repeated use could cause skin problems. Cat-specific shampoo may have a pH balance that disrupts your pup's protective skin barrier and leads to dry skin or increases his vulnerability to infections.
Occasionally using cat shampoo on your dog is not likely to cause problems. So, if you need to bathe your dog and only have cat shampoo available, it's generally safe in a pinch. However, we don't advise using feline products to bathe your dog on a regular basis.
Cat-specific shampoos may have a lower pH that's balanced for cat skin. Using a more acidic product may upset the skin's protective acid mantle and make your furbaby more susceptible to skin infections. It may also dry out the skin. The other concern with cat shampoo is that the gentle cleansers may not adequately clean your dog's fur. Therefore, if your pooch needs a thorough wash, you're better off with canine shampoo.
Is Kitten or Cat Shampoo Safe for Puppies or Adult Dogs?
Kitten and cat shampoos are both mild enough to be safe for dogs when you don't have dog-specific products handy, but they're not recommended on a regular basis. The gentle cleansers may not adequately clean your pooch, and the product may not be properly pH balanced for your pooch's skin.
Like their adult counterparts, kittens have very sensitive skin and require gentle shampoo. Kitten-specific products should have mild cleansers, no fragrances, and no insecticides, so they are similar to shampoo for adult cats. Because the ingredients are generally more natural and basic, they're safe to use on a limited basis with puppies or dogs.
The main concern is whether the kitten shampoo has a pH balance that's appropriate for your canine companion. As with cat shampoos, a kitten product that's specially formulated and balanced for baby felines may have a lower pH than appropriate for dog or puppy skin. So, while you may be able to use kitten shampoo in an emergency, we don't recommend it for regular use.
Is Waterless Cat Shampoo Safe for Dogs?
Waterless shampoo for cats is safe to use on your dog to freshen up his coat on rare occasions. These products use mild cleansers that are not as likely to give your pup's coat a deep cleanse, so it's best to stick with dog shampoo as your go-to bathing resource.
Waterless cat shampoo is generally safe for use on dogs. Like normal feline shampoo, waterless formulas tend to be very gentle and have mild cleansers. They come in three types: mousse, spray-in, or powder. Similar to water-based washes, these products are perfume-free, but they may have a light natural scent.
While waterless products can be useful to freshen up your pup, they should not replace regular bathing with a dog-specific shampoo. The mild cleansers are not likely to remove all the dead skin and debris from a dog coat, and they may leave a residue.
Can Cat Shampoo Kill Dogs?
Cat shampoo is generally safe for dogs unless you use a medicated or prescription product that's formulated for felines. However, they're not the best choice to clean your four-footed friend. Either way, always check the label for any harmful ingredients before applying the cleaner to your pooch.
In most cases, cat shampoo is safe and non-toxic for dogs. Feline-based products that are not medicated or a prescription shampoo generally contain mild ingredients that won't harm your pooch. They also tend to be hypoallergenic. Still, it's best to go with a dog-based shampoo.
If you're reaching for a medicated or prescription Cat shampoo, it's possible the formula could contain substances that are dangerous to Fido. However, it's more likely that a medicated dog shampoo would harm cats. Always read the label before applying any product to your pet and avoid products with synthetic ingredients, dyes, parabens, mineral oil, and other potentially harmful chemicals.
But what if my dog chews a bottle of cat shampoo and ingests some of the contents? Depending on the product, it may cause your dog to vomit or give him diarrhea. Some medicated shampoos could contain toxic ingredients. If you suspect that your pooch ingested cat shampoo, contact your veterinarian immediately. It's best to have the bottle handy to review the ingredients on the label determine the next steps.
Overview of Commercial Cat Shampoo Brands
We evaluated six commercial cat shampoo brands that dog owners commonly ask about to help you determine whether any of them are safe to use on your dog. Our results are summarized below.
Burt's Bees for Cats Hypoallergenic Shampoo with Shea Butter & Honey
Safety: Safe
Reason: This shampoo from Burt's Bees relies on natural ingredients. The formula has no dyes, sulfates, fragrances, or harmful chemicals. Although the product is pH balanced for cats, it's made to be mild and should not be toxic to or cause allergic reactions in dogs. There are no added medications or chemicals. Burt's Bees products are recommended to be pet-safe by veterinarians.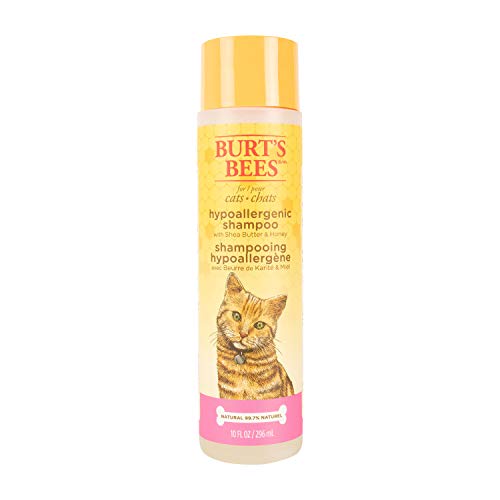 Burt's Bees Cat Waterless Shampoo Spray, Apple & Honey
Safety: Safe
Reason: This waterless spray for cats is paraben and sulfate-free. With all-natural ingredients and no dyes, perfumes, or harsh chemicals, the product is recommended to be pet-safe by veterinarians. It's pH balanced for cats but should be acceptable to use on your dog occasionally.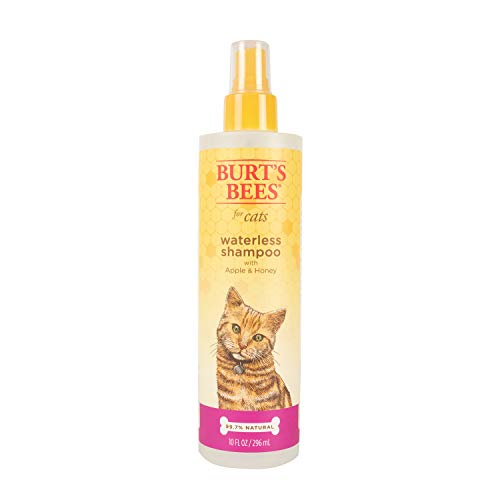 Adams Plus Flea & Tick Shampoo with Precor Sensitive Skin Formula
Safety: Safe for dogs and puppies over 12 weeks
Reason: With an insect growth regulator in the formula, this flea and tick shampoo from Adams is formulated for dogs and cats. It includes soothing ingredients like oatmeal and lanolin and a gentle cleanser that shouldn't trigger allergic reactions in most dogs. When applied as directed, the pyrethrins should not be toxic to your pooch. This product is formulated and pH balanced to be suitable for dog and cat skin.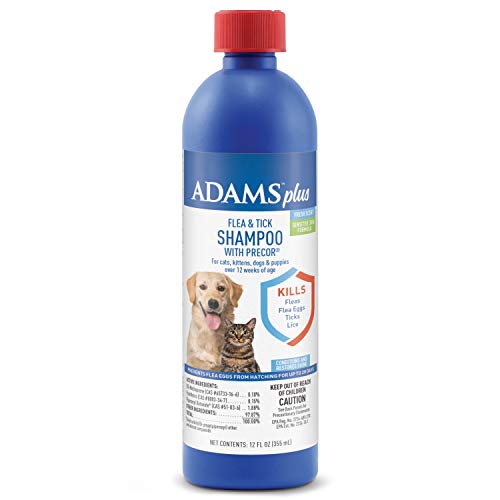 Earthbath 2-in-1 Conditioning Cat Shampoo
Safety: Safe
Reason: Formulated and pH balanced for cats and kittens, this shampoo from Earthbath contains no parabens, sulfates, phthalates, dyes, or other harsh chemicals. The mild natural cleansers are gentle and should not irritate dog skin when used occasionally. Although there is a light fragrance, it comes from a natural botanical source. It includes vitamins and aloe vera to soothe and nourish the skin and glycerin to condition the coat.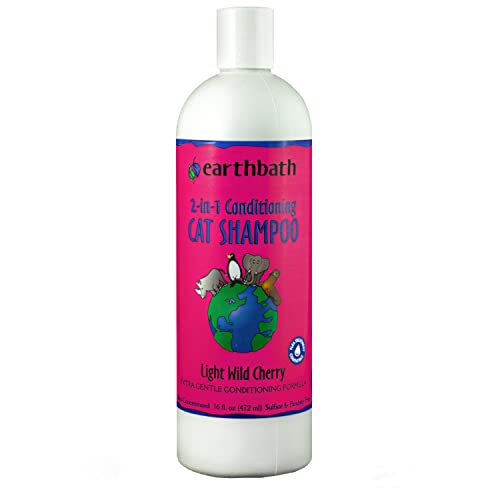 Cat Shampoo – For Sensitive Skin & Allergies
Safety: Safe
Reason: Made for sensitive skin, this product from Earthbath is pH balanced for pets. It's safe for dogs and cats and contains no dyes, phthalates, parabens, sulfates, alcohol, or other harsh chemicals. With gentle cleansers and natural ingredients, the formula includes aloe vera and rosemary oil to soothe and condition the skin.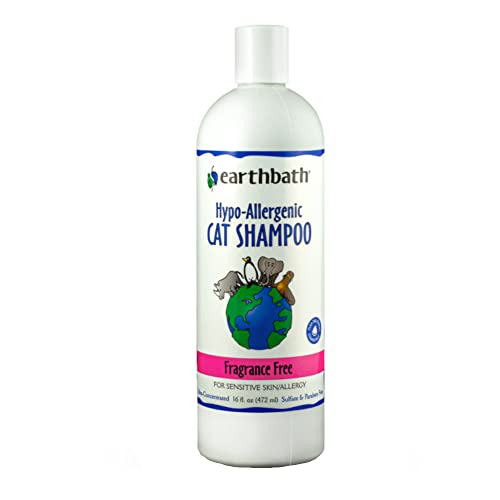 Hartz Groomer's Best Hairball Control Cat Shampoo
Safety: Not Safe
Reason: This product from Hartz contains unsafe ingredients that we cannot recommend for your pooch. It includes red dye 40 and synthetic perfumes as well as sodium Laureth sulfate which can irritate the digestive tract, mouth, and skin. These chemicals may cause allergic reactions in sensitive pups.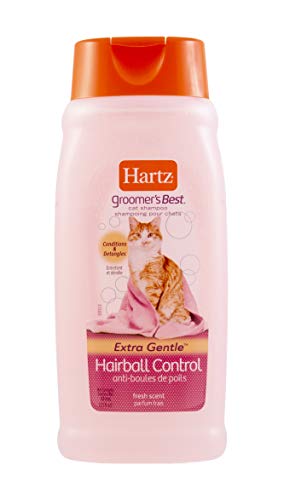 Wahl Cat Waterless Shampoo for Soothing Damaged Skin
Safety: Safe
Reason: With a pH balanced for pets and natural, plant-derived ingredients, this waterless shampoo for cats is formulated to be gentle on the skin. The product includes oatmeal and aloe to soothe the skin, coconut as a mild cleanser, and lime and lemon verbena for natural fragrance. There are no harsh chemicals, parabens, alcohol, or other potentially toxic ingredients in the formula.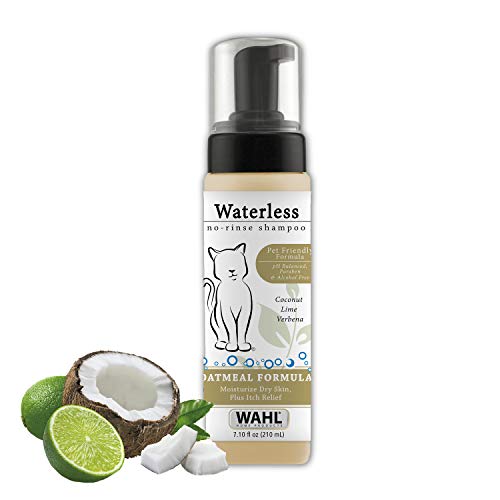 What Can I Do if I'm Out of Dog Shampoo?
Your pooch just rolled in the mud (or something worse), and you reach for his shampoo only to find it's empty. Now what? Fortunately, there are some dog-safe alternatives that you can use in an emergency to bathe your furbaby. Then, once he's clean, replenish your stock for the next time.
Dish Soap Shampoo
Dawn is an effective cleanser that can remove greasy, slimy dirt from your pal's coat. In a pinch, you can combine ¼ cup Dawn dish detergent, ½ cup white vinegar, and 2 cups vinegar in a spray bottle to make a shampoo. Apply the mixture to your pup's coat and thoroughly rinse. You can use this as an emergency standby, but repeated application may strip the natural oils from your furbaby's skin.
Oatmeal Bath
A soothing oatmeal bath is a safe alternative for pups with sensitive skin. Grind 1 cup raw oatmeal to a powder and mix with ½ cup baking soda and water. You can use a spray bottle to apply the solution to your dog's coat. Rinse completely after the bath.
Castille Soap and Essential Oils
Castille soap is an olive oil-based natural cleanser with moisturizing properties. Mix the product with dog-safe essential oils to neutralize odors and freshen up the coat. Consult with your veterinarian before adding any oils because some are not safe for dogs.
Dry Shampoo
You can use some household items to make a homemade dry shampoo for your dog. Start by brushing your pooch's coat to thoroughly remove loose hair, skin debris, and dirt. Then you can sprinkle baking soda or cornstarch on the coat and massage it in. Both of these products can bind with grease and oil to remove dirt from the coat. Finish by wiping your pup with a damp cloth.
Wet Wipes
If you have unscented wet wipes or baby wipes, they can be used for mildly dirty dogs. Make sure to avoid the eyes, and only use when you don't have dog shampoo on hand.
The Final Woof
Dog and cat skin are not the same. Cats have a slightly lower pH and more sensitive skin than dogs. As a result, shampoos that are pH balanced for felines could disrupt your dog's acid mantle with repeated use. However, because cats have ultra-sensitive skin, the ingredients in their shampoo are unlikely to be irritating or dangerous for your dog.
The bottom line is that while there are cat shampoo brands that you can safely use on your pooch, they're not as effective. If your pooch needs a bath now and you only have cat shampoo on hand, check the label. As long as there aren't any dangerous ingredients, you should be able to use the shampoo safely. Then, as soon as possible, get a dog shampoo for next time.