You're a good dog owner. You give your pup plenty of attention, take him for daily walks, and you make sure he gets enough sleep. But when it comes to bath time, you might be making one big mistake: using the wrong shampoo on your pooch. The chemicals in shampoo with soap can be too harsh for your furry friend's skin, thus causing dryness and irritation.
When I was in practice, I'd occasionally have a pup parent call because their pooch developed red, itchy skin. As I questioned the owner, sometimes I would conclude the problem was in the shampoo. Then I counseled my client about the value of using soap-free dog shampoo.
In this article, we'll discuss what is soap-free dog shampoo. What makes it soap-free, and how does it work? Then we'll review who should use these types of products and go over some of the popular ingredients in soap-free shampoo.
Once we look at the substances you're likely to find in a soap-free formula, we'll talk about how you can tell if a dog shampoo is soap-free or not. Then I'll provide you with an overview of five popular products and give you a recipe for homemade soap-free shampoo.
So let's dive in.
What is Soap Free Dog Shampoo?
If you're new to the world of soap-free dog shampoos, you might be wondering what exactly they are, or even if they exist. Sadly, there is no such thing as a "soap-free" shampoo, because all shampoos are technically made with soap—but there's more to the story.
Let me explain. By "soap," I mean the traditional kind that contains sodium lauryl sulfate (SLS). It's what gives human soaps and shampoos their lather, but it can be extremely drying to your sensitive dog's skin. That's why many dog shampoos contain a special naturally-derived type of soap called "sulfate-free," which has no SLS. It will give your dog a nice clean without stripping her fur of its natural oils. And that means it won't irritate her skin either.
Soap-free dog shampoos also contain other ingredients that can help moisturize your pup and keep his fur soft and shiny, like oatmeal, coconut oil, aloe vera, jojoba oil, and panthenol. These are all mild ingredients that are safe for use on dogs and will help keep their skin healthy and hydrated after a bath.
Soap-free dog shampoo relies on natural, organic ingredients rather than sodium lauryl sulfate to gently cleanse the fur and remove odors. These formulas have no sulfate-based detergents that can irritate and dry the skin with repeated use.
How Does Soap Free Shampoo Work?
If you've ever washed your hands with soap and then tried to wash them again without soap, you can understand the difference between a soap-free dog shampoo and a soap-based one. Soap washes away dirt and oils by attracting them to itself. It's made of molecules that are attracted to water on one end and oil on the other. The oily end grabs the oils in your dog's skin and coat, while the watery end attracts water molecules so the oils can be rinsed away. When you use a shampoo that contains soap, the same thing happens: dirt and oils are pulled out of your dog's skin and coat, removing them from her body.
Fortunately, soap is not the only option for cleaning your dog's hair. Soap-free shampoos rely on natural ingredients such as oatmeal and coconut. These materials contain substances that break up dirt and oils so that they can be rinsed away. For example, oatmeal contains saponins that help to cleanse the hair and remove dead skin and dirt buildup. In coconut oil, the natural fatty acids Lauric acid and myristic acid help to remove excess oils and gently cleanse the skin and hair. These naturally occurring chemicals are less likely to remove healthy oil from the skin and coat.
Soap-free dog shampoo uses natural ingredients which contain substances that help to break up dirt and excess oil. This allows you to rinse the grease and grime from Fido's coat. Unlike soap, soap-free products usually do not pull healthy oils away from your dog's skin and hair.
Who Should Use Soap Free Dog Shampoo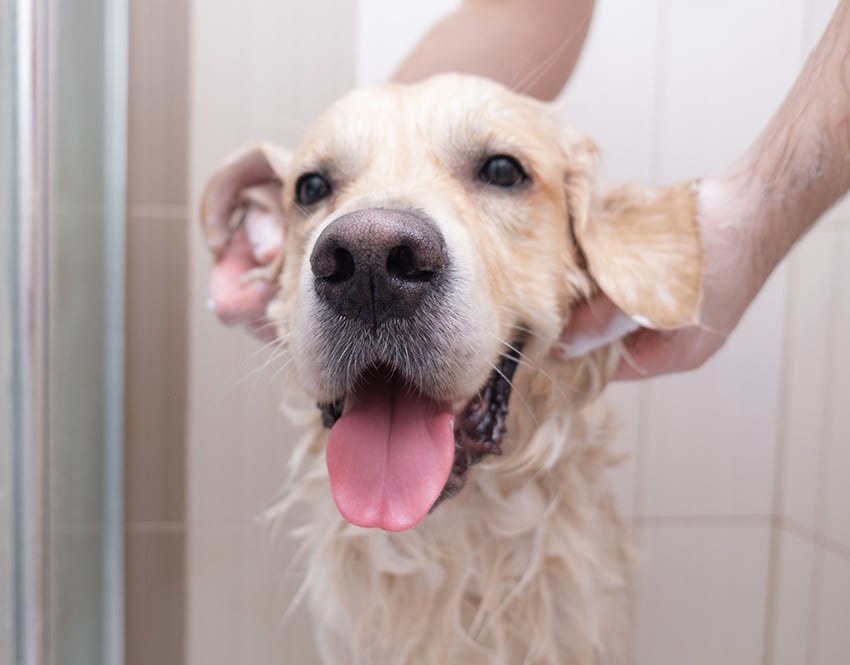 Soap-free dog shampoo is beneficial for any dog, but it's particularly useful if you have a pooch with dry itchy skin, sensitive skin, or allergies. 
Dogs with dry skin: The chemical composition of soap tends to be harsh and often removes natural oils from your dog's skin. As a result, your pooch loses the moisturizing barrier. If your furbaby already suffers from dry, itchy skin, using a dog shampoo that contains soap or a detergent can increase the condition's severity. However, formulas with gentle, non-soap cleansers may help to soothe and protect the skin.
Dogs with sensitive skin: The strong basic component of soaps can be irritating, particularly if your furbaby already has sensitive skin. Non-soap cleansers tend to be far more gentle, and some can even soothe sensitive skin.
Dogs with allergic skin conditions: Some dogs are allergic to soaps, and when that's the case you should use soap-free dog shampoo. But what if your pooch suffers from other environmental allergies? In these cases, it's also wise to rely on non-soap shampoo because detergents can affect the protective skin barrier. When soap removes the natural oils from your pup's integument, he can become more susceptible to allergenic triggers.
These products are safe for all dog ages and breeds, but they are particularly helpful for dogs with dry skin, sensitive skin, or environmental allergies. The gentleness of the natural ingredients helps to soothe and protect your pup's epithelium, and they also clean his hair without stripping natural oils from the skin.
Soap Free Shampoo Popular Ingredients Overview
When you're trying to find the best soap-free dog shampoo, you'll find that there are many options out there. As with any product, it's important to take a look at the ingredients to make sure you're getting what you want for your pup. This will also help you steer clear of anything that might irritate their skin or be harmful to them in other ways. Here are some of the most common ingredients in soap-free dog shampoos and what they mean for your pet:
Oatmeal – We've all heard of oatmeal being used to soothe itchy skin, and it can be highly effective on dogs' coats as well. The grain has a natural substance called avenanthramide, which helps reduce itching and redness associated with eczema and other skin conditions. Oatmeal also provides exfoliation and removes excess oil from the skin and hair follicles, leaving your pooch feeling clean and refreshed.
Coconut oil – This is a popular ingredient in pet shampoos because it provides so many benefits for your dog's skin and hair. It has antibacterial, antifungal, and antiviral properties that help prevent infection and inflammation. Moisturizing qualities in oatmeal will leave your dog's coat smooth and shiny. It also contains lauric acid, which is good for strengthening hair follicles while encouraging new growth!
Aloe vera – Aloe vera is an anti-inflammatory agent that helps reduce redness and irritation on damaged skin from scratching or hot spots caused by allergies or fleas. It also has antibacterial properties that fight off infection in cuts and scratches on your pet's body.
Jojoba oil – Jojoba oil is similar to our sebum (natural oils produced by our body) so it doesn't leave an oily residue behind when applied to your dog's coat. It also helps repel fleas and ticks while conditioning your dog's fur. Bonus!
Panthenol – Panthenol, or pro-vitamin B5, is an ingredient found in many sunscreens because it has anti-inflammatory properties that can help treat irritated skin caused by UV rays or other irritants.
Common ingredients in soap-free shampoo include aloe vera, coconut oil, jojoba oil, oatmeal, and panthenol (Vitamin B5). These ingredients tend to be gentle and nourishing for the skin. Always check the ingredient list before buying shampoo to make sure it doesn't have substances that irritate your sensitive furbaby.
How To Tell If Dog Shampoo Is Soap-free?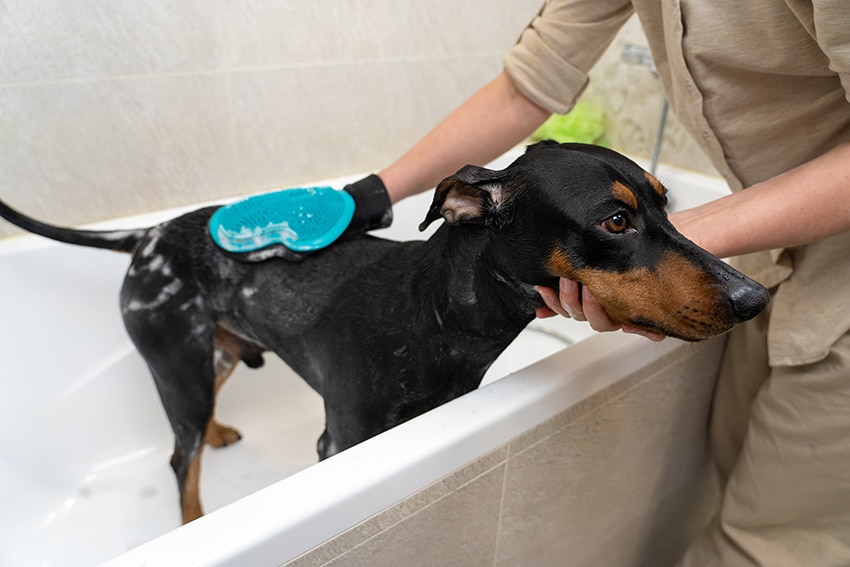 When you're looking for a shampoo for your dog, always look for one that is soap-free or detergent free. This should be indicated on the label somewhere. If you can't find any indication that the shampoo does not contain soap or detergent, check the ingredient list.  
If you're in doubt about whether a particular shampoo is soap-free, look for a lathering agent like lauryl sulfate or SLS. These are typical ingredients in soaps and detergents. On the other hand, if the product contains ingredients like coconut oil, jojoba oil, or palm kernel oil, it's probably safe to use on your dog.
When you're checking to see if a dog shampoo is soap-free, you need to check the label. Look for a statement that the product is soap or detergent free and confirm that it doesn't contain lauryl sulfate or SLS. These ingredients are soaps that are commonly found in shampoo.
Overview of Popular Soap Free Dog Shampoo Brands
If you're looking for soap-free dog shampoo for your furbaby, you may not know where to start. That's why we have provided an overview of five popular brands below.
Earthbath Oatmeal & Aloe Fragrance-Free Dog Shampoo
Earthbath Oatmeal and Aloe Shampoo is made with natural ingredients and is free of parabens and phosphates. This fragrance-free shampoo is specially formulated for your dog's sensitive skin. It contains oatmeal, aloe vera, vitamin E, and other emollients that soothe dry, itchy skin and help to prevent flaking. The shampoo is formulated to lather nicely and rinse out easily. Without any added fragrance or masking perfumes, leaves your pet smelling fresh. If you prefer a scented shampoo, Earthbath also makes this shampoo in a variety of scents including almond vanilla and orange peel oil.
Buddy Wash Original Lavender & Mint Dog Shampoo & Conditioner
This lavender and mint dog shampoo cleans your pup's fur without stripping the natural oils from their skin. The formula is made with natural ingredients like aloe vera, jojoba seed oil, and coconut oil to help moisturize and hydrate your pet's fur and skin. It also contains no soap or harsh chemicals, so it will not dry out Fido's skin. Instead, this formula uses essential oils to naturally clean and brighten his coat while eliminating odors. The pleasant lavender and mint scent isn't overpowering. Nettle extract and tea tree oil help to combat inflammation and itching. The product is even pH-balanced to protect your pet's sensitive skin.
TropiClean Medicated Oatmeal & Tea Tree Dog Shampoo
Soap, paraben, and dye-free, Tropiclean Medicated Shampoo is gentle on your dog's skin. The main ingredient in this shampoo is tea tree oil which can be an effective treatment for dandruff. By reducing the number of dead skin cells, it helps to prevent flaking and itching. It also has antifungal properties that help to protect your pal from yeast infections. Formulated with a unique blend of essential oils and other natural ingredients like oatmeal, this formula can help cleanse the skin and coat while also soothing irritated skin. This product is safe for dogs, cats, puppies, and kittens over 12 weeks old.
Burt's Bees for Dogs Hypoallergenic Dog Shampoo
For dogs with sensitive skin, Burt's Bees for Dogs Hypoallergenic Dog Shampoo contains aloe vera. This ingredient helps moisturize and protect the skin. The formula also includes Vitamin E, which acts as an antioxidant to protect against damage caused by free radicals. Oatmeal extract in the product gently cleanses the fur and moisturizes the skin without stripping the natural oils. There are no harsh chemicals, dyes, or synthetic fragrances in the formula that could irritate your pal's sensitive skin. This hypoallergenic shampoo is gentle enough to use every day. You can even use it on dogs with allergies because it doesn't contain any common allergens or irritants like sulfates, parabens, or phthalates.
Pro Pet Works Organic 5 in 1 Oatmeal Dog Shampoo and Conditioner
Pro Pet Works Organic 5 in 1 Oatmeal Shampoo and Conditioner is formulated to moisturize, nourish, deodorize, detangle and brighten your pet's coat. The shampoo contains all-natural ingredients that are safe for pets and the environment. It's sulfate and paraben-free. The main active ingredient in this shampoo is organic oatmeal, which is known for its soothing properties and natural cleansing properties. As a result, this ingredient helps clean your pet's skin without drying it out. Oatmeal is also rich in antioxidants, which help eliminate free radicals from your pet's coat. Other key ingredients include avocado oil, coconut oil, and shea butter. All these ingredients work together to moisturize your pet's skin without leaving it oily or greasy.
Homemade Soap Free Dog Shampoo Recipe
While many dogs with sensitive skin or allergies fare quite well on commercial soap-free shampoos, some pups may react to the ingredients in over-the-counter products. In those cases, you may need to formulate a solution at home to wash your dog. Making homemade dog shampoo is easy, cheap, and less likely to irritate your dog's skin than many commercial products. With the right ingredients, it will also leave your pooch smelling fresh and clean.
Here is an easy, natural recipe that should leave your furbaby's coat clean, fresh-smelling, and soft:
1/4 cup of warm water
2 tablespoons of apple cider vinegar
1 tablespoon of olive oil
2 tablespoons finely ground raw oats (you can also substitute oatmeal flour)
Blend the ingredients together in a bowl to form a thick mixture. If the blend is too thick to use, add more water until it is the consistency of pancake batter.
To use the mixture, wet your dog's coat thoroughly and apply the shampoo. Work the material into his fur by massaging it gently into the coat with your fingers. Allow the blend to sit for a few minutes to allow the ingredients time to work. Rinse your pal thoroughly with warm water and towel dry.
The Final Woof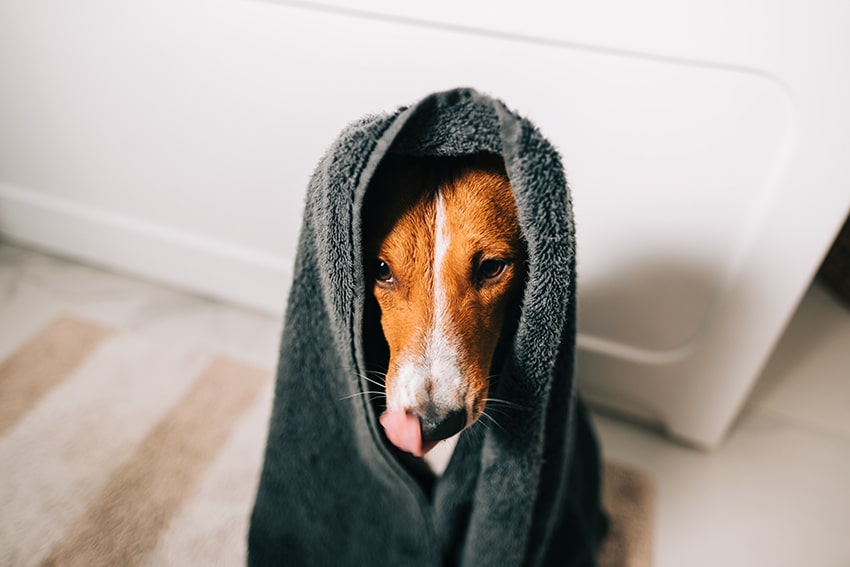 Soap-free dog shampoo does not contain sulfate-based soaps like sodium lauryl sulfate (SLS). Rather, it relies on natural, plant-based ingredients like coconut oil and oatmeal to gently cleanse your dog's fur without stripping away natural oils.
While soap attaches to oil, dirt, and grime so that it can be rinsed away, non-soap cleansers break up dirt and debris and allow them to be washed out. Either way, you get a clean dog, but the natural substances are less likely to irritate or dry your furbaby's skin in the process.
Products that use gentle, natural cleansers rather than harsh soaps are particularly useful for dogs with dry, irritated skin, pups with sensitive skin, or canines that suffer from skin allergies.
That's because many of the products contain moisturizers and ingredients like aloe vera and panthenol to protect and heal the skin. When evaluating a product to determine whether it's soap-free, check the label. The label may clearly state the formula is soap or detergent-free, and the ingredients will not contain sulfates like SLS.