We love our pups and want to bring them with us whenever possible. Many times our outings involve car travel. As a matter of fact, a survey from the American Automobile found that over 80% of dog owners will drive with their canine pals in the car, but only about 16% use proper safety restraints for their furry friends.
Before you ask your furbaby, "Want to go for a ride?" It's important to know what you need to do to ensure your pooch's safety. So, let's look at some safety tips for driving with your dog.
Know Your State's Driving Laws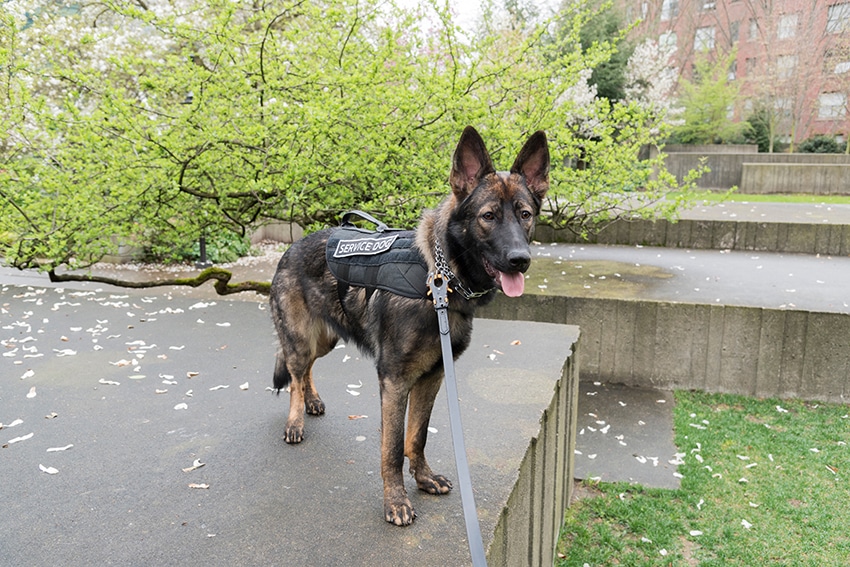 When you drive with your dog, you need to know the state's laws for transporting pets in an automobile. Check with the Department of Motor Vehicles in your state about relevant statutes. The regulations vary from one place to another. Some statutes require that you transport dogs in a carrier. Do your research before taking any long trips.
Do Some Practice Runs to Train Your Pup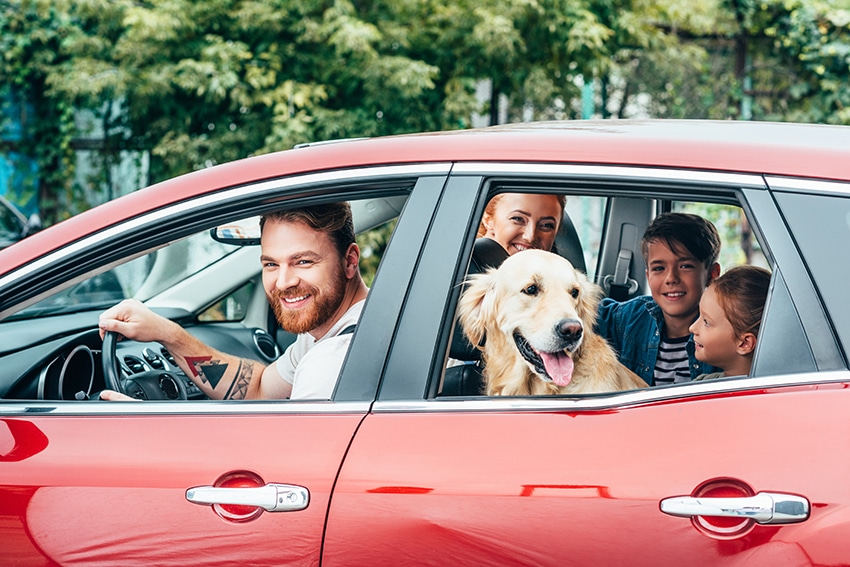 Before you plan any long road trips, get your pooch used to riding in the car. That way they'll know what to expect, and you'll know if they have any issues with fear or motion sickness. 
For fearful travelers, start by feeding them a meal or treats in your parked vehicle. Let them get used to the surroundings and associate it with positive experiences. Then you can graduate to some short rides to fun destinations like the dog park. Don't blast the radio so that the driving experience is calm and enjoyable.
If you have a pooch that's prone to car sickness, talk to your veterinarian. They may be able to recommend medicine or another product for Fido.
Tag or Microchip Your Dog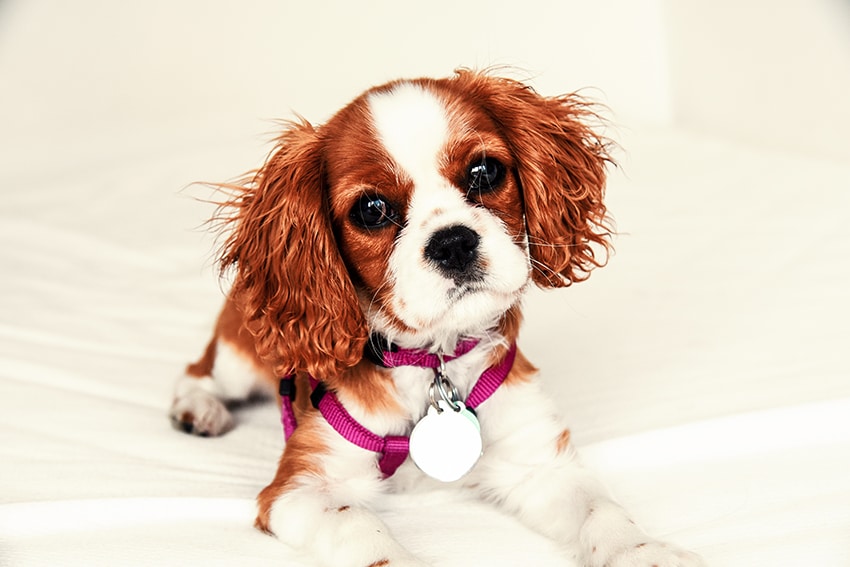 No matter how careful you are, dogs can still slip out an open car window or door and disappear. Providing an ID tag or a microchip for Fido makes it easier for you and your furbaby to have a joyous reunion. So, whether you're headed across town or interstate, make sure your pooch has up-to-date identification.
Feed Fido in Advance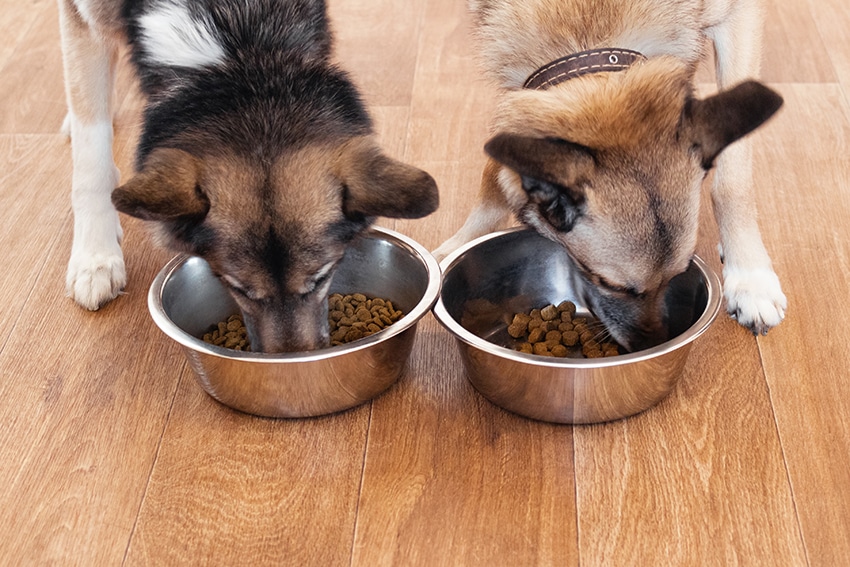 One thing you can do to help prevent or head off car sickness is to feed your pooch at least a few hours before your travels. Depending on your pal's diet, some food can stay in the stomach as long as 10-12 hours before moving on to the intestines. However, the contents will usually empty after about 2 hours. Plan your pup's meal so he's not traveling on a full stomach.
Invest in Car Safety Gear
You have several options when it comes to car safety equipment, and what you choose may depend on your pooch. No matter what, one rule of the road for all furry friends is to keep them out of the front seat. Dogs can be a distraction or interfere with your driving when they're riding shotgun. And if your airbag deploys, the impact could smother them. If necessary, invest in a pet barrier to keep your furbaby in the back seat.
In addition to sequestering your four-footed friend to the back, it's important to secure them in a crate or with a car safety belt and harness. Some safety harnesses also double as a walking harness, and that's convenient for traveling. Simply trade the safety belt for a leash before bringing your pup out of the car.
There are also booster seats for small breeds. These safety platforms let your furbaby look out the window. They click into the seat belt and include a harness to secure your pal.
Travel kennels and crates can help protect your pooch in an accident. They offer an extra shield from flying objects and can prevent your pup from escaping the vehicle in the chaos. If you use a crate to keep your travel buddy safe, you can secure it with a seatbelt. For larger dogs, you may use a wire cage. As with the crate, secure it using the rear seat belt. Cover the mesh with a towel for protection from the sun. When using travel kennels of any kind, provide cross ventilation by opening the back windows as much as the outside temperature permits.
Pack a First Aid Kit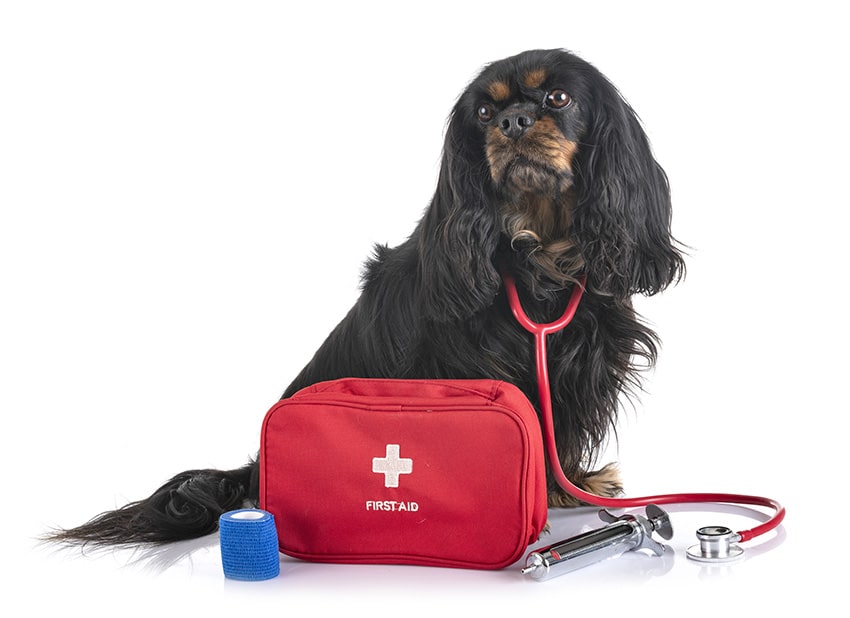 While most outings will be uneventful, you want to be prepared for the unexpected. Accidents can occur any time, whether you're pulling out of your driveway or miles from home. That's why you should always travel with a first aid kit for your pooch. Keep the pack filled with supplies so that you can administer initial care to your pup in the event of an injury. Your intervention can make all the difference for Fido's recovery.
Bring Travel Supplies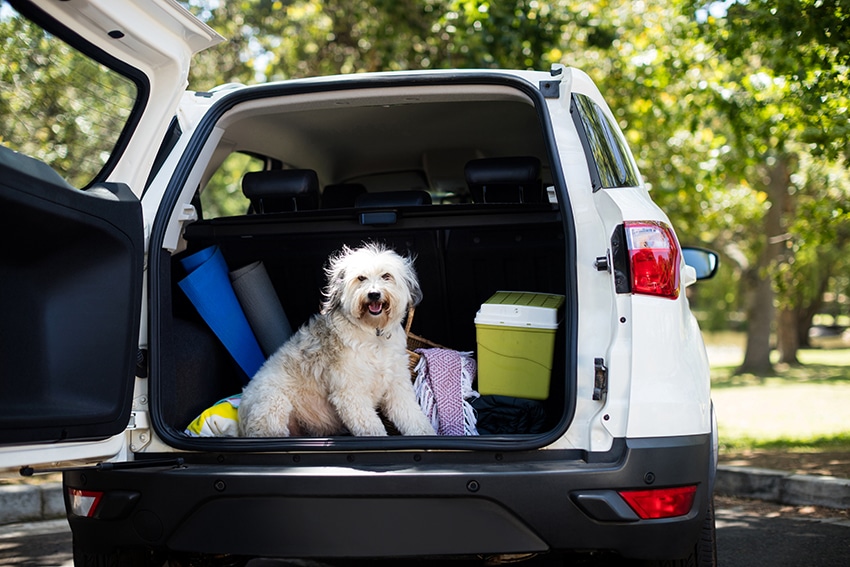 In addition to a first aid kit, pack a travel bag for your pooch. This kit should include items such as bowls, paper towels, stain remover, poop bags, a bottle of water or a spillproof water dish, some of your pal's usual food, a favorite toy, and bedding for longer trips. Having familiar items can help your furbaby stay calm even when his routine gets disrupted.
Soothe Your Dog's Anxiety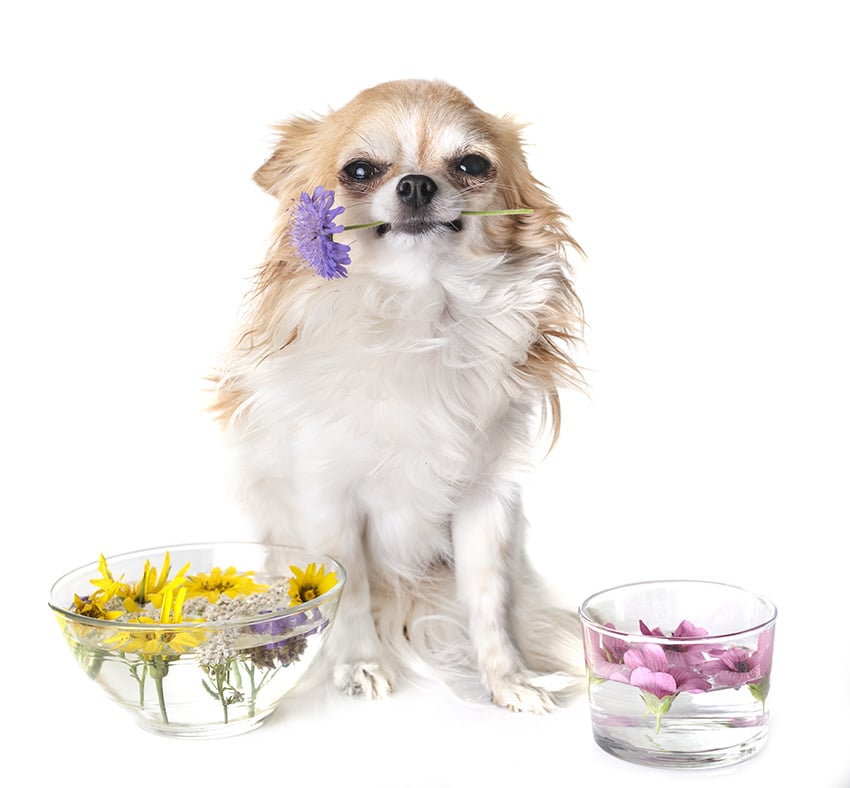 No matter how much practice and training you do to acclimate your furbaby to driving, some pups will still be nervous or experience motion sickness. Fortunately, there are some things you can do to help them feel better. Start by creating a calm atmosphere with soothing music such as classical or smooth jazz. Crack the windows to let some fresh air into the cabin.
If you have an anxiety-prone pooch, try a calming collar that's infused with soothing pheromones or an anxiety vest that wraps around your dog to make them feel more secure. You can also give them pet-safe, natural remedies designed to reduce their anxiety. Phytocannabinoids are one type of remedy that may calm the nerves during travel.
Prepare a Medical File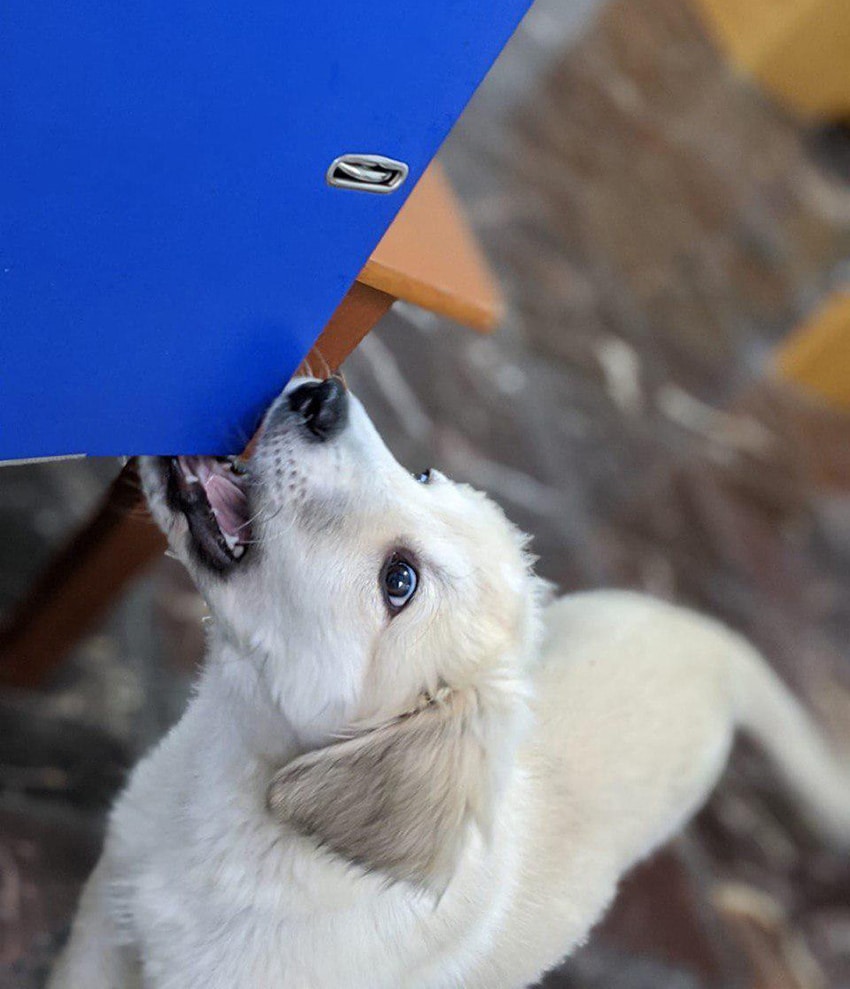 Whenever you travel with your pooch, it's a good idea to have a file of important medical records. Keep copies of rabies, parvovirus, and other important vaccinations in a travel file. If your furbaby has any medical conditions, include a list of prescription medications that he needs. List your veterinarian's contact information on the file or a card and include it with the records. That way, if something happens to you or your special pal while you're far from home, you'll have the information you need to make sure your canine companion gets the best possible care.
Bring Water 
When you're taking a trip with your furry friend, always bring water along. You can't predict every event. It's better to be prepared with a portable drinking cup with your furbaby's name on it. That way, if you're stuck in traffic or by the side of the road with a flat, you can still keep your pooch well hydrated. 
Provide Adequate Ventilation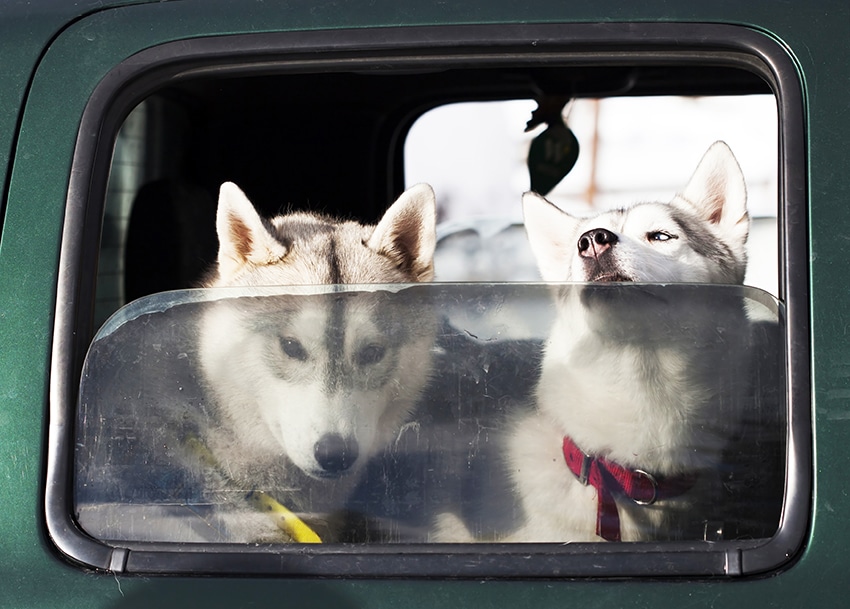 When you're driving with pets, it's important to keep the car well ventilated. A cross draft from open windows provides fresh air that may help minimize motion sickness. The breeze also assists your pup with temperature regulation so that he won't become overheated. This is especially valuable when your pooch is anxious or if you transport your furbaby in a crate.
The amount of fresh air you provide can vary. Adjust how far you open the window based on the outside temperature, and always make sure there's not enough room for your four-footed friend to jump out. 
Never Leave Your Dog Alone in the Car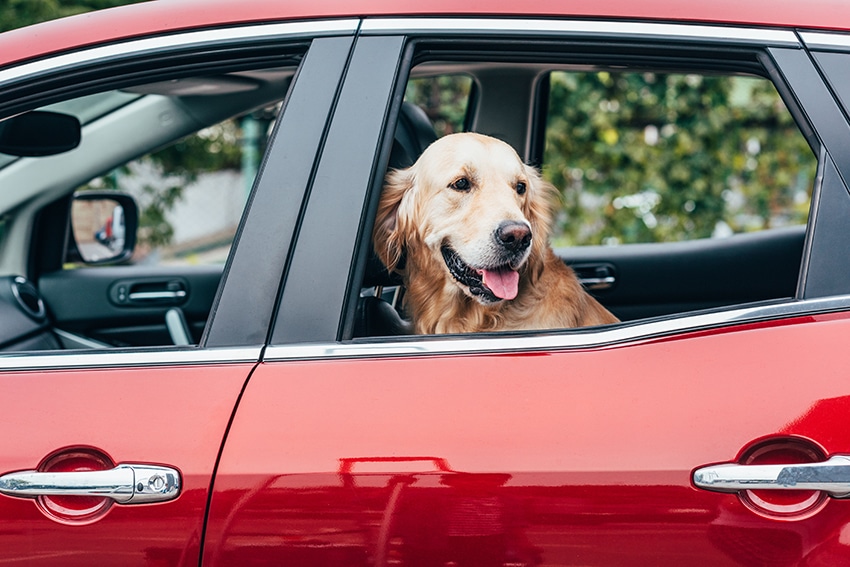 We strongly advise that you never leave your pup sitting in a parked car. You may think a quick dash into the store won't be a problem, but that's not the case. In some municipalities, there are laws that prohibit locking animals in an automobile.
In the summer, the cabin temperature can quickly rise to dangerous levels. Between your pal's anxiety over being alone and trapped and the effects of the sun's rays, the interior heats rapidly. 
What about winter? A car's windows are not designed to provide insulation. On bitter cold days, the temperature inside the vehicle can plummet almost as fast as it rises in the summer. If your pup is left alone in these conditions, he could freeze.
Keep Your Pooch's Head Inside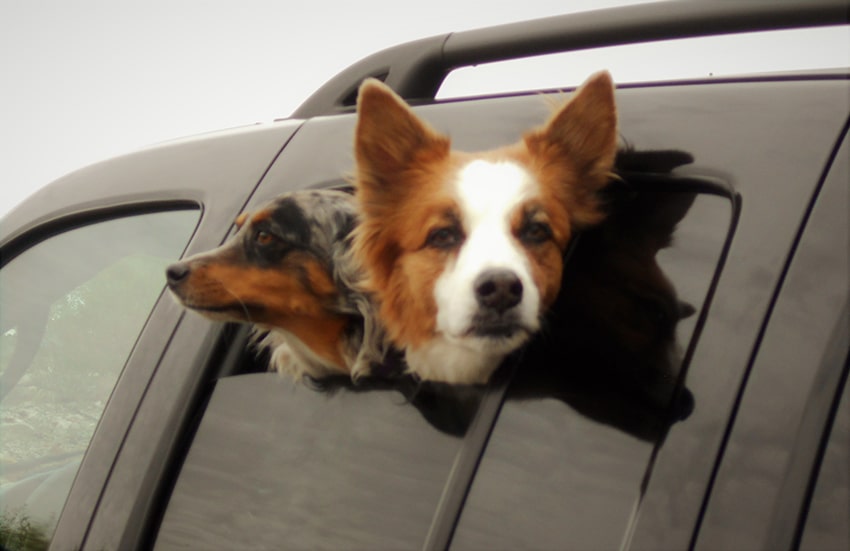 Sure, it looks adorable when you see a pup's head sticking out the window with his ears flapping in the wind. However, it can be hazardous for your special pal. Even at residential speeds, a low hanging branch or flying gravel kicked up by a passing car can seriously injure your furbaby. And remember, if your pup can get his head outside, he's more likely to try to jump out if he spots something exciting. You're better off keeping the windows cracked. Fido will still be able to enjoy all the intriguing scents from behind the glass. 
Plan Breaks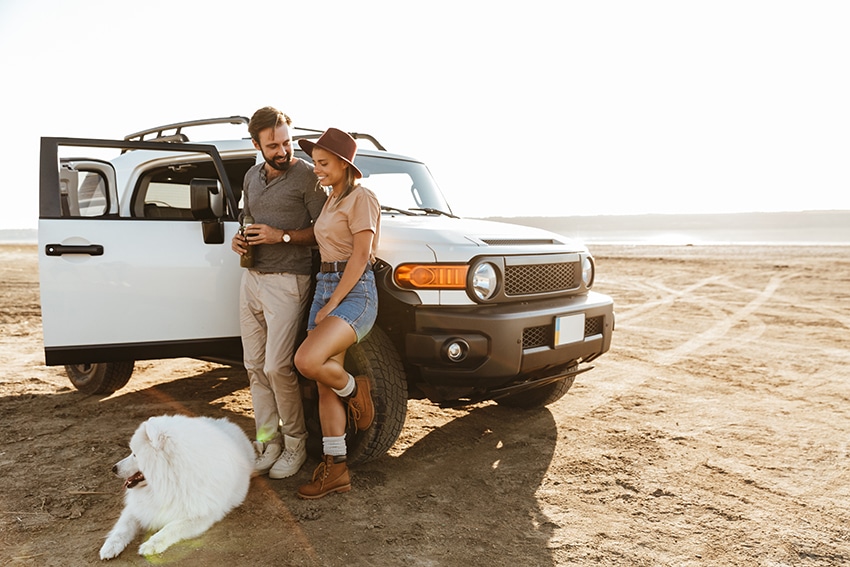 For long drives, you'll want to plan time for breaks every few hours. Just like their human counterparts, dogs need a chance to get out and stretch their legs from time to time. Many interstates and other highways offer pet-friendly rest stops. Take advantage of these courtesies to let your canine companion walk around, relieve himself, and work off a little energy. It's good for all of you.
Enjoy Your Trip!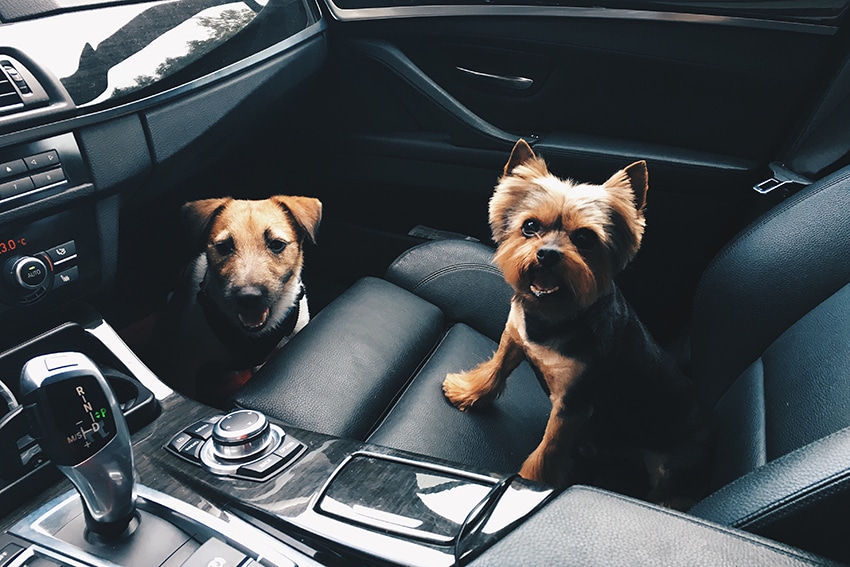 With a little planning and effort, you can help keep your canine companion safe and happy for your next outing. Now that you know how to prepare for a road trip, why wait? Pack your supplies, prepare your pooch, and have a safe and wonderful time!