We all love our fur babies but sometimes they can be a bit… smelly. So instead of rushing him off to the groomer every time he gets dirty, try one of these pawsome dog perfumes. They are safe to use and can keep your pup smelling fresh and clean between grooming sessions.
After evaluating more than 30 dog perfumes, we found that the Arm & Hammer for Pets Super Deodorizing Spray for Dogs had the most essential features using our criteria. We believe this is the best dog perfume because it is safe, inexpensive, has all-natural ingredients, and has no harsh chemicals. It even includes hydrolyzed silk for a sleek and shiny coat.
But I understand that you might have different needs. Perhaps your dog has sensitive skin, a hypoallergenic coat, or a strong odor. That is why I prepared a shortlist of the top dog perfumes that address different needs.
In the products review section below, we listed our top 13 dog perfumes choices to help you determine which one is right for you and your best furry friend. But first, we are going to talk about the safety issues, different formulas, 3 rules of thumb for choosing the best dog perfume for your pup, and answer common questions for dog parents.
Is Dog Perfume Safe for My Dog?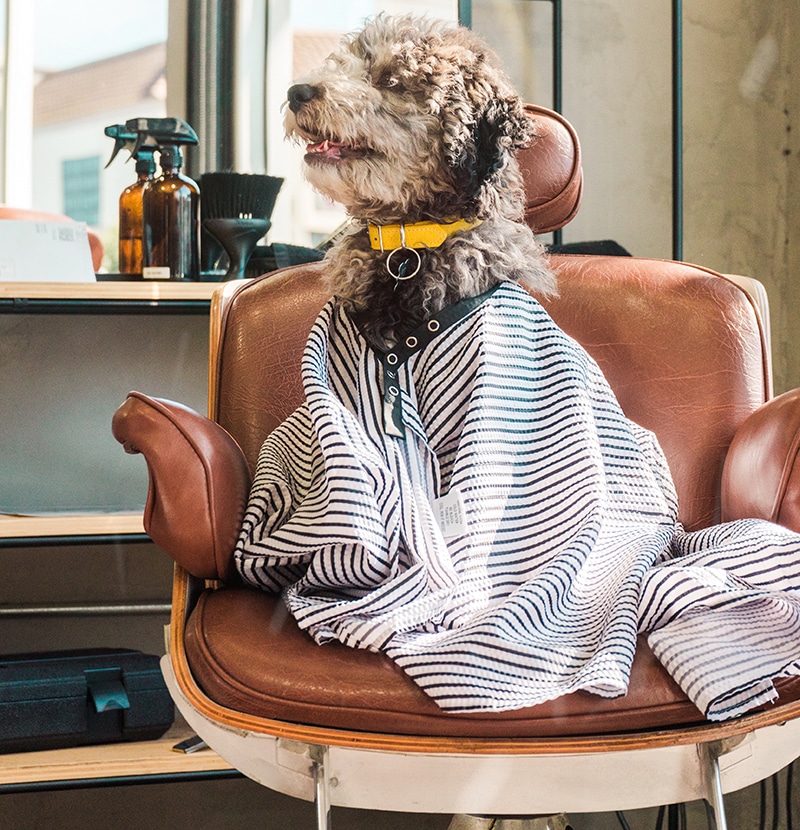 All dog parents have witnessed the wet dog smell their fur baby sometimes gets, even when not wet! It seems like the day after you take your pup for a nice grooming session, he decides to roll in the mud, jump in puddles, or get into something equally smelly. That is one reason to get some dog perfume to freshen up your pup.
Any colognes, perfumes, or other sprays made for dogs should be safe for your fur baby as long as they meet the rules and regulations set by the International Fragrance Association (IFRA). In fact, the perfumes made for dogs might even safer than those made for humans in many cases because dogs tend to lick themselves often.
Many fragrances are made with essential oils, which are typically safe for pets but can be irritating if too concentrated or if the wrong oils are used. But trusted manufacturers know the risks of these products and take the impawtant steps to make sure allergies and skin reactions are eliminated or kept to a minimum.
However, just like humans, some dogs have sensitive skin and others are allergic to certain things that many pups are not sensitive to. That is why it is best to perform a test application before spraying it all over your pooch. Just test one small patch of skin and wait 24 hours to see if there is any reaction.
If your fur buddy does have an allergic response like severe itching, redness, or swelling, you need to wash it off right away and then shampoo the area with his regular shampoo before rinsing thoroughly. If the area is still irritated after that, take your pup to see his vet to get some kind of antihistamines or other medication.
Important tip: Be sure that the dog perfume you are considering is safe to use with any flea or tick treatment you use on your fur baby.
The Difference Between 4 Pupular Scent Formulas For Dogs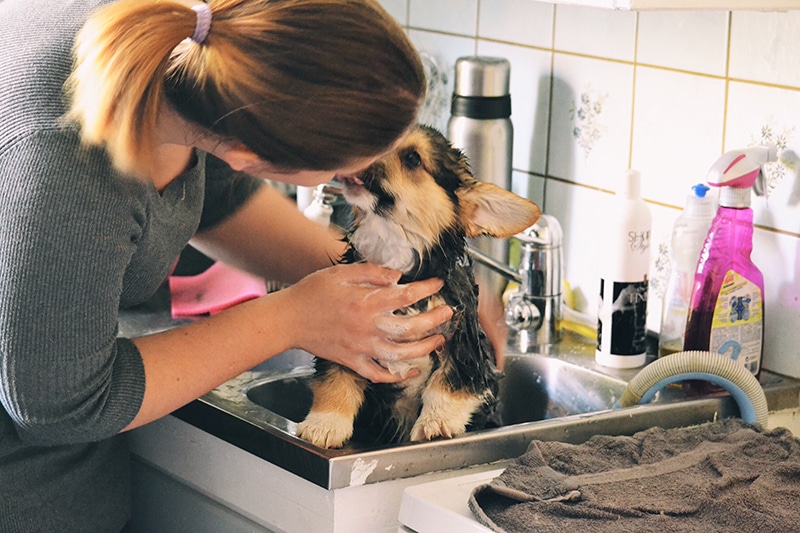 There are different formulas for dog perfumes and colognes. Therefore, when you are considering a dog scent for your fur baby, you need to think about several things. For example, you want to make sure the formula is safe for all dogs and non-allergenic. Also, check whether the formula is a perfume, cologne, grooming spray, or deodorant to help you figure out which is the best dog perfume for your pupster.
Perfume
A dog perfume is thicker with a higher concentration of fragrance extracts so they last longer than colognes. These are a bit more oily than the others too because they tend to contain essential oils as the main ingredient to cover odors.
Deodorant
If you have a pup with strong odor issues, doggie deodorants are great for that. These formulas are made to cut through the odors and prevent them from coming back using bacteria-fighting ingredients like enzymes.
Grooming Spray
Grooming sprays are like a combination of a cologne or perfume with conditioning agents to help manage your pup's coat. Some of these are more like a dry shampoo because they help remove oils and dirt while others just detangle and condition. You also want to make sure you like the scent. After all, that is the whole point.
Cologne
Dog cologne is more watery than perfumes with a lower concentration of perfumes or oils, making them weaker than the others. However, these are good for dogs with sensitive skin because they have more water in them.
3 Rules Of Thumb When Buying a Dog Perfume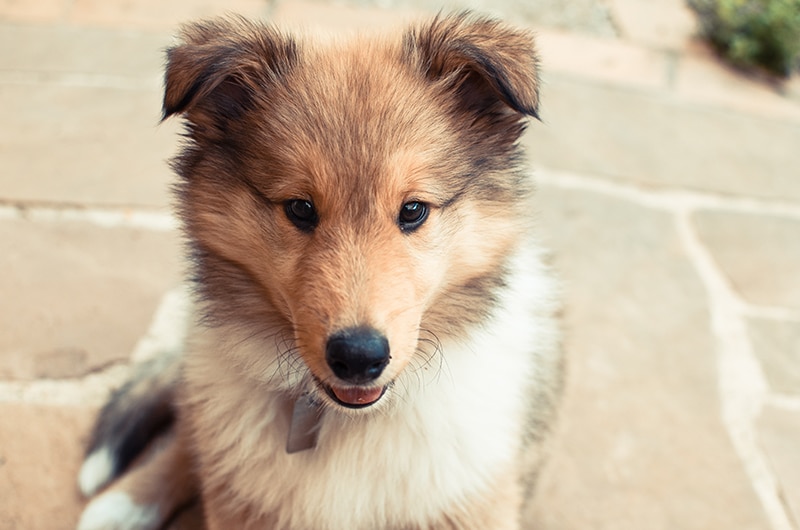 When you begin looking for a dog perfume, you need to keep 3 things in mind. You want to make sure the ingredients are natural and do not contain chemicals. Also, be sure to actually smell it so you know you like the scent. Don't just go by the package because everyone's nose is different. Lastly, check to see how long it lasts because you do not want to keep reapplying it.
Natural Ingredients: Do not buy any product without an ingredients list. You never know what is in it. You want natural ingredients like aloe, essential oils, and choose water-based formulas instead of alcohol. The only one that is safe is Benzyl alcohol because it is a fatty alcohol. It also goes by Behenyl, Cetyl, Stearyl, and Cetearyl. Stay away from ethanol, denatured or isopropyl alcohol, and methanol.
Scent: Because dogs have a better sense of smell than we do, you have to make sure you choose a perfume with a calming scent. Your fur baby has about 300 million scent receptors while we only have 6 million so they will pick up the smell much stronger than we will. You do not want something overpowering or unpleasant. Try it on yourself first to see if it causes a reaction.

Lavender eases anxiety and nervousness in both dogs and humans, so this is a fantastic choice.
Cedar is another scent that repels fleas and ticks and will keep your pooch focused if he is training. The smell is also good for relaxation and rehabilitation.
Chamomile is another great calming scent. We drink chamomile tea to calm our nerves and this scent does the same for dogs. This is great for puppies that tend to be impatient and irritable at times.
Lemongrass is a nice scent that can help your fur baby concentrate better and focus on whatever he is doing. It can also repel ticks and fleas as well as helping with digestion.
Orange is good for digestive issues and will improve your pup's mood overall. It also stimulates their lymph system, which is good to remove toxins from their body.

Lasting Strength: Scents last longer on dogs with short, smooth, single coats, those with long or thick coats. However, this does not mean you should douse your dog in excess spray or a really strong scent. Remember, your fur buddy's sense of smell is about 50 thousand times better than yours. Dog perfume lasts between 4 and 8 hours so do not repeat the dose more often than 3 times per day.
Our 2021 Review For 13 Best Dog Perfumes
After reviewing more than 30 dog perfumes using the criteria mentioned above, we chose 13 that we think are great choices for your pooch. We even classified them to help you choose the best for your specific pooch and what kind of odor issues he is having.
Arm & Hammer for Pets Super Deodorizing Spray for Dogs
Ingredients: Water, hydrolyzed silk, kiwi extract, grapefruit seed extract, baking soda
Scent: Kiwi Blossom
Formula: Deodorant
Paws Up Benefit: No harsh chemicals, natural ingredients, silk for shine and moisture
Best for: Best overall
With the name Arm & Hammer behind it, you know this dog deodorant spray will do what it is supposed to. The baking soda gets rid of the odors, and the fruit extracts give his coat a nice fruity scent, while the hydrolyzed silk provides added moisture and strength. It also acts as a dry shampoo to get rid of dirt between groomings.
Also, because all dogs need flea and tick treatment, you can be certain that this one is safe for your pooch no matter what brand of treatment you use. You won't find any phtalates, parabens, or sulfates in this spray either, and it can be used on pups 8 weeks and older.
What We Like:
Safe for use with any flea and tick treatment
Freshens and cleans his coat with baking soda
The silk makes his coat shiny and soft
Great price for such a safe product
What We Don't like:

Oster Animal Care Oster Canine Tropical Cologne
Ingredients: Water, fragrance, and hydantoin.
Scent: Baby powder or raspberry
Formula: Cologne
Paws Up Benefit: Alcohol-free, pH balanced, made in the USA
Best for: Most affordable
Oster has been selling pet products for over 50 years, and this cologne spray for dogs is a fantastic spray that can keep your pup smelling good between grooming visits. It is also good for his coat and skin, offering a balanced pH conditioning suitable for all breeds.
It is also 100% alcohol-free so it will not dry out his skin. In fact, it helps your fur baby's coat retain moisture and essential oils. In addition, it is made in the USA, so you know it has passed all the strict regulations. The best part is the price because, at about $3.00, it is the least expensive one on the list.
What We Like:
The price is outstanding, so you can get one for the house, RV, car, and in your purse
Get one of each scent, so your pup always smells fresh
Trusted name is a primary best selling pet product provider
What We Don't like:
It does not last long
It can be too strong for some dogs
TropiClean Deodorizing Sprays for Pets, Made in USA
Ingredients: Water, wheat protein, colloidal oatmeal, coconut water, and a blend of natural extracts (raspberry, pomegranate, strawberry, mango, blueberry, and aloe)
Scent: Berry Breeze
Formula: Deodorant
Paws Up Benefit: No dyes or parabens, all-natural ingredients, made in the USA
Best for: Sensitive skin
TropiClean Deodorizing Spray is packed with a variety of fruits and other natural ingredients to freshen his coat between trips to the groomer. The colloidal oatmeal helps soothe dry and itchy skin, and the wheat protein is good for his coat, making this the best for dogs with sensitive skin.
Whether you like the scent of berries, fruits, or even baby powder, this spray has seven fragrances to choose from. These include Berry Breeze, Lime & Coconut, Papaya Mist, Pure Plum, Baby Powder, Kiwi Blossom, and Sweet Mandarin, so you can get one for every day of the week.
What We Like:
Each fragrance contains oatmeal to calm sensitive skin
The wheat protein in each one strengthens your dog's coat
They are great for dry skin and static
It lasts a long time
What We Don't like:
HONEYDEW Pet Odor Eliminator Spray for Dogs
Ingredients: Water, evening primrose oil, lavender oil, and glycerine
Scent: Lavender
Formula: Grooming spray
Paws Up Benefit: No alcohol, paraben, or dyes, cleans coat like a waterless bath,
Best for: Puppies
With the calming scent of lavender, both you and your puppy will enjoy Honeydew grooming spray. It is safe for pups 8 weeks and up and will clean his coat as it nourishes and freshens. Pet groomers and vets recommend this formula because of its essential oils.
The glycerine is what makes this spray so good for pups of all ages because it conditions skin and hair, repairs damage, and hydrates his coat. You will notice the change in your puppy right away because the smell of lavender oil is proven to be a calming scent. It will benefit you as well, every time you cuddle with him.
What We Like:
It can be used on puppies.
The lavender scent is an excellent way to calm pups those first few months
The glycerine conditions and hydrates the coat
What We Don't like:
It only comes in one scent.
Wahl Deodorizing Eucalyptus & Spearmint to Refresh the Skin and Coat
Ingredients: Purified water, fragrance, lauryl glucoside, vegetable glycerin, saccharomyces, decolorized aloe vera, and potassium sorbate
Scent: Eucalyptus and spearmint
Formula: Deodorant
Paws Up Benefit: Alcohol and paraben-free, pH balanced, allergy-friendly, made in the USA
Best for: Eliminating strong odors
Wahl has been in the business for over 50 years, so they know what they are doing when it comes to hair for both humans and their fur babies. This is used by veterinarians and professional groomers due to its safe ingredients, conditioning and gets rid of serious odor issues.
This doggie deodorant is made in the US with all-natural oils and no alcohol or parabens, making it safe as well as well-scented. When your pup is in between baths, and you need to freshen him up, Wahl deodorizer is the pawfect choice with its fresh eucalyptus and spearmint scent and aloe vera to condition his coat.
What We Like:
Powerful scent gets rid of major odor problems
It lasts a long time
It keeps that corn chip dog smell away
pH balanced and free of alcohol and parabens
What We Don't like:
It can be too strong for some dogs
Should not be used on puppies
Nature's Miracle Freshening Spray for Dogs, Helps Neutralize Pet Odors
Ingredients: Water, emulsifiers, surfactants, odor control system, aloe vera gel, fragrance, and natural preservatives
Scent: Clean Breeze and Spring Water
Formula: Deodorant
Paws Up Benefit: Free of alcohols and parabens, no dyes or irritating chemicals, contains aloe vera.
Best for: Natural ingredients
Nature's Miracle Freshening Spray helps get rid of tough doggie odors without that awful wet dog smell. It is safe for all dogs for use between bathing or grooming. There is no alcohol or soap to irritate sensitive skin, and it has aloe vera gel to condition coat, and soothe dry skin.
The formula is boasted as a 4 in 1 spray that conditions, freshens, deodorizes, and neutralizes odors. You can use it with flea and tick products safely. The Clean Breeze scent is fresh and clean, while the Spring Water scent is more of an "after the rain" type of smell. The smell is good for neutralizing odors instead of just covering them up.
What We Like:
Nature's Miracle uses natural deodorizers to neutralize odors
This is safe for skin and coat as often as needed
The natural ingredients make skin healthier
It can be used on any dog
What We Don't like:
The scent does not last as long as others.
Pawfume Premium Grooming Spray
Ingredients: Water, polydimethylsiloxan, surfactant Blend, proprietary fragrance
Scent: Show Dog / Blue Ribbon / Royal Lavender
Formula: Perfume / Grooming Spray
Paws Up Benefit: Hypoallergenic, alcohol-free, sulfate-free, no parabens
Best for: Long-lasting scent
This Pawfume dog grooming perfume and finishing spray is made with salon-quality botanicals for pawsome fragrance and long-lasting performance. The high-quality conditioners reduce static, moisturize, detangle between baths, and last 5 times as long as others. It is also certified by a veterinarian and used by groomers.
It is available in three wonderful scents. Royal lavender is a gentle and calming smell of lavender. The Blue Ribbon scent is a fruity and sweet combination of raspberry, pear, and fresh melon. The Show Dog scent is a clean and soft mix of amber, musk, and white lilies. All of these scents are naturally created and last a long time between grooming sessions.
What We Like:

You can put off bath time for as long as you need because the scent lasts
Proven to last 5 times longer than the other brands
Good for skin and coat
Free of parabens, sulfate, and alcohol
What We Don't like:
Only for adult dogs
Costs more than all the others
Bodhi Dog Natural Pet Cologne
Ingredients: Purified water, SDA-40, emulsifiers, natural conditioners and fragrance
Scent: Baby Powder, Holiday Cider, Lilac, Orange Sherbert, Patchouli, Pumpkin Spice, Sugar Cookie, and Winter Wonderland
Formula: Cologne
Paws Up Benefit: No sticky residue, eco-friendly products, made in the USA
Best for: Different scent choices
The Bodhi natural pet freshener spray is a light and refreshing product that leaves your fur baby smelling fantastic, making you want to cuddle with him all day. It instantly controls smelly odors when you don't have time for a bath. Just a few spritzes and your pooch will be smelling like he just came from the groomers.
This US-made dog cologne comes in 8 fragrances, including Baby Powder, Holiday Cider, Lilac, Orange Sherbert, Patchouli, Pumpkin Spice, Sugar Cookie, and Winter Wonderland. The spray also has natural conditioners to make his coat silky smooth and easy to brush.
What We Like:
Has 8 different scents to choose from
Each scent is made with the same safe ingredients
Get several scents to see which one your pup likes best.
What We Don't like:
It contains SDA-40, which can dry out his coat
It has to be reapplied often because it is cologne
Crazy Dog Baby Powder Grooming Spray
Ingredients: Water, hydrolyzed wheat protein, aloe leaf juice, and coco-glucoside
Scent: Baby powder
Formula: Grooming Spray
Paws Up Benefit: Alcohol-free, several conditioning products
Best for: Conditioning
For those days between baths when your pooch starts to get that wed dog or corn chip smell, Crazy Dog Baby Powder Grooming Spray is a lifesaver. Or a nose saver. Nobody enjoys bathing their dog or taking them to the groomers. Go ahead and spritz your pooch with this spray and brush it in for an instant freshening up.
Not only does it make your fur baby smell better, but it also helps get rid of the dirt and loosens tangles. You can use it on dry or wet fur, a little or a lot. Whatever your fur buddy needs. The coco-glucoside cleans and conditions coat and skin, and the aloe and wheat calm itchy or dry skin. It even eliminates static for easy brushing.
What We Like:
It has several ingredients that are good for skin and coat
Instantly gets rid of dirty dog smells
Helps get rid of tangles without pulling
What We Don't like:
It contains propylene glycol, which can cause irritation in some dogs
Gerrard Larriett Aromatherapy Lavender & Chamomile Aromatherapy
Ingredients: Oat extract, glycerin, coconut cleansers, vitamin E, aloe vera, lanolin, and lavender oil
Scent: Lavender and Chamomile
Formula: Grooming Spray
Paws Up Benefit: No parabens or dyes, has oats for itchy skin, aloe vera, and lanolin for conditioning, and is made in the USA
Best for: Grooming
Gerrard Larriett Aromatherapy spray is specifically made for grooming with detangler and conditioners to help your pup's coat turn out nice and shiny as well as smooth and fresh. Also, the lavender and chamomile act like aromatherapy for both of you with their calming properties.
The oats and vitamin E oil help soothe your fur buddy's sensitive skin and moisturize at the same time. Veterinarians and groomers approve this formula for use in grooming or daily and it is safe for puppies as well. In addition, the conditioning formula keeps his coat silky so you can brush him every day without the need for an additional detangler.
What We Like:
Detangles and conditions for easier grooming
The pleasant smell is like aromatherapy for you both
Gets rid of static and dry hair
It can be used on all dogs
What We Don't like:
The smell is a bit strong.
Lambert Kay Fresh Floral Scent Cologne
Ingredients: Fragance, Isobutane, Ethyl Alcohol
Scent: Fresh floral
Formula: Cologne
Paws Up Benefit: Controls static and gets rid of body odor
Best for: Safe for daily use
Don't let your fur buddy go around smelling funky. Get this Fresh 'n' Clean Floral Scent cologne to keep him smelling like he just had a bath every day. We know your pup can sometimes get smelly because he gets wet or goes rolling around in something yucky. Keep a bottle of this spray handy to protect your nose.
The scent is not overpowering but will gently get rid of those unpleasant odors that your pooch can develop just from his pH and scent glands. You do not have to go rushing off to the groomers or start filling the tub with water for a bath. Just grab this cologne, spray it on, and brush it in. He will instantly smell better.
What We Like:
Safe to use every day
The scent is light and not overpowering like some others
Works right away to get rid of smells
What We Don't like:
It contains alcohol, which can dry out the skin
It does not last long
Natural Rapport Dog Cologne
Ingredients: Water, plant-based surfactants from coconut and palm, emulsifier, fragrance, and human-grade preservative
Scent: Fresh
Formula: Cologne
Paws Up Benefit: No alcohol, phosphates, sulfates, or parabens, made in the USA
Best for: Separate scents for male and female
The Natural Rapport Dog Cologne is the only one on the list with separate scents for male and female pups, carefully formulated to the pH of your fur baby. After all, men and women have their cologne scents, so why shouldn't they? The freshness lasts for hours and is naturally derived from coconuts and palm.
Although they have male and female scents, there is no reason why you HAVE to use them specifically that way. The female spray just has a lighter feminine fragrance. If you happen to like the male fragrance better but you have a female dog, it will not matter to your pup. Just get the one you like best.
What We Like:
It is specially formulated for males and females.
Two very different scents that both do the same job
The natural ingredients are good for your pup's skin and coat
What We Don't like:
It does not last as long as the others.
Earthbath 3-in-1 Spritz Deodorizing Spray, Vanilla & Almond
Ingredients: Renewable plant and coconut-derived conditioner and detangler, colloidal oatmeal, vitamin E, organic aloe vera, botanical fragrances of vanilla and almond
Scent: Almond and Vanilla
Formula: Deodorizer
Paws Up Benefit: No alcohol, soap, phthalates, phosphates, sulfates, or parabens made in the USA
Best for: Detangling
Earthbath 3-in-1 Spritz is the furfect blend of plant materials and vitamins to give your fur baby a nice soft coat that smells great along with soft skin. The colloidal oatmeal, vitamin E, and aloe vera soothe your dog's skin while conditioning his coat, so he does not get the itchies or the flyaways.
With the vanilla and almond extracts in this spray, your little furball will smell great all the time, even between visits to the groomer. Also, the coconut oils detangle his coat, so you can do your brushing too. Besides all that, it is made in the USA, is cruelty-free, and has a happiness guarantee to boot.
What We Like:
Detangles so you can brush him between visits to the groomer
Great for dry and itchy skin
The natural ingredients make a healthy coat
What We Don't like:
It only comes in one scent.
Common Questions From Dog Parents: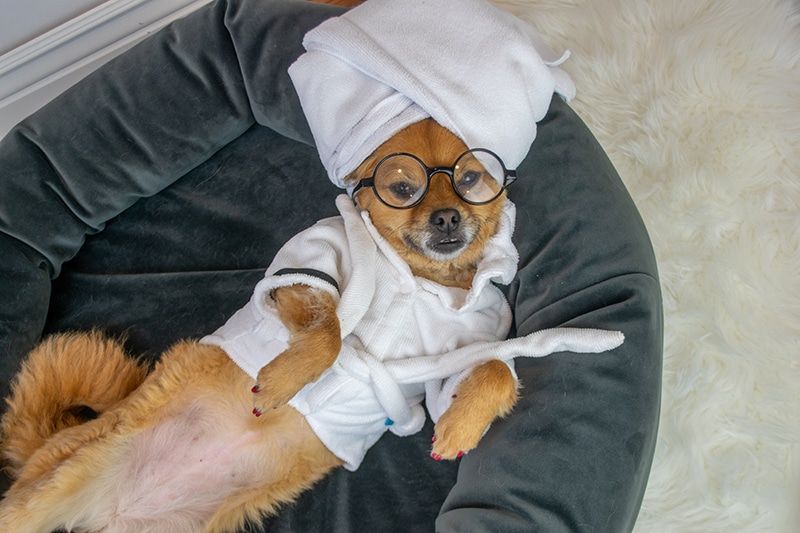 Where do you spray perfume on dogs?
Although it depends on the type of perfume you are using, most people spray their pooch on their furry parts like behind the ears and at the base of the tail. But if you are using a coat conditioner, it is a good idea to spray it all over and then brush or comb it in for best results.
Do not spray your dog's face or any parts that do not have fur like his genitals, ears, or nose. Also, do not use perfume on your dog every day.
How often can I use dog perfume?
As stated above, you should not use perfume on your dog every day unless you get a daily conditioner or something that is good for the skin. It depends on the formula you are using. Go by what the directions say. About 3 or 4 times a day is good.
How do I make my dog smell like the groomer?
The most obvious solution for your smelly pooch is to bathe him but it is suggested that you only bathe your fur baby once a month. Dog skin is different from humans and will dry out if you bathe him more often.
Also, be sure to use dog shampoo and not human shampoo. Choose one that has natural ingredients. Baking soda, aloe, and oatmeal are also good ingredients to look for in a doggie shampoo. Make sure you only use a little bit (quarter-sized) and rinse it all out, or it will dry out his skin.
Dry shampoos, grooming sprays, and deodorizers can be used safely in between baths though if your pup gets stinky. One of those above would work well. Perfume or cologne for dogs like the ones above are also great to make your pooch smell like he just came back from the groomer.
Can you spray "Human Perfume" on your dog?
It is typically not a good idea to use perfume made for humans on your fur baby because their skin is so much more sensitive than ours. Think about how your best perfume can burn or sting if you spray it on a sensitive area or broken skin. That is how your dog feels when you spray it on him.
Besides that, we mentioned a couple of times that your pup's sense of smell is a lot better than ours. Well, it is not better when you spray a strong perfume on him because this will overwhelm his olfactory senses and cause a reaction like nausea or dizziness.
If you have ever seen your dog roll around in the grass or on the floor after a bath, now you know why. He is trying to get rid of the strong smell that covers his own scent. Always use a mild shampoo meant for dogs and only use a small amount.
Can I make homemade dog perfume?
You can absolutely make your own doggie perfume or cologne. You just have to be careful and only use essential oils that are recommended for canines. When making a pooch perfume, always used distilled water and a trusted essential oil known to be high quality. Here is a recipe for stinky dog perfume:
4 drops of vetiver
4 drops of cedarwood
6 drops of lavender
Distilled water
Add the drops to an 8-ounce spray bottle and fill the rest of the way with distilled water.
How Old Does My Dog Need to Be to Use Perfumes or Colognes?
Although most perfumes and colognes say you can use them on pups from 6 or 8 weeks and older, the majority of veterinarians say you should not use them until your pooch is 6 months old. This is recommended because his immune system is not completely mature until then.
The Final Woof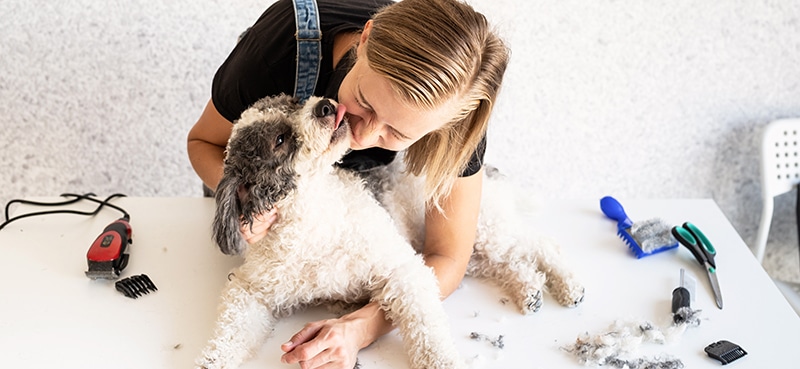 The Arm & Hammer for Pets Super Deodorizing Spray for Dogs is our top pick overall after reviewing more than 30 dog perfumes. We used our aforementioned criteria to determine which one had the most features we think are impawtant for all pups. We believe this is the best dog perfume because it has all-natural ingredients with no harsh chemicals.
This spray also includes hydrolyzed silk, which conditions your dog's coat while making it smooth and shiny. Also, the baking soda eliminates even the strongest odors so your fur baby can look and smell like he just came from the groomers. It can also be used with any flea and tick treatment.