Dealing with toenail management is a huge frustration for so many pet owners, and for so many dogs. The majority of time this is due to fear. Dogs have very sensitive feet and very sensitive hearing. If the dog doesn't understand what you are doing they will resist what you are doing due to anxiety.. So we're going to talk some about that issue and how to find the best dog nail grinder to offer your pup the best care.
We reviewed 13 best dog nail grinders currently on the market to help you find the right one for your pooch.
Dremel 7300-PT 4.8V Pet Nail Grooming Tool
This unit is a 2 speed (6500 and 13,000 RPMs). This is one of the highest RPM machines which might be worth a thought when you have a dog with big thick nails. A 1-year warranty is offered by the company. Make sure you always read the fine print.
Removable rechargeable battery pack that charges in 3 hours.
60 grit sanding drums (compatible with other Dremel sanding drums, bands and accessories if you happen to have them already it's something to think about).
This tool weighs slightly over 16 ounces making it one of the heaviest grinders. These may not be as comfortable for someone with very small hands.
A 1-year warranty is offered by the company. Make sure you always read the fine print.
Hertzko Electric Pet Nail Grinder
This tool has a USB charger, the company doesn't specify how long it takes to charge or how long it should last.
A super quiet motor is promoted for this tool and is something to think about with skittish dogs.
A diamond bit will last longer than emery board/sand paper belts.
Included with this tool are 2 different size guards to place nails in (the cover can be removed so no guard).
With a weight of 4.8 ounces it's very light and easy to use. Always consider what feels comfortable in your hands though. Some people may find it too light to be comfortable.
Republique Dog Nail Clippers and Dog Nail Grinder
This is a set with a clipper and a grinder. For really long nails it can be a lot faster to clip the end of the nail (to the point you feel comfortable) then grind them back further and smooth the edges.
Low noise is a bonus for easing the stress for the nervous dogs. The 2 speeds give you some flexibility. Higher speeds tend to be a bit louder, but faster. The tool includes grinder guards with 2 sizes if you aren't comfortable free handing it. They aren't a failsafe though, you do still have to watch what you are doing.
The weight of the unit is 8 ounces giving it a light feel.
USB charging system means you can plug it into your computer a USB charging station or the wall with an adaptor.
A 30 days cash back guarantee and 1 year warranty is included. Always read the details if this is important to you.
URPOWER Rechargeable Dog Nail Grinder
This unit has a diamond bit which is good for grinding, the company claims it never needs replacement. They definitely last longer than sanding belts.
A USB charging system with a charge indicator light, 2 hours to full charge. It should run 3 hours on a full charge.
There are small and medium grinding guard though always pay attention they don't guarantee you won't quick the dog.
A quiet motor helps to minimize anxiety from noise. This is rated at 60 decibels.
The company offers a 30-day return and 90-day warranty. Check the details, we know how time can get away from us.
The unit weighs 6 ounces so it's lightweight and easy to handle.
Oster Gentle Paws Nail Grinder
The grinding drum comes with course and fine bands if you want a little more finesse to work with.
There are two guards to help guide the tool for nail size if you don't want to do it freestyle. A collet lock means you can lock the neck and immediately stop rotation without turning it off. The contoured handle may offer a better hand fit for some people.
A quiet motor helps to ease anxiety and there are two speeds, the lower will be slower but quieter.
The unit is 4.8 ounces making it one of the most lightweight ones to use.
A 1 year warranty is offered by the company. Always read the details if the warranty is important to you.
Furminator Nail Grinder for Dogs
This unit comes with 2 grinding bands to give you an option depending on how many nails you need to remove.
It has two guards to help avoid over-grinding.
There is a light on top of the grinder to illuminate the nail. This is a huge plus since we are usually doing this down on the ground.
The grinder runs at 2 speeds (6000 and 12,000 RPM) which gives you an option for how fast you take the nail off.
With rubber grips on handle, this may be more comfortable for some hands.
It runs on 4 AA batteries and weighs about 9 ounces.
This unit has a diamond grinding wheel that will last long and no belt slippage.
It comes with two grinding guards to help avoid over grinding.
It's charged with a USB charger that has a charging indicator light. When fully charged it should have a 6 hour running time.
The company says it operates at <50 decibels with a 2 speed motor giving you some choice about how aggressive you are with the nails.
This unit has a diamond grinder which means less issues with changing belts and smooth trimming. The diamond edge will stay sharp for a long time.
The motor is a 2 speed that gives you some power option that runs at around 60 decibels. It can be more comfortable to use lower power on small nails, but the faster speed on large nails. The 2 gards will help to judge lenth without getting to the quick.
It weighs 4.2 ounces so it's very lightweight and would be more comfortable for people with small hands. When trying to do four feet hand fatigue can become and issue. The ergonomic handle also helps with comfort during use.
2 AA batteries run this unit which can be easier in some cases than having a cord in the way or having to work near an outlet.
This unit has a diamond grinder which can be easier than using the sanding belts. The diamond head cost in the $10-15 range to replace and should not need to be replaced often.
The motor is 2 speed giving you grinding options and runs at <50 decibels. Also the unit weighs about 9 ounces. The combination makes it versitile and comfortable.
The grinder is charged by USB so it is easy to use around the house. It takes 3 hours to fully charge and should run for 2 hours. This is a great option if you don't want to continually buy batteries, but also wan to avoid a cord. USB connections are the most common style of the day so should work great in most households.
There are 2 guards to help limit overgrinding. This can be a bonus if your nervous to do grinding initially or if you have difficulty seeing close up and don't want to accidentally overshorten the nail.
The company offers life time replacement guarantee, but always be sure and read the fine print. If you have any concerns about trying this out you can give it a good testing and still get your money back if you aren't happy with it.
Zerhunt Dog Nail Clippers & Electric Nail Grinder
This is a package deal containing a clipper, nail file and grinder. If you need a full set this might be a great deal for you. It is powered by a USB charger which is really common today so will be compatable with charging stations that a lot of people already have in the house.
The unit has a diamond grinder which may be easier than using sanding belts. It doesn't require replacements and has a long lasting sharp edge. There are 2 guards to help mitigate over grinding. At a total weight of 8 ounces it should not cause much hand fatigue.
It has a single speed motor (6000 rpm) which is about the same as the low speed on the 2 speed units. The motor runs at <60 decibels.
This unit has a diamond grinder head that can be easier to use than sanding paper and can last much longer. It is powered by a USB charger that has a 1.5 hour charge time and should have an 8 hour running time.
The product has 2 guards to limit the risk of overgrinding and it has a two speed motor that runs at <50 decibels. This is one of the quieter units and combined with the guards may be good if you pet is particularly skittish.
The nail grinder weighs 4.6 ounces which is one of the lightest so if week or quickly tired hands are an issue this should definitely be one you look into.
The company offers a 1 year warranty, be sure to always read the fine print. Try to compare your needs and preferences to what the company warranties so you have an idea of it will work for you.
ENJOY PET- 2 Speed Pet Nail Grinder
This is a clipper, file, grinder set. If you need them all it might be a good deal for you.
It has a diamond grinding head which is often easier to deal with than the sanding belts which require frequent changing. The motor is a 2 speed and runs at about 50-60 decibel which is mid range quiet compared to other units.The unit weighs 8 ounces which is about middle of the road for grinders.
It runs by a USB charger taking about 3 hours to charge and should have a 2.5 hour run time. USB connections are so common today that this is likely easy to manage for most households.
This unit has a diamond grinder head which can be easier than sanding belts.It charges by USB with a 5 hours charge time and should have a 5 hours run time. These features combined make it easy for most households.
The nail grinder has 2 guards to help avoid over grinding and a silicon grip improves handling. This might be good for people that have a hard time gripping tight and having tools like this slip in their hands.
The unit has a single speed motor that runs at <60 decibels. It's mid-range quiet compared to the other units and it weighs 7 ounces. which is low to mid range in weight compared to other units.
When a dog's nails overgrow they actually can interrupt the pads hitting the ground and your dog can't walk properly. Additionally long nails often get caught on things and tear off, causing pain and a lot of bleeding.
Dogs are usually at their calmest at home. Getting them used to nail grinding can save stress on pet and parent as well as saving money. Most clinics charge 15 to 20 dollars for a nail trim and they should be done every month in most dogs.
It's hard to talk about nail grinders until we know precisely what they are. They are a rotary tool that will grind dead nail tissue back. For all you home handy people out there,this is the same as a dremel tooll. Essentially it's a handle about the size of a big screwdriver with a spinning end that has some sort of abrasive surface. They can be corded or battery operated.
Grinding takes the end of the nail off little bits at a time, depending on how much pressure you use and how powerful the tool is. They can get away from you. Nail clipping is taking a clipper with sharp edges, wrapping it around the nail and squeezing it together to cut off a portion of the nail.
In general, this is what more people are familiar with. Dog toenail clippers are usually a rounded cutting surface as opposed to the flat ones people use because dog nails are round. The number one reason I have seen dogs resent clipping is the sense of pressure. Due to a lot of sensory nerves in the feet nail clipping is not painful for dogs, but it's unsettling if they don't understand what's happening.
This does not cause any pressure on the nail so a lot of dogs actually prefer it. Of course, nothing can be so simple, some dogs are bothered by the vibration and some are bothered by the sound. When grinding the nail the emery board on the tool head is gently placed against the nail and continued until the nail is the desired length.
If you want to do it the easy way, trim them all the time. Start as a tiny puppy if you are fortunate enough to have your new family as a puppy. Otherwise, start working on it the day you get them, or after a short period of adaptation to your home.
They should be trimmed on average every month, but just like people dog's nails grow at different speeds.
Some dogs wear all or some of their nails down while running and they sometimes need no trimming at all until they get older and become less active. (This will likely happen one day so it's a good idea to get them used to it, even when it's not needed).
Nail trimming should never be a wrestling match. Regardless of the reason, in the long run, the dog always wins with repetitive wrestle arguments, either because we get exhausted by the constant fighting or the dog is too big to hold down. Does anyone really want to do something repetitively that your dog hates?
The outer hard part is known by many names, Claw, Shell, Keratin, it's the same as our nail material.
The blood vessel inside the nail is the quick. How far the quick extends toward the end of the nail will vary with a dogs age, breed and how often the nails are trimmed.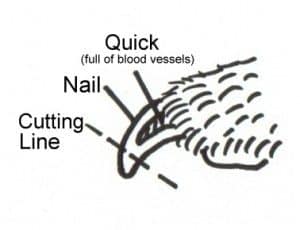 You want to trim just short of the quick. If the nails are dark and you can't see the quick it is best to just clip off tiny portions at a time until you either feel it's short enough or you see pink, which means you're approaching the quick. If you can see the quick you can cut about 1/8 inch short of that in most cases, but if all else fails just take little bites at a time.
You gently touch the grinder to the tip of the nail and apply slow steady pressure until you start to see pink or the nail is short enough. Don't hold the grinder on for more than 5 seconds at a time due to the heat.
Absolutely. If you are careful, apply light pressure and pay attention they work great. What kind of trouble can you get into? If you apply too much force or use a tool with too much rotation you can overheat/burn the nail, and get to the quick very fast.
Your dog's comfort is your comfort.
How well you can make a grinder work and how easy it is on your dog depends on your vision, hand-eye coordination, patience, familiarity with small power tools and the design of the grinder. All of these factors need to be balanced for your dog to have a positive experience.
There is no question wireless is easier, but they are also often weak, the battery dies quickly and they don't function. With a cord you are limited to the length and have to keep working around the cord. If power is your biggest frustration then get a corded one.
Some dogs just don't care, but for some, it's a fine line of what they will tolerate. There is no easy way to find this out than to try them. Of course the least noise and vibration the least chance your dog will be bothered.
The sound of these units ranges from 40 to 60 decibels. 40 is about the hum of a computer, 50 the hum of your refrigerator motor and 60 the hum of an air conditioner.
This is going to be different for everyone. You most definitely should not buy the one your best friend has just because they like it (but it would be great to borrow it and test it out). How easy it is to use a grinder depends on the size and comfort in your hands. How fast it rotates is a factor also but not a yes or no. For people with shaky hands a slower one would be more comfortable. With arthritis in the hands the low power slower units would be much more manageable.
What makes the tool easy includes the following criteria, what are your hands like, and your vision and your comfort with tools. It will not be the same for everyone.
A general answer, you want the middle of the road. The really slow ones tend to create a lot of heat while not grinding much nail. The super-powerful ones can get away from you. In this case, more is not better.
If you go cordless and the battery dies in 5 minutes it will end up in the trash. We have done that very thing in the clinic more than once. Cordless is only a benefit if the battery will work continuously for at least 20 minutes without a power drain.
Most of the units have a single or low speed around 6000 to 6500 RPM. If they have a second speed it is generally 12,000-13,000 RPMs. For comparison, a standard Dremel tool can go up to 37,000 RPMs.
Most units come with a nail guard but they are not always easy to use.
These vary highly and you really should look at the details and how you feel about returns and replacement and price. They come in everything from 90 days to lifetime.
Is there a perfect grinder?
No. What is going to work for you depends on your dog's temperament, your patience and your idea of what is a success. You trade power for noise, meaning the stronger they are the louder they are. If you have a big dog with thick nails the low power units will take time. Some people can Clip then Grind, some just want to Grind. Getting one you like will depend critically on what exactly it is that you want.
Does a Grinder prevent you from Quicking your dog?
You can definitely Quick a dog with a Grinder but they are much easier to work into the nail slowly than a Clipper. You do have to watch what you're doing and do it slowly. For some people, a high power tool would be a bad idea because they can be too fast.
What is the issue about having enough power?
One of the biggest complaints about the smaller tools is they aren't powerful enough for big nails/big dogs or it takes too long. With the lower power tools often people will say if they press too hard it stops, this is an issue with torque. The unit is not designed to work against force.
They actually work best if you just touch the nail lightly. This will take a bit of time. Also for very long nails, it's great to clip the end first if you want to be quicker if the dog tolerates it.
If you are short on patience only a high power tool like the Dremel will likely satisfy you.
I hope a big point you pick out of this article is the best dog nail grinder for you is personal.
Different people, different pets have different needs. I choose the
Casfuy
as both the best dog nail grinder and the best budget because I think it's the least likely one to end up in the recycle bucket.
It has a convenient diamond head grinder that can be replaced, good power for a small unit and a simple USB charging system. It is one of the quietest units overall and has 2 speeds to work with. With some of the best features, it also comes with a lifetime warranty.
I think the lower power tools are more useful for home use but none of them are going to satisfy the person who wants a lot of power and torque. For that consider a corded rotary tool and be careful.

Share your experience with the products mentioned throughout this review in the comments below or Feel free to share your own product recommendations as well.