Like us, dogs tend to have a slower metabolism as they age. But in some cases, there's more to it. Pups can also develop hypothyroidism as they get older. If your pal is hitting the middle years of life and you notice a drop in activity, thinning hair coat, and weight gain even though you're not feeding any more food, they may have hypothyroidism.
Once we look at these topics, we'll review 21 food-related products and give you our recommendation for the best dog food for hypothyroidism.
What Type of Food Does Your Dog Eat?
Taste Of The Wild Pacific Stream Grain-Free Dry Food
This grain-free dog food has salmon as its primary protein source. The formula contains canine probiotics and prebiotic fiber to enhance digestion. The carbohydrates come from a variety of whole food sources that are easily digestible. For complete nutrition, the recipe includes sources of zinc, selenium, Omega 3 fatty acids, and essential vitamins and minerals. It is in dry kibble form.
Zignature Trout & Salmon Meal LID Formula Grain-Free
Zignature's Trout and Salmon Meal dry kibble is a limited ingredient recipe with trout and salmon meal at the top of the list. It has Omega 3 fatty acids and taurine along with a balanced blend of essential vitamins and minerals. This product uses globally sourced whole foods and digestible carbohydrate sources to support your pal's gut. There are no artificial flavors or additives.
Victor Yukon River Salmon & Sweet Potato Grain-Free Recipe
This grain-free dry kibble uses fish as the primary protein source. The formula includes Omega 3 fatty acids for healthy skin and coat, prebiotics and probiotics to aid digestion, and selenium, and zinc to support immunity and thyroid function. The carbohydrate sources are easily digestible.
Earthborn Holistic Coastal Catch Grain-Free Natural Dry Food
Earthborn Holistic is a grain and gluten-free dry kibble that uses salmon and herring for its animal-based protein sources. Loaded with antioxidant-rich vegetables and fruits, this formula includes Omega 3 and 6 fatty acids and probiotics. The package is BPA free, recyclable, and resealable.
Diamond Naturals Skin & Coat Natural Dry Dog Food with Wild Caught Salmon
Another grain-free kibble,Diamond Naturals features real salmon and a proprietary probiotic blend. The formula includes also antioxidant-rich superfoods and omega fatty acids. With readily digestible carbohydrates, the product is free of fillers and artificial flavors, colors, and preservatives. It's made in the USA and uses only trusted sources.
Wellness CORE Grain-Free Ocean Whitefish Formula
Wellness Core Grain-Free dry food
has no meat by-products or fillers. It includes glucosamine, chondroitin sulfate, and Omega 3 fatty acids. To further promote whole-body health, the recipe has probiotics and antioxidant-rich fruits and vegetables. The product uses digestible carbohydrates and has a high protein content (34%) to provide the best possible nutrition. There are no artificial colors, flavors, or preservatives in this food.
Wellness Simple LID Grain-Free Salmon & Potato Formula
This limited ingredient dog food uses real salmon as its primary protein source. With digestible carbohydrates, prebiotics, and probiotics, the formula is easy on the gut. There are no artificial ingredients, gluten, or fillers in the product. Essential vitamins and minerals round out the complete nutrition in the kibble.
CANIDAE All Life Stages Multi-Protein Formula
This Canidae product uses animal protein sources from fish, poultry, and lamb. It has no corn, wheat, or soy fillers. For nutritional support, the recipe includes probiotics, Omega 3 and 6 fatty acids, and antioxidant-rich foods. The formula also contains glucosamine and chondroitin for joint health.
Amazon Brand - Wag Turkey & Lentil Recipe
Wag uses real turkey as the primary protein source. It contains no grain fillers but uses digestible proteins as a carbohydrate source. The product comes in a trial size package to allow Fido to test it before you invest in a large bag. To help support total nutrition, the formula includes Omega 3 fatty acids, antioxidants, and probiotics.
Solid Gold Love At First Bark Chicken, Potato & Apple Puppy Recipe Grain-Free
Solid Gold puppy food uses chicken at the main protein source. This product has a blend of 20 superfoods to provide an easily digestible and well-balanced diet. With prebiotics, probiotics, and Omega 3 and 6 fatty acids, the formula is designed to support your pup's growth and digestive health. There's no corn, soy, wheat, or gluten in the kibble, and it's free of fillers.
Blue Buffalo Life Protection Formula Senior Chicken & Brown Rice Recipe
Blue Buffalo for senior dogs uses real chicken for protein and includes digestible carbohydrates. It also has garden veggies and fruits that provide nutritional support. Lifesource bits are mixed with the kibble to introduce vitamins, minerals, and antioxidants for a healthy lifestyle. As a product for aging pups, this formula includes glucosamine and chondroitin for joint support.
Instinct by Nature's Variety Limited Ingredient Diet Grain-Free Recipe with Real Lamb
Instinct is a grain-free food with one protein and one vegetable source. It has freeze-dried, raw meat and limited, whole-food ingredients. The formula includes a blend of omega fatty acids, vitamins, and minerals. The kibble is easily digestible and has no artificial ingredients.
Hill's Science Diet Small Paws Chicken Meal & Rice Recipe
Hill's Science Diet Small Paws food is specially formulated for small breed dogs. It uses natural, easy-to-digest ingredients. With omega 6 fatty acids and vitamin E, this product helps support healthy hair and skin. You'll also find an antioxidant blend for immunity. There are no artificial colors, flavors or preservatives in this food.
Purina Pro Plan SAVOR Shredded Blend With Probiotics Adult Dry Dog Food
Purina Pro Plan for adults has chicken as the first ingredient. The food has a blend of crunchy kibble and softer, meaty pieces. It's fortified with live cultures of probiotic bacteria to aid digestion. With vitamin A, omega 3 fatty acids, and linoleic acid, the formula is designed to promote healthy skin and hair. The product also has a blend of vitamins, minerals, and glucosamine for optimal health.
Instinct Be Natural Recipe Natural Dry Dog Food Formerly Prairie by Nature's Variety
Instinct Be Natural Recipe by Nature's Variety has kibble that's coated with freeze-dried raw nutrition from whole foods. The primary ingredient in this formula is lamb meat. There's no chicken, poultry by-product meal, or grain fillers in the product. For a healthy coat and skin, the recipe includes Omega 3 and 6 fatty acids and vitamin E, and it also has probiotics for better digestion. You won't find any artificial colors or preservatives in the food.
Nutro Wholesome Essentials Natural Adult Dry Dog Food for Small & Toy Breeds
This Nutro product has balanced nutrition for smaller breed dogs. It uses farm-raised chicken, brown rice, and sweet potato for easy digestion. For extra support, the formula includes prebiotic fiber. Omega 3 and 6 fatty acids and vitamin E help promote healthier skin and a soft coat. There are no artificial colors, flavors or preservatives in the food.
Rachael Ray Nutrish Zero Grain Natural Grain-Free Dry Dog Food
Racheal Ray's Zero Grain dog food has no artificial colors, flavors, or preservatives. It has added vitamins and chelated minerals. With real turkey for a protein source and easily digestible carbohydrates, this formula offers balanced nutrition. The formula also has sources of omega 3 and 6 fatty acids for healthy skin and coat, and prebiotic fiber to support digestion.
Wellness CORE Grain-Free Turkey, Chicken Liver & Turkey Liver Formula
This Wellness CORE product is wet dog food. The first three ingredients are chicken, turkey, and chicken liver. It includes a blend of antioxidants, omega fatty acids, and digestible whole foods. There's also prebiotic fiber to support digestion. When you serve this ground pate to your pal, you can feed it alone or as a dry kibble topper.
AvoDerm Natural All Life Stages Wet Dog Food, For Skin & Coat
AvoDerm Turkey and Vegetable Stew is grain-free canned dog food. It uses natural, whole foods and real protein sources for easy digestion. Because it comes in a chunky stew, dogs can enjoy eating bite-sized morsels of meat and vegetables in gravy. There are omega 3 and 6 fatty acids, antioxidants, and a balance of vitamins and minerals in the formula. This product is made in the USA using domestic ingredients.
OC Raw Freeze-Dried Goat & Produce Patties
These OC patties have simple ingredients and are grain-free. Made from 90% meat, bone, and organ meat, it provides balanced nutrition. The other 10% comes from fruits, vegetables, and supplements. This product should be kept frozen and thawed in the refrigerator when you're ready to use it. It can be kept in the refrigerator for about 2-3 days after thawing. This is raw food.
Northwest Naturals Freeze-Dried Raw Dog Food Nuggets
This Eco-friendly raw food product uses beef as a protein source. It has no grains or gluten and includes fruits, vegetables, and supplements. Because it's freeze-dried food, you don't have to keep it frozen. This formula can be used for food, treats, or you can crumble some over your pup's normal kibble as a supplement. All products are sourced in the USA.
Wellness Core Marrow Roasts Natural Grain Free Dog Treats
Wellness Core Marrow Roasts are tasty morsels that have no wheat, corn, soy, or wheat gluten. The first ingredient is beef, and the tidbits also include some cooked bone marrow for natural flavor. With ground flaxseed, whole foods, and natural preservatives this product offers a healthy way to treat your special pal.
Natural Balance L.I.D. Limited Ingredient Diets Jumpin' Stix Dog Treats, Grain-Free
Natural Balance Jumpin' Stix are jerky-style treats that are free of corn, wheat, fillers, and artificial flavors or colors. This meaty stick has venison as the top ingredient and also includes sweet potatoes. Each treat has segments for easy division into smaller tidbits. The product includes glucosamine and chondroitin to support joint health. It's made in the USA.
Thyroid supplements for dogs
Nutrition Strength Thyroid Supplement for Dogs with Organic Bladderwrack
This thyroid supplement uses human-grade ingredients that are GMO-free. The complete formula contains the right amount of iodine and other natural ingredients that support thyroid function. There are 120 tablets in a bottle.
Understanding Hypothyroidism In Dogs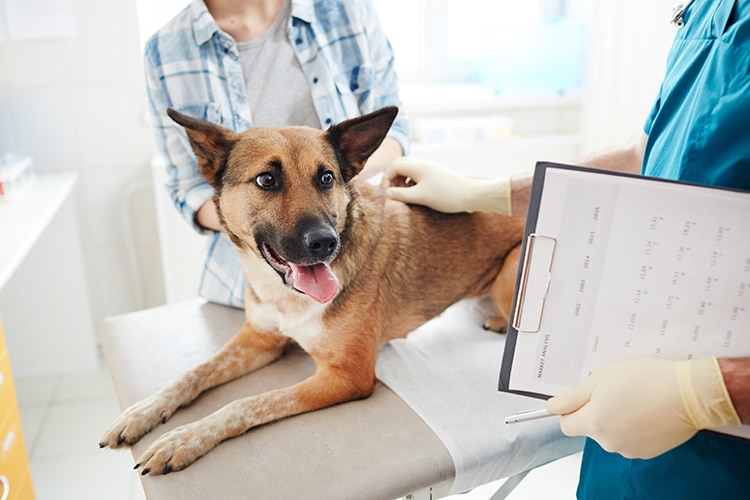 Before we dive into information about hypothyroidism, a word of caution. If you suspect that your furry friend has an insufficient thyroid, it's important that you consult with your veterinarian before making any dietary changes. Other conditions can show similar symptoms, and Fido's doctor can help you determine if and when you should switch dog foods.
Dogs have thyroid glands in their neck just like we do. These tiny organs secrete the hormone thyroxin, which helps the body regulate metabolism, digestion, heart rate, and other vital functions. As some pups age, their thyroid glands don't produce enough of the hormone. We call the condition hypothyroidism.
A furbaby's thyroid glands can slow down or stop producing thyroxine for several reasons.
The symptoms of hypothyroidism appear because of insufficient hormones. Thyroxine stimulates the metabolism, some of the signs you'll see in a hypothyroid pup are related to a sluggish metabolic rate.
Routine screening: Routine blood panels and complete blood counts may or may not help to diagnose hypothyroidism. There may be an increase in white blood cells if the hypothyroidism is due to an immune response. Some dogs also develop mild anemia. You can see elevated cholesterol levels in about 75% of hypothyroid pups. These results may point to the condition, but further testing is required to confirm a diagnosis.
Thyroid-specific Tests: Usually, diagnostic testing for hypothyroidism involves measuring three hormone levels in the blood:
Hypothyroidism is treated with oral hormone replacement therapy with a form of thyroxine. Once Fido develops the disease, he'll need medication and T4 level monitoring for the rest of his life. There's no way to cure the disorder.
natural Treatment For Hypothyroidism in Dogs
You will need to provide medication as part of Fido's hypothyroid treatment. But, there's more you can do as part of a holistic approach to your canine pal's health and well-being.
Thyroid Supplementation: Your furbaby will need thyroid hormone replacement to make up for the low levels of thyroxine. For many pooches, this is a lifelong treatment. Talk to your veterinarian about the best hormone brands.
Iodine Supplementation: Iodine is a necessary part of proper thyroid function. However, getting too much in the diet can be as bad as not having enough. Commercial dog foods provide the needed levels of iodine. If you make homemade food for your four-footed friend, talk with your veterinarian about appropriate levels of iodine.
Other Helpful Supplements: As we noted above, there are other supplements that can support your pup's quality of life. Include omega 3 fatty acids, probiotics, and milk thistle. You may also want to provide thyroid glandular supplements.
What's the Difference Between Hypothyroidism and Hyperthyroidism?
When the thyroid gland doesn't secrete enough thyroxine, its called hypothyroidism. Dogs with an inactive thyroid can experience weight gain, lethargy, hair loss, and other symptoms. With hyperthyroidism, the organ is overactive and makes excess levels of the hormone. In the case of hyperthyroidism, your pooch would have an increased metabolism, weight loss, and other symptoms. Hyperthyroidism is rare in dogs and usually a result of cancer.
Which Dogs Are Most At Risk For Hypothyroidism?
How Does Diet Affect Hypothyroidism?
Although Hypothyroidism is incurable, you can take supportive measures to help your pal. Good nutrition in combination with hormone replacement gives your pal the tools he needs to manage his condition. Carbohydrates, selenium, zinc, and iodine are important for proper thyroid function. Offer Fido a quality diet of wholesome foods that offers a balance of animal protein, healthy fats, fruits, and vegetables.
Dr. W. Jean Dodds
, a holistic veterinarian from Hemopet in Southern California also recommends supplementing your pal's diet with vitamin E, Ester-C, echinacea, and garlic. If you use commercial dog food, look for a brand that uses natural preservatives.
9 Tips To Choose the Best Dog Food For Hypothyroidism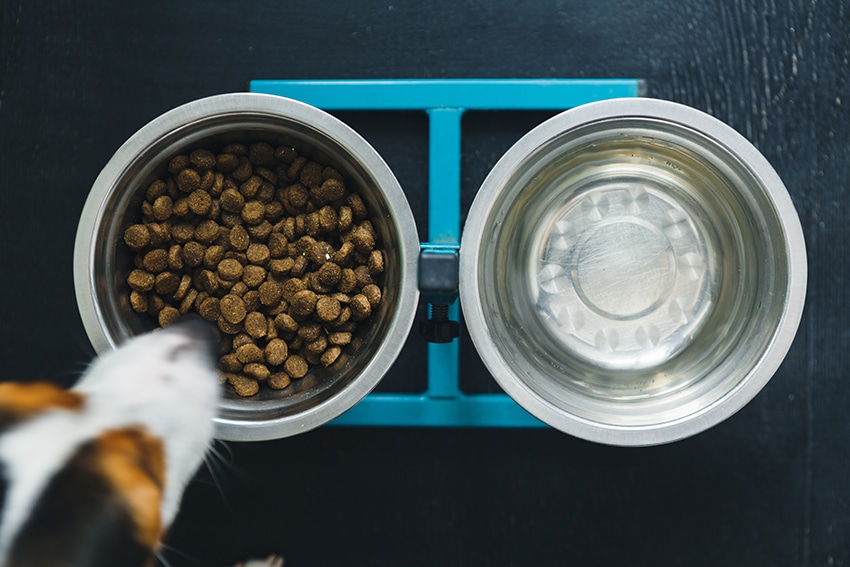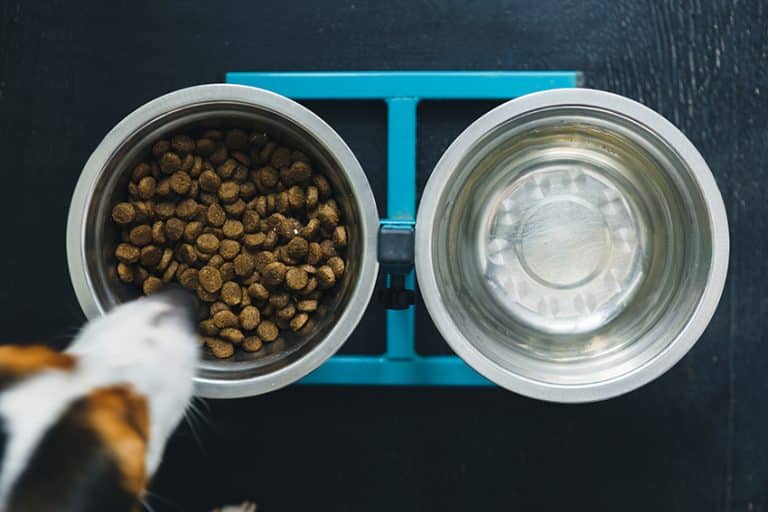 When you're looking for food to feed a dog with hypothyroidism, look for these qualities:
High-Quality Ingredients: Good nutrition and quality ingredients can provide valuable support for a pooch with hypothyroidism. Look for products that have natural ingredients and whole foods like fruits, vegetables, and proteins from animal sources.
Animal Protein Content: As carnivores, dogs need animal-based proteins like fish, meat, and poultry. These sources provide the essential amino acids that Fido needs. Lean proteins such as chicken and turkey are good choices if your pup has been gaining weight because of hypothyroidism.
Grain-Free: Many grain sources for commercial dog foods come from GMO sources. Unfortunately, these ingredients can influence Fido's hormone balance. Some pups do fine with whole grains, but why gamble. If you can't confirm that the grains are GMO-free, it's better to find a food that's grain-free.
Highly Digestible: The better your pooch can digest the food, the more nutritional value he'll get out of it. Look for products with animal-based ingredients. For additional support, select options that include supplements with probiotics and/or prebiotic fibers.
No Artificial Additives: Artificial preservatives, flavors, and colors can impact the thyroid and other hormones. Look for natural ingredients like citric acid, rosemary extract, and mixed tocopherols.
Rich in Protein: Protein is a primary nutritional source for canines. It contains the building blocks needed to support muscle mass and function.
Fruits and Vegetables: Fruits and vegetables, other than those identified above as ingredients to avoid, provide digestible carbohydrates dietary fiber to support digestion.
Beneficial Supplements: In addition to wholesome ingredients, there are some supplements that can help support thyroid function:
Probiotics: support your pal's digestive function and can help to control obesity. They give Fido's system the tools to suppress harmful bacteria in the gut that can trigger inflammation and diseases.
Homemade Dog Food Recipes
Remember that diet is one part of supportive care for hypothyroidism. Consult your veterinarian before making any changes.
Chicken, Liver, and Vegetables
Boil or bake the chicken and liver. Puree fruits and vegetables and mix all ingredients. Add any supplements that your veterinarian recommends. Feed about ½ cup per 20 pounds of body weight twice daily. The leftovers can be stored in an airtight refrigerator for up to 5 days.
Turkey, Rice, and Vegetables
Combine rice, turkey, and rosemary in water and bring the mixture to a boil. Reduce heat and simmer for 20 minutes. Stir in mixed vegetables and continue to simmer for 5 more minutes. Allow mixture to cool to room temperature and add any supplements. Store in an airtight container in the refrigerator. Use similar portions as in the previous recipe.
Frequently Asked Questions
Can Dog Food Cause Thyroid Problems? It's unlikely that commercial dog food would cause thyroid problems, but there are a few exceptions.
What Can You Give A Dog With Thyroid Problems? The first thing you want to give a dog with hypothyroidism is a hormone replacement as recommended by your veterinarian. In addition to the medications, you can provide some supportive supplements like omega 3 fatty acids, zinc, and selenium.
What Happens if Hypothyroidism Is Left Untreated in Dogs?
While hypothyroidism is not a life-threatening disease, failing to treat it can affect your furbaby's quality of life. Insufficient thyroid hormones can cause weight gain, mental dullness, lethargy, and hair loss as discussed before. On rare occasions, hypothyroid dogs can have more severe neuromuscular signs like seizures, head tilt, and circling.
What Should I Do If I Think My Dog Has a Thyroid Problem?
If you suspect that your furry friend has a thyroid problem, contact your veterinarian. There are other diseases that mimic the symptoms of hypothyroidism. A physical exam and diagnostic testing can help provide the right diagnosis and treatment options.
The verdict is in. After evaluating all the products listed above, our pick for best dog food for hypothyroidism is
Taste Of The Wild
Pacific Stream Grain-Free Dry Food.
This food starts with a high-quality animal protein as the #1 ingredient and has a minimum 25% protein to support muscle mass. With a grain-free formula, the kibble includes digestible carbohydrates from fruits and vegetables, prebiotic fiber, and probiotics to support the gut.
There are also no artificial ingredients that could interfere with thyroid function. The vitamins and minerals complete the nutritional profile.
This product best meets the criteria that we explained earlier in the review.

Share your experience with the products mentioned throughout this review in the comments below or Feel free to share your own product recommendations as well.