One lesson we all should have learned in 2020 is that we can't predict the future. Disaster and unexpected events can hit any time, any place. There's no way to prevent it, but you can take measures to protect your family.
According to a 2018 YouGov poll, only 41% of Americans feel inadequately prepared for a natural disaster. However, a survey in the same year by Banfield Pet Hospital indicates that 91% of pet owners don't have plans in place to protect their pets if a cataclysm strikes.
If you already have a disaster plan in place for the humans in your household, remember to include your pets. Being prepared increases the odds that you'll be able to keep everyone safe. To properly plan, you need to understand the definition and types of natural disasters.
Simply put, a natural disaster is an event that comes from the Earth's natural processes and causes loss of life or extensive damage. Common examples include:
Hurricanes
Earthquakes
Volcanic Eruptions
Floods
Tornadoes
Fires
According to the International Disaster Database, there has been a marked increase in the number of reported disasters when comparing the last 2 decades to the previous 20 years. With that in mind, let's talk about what you can do to prepare for the unexpected:
In 2009, the American Kennel Club and ADT established National Pet Fire Safety Day to promote awareness among pet owners. The official observance falls on July 15 every year.
But don't wait for July. With winter approaching and the increased use of fireplaces and wood-burning stoves, not to mention holiday decorations such as Christmas trees and pine boughs, there's a risk of starting an unintentional blaze in our homes.
So, let's examine some fire safety tips to protect your dog: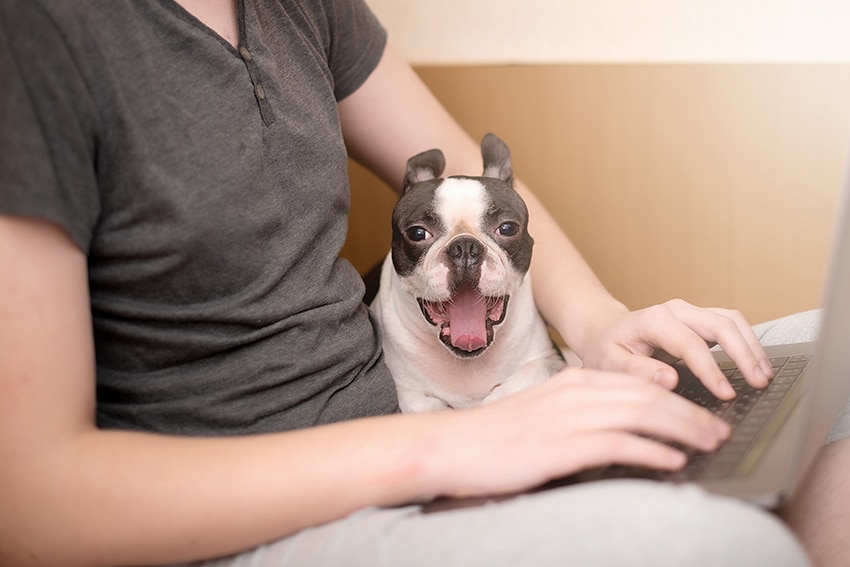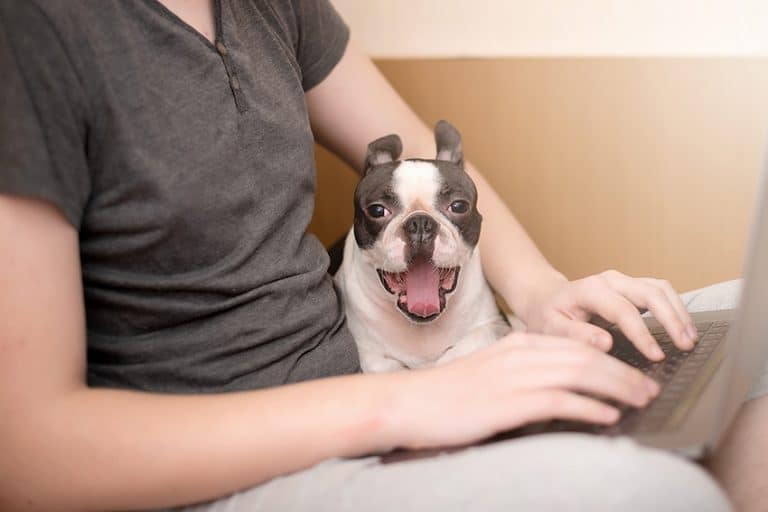 Be Informed About Your Area's Disaster Risks
How you prepare for disasters may vary in some ways depending on whether you live in the Gulf Coast, deep in the midwest, or on the Pacific Rim. Learn which natural disasters are most likely to occur in your region so that you know what plans to make and which supplies you want to have on hand. Investing in an NOAA Weather Radio or downloading the FEMA app to get real-time alerts and updates from the National Weather Service can help you know when severe weather is heading your way.
Develop an Evacuation Plan
When disaster strikes, your pets will be depending on you to keep them safe. Start your preparations by developing an evacuation plan. 
Compile a list of shelters and hotels that will allow you to bring your pets, boarding facilities, and veterinarians. 
Speak with relatives and friends that are outside of your region about providing temporary housing.
Find a neighbor or nearby relative who can help with your pup if you're not at home when disaster hits.
Prepare a file of your pal's vaccination and health records, a list of any medications, and your veterinarian's contact information.
Always keep a leash near the door and a collar on your pooch.
Make a list of your dog's favorite hiding places. Share it with caregivers and post it where rescue workers can readily see it.
Have a pet carrier ready to go and accessible.
Pack an evacuation bag appropriate for you and your pet's needs. 
Plan a place to meet/gather if you have to leave your home.
Run evacuation drills so that everyone knows their roles and responsibilities
Thinking through these details ahead of time will make a sudden evacuation order easier to navigate.
Pack An Emergency Kit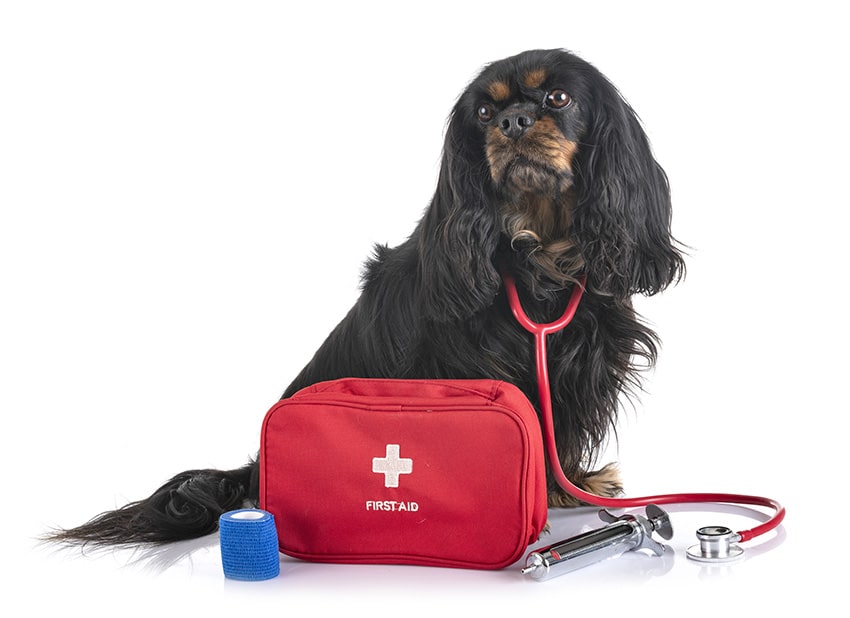 The thing about disasters is that you have to move quickly when there's an evacuation. You likely won't have much time to gather the supplies that you and your pal will need while away from home. Rather than waiting until the last minute, pack an emergency kit for each pet now. Include items such as:
Enough food and water for several days
A can opener if needed for the food
Food and water bowls
Medications
A spare leash and collar
Flashlight
Paper towels
Trash and poop bags
Dish soap
Blanket
Toys for your pooch
First-aid supplies for your dog
Photocopies of important medical records
Recent photographs of your pet
Place your supplies in a bag or pack that's clearly marked and leave it near your door where you can easily grab it as you're leaving the house.
Keep Up-to-Date Identification on Your Dog
In the chaos and confusion of a disaster, dogs frequently become anxious and may try to escape. If you and your furbaby become separated, you can improve the chances of being reunited by attaching an ID tag to Fidos collar and microchipping your dog. Remember to update your contact information with the registry any time there are changes to make traceback easier.
Keep Vaccinations Current
Keeping your pal's vaccinations up-to-date is important for a few reasons. First, if your pet escapes and gets lost for a spell, current immunizations can help protect him from contracting a deadly disease. On the other hand, if you evacuate with your pooch, shelters and boarding facilities are more likely to welcome Fido if his medical records demonstrate protection from diseases such as rabies, parvovirus, leptospirosis, and kennel cough.
Complete and Post Evacuation Stickers
Sometimes disasters strike when you're away from home without your four-footed friend. You can help rescue workers by posting an evacuation sticker on or by your front door. Fill out your contact information and the number and types of pets in the home. This information will let evacuation crews know that your precious furbabies are there. If you're able to bring your pets with you when you leave the home, write "evacuated" on the sticker to alert workers that everyone is safe.
Research Temporary Housing Options
In a disaster, it can be difficult to find a shelter that has space for everyone in your family including your furbaby. Do some advanced research to identify a safe place to stay.
Call Area Motels and Hotels
Contact motels and hotels in your area to find out their pet policies. If you live in a flood or hurricane zone, you may want to extend your search to include businesses outside of a potential evacuation zone. Keep a list of places that will accept pets and their numbers so that you can contact them quickly to make reservations.
Speak With Local Friends and Relatives
Check with friends and relatives in a nearby town or community to see if they would be able to help in an emergency. They may have space for your family or at least be able to provide a place for Fido if you can't keep him with you.
Check With Your Veterinarian and Kennels
Some veterinary offices are able to provide temporary boarding for pets. Contact area clinics to see if they have space and learn about their policies. If there are kennels in your region, they may also be willing to help with shelter during a disaster.
Contact Your Local Animal Shelter
Another place that may be able to assist in an emergency is your local animal shelter. Contact the humane society and other pet rescues to see if they would be a viable option for your furbaby.
Once you compile a list of potential places that you and your pooch can find shelter, keep in readily available in case you need it.
Keep Your Car Disaster Ready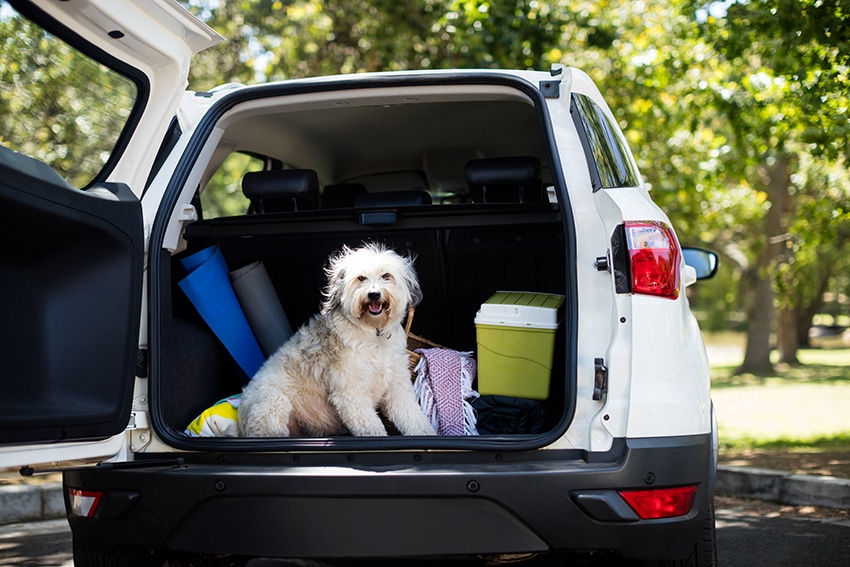 You're not immune to potential disasters when you're traveling. If you're on a road trip with your furbaby, make sure your vehicle is prepared to handle an emergency. Keep a go-bag with supplies you may need for your pooch such as medical and vaccination records, an extra leash and collar, extra food and water, your contact information, and a first aid kit for Fido. You may also want to keep a travel crate in the vehicle to provide temporary confinement for your special pal. 
Be Prepared to Set Up Temporary Confinement
Many disasters destroy walls and fences. You need to have a back-up plan ready to go if your normal barriers are demolished. Make sure you have a crate, travel kennel, or tie-out available to keep your pup under control. For smaller animals, you may be able to use a collapsible evacuation sac that's easy to store.
Know Where to Look if You Lose Your Dog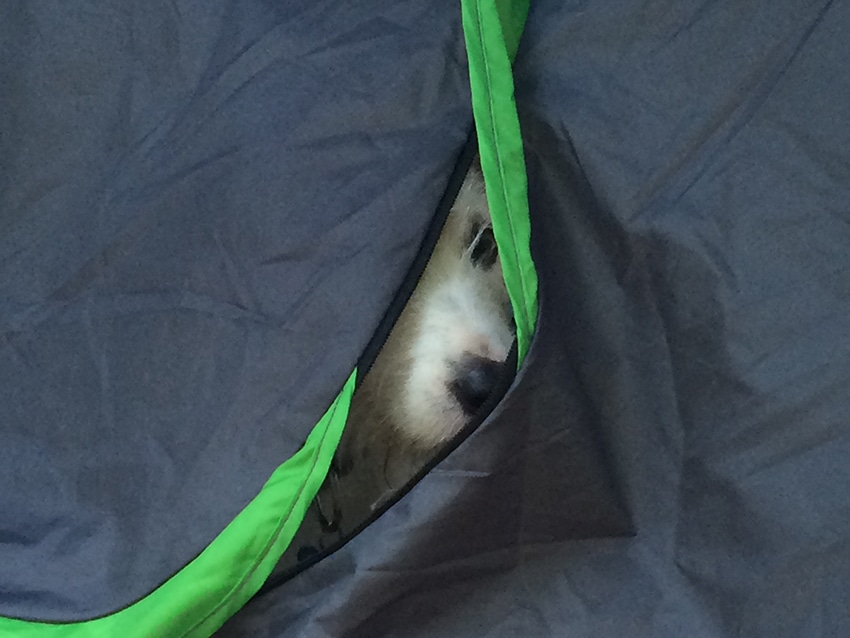 You need to know where to search for your furbaby if you're separated during an evacuation. First, get the rest of your family to safety. If you're in a shelter that also houses pets, provide the caretaker with a missing pet flyer. Contact your microchip registry to notify them that your dog is missing and to verify your information is up-to-date.
As you conduct your search, check with your local animal control and give them a description or picture of your pup along with your contact information. Call the local humane society or rescue facility and county or state animal response teams. These groups should be able to direct you to local shelters and response organizations. Speak with disaster response teams about when and how to safely post missing pet flyers.
Include Your Children In Disaster Preparedness Planning
Disasters affect families, not just individuals. When creating your preparedness plan, involve your children. Let them know where you place the emergency kits and include them in evacuation drills. If they're old enough for responsibility, give them a role in the process. That way they'll know what to do when the time comes.
Finding Shelter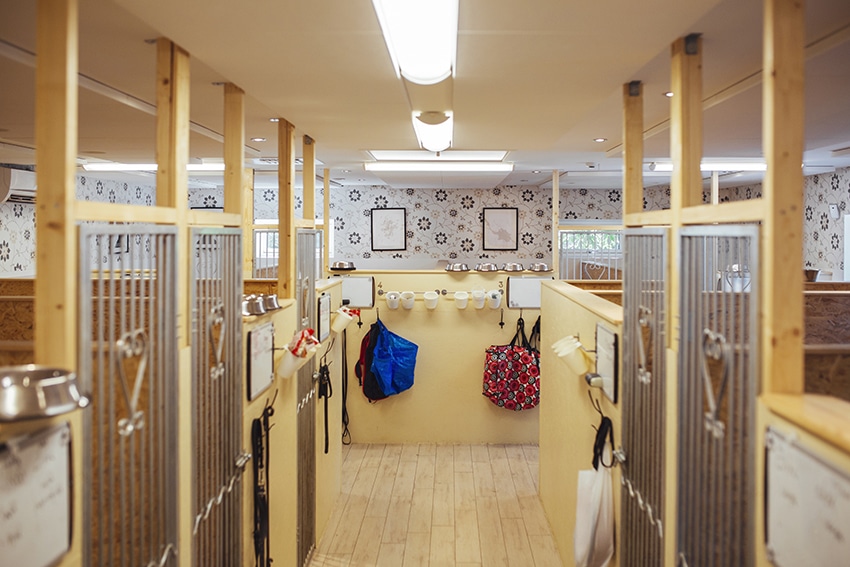 When you have to evacuate never leave your furbaby tied outside. Dogs that are left behind can easily be injured or get lost. Remember to grab your pet emergency kit so that you have important supplies for your pup. Make sure you know what to expect if you go to an evacuation center with your dog.
The best shelter option for you is a place that also houses your pets. Contact your veterinarian and the local emergency response office to find shelters that can provide accommodations for your pooch. If no such option exists, research pet-friendly hotels along your evacuation route.
Sheltering at Home
If you shelter in place, pick a pet-friendly interior room as your safe place. Remove any hazards such as toxic plants or dangerous chemicals. Cover or block off small spaces such as underneath appliances or heating vents where scared animals could hide and become trapped.  If there are windows, place a blanket over them to prevent injury from shattering glass. Keep your emergency kit with you in the room so that you have all the needed supplies.
Staying Healthy During a Disaster
If your pet is up-to-date on vaccinations before a disaster that's a good start. It provides protection from transmissible diseases like rabies, leptospirosis, and parvovirus. During a disaster:
Give your pup his prescription and preventative medications 
Don't let your pooch contact wild or stray animals 
Use a leash or keep him confined in a kennel to prevent him from wandering
Stay away from stagnant or potentially contaminated water
Wash your hands after interacting with your pet and before handling his food and water 
Don't let your furbaby lick your hands or face
Clean and disinfect Fido's bedding and kennel regularly
Check for bite wounds and report them to health officials immediately
Remember also to practice safe handling practices with your pooch. He's under stress too and may behave differently than usual. Following the above practices can help guard you and your furry friend from diseases during this time.
Recovery After an Emergency
The disaster is over, and it's time to go home. But things may not be the same for Fido or your family. First, there may be clean-up tasks on your property. Make sure you remove any broken glass or hazardous objects caused by the cataclysm. Check fences and gates for any damage that could allow your pet to escape and get lost.
When you settle back in your home, be aware that your pooch may show behavioral changes due to the stressful experience. Some dogs become more defensive or aggressive following a major weather event. Keep them under your direct supervision at all times and monitor their behavior closely to protect both them and the people they may contact. If unusual behavior patterns continue, contact your veterinarian.
When walking your dog use a leash and always watch your furbaby in open spaces. They can become easily disoriented and lose their way after a storm. Normal scent markers may have been obliterated by rain, fire, or other events. 
Like us, our beloved canines need to adjust after a major disruption. Be patient and help them feel secure and safe during this time.
Don't Wait Until Disaster Strikes
The family that prepares in advance is more likely to stay safe in a disaster. Don't wait until it's too late. Take time to make formulate your preparedness plan so that you're ready to go in an emergency. And when all's clear, help your furbaby readjust to life at home.